How a blogger, an FFL, a dad and a grand-dad ganged up across the nation to show a Boy Scout a Good Deed of the Day. Now, the Story Can Be Told, as a Hollywood narrator might say.
It begins with a boy approaching a milestone in life and in scouting: Eagle Scout. The top level in Scouting, Eagle is achieved by a relatively small minority of Scouts. Kyle was proud of his accomplishment, and his dad wanted to do something for him. Knowing that Kyle was into guns, Dad heard about a Boy Scout commemorative that Ruger had made. Finding ads for it online, he called number after number only to find… nope, sorry. We forgot to take down the ad. He went to his local FFL, Moti Adika of MASA Firearms in Coral Springs, FL, a guy with a strong Israeli accent. Moti knew the gun, and knew the market — and he told the Dad, gently but unmistakably, that he was screwed.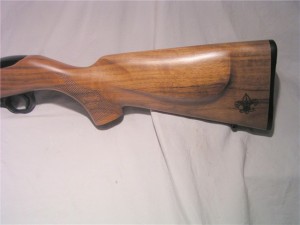 You see, that commemorative was offered for one year only — five years ago, in 2010. Gun distributors and dealers buy guns to resell, not to keep, and if your inventory takes five years to turn over, you're not going to make it as a dealer of guns or anything else. "I'll keep my eye on the auctions," is something like what Moti said, "but you better not count on it."
So dejected Dad mentions it to Granddad Bill, his father-in-law. They get on like a house on fire anyway — Dad's a line pilot, and Granddad Bill is a retired Army pilot, and they both like guy stuff, Mom, and the grandkids.
Enter Weaponsman
"Wait a minute," says Granddad Bill. "I know a guy who knows guns." and he sends an email to your humble blogger.
But the email crosses the wires as Weaponsman.com is relocating south to deal with family turbulence. It goes unread. But South turns out to be kind of diagonally a couple of streets over from Granddad Bill, and soon enough Weaponsman and the former Hook driver are at lunch with Weaponsdad and another buddy.
"Hey," says Weaponsdad. "Did you ever answer Granddad Bill's email?"
"Wha?" Weaponsman intelligently replies around a sandwich of some type.
And the facts about the Dad's urgent need for a weapons intervention lest the Dad have to conceive a Plan B for an Eagle Scout gift.
"No problem. I've got this for action," Weaponsman intones, his eyes smiling behind his WileyX's. Because  this is going to be easy, right?  Most commemorative guns stay NIB for decades. Most of them have examples in the secondary market all the time. And none of these soi-disant collector's items ever seem to appreciate much, compared with real collectors' items.
We learn about the rifle.  It's a nice looking thing, with a better than standard walnut stock, a schnabel forearm, and some Boy Scout markings. It's quite the "attaboy," and all we need to do now is find one.
We strike out. Our favorite FFL strikes out, and reaches out to his distributors.
They laugh at him. "We just had a guy from Florida asking." Moti? "We laughed at him, too."
Hey, anything to bring a smile to your face, you know? That leaves the auction sites. We hit the best and brightest, Gunbroker.
Nada.
The former Auction Arms, now GunAuction.com, the NRA's preferred auction site.
Zip.
And so on down the list, with synonyms for zero piling up. We even thought about trying GunsAmerica, even though they're assclowns and we don't trust them as far as we could throw them, but decided that some principles are stronger than helping a Boy Scout.
So we set some snares on the auction sites and take out the 18F google-fu. Like the Dad before us, we find lots of ads. "Oh, crap, what's the URL for that ad? We sold out of those in about a year."
Then, the klaxon goes off.  One has been listed on GunBroker! Initial bid $550, open auction. It was a nice one, in apparently new condition, with all the paperwork and junk that comes with a new one:
Some Strategic Bidding Tips
This is how we bid on that gun in order to buy it successfully, make a Scout and his Dad happy, and avoid any suggestion of a legal violation.
First, in a case like this where you're bidding for friends, make sure they're friends you trust. Your credibility on the auction site is at risk. If you win the auction and the actual buyer taps out, you're left holding the bag (which you can only rescue by buying the gun yourself and having it delivered to you, or making an arrangement with the seller).
Second, when multiple guys know that someone is looking for a specific gun, coordinate lest you bid against one another. It didn't take Moti any longer to find the BSA rifle auction than it took us; he advised The Dad to set up a GB account and bid himself. Three-way coordination was necessary to be sure than only one of us bid on the auction, so as not to drive the price artificially high for a single customer.
Third, in an interstate deal, take pains not to violate Federal and state law. This deal involved domiciliaries of three states: IL, FL, and NH. Rather than buy and take possession of and deliver the gun, we chose to simply bid on behalf of the buyer, who isn't likely to use GunBroker enough to establish a login of his own. If you buy a gun for someone else, that's potentially a straw purchase, even if the end user of the gun is definitely not a prohibited person. (ATF prefers to pursue cases like this than actual violent criminals; in one case, they put an FBI agent in prison for buying his father a Glock to get the LE discount). So in this case, we just bid for The Dad. He bought the gun himself, sending the check to the listing dealer, and receiving it from his own dealer, Moti. We never touched the money or the gun, and it did its interstate travel from IL FFL to FL FFL — it's even more on the up-and-up than it needs to be. Do not count on your being an honest person to protect you… make it tough for a dishonest ATF agent to screw you.
Fourth, an early bid in a long auction just signals your interest and brings out competing bidders. It's some bizarre group effect of human psychology that relatively few want to be the first penguin in the water, but great swathes of the public will happily dive in once the first one has taken the plunge. So bid late.
Fifth and Finally, don't let an item you want slip away because you only made one bid, and don't overpay because you got caught up in the heat of a bidding cycle. Decide what the gun is worth to you before you make the bid, and set a max bid of that amount. That both ensures you won't lose it to a bid you'd have outbid if you could have, and just as importantly acts as a cold-blooded check on the tendency to bid in hot blood.  (This is just like setting abort criteria for a mission, or a pilot setting a missed approach point on an instrument approach — it has to be done in advance, in cold blood, fixed and briefed, and then adhered to rigidly).
As it happens, no one else bid on the Scout commemorative, and it was The Dad's for the minimum bid of $550. With Fedex shipping, it came to $571. It's enroute to him, per the Fedex tracking number.
And the Scout? He doesn't even suspect it's coming. Heh.