Hi all.  Sorry for the delay in updating.  We have been moving forward on a bunch of things.
First of all, if you are planning to attend Kevin's celebration of life on Sunday, June 11, in Rye, NH, and you haven't RSVPed, please do so by sending an email (subject line: RSVP) to [email protected].  I have a feeling there are many people who are planning to attend but haven't RSVPed.  (And just a reminder, everyone in the Weaponsman community is invited.)
Second, if you know somebody (maybe another teammate) who has mentioned that he is coming, but is not a Weaponsman reader, tell that person to RSVP.
Why do I care so much about RSVPing?  Because we are only going to have food and seating for the people who have RSVPed.  You don't want to be the hungry standing guy who didn't RSVP.
I don't think Kevin mentioned it much in the blog, but in the last few years, he had become interested in cooking.  This is the guy who thought "oven" was always preceded by "microwave" up until about 2012.  He really liked cooking for other people and did some interesting experiments.  They didn't all work, but he made up for the occasional error by always making a lot of food.  Sunday dinner at our house might be burgers and tater tots.  Dinner at his house was a seven-course extravaganza.
My point is that he would really feel bad if people came to his party and there was nothing to eat.  So RSVP!
Now for some bullet points.
We got to visit Zac (Small Dog) yesterday at his new home.  He's doing great!  My sister-in-law and her husband, who are wonderful people, have a lot of experience with dogs and they've made him very comfortable and happy.  How much does he remember about his life with Kevin?  Hard to say.  But I hope he'll always remember, at least a little.
We really need to get in touch with a friend of Kevin's named Joseph Cunningham.  If any of you folks know Joseph, would you please ask him to reach out to me through the [email protected] email address?
We won't need any help paying for the celebration or blog upkeep, such as it is, but thanks so much to all those who have offered.
Does anybody have a simple way of getting a copy of a DD-214?  We can't find Kevin's.
It may take a while, but we expect Kevin's final resting place to be at the New Hampshire State Veterans Cemetery, which is in Boscawen, NH.
I'm now updating the blog with my own account, which is awesome.
Keep the pictures and stories coming, and if you're coming June 11, don't forget to RSVP!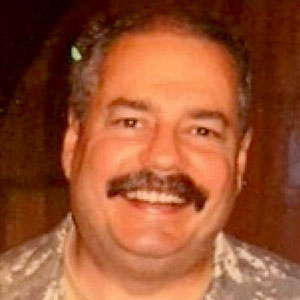 Kevin was a former Special Forces weapons man (MOS 18B, before the 18 series, 11B with Skill Qualification Indicator of S). His focus was on weapons: their history, effects and employment. He started WeaponsMan.com in 2011 and operated it until he passed away in 2017. His work is being preserved here at the request of his family.