Now, we never watched this jamoke's TV show, although the promos we saw made motorcycle builder Jesse James look like a self-promoting blowhard. Now his new business is firearms, and he really looks like a blowhard. To wit, here is his new silencer: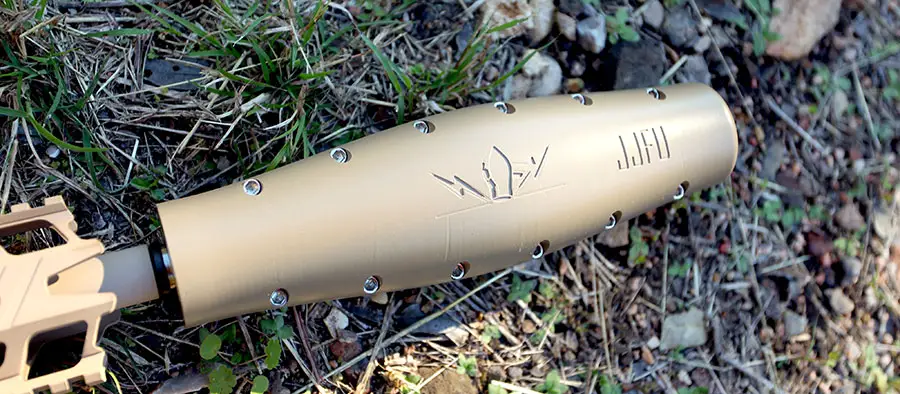 Here's the innards of this deflated-football-shaped suppressor.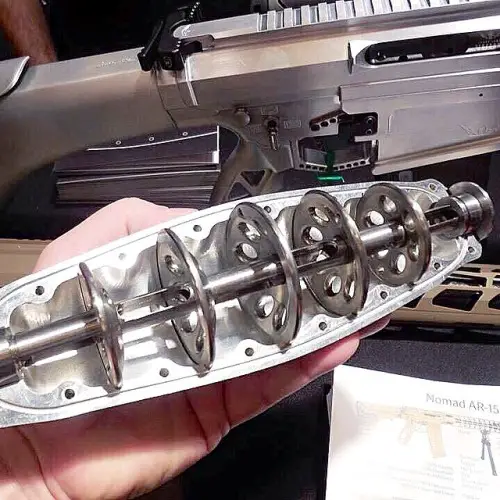 Notice that they're made of aluminum and stainless, but mostly aluminum. We'll get back to that. Meanwhile, here are one set of claims he has made for the suppressor: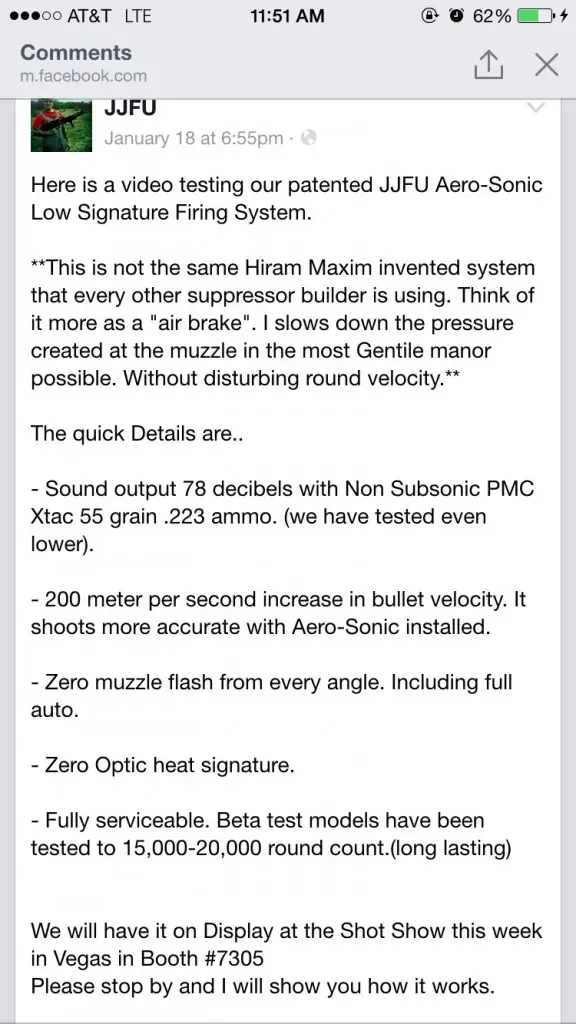 Here's another set of claims:
Test fired with 5.56 ammo, sound was 78 decibels at the muzzle.

Zero Optic Heat Signature

[tl; shortened to] doesn't get too hot to touch in one 30 round mag

Zero Muzzle Flash

Zero muzzle flash …from 25 yards in front of the shooter. Filmed from 10 feet to the side of the shooter a very dim flash was visible for the first 2 semi auto rounds fired.

Fired on full auto, NO muzzle flash was visible from the front or sides.

Zero Loss in Round Velocity

Rounds picked up 100 meters per second of velocity.

Aero Sonic equipped guns [are] MORE accurate, showing no typical suppressed round drop.

Most common suppressors have a 2500 round lifespan. We have several active prototypes with 20,000+ rounds and counting.
He did have someone who could spell clean up "gentile manor," after several days of internet japery, but some of the SHOT show facebook nonsense persists, and other numbers have been transmogrified.
Jesse James's Velocity Increase Claim is Suspect
The velocity-increase claim (a physical, shall we generously say, unlikelihood) has been circumcised from 200 to "merely" 100 mps increase.
Meters per second is a kind of unusual choice for an American company dealing in the ballistic realm, where the whole industry, for better or for worse, runs on feet per second in ballistic terms and always has. To translate these outlandish claims into the units you usually work with, one foot per second is 0.3048 m/s. That means he is claiming that his magic football accelerates a projectile approximately 656, or 328,  feet per second. What's the science behind this claim?
The inner barrel acts much like a barrel extension.
So, he's claiming his 8 inch barrel (hmmm, that wasn't in SI units?) adds 300, or 600, plus, fps. Well, in 2012, we noted in a post on some Swedish magic claims a variety of tests of barrel length vs. velocity show a loss of 12 to 25 or so fps in a shortened barrel — however, that's for a barrel, not an ersatz barrel with a lot of big slots milled in it. One outlier produced 44 fps/inch-shortened on a .300 Win Mag.
In 2013, we cited Ballistics by the Inch as a Wednesday Weapons Website of the Week. BBTI has done a lot of tests on many calibers; their 5.56 results are here, showing a more extensive drop than any other study; this may have been James's source for numbers as it shows an accelerated drop off when barrels are shortened beyond usual carbine lengths.
James is claiming his ersatz barrel boosts MV 41 to 82 fps per inch, numbers that disagree with five barrel-shortening chronograph studies cited in our 2012 blog post. His derivation of these numbers, compared to the existing body of data, suggests irreproducible results.
We notice that his claims of sound reduction or sound pressure levels come without any information on standards. There is a MIL-STD for measuring suppressor sound, MIL-STD 1474D (.pdf @ silencertalk.com). We pretty much guarantee he isn't using this standard. Which standard is he using?
78 dB? The number is almost certainly a produce of the SAE method — Scientific Anal Extraction. As this test video of a Liberty multi-caliber suppressor shows, closing the bolt or slide on most firearms produces from 106 to 118  dB or so (you can see examples in the video below). A 5.56mm rifle with a 16″ barrel produces 164 dB or so, bare. With the Liberty Mystic multi-cal suppressor (at about 5:05 in the video) it produces 149 dB +3 on the first round according to the MIL-STD, and 137 dB at the ear. Now, that's really a handgun suppressor, but good carbine suppressors (including some of the same vendor whose multi-cal suppressor is tested in the video, Liberty) can get you down to 133, 135 dB or so at the ear.
An important note is that a suppressed AR is significantly louder (anywhere from 3 to 10 dB) on the ejection port side than it is on the blank side. This is a concern for left-handed shooters because a suppressor can come with completely legitimate paperwork indicating that it's hearing-safe for the user, but the fine print may note that it's tested for a right-handed user. Someone who left-shoulders a "safe, 135 dB" carbine-can combo may be taking 142 dB at his ears.
So, how does Jesse James's magic get to 78 dB, approximately 40 dB lower than the sound of the bolt sliding home? Bearing in mind that decibels are measured on a logarithmic scale? His explanations are the mumbo-jumbo of someone who does not understand sound, the decibel scale, or, frankly, physics. At all. Things like:
Our unique design lets the air expand in the pulse shape of a super sonic sound wave. All internal surfaces are machined with organic curves in an effort to reduce turbulence. Turbulence = Harmonics = Sound. The more gently you can slow down the air, the quieter the results.

Super Sonic air pressure is also regulated with our patented inner barrel design. Pressure relief slots are machined in an oscillating pattern. This regulates the outward flowing air to the suppressor chambers. This helps the already expelled air to bleed off, and not be hyper charged as it passes thorough the suppressor chambers.
If, after reading that, you're saying, "Whaaa…?" you just might have a STEM degree. Or a significant quantity of common sense. Or some experience with suppressors.
If, after reading that, you're saying, "OMG Take my money!" then he has a magic deflated-football to sell you. And we left out the best bit till now: he wants $4,500 for it.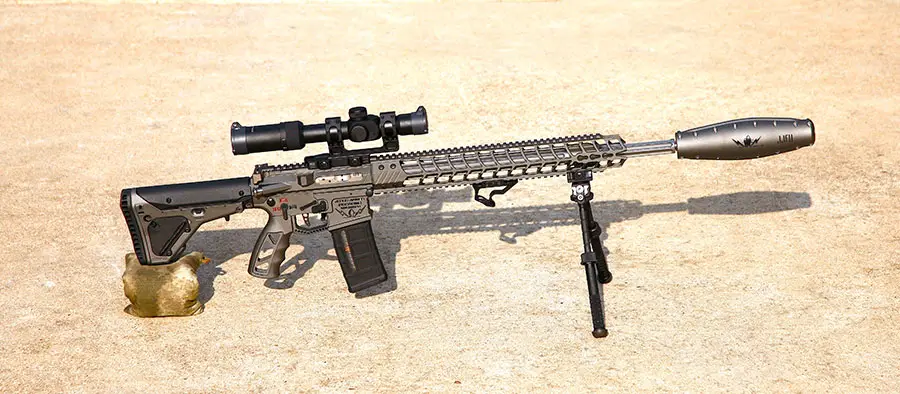 We call bullshit on the whole thing — but this guy's whole career has been selling people the sizzle, not the steak, so some chuckleheads out there are going to buy this thing. Don't be that guy.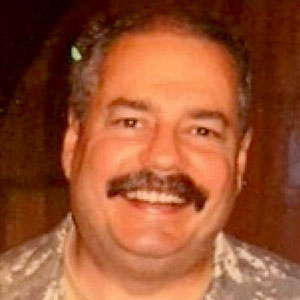 Kevin was a former Special Forces weapons man (MOS 18B, before the 18 series, 11B with Skill Qualification Indicator of S). His focus was on weapons: their history, effects and employment. He started WeaponsMan.com in 2011 and operated it until he passed away in 2017. His work is being preserved here at the request of his family.