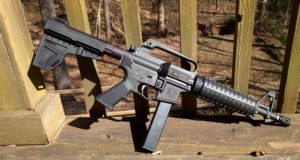 We're told that "2017 is The Year of the Pistol-Caliber Carbine" was one of the themes at SHOT this year. Online, it's probably best developed by Michael Bane in this article.
This was, as I predicted, the Year of the Pistol Caliber Carbine. They were all over the place on the SHOT floor, and I don't think we were able to even scratch the surface. While there were a lot of "Me toos!," with many AR manufacturers rushing to get a pistol caliber product out the door, there were some interesting new products as well as substantial evolution from dedicated pistol caliber companies.
Do Read The Whole Thing™, because Michael does a fairly thorough run-down of available pistol-caliber rifles, leaving out only a few, like the Kriss and the Kahr Arms Thompsons. (The semi Thompsons, available as 16″ carbine or as SBR, date to Numrich Arms and the West Hurley, NY iteration of Auto-Ordnance, so they're often forgotten out of sheer senescence. "New" is one of the most powerful words in the English language, and these are absolutely "not new").
Now some people certainly think 2017 is the year of the semi subgun. Maybe SIG-Sauer is one of them, because, as we reported yesterday, they've raised the prices of their MPX pistol-caliber carbine from $61 to almost $300, depending on model. Bane likes that one, too. His conclusion (from the same post linked above):
Some things haven't changed — the Sig MPX absolutely rules the roost. The venerable Kel-Tec SUB-2000, available in 9mm or .40 S&W with magazines for multiple platforms and a low-ball price of $500, remains the first choice for a first pistol caliber carbine — if you can find one! GunBroker is your best bet. MP-5 clones are coming on hard…I did an earlier post that covered MP-5 clones, including the HK SP5K. I'll cover the RONI instant-SBR concepts in a different post (and I've talked about them on the podcast).

Here's the link on my parts list for my QC-10 build.

Here's my post on the advantages of a pistol caliber carbine for self-defense.
In our opinion, these are plinking curiosities, like .22LR clones of service weapons; for practical defensive use, the rifle-caliber carbine or SBR is generally superior, which is why militaries and cops have dumped most of their smorgasbord Stens, Stirlings, M3s, MP5s, and Uzis for a boring oatmeal of AR and AK.
One thing could change this calculation: if Congress were to lift the assignment of short-barreled weapons to the National Firearms Act, and make them Title 1 weapons instead. We don't consider that likely this year, which is unfortunate because the People of the Gun might not have such a strong political alignment for a while. But if it were to squeak through the legislature and into reality, subgun clones would really take off.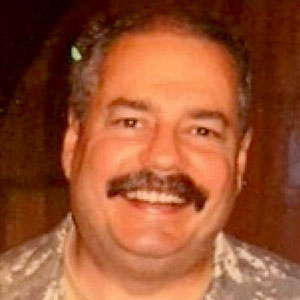 Kevin was a former Special Forces weapons man (MOS 18B, before the 18 series, 11B with Skill Qualification Indicator of S). His focus was on weapons: their history, effects and employment. He started WeaponsMan.com in 2011 and operated it until he passed away in 2017. His work is being preserved here at the request of his family.