This one's a blast from the past, from the past — we're quoting a 2013 news feature about a 1958 assault with intent.
On May 12, 1958, in Department 42 of the Hall of Justice, two punks from East L.A. were on trial for a murder committed during the course of a robbery. Fifty-one-year-old Jose Castellanos, a local grocer, had been shot to death by 23-year-old Gregory Valenzuela. Castellanos and his wife were in their store at 435 South McDonnell Avenue when two would-be robbers came in and demanded money. Castellanos pulled out his own gun to fend off the crooks, managing to fire off a round before being mortally wounded. Mrs. Castellanos watched in horror as her husband died.

Sheriff's Detective Sergeants N.L. Peterson and Ned Lovretovich rolled over to the scene of the shooting and began an investigation. Valenzuela was ID'd by Castellanos' widow, and within a couple of days he was found hiding with four other young men in an empty house behind the home of a friend, Joseph Lozano.

Valenzuela told officers that he and an unnamed accomplice had decided "to hit" the Castellanos' grocery store.

It's possible that Valenzuela and his accomplice were members of White Fence, also known as WF, one of the oldest street gangs in East Los Angeles. Even though the gang claims that it dates back to 1911, it didn't emerge as a formidable force until the 1930s, when it was a male sports team associated with the La Purisima Church. The WF name supposedly derives from a white picket fence that surrounded the church. The moniker may make the gang sound benign, but nothing could be further from the truth.

By 1957, when Castellanos was murdered, White Fence was one of the most powerful and violent gangs in the L.A. area, with criminal enterprises ranging from auto theft to murder. Over the years WF hasn't vanished but has rather thrived. It now has members in Las Vegas, El Paso, Florida, and Guatemala.

Det. Sgt. Ned Lovretovich, Photograph courtesy USC Libraries – Los Angeles Examiner Collection

Diligent policework by detectives Peterson and Lovretovich resulted in the ID-ing of Valenzuela's accomplice: 23-year-old Augustine Acosta. As killers will do, Acosta and Valenzuela developed a grudge against the cops who had arrested them, especially Sgt. Ned Lovretovich—and they were determined to get him back.

The day of the trial, as the defendants were being led back into the courtroom by the bailiff following an afternoon recess, they suddenly broke away and attacked Lovretovich with sharpened metal spoons. Lovretovich was not seriously injured, though he did sustain a stab wound to his right shoulder and an abrasion on his cheek. Valenzuela and Acosta were subdued by force and taken away.
If your cousin the con is wondering why he has to eat his gruel with a kind of rubbery plastic spork, tell him he owes Valenzuela and Acosta one.
Now, who is more disarmed than a prisoner? He has no access to weapons, nor money to buy them. He has no rights. He is kept locked up, by definition. He is subject to frequent and intrusive searches, on suspicion or just on general principles.
And yet, like Valenzuela and Acosta, he has no difficulty arming himself with weapons capable of deadly force.
When questioned, Gregory Valenzuela characterized the incident as "just a misunderstanding." He claimed not to recall much of what had happened and said that he didn't know why he'd jumped Lovretovich; later he would say his motive was that the detective was framing him.

Acosta's interview was considerably more colorful than Valenzuela's. Asked if he cared to tell the investigators what had happened in the courtroom, Acosta replied, "No. Fuck everybody. I don't give a shit." Where did Acosta get the spoon he'd sharpened into a shiv, they asked? "It's for you to find out," he replied. "You're the law, not me."
And in 2016, prisoners are telling cops the same things: either playing dumb like Valenzuela, or playing tough-guy like Acosta.
We bet you have at least eight spoons in your home, and probably more. And, unlike prisoners (and SF guys), you've probably never contemplated what you'd have to do to one to make ready for cutting throats. These two crumbs might actually have killed Ned Lovretovich, if he'd been an iota slower or they'd had some combatives training: he was saved, you might say, by their deficiency of spoon-fu. (Or is it spoon-do? The mindshare battle of Chinese and Japanese martial arts never ends).
There are always weapons, as any one who's been in prison (whether wearing guard blue or inmate stripes) can tell you. If you weaponize your mind, there are weapons within reach everywhere. 
And if you don't weaponize your mind, beware. Somewhere, a Gregory Valenzuela is. 
Update
Here's a more recent spoon crime: five years ago. Reporting on the doings of Florida Man, the Daily Mail:
A man plucked out his uncle's eyeballs with a spoon and left them in the trash, police say.

Timayo Knight, 31, allegedly took out the eyes of his uncle, Bonnie Pogue, 79, and left a bloody spoon on the kitchen table in Prichard, Alabama.

Mr Pogue, a disabled U.S. Air Force veteran, survived the attack but is now in a serious condition in a local hospital's intensive care unit, police said.
Okay, our error: Alabama man. We need more fossils to determine if this is the same species as the previously known Florida Man, Homo sunshineicus.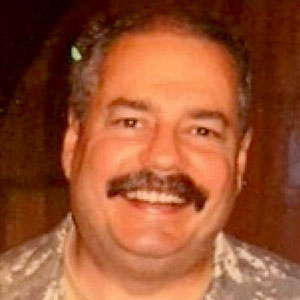 Kevin was a former Special Forces weapons man (MOS 18B, before the 18 series, 11B with Skill Qualification Indicator of S). His focus was on weapons: their history, effects and employment. He started WeaponsMan.com in 2011 and operated it until he passed away in 2017. His work is being preserved here at the request of his family.