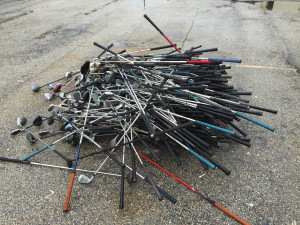 Two kinds of golf clubs, actually: the attempted-murder weapon was a golf club, probably an iron, and the crime scene was a golf club too, specifically the Indian Creek Golf Club in Carrollton, Texas, and even more specifically, the putting green of the 16th hole.
As a foursome was winding up their putting on Friday, an impatient golfer in the following foursome drove his ball right into their midst. The New York Daily News:
The shot was an example of the breach of decorum golfers refer to as "hitting into" a group rather than waiting for all of them to complete their shots. Police said Michael Plumlee, the eventual victim, threw the ball off the green.

Witnesses said Sivilay [Kevin Keo Sivilay, 42, a member of the second foursome] responded by smacking Plumlee in the back of his head with a club, knocking him to the ground, according to Carrollton police. Investigators believe Sivilay hit Plumlee once or twice in the back with the fairway iron as he writhed on the ground in pain.
The head blow caused a skull fracture, but Plumlee's going to live. So is Sivilay, but he's going to be doing his living behind bars for a while.
We've always said breaches of golf decorum were "maddening," but apparently Sivilay sees "maddening" a little more redly than we do. Come to think of it, having a dawdling foursome ahead of you can be infuriating, too. Not enough to try to bean-ball them, though; and if some guy tosses your ball, if you tried to bean-ball him, it serves you right; and even if you didn't, that's not sufficient excuse to beat him black and blue with a nine iron.
Plumlee, 27, suffered a brain injury and several broken ribs, his family told the TV station. He remained hospitalized Monday.

Police arrested Sivilay on charges of aggravated assault with a deadly weapon. Investigators continued to review the beating Tuesday for possible additional charges against Sivilay or other members of his group, police told the Morning News.
If you leave the links in the black-and-white golf cart with no inside door handle, maybe this is not the soothing and relaxing sport for you.
FMI: Dallas Morning News.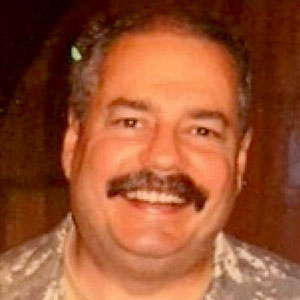 Kevin was a former Special Forces weapons man (MOS 18B, before the 18 series, 11B with Skill Qualification Indicator of S). His focus was on weapons: their history, effects and employment. He started WeaponsMan.com in 2011 and operated it until he passed away in 2017. His work is being preserved here at the request of his family.