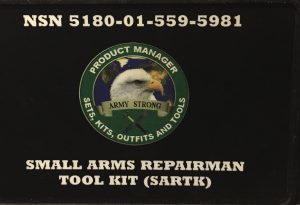 Well, currently, the Army has a thing they call the SARTK, Small Arms Repairman's Tool Kit. Since we didn't find a link to it on the public intertubes, we made you one. After all, your tax dollars bought these things, NSN 5180-01-559-5181, for approximately six to ten thousand dollars each.  They are assembled by Armstrong Tool Group, a division of Apex Tools, and most of the tools are Armstrong brand. All the tools are made in the USA (required under protectionist legislation)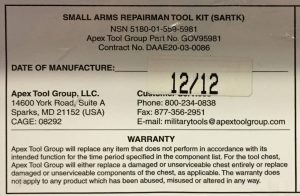 (And you thought your Snap-On truck was spendy!)
The kits are assembled by Armstrong Tool Group, a division of Apex Tools, and most of the tools are Armstrong brand. All the tools are made in the USA (required under protectionist legislation), and with no demand for them outside the USG, the price can be set arbitrarily high.

The kit itself is contained in a molded plastic (probably something like nylon 6/6) case with seven drawers, and custom inserts to hold the required tools. Inside, there's a list of what goes in each drawer, although the custom cutouts for the tools make it readily apparent where a tool you have out goes. This derives from normal military and aviation tool control practice. (Leaving the tool out not only risks losing the tool, but risks screwing up the machine it's left in or on. Few machines digest tool steel well).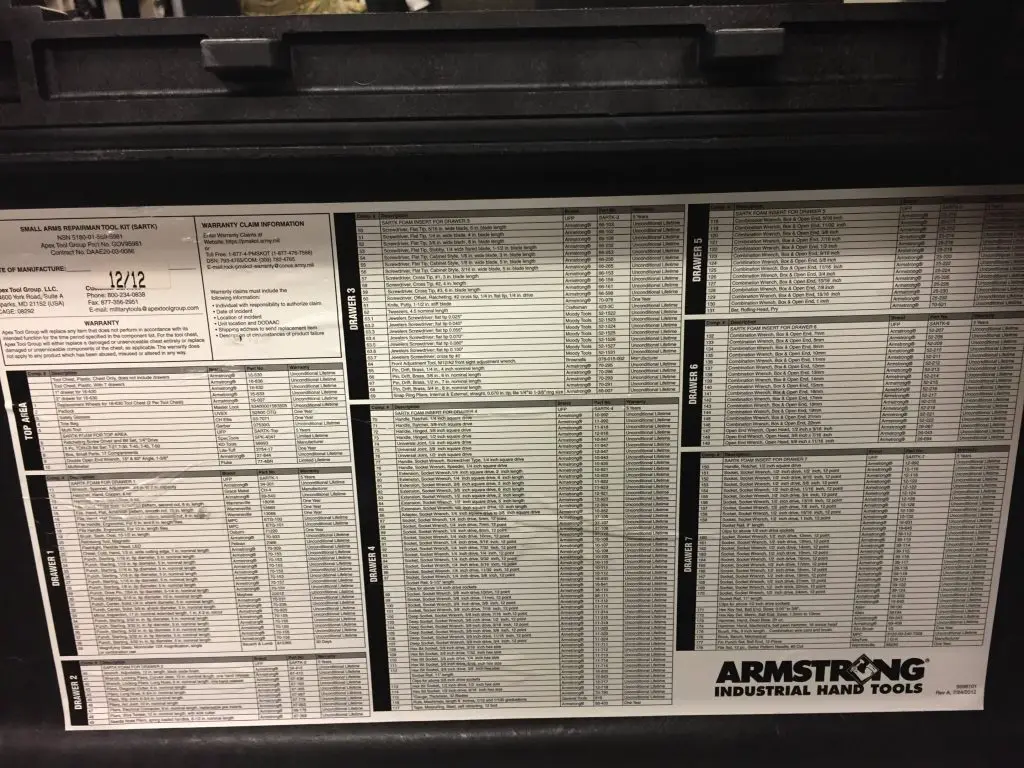 Most of the stuff in the kit, it turns out, is not very exotic, and is not firearms specific. Indeed, most of the stuff we use to build an AR is not included, and one wonders what use a lot of half-inch sockets are whilst working on small arms.
Top area: Miscellaneous Basics, including a multitool, a ratcheting screwdriver with regular and Torx bits, a 1 3/8″ open-end wrench, and a multimeter.
Drawer 1: Hand Tools. Hammers (dead blow and copper head), files, chisel, assorted punches (starting, driving, aligning, center) and an inspection mirror, magnetic pick-up wand. and magnifying glass.
Drawer 2: Grab 'n' Twist. Adjustable wrench, assorted vise-grips and pliers.
Drawer 3: Small Fastening. Screwdrivers, regular, Phillips head, and jewelers; drift pins; snap ring pliers; putty knife, tweezers, front sight adjustment tool.
Drawer 4: General Ratchets and Sockets. 1/2″, 3/8″ and 1/4″ drive imperial measurements (minus the 1/2″ ratchet handle and some sockets, which are in Drawer 7), plus thickness gage, measuring tape and rule.
Drawer 5: Combination Wrenches. Box & Open End, imperial fasteners, plus a pry bar.
Drawer 6: Combination Wrenches. Box & Open End, metric fasteners, plus 3 dual-size open-end wrenches for common imperial fasteners.
Drawer 7: Overflow Ratchets and Sockets, Hex Keys & More Misc. 1/2″ drive ratchet handle and 12-point sockets, plus sets of hex keys (Allen wrenches) for both imperial and metric fasteners, plus dead-blow and ball-peen hammers, bench block, another set of files and file card/brush, and another punch set (pin punches).
There may be a subsequent rev of this toolkit; this one was manufactured in 2012 and is labeled as Rev A.
These are quality tools, but you could put together a matching tool kit for far less money, even buying US-made-only (or EU only, if that's how you roll) tools. You don't need most of these automotive-type tools to work on small arms. And it's missing a lot of things that make life easier when maintaining typical weapons. Finally, it has no provision for adding more useful tools.
Finally, the layout of the tools is just screwy. Allen wrenches in the bottom drawer?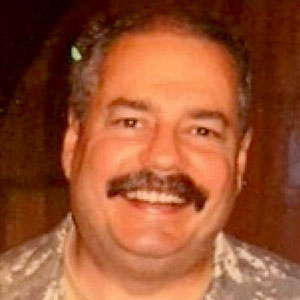 Kevin was a former Special Forces weapons man (MOS 18B, before the 18 series, 11B with Skill Qualification Indicator of S). His focus was on weapons: their history, effects and employment. He started WeaponsMan.com in 2011 and operated it until he passed away in 2017. His work is being preserved here at the request of his family.