Monthly Archives:
October 2012
Once again, there are too many people acting rashly, incompetently, or just plain criminally with weapons for everybody to get his own post. So we'll jumble them together, beginning, say, with the idjits and advancing through the skells and whackos to the hardened prestoopnicks.
Something just smells wrong about this one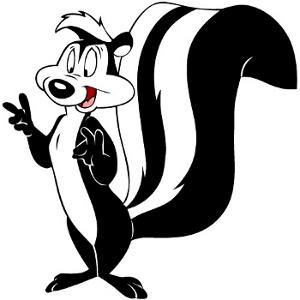 A guy in Pennsylvania saw the biggest skunk ever in his back yard, and let the polecat have it with a 12-gauge. Only then did he figure out that it was a 9-year-old girl in a black and white costume, one of his own relatives attending a Halloween party. Her injuries didn't initially appear life-threating, but she was life-flighted to hospital, and the would-be Skunkslayer is assisting police with their enquiries — although he has yet to be charged, or even named.
Hot tip: ignored skunks walk off. Shot skunks often release their scent glands' contents in the muscle relaxation that comes with death. So shooting a skunk is a really bad idea, even if it's not a four foot tall skunk. Which should be a clue.
Amazingly, police say alcohol was not a factor. Some guys don't need to dip into the judgment juice to wind up in this space.
When swords are outlawed…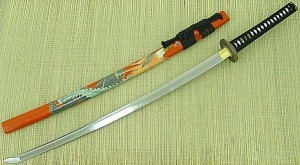 The subway riders of Phoenix, Arizona will lose their secret defender. Two guys were beating the living daylights out of a third when an unknown citizen took the law into his own hands… producing a 30-odd-inch Japanese-style sword, katana or possibly a wakizashi. The assaulters departed hastily, while the assault victim stood in the railcar door, hurling abuse at their receding forms. (Video at the link). The swordsman sheathed his implement and rode off into the sunset. No word if 46 other ronin followed him.
Well, they often say that many defensive weapons uses resolve the situation with mere display of the weapon. Stands to reason a three-foot-long piece of gleaming, sharp steel might work for that.
It always works for Jackie Chan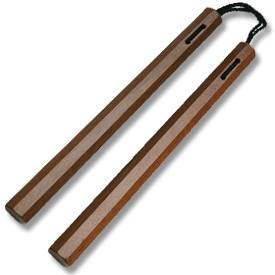 But a Winslow, Maine woman found that the decorative nunchaku in her apartment didn't stop an aggressive, armed ex-boyfriend. She did put a hurtin' on him, and wriggled away, as he at various times used two different knives, a pull up bar, and his own superior speed and strength. She managed to get a 911 call out and the ex, one Christopher Rolling Fox, is now Christopher behind Bars and Locks. You really should read the whole article to see how the whole fight went (not to mention a mugshot of an amusingly bruised Rolling Fox). If he had stopped for a moment to think… well, he just doesn't seem to be that kind of guy.
Our advice to the lady is, get some training and a gun. To Mr Fox, we'd like to send the message that most of the trouble guys get into is caused by the delusion that one woman is materially different from another. When you get out again, take that one to heart.
Some are Desperate to Escape Anonymity
A skinny comedian nobody ever heard of is accused of pulling a gun on a morbidly obese actor than nobody ever heard of, in an incident that nobody ever heard of unless they unwisely follow a link to a gossip column like we did. Complete with video of skinny guy's post hoc gangsta-wannabeeism. Yawnsome.
Who cares? These guys could probably whack each other and make the net level of talent in the world go up.
Cops Shoot another Naked, Irrational Person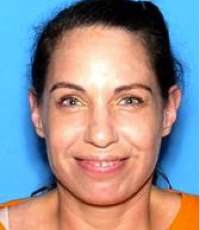 This time, in Florida, Saturday. The cops are saying the woman had "a weapon," but they won't identify the weapon, which is pretty much all you need to know — if it was a lethal weapon, and they were seriously threatened, and not just trigger-happy, the weapon would have been on the six o'clock news. Almost certainly drugs were involved, as with the University of South Alabama shooting. Two cops, Rocky Howard of the Hernando County Sheriff's Office and William Mechler of the Tampa PD, have been given extra vacation time as a reward for the shooting. They were off-duty at the time, attending the same wild party as the naked woman. Apparently, unlike the deceased woman or an armed civilian in a shooting, they were not tested for drugs or alcohol, thanks to police union protections.
Moral of story: don't take drugs, and don't go naked around cops — they can't handle it.
Update: Her name was Inga Swanson, and she was carrying a cross and/or a decorative, non-firing antique gun. She was worried about the "End Times"… for her, they were indeed. She has apparently been delusional for some time -excuse us, had been. Not really funny, this.
One wishes that there were some way to deal with the mentally ill short of shooting them dead and ending all their mortal travails.
Sometimes the good guys win one. even if they're girls. even if they're only 12.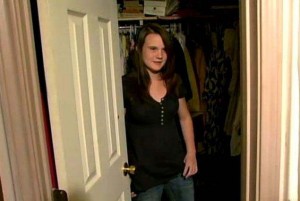 That's how old Kendra St. Clair is, and she hid in a closet after calling her mom to tell her a big, scary dude was breaking into their rural Oklahoma home. Mom told her to closet up, and gun up, and Kendra dutifully did. Mom called 911.
The police still hadn't arrived when the burglar, one Stacey Jones, arrived at Kendra's closet and got the surprise of his life — nearly the last surprise of his life. Yep, she shot him, right in the boiler room. He ran, wounded … and the arriving police ran him down and transported him for, first, medical help for the .40 slug in his chest, and then to a "recovery room" with barred windows in a county facility. He'll have some time to consider the benefits of a career change, unless somebody feels like standing his quarter-million in bail. Reportedly, he was homeless and scavenging for food, but he looks pretty well-fed in the photos at the link, and what food was he looking for in a bedroom closet?
"I kept my head on straight," Kendra said. She deserves to be proud, because she surely did.
The mighty power of the Restraining Order
A whiny attorney (but we repeat ourselves) in Wisconsin notes that a shooter who killed several people at his soon-to-be-ex-wife's workplace and then himself was under a restraining order at the time.
Once again, we're impressed at how this kind of legal paper really restrain people. Gee, the lawyers are really brilliant about that stuff, aren't they?
Sure are. This guy's answer: to restrict the rights of all the people who didn't commit the crime.
That'll definitely work.
Guns don't kill people, golf clubs kill people.
At least they do in the hands of the Kennedy family, who've also killed people drunken driving, playing stupid games skiing, and shooting up heroin, all well-established Kennedy pastimes, and who have been saved from a higher body count by medical advances. Cousin Michael Skakel used his family's clout to evade justice for a decade and a half after he smashed 14-year-old Martha Moxley's head in with a golf club, for not putting out. (Droit du seigneur is another Kennedy family tradition, practiced with babysitters, waitresses, and any other available, low-clout female).
You'll be delighted to learn that Skakel is up for parole just ten years after justice belatedly put him where he belongs, and the Kennedy family are pulling for him: after all, he hasn't done anything the rest of them haven't at least tried, and "he's been a model inmate." (Personally, we think the latter is a great argument for leaving him where he is. It's hard to get good inmates these days!). Reportedly, he's in a minimum security facility… where he can practice his swing.
Martha's brother John wrote an angry letter to the parole board, pointing out that Skakel has shown not the least indicator of remorse. "Michael Skakel is representative of the most dangerous aspect of our society. in that he was raised in an environment in which he was exposed to, and at some point embraced. the mindset that the rules of our general society did not then and do not now apply to him…. And, I believe that Michael Skakel's inbred sense of self and his self-confessed quick temper will always represent a threat to society."
Right now, the nation is suffering a terrible interregnum without a Kennedy in Congress, but Camelot fans take heart — Massachusetts is about to elect another. Not Michael Skakel, though, who has to get out of crowbar motel before he advances his career. He probably will, though…"the rules of our general society did not then and do not now apply to him."
And that's probably a good place to stop… a reminder that it's not the object, but the intent of the man whose hand is on it. Millions of people use golf clubs to play a harmless (if frustrating) game. It takes a narcissistic sociopath, or a Kennedy (but we repeat ourselves) to make a murder weapon out of one.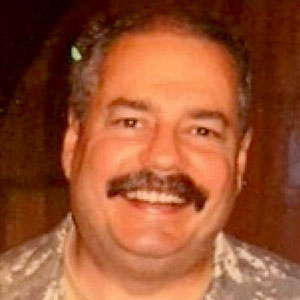 Kevin was a former Special Forces weapons man (MOS 18B, before the 18 series, 11B with Skill Qualification Indicator of S). His focus was on weapons: their history, effects and employment. He started WeaponsMan.com in 2011 and operated it until he passed away in 2017. His work is being preserved here at the request of his family.