Monthly Archives:
December 2015
…and we came across this, the Gunsmith Special of high-end aviation projects — a one of a kind, Mach 2.2 swing-wing fighter jet.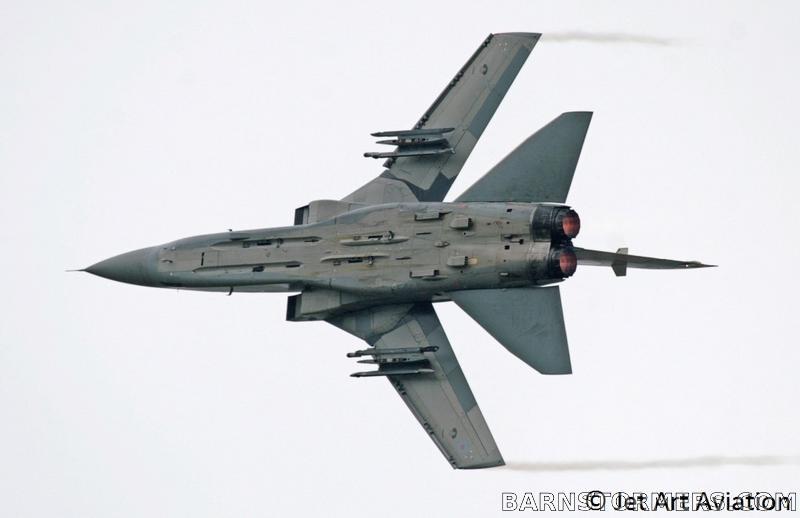 The ad at Barnstormers.com said this:
Ex RAF Tornado F2A ADV. MACH 2.2 Fast Jet Interceptor. Very rare. The only F2A Tornado aircraft in existence. Twin Stick trainer with full flying controls in both cockpits. Airframe hrs ridiculously low 935! Fitted with RB199 Mk103 afterburning turbofan engines, Trials aircraft known as TIARA used for radar trials and avionics research / evaluation. Unique cockpit with MFD screens and prototype holographic HUD. Built 1984, last flown 11/11 comes complete with F700 and a detailed log of all flights ever flown including landing, take-off, rollers and arrested landings. Dismantled for delivery •
via BARNSTORMERS.COM.
And the FAA's worried about your Christmas quadcopter. We found the company's website and they have other Tornados for sale. (Britain, which is taking delivery of F-35s, has retired the air defense variant, and this specific jet was the technology mule for the next generation of air-defense interceptor Tornados. They're going to keep flying the strike GR4 variant well into the 2020s). They've also got a few Harriers and Sea Harriers. But the star of the collection is clearly ZD902. Just before being disassembled for crating, she posed for some beauty shots:
Hey, Papparazzo, get her other side, too: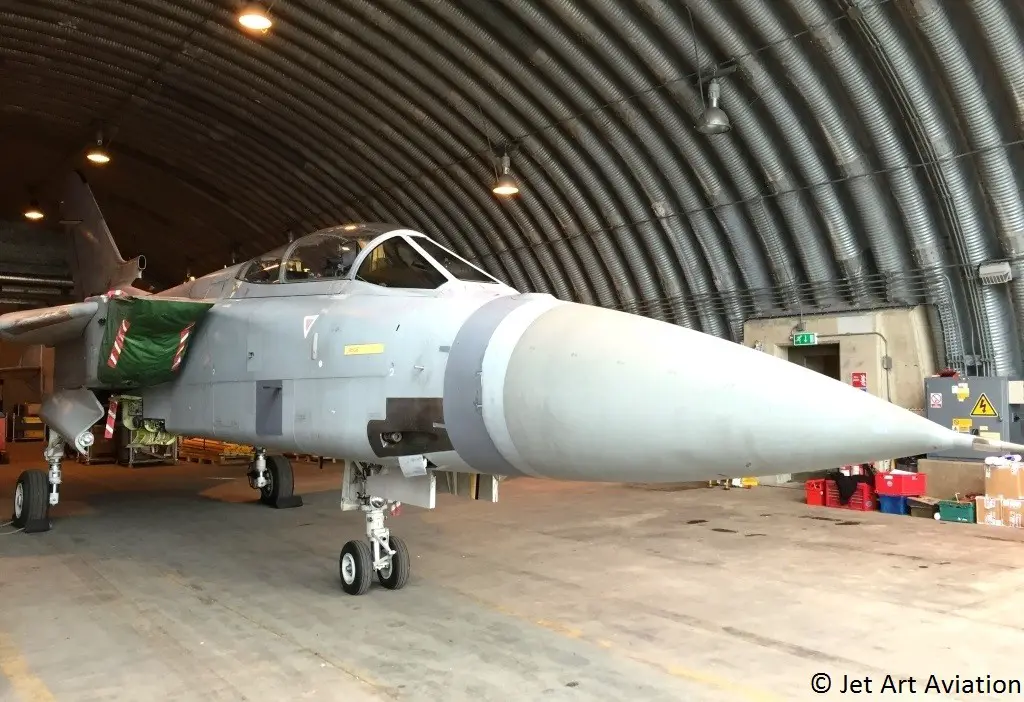 We never thought of the short-coupled mud-moving version of the Tornado was beautiful. We used to see the Germans fly them through mountain valleys as if they had a death wish; and we saw the hairy strike missions that the RAF flew in Desert Storm, into what was then the world's greatest concentration of anti-aircraft fire, ever. So we knew the plane was capable, but it was stocky, knobbly, and just plane homely. It looked like one of those German daredevils got too low over the Black Forest of Ugly and didn't miss a single ugly branch. For the same reasons, it was about as stealthy as a flying locomotive. But the dictates of aerodynamics and the interceptor mission meant that the ADV was beautiful.
She wasn't lacking teeth. Along with the usual radar- and IR-guided missiles she could carry on pylons, she had aerodynamically integrated air-to-air missiles, something first seen in the F4J Phantom of the 1950s. Now disarmed, ZD902 shows where the missiles would be "buried" if she were still operational.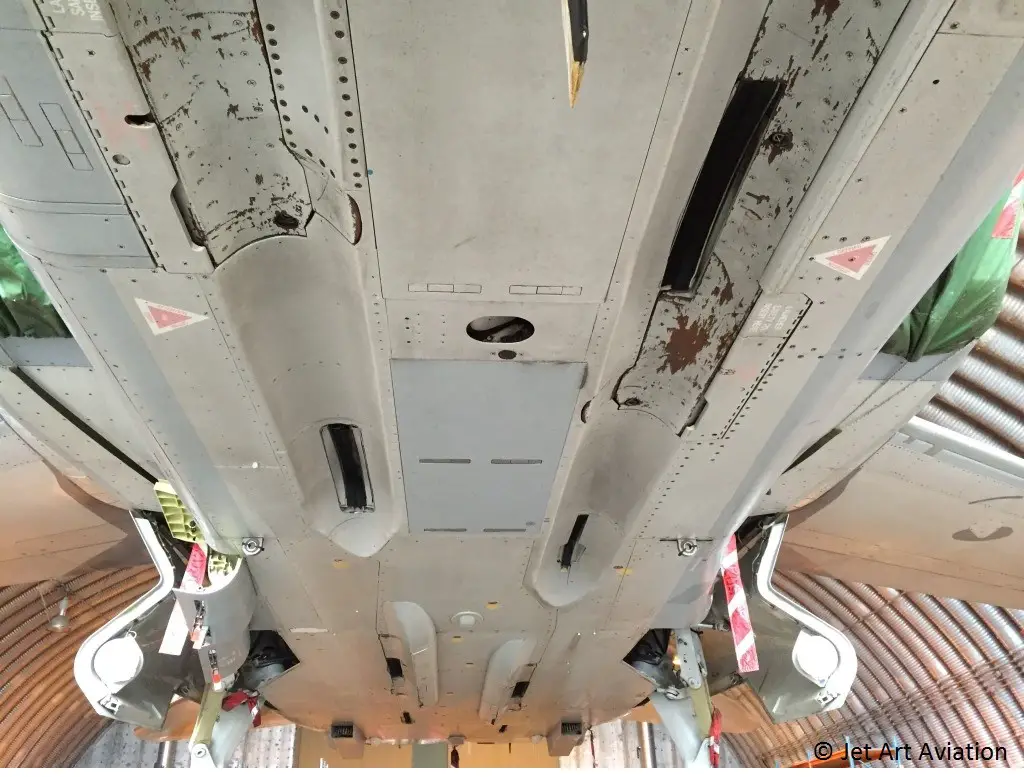 The swing-wing planform was, like bell-bottoms and tie-dyes, a product 1960s, although the concept really came out of the golden age of supersonic research in the 1950s. Independently, aeronautical engineers in many countries, facing the implacable reality that the best wing planform for high speed really stank at low (i.e., approach-to-landing) airspeeds, and vice versa. The USSR produced the MiG-23 and -24 and the Su-22 and Su-24, all of which are still in service in many nations, and the Tu-22M and Tu-160 bombers, held only by Russia; the USA the now-defunct F-111 and F-14, and the surviving B-1;  and European international project, the Tornado and  number of stillborn design studies.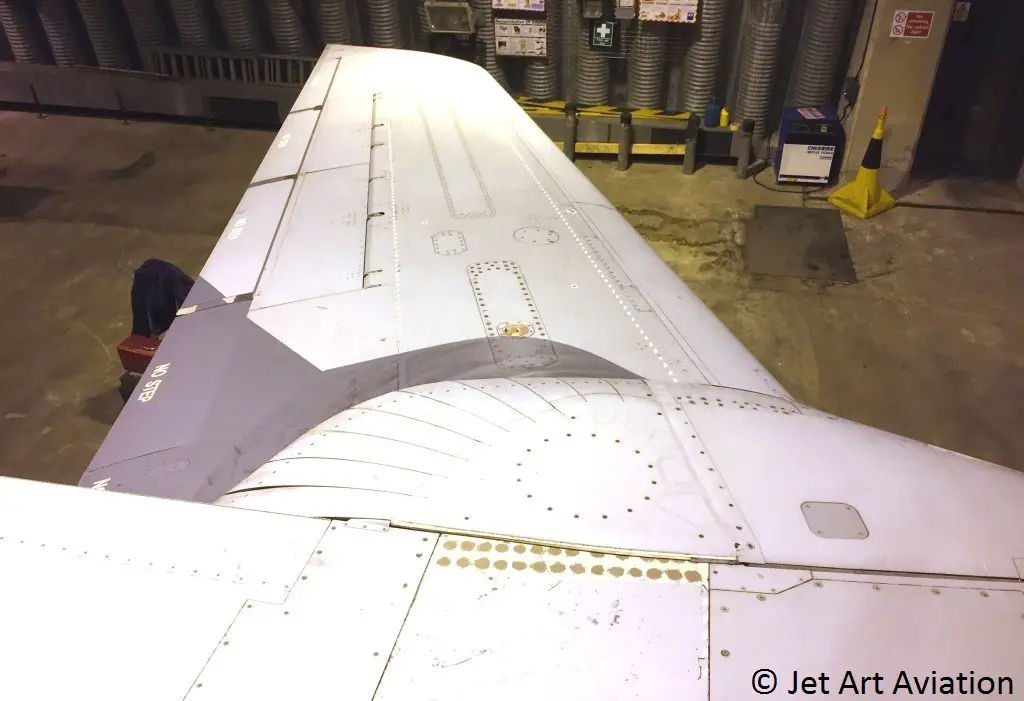 The complexity of variable-geometry, and the weight it added, caused engineers to fall out of love with the VG concept by the mid-1970s. Future designs would have fixed-planform wings, and the generation after that would get another Heath Robinson technology — vectored thrust.
Replacing the versatile Tornado with the supposedly more-versatile F-35 buys the RAF stealth, but they give up some of the capabilities the old international jet had. In particular, both the ADV (the F2A in British nomenclature) and the IDS (GR.4 in the RAF) could carry a lot more ordnance than the F-35s internal bays will hold.
But if there's one thing aviation doesn't do well, it's stagnate. As futuristic as a Tornado ADV looks, Tornado's first flight was over forty years ago.
Bubba Builds a Tactical Shotgun
This is about as wrong as a guy dating a sheep.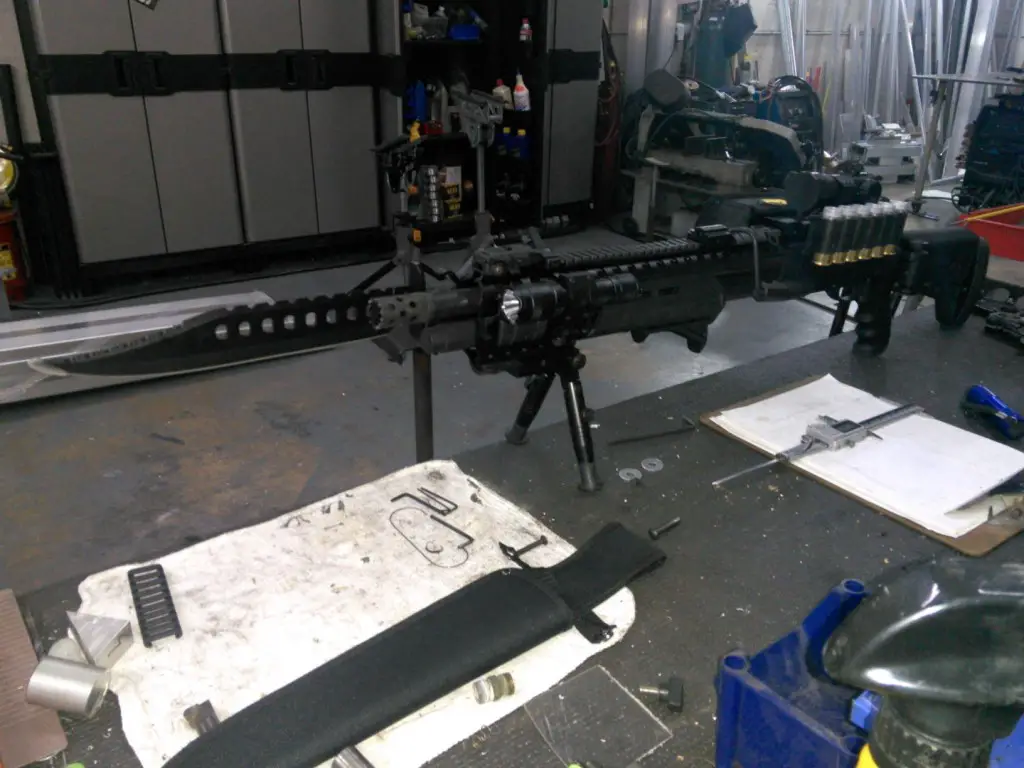 Clearly Bubba is a subscriber to the theory that the more clutter in the photo, the more seriously the abortion at its center will be received. So we will treat this Tactical Operator CQB Death Shotgun with all the respect that it, and its creator, are due.
We thought the digital caliper on the desk was a nice touch. Hell of a prop to display when showing one of the gaudiest excesses of design since the tailfins of '59. And what exactly is a caliper used for when snapping random parts together?
With this shotgun, you are equipped for all eventualities that you must face in your life as an Airsoft-trained Operator. Unfortunately, it is so crusted with 10 pounds of catalog gingerbread that we can't make out what brand or model of shotgun it is.
From rear to front, those accessories include:
a folding stock;
a pistol grip for maximum tactical control;
a supply of ready ammunition;
a scope made in gen-yoo-wine China;
a rails system designed by a committee of tactical operators on tactical operations in the chat rooms and blogs of the world;
a Magpul Angled Fore Grip, positioned to give you some hope of controlling this nose-heavy monstrosity;
a visible light laser pointer for sniper accurate scattershot shooting, also from that quartermaster of all the world's elite, to wit, China;
a regular light for when you need to keep looking for the laser pointer after dark, when your first shots shake it off;
a bipod for when you are assigned the toughest shotgun sniping missions;
a breaching-oriented muzzle device; and,
the pièce de résistance: the bayonet, to compensate for shotguns' well-known deficiency in close-range stopping power.
On the plus side: Bubba does not seem to have permanently harmed the shotgun in doing this. And people seem to have fun with it. On the minus side… well, just look at the thing.
Stag Arms Guilty Plea and Fine — the Background

Recently, the Stag Arms case has been resolved with guilty pleas by the firm and its founder, forfeiture of two Federal Firearms Licenses by the manufacturer, and a ban on FLL ownership for the founder. The company continues to operate while seeking new owners, and the founder only pled to a single misdemeanor.
Here is part of the US Attorney for the District of CT's statement.
Deirdre M. Daly, United States Attorney for the District of Connecticut, and Daniel J. Kumor, Special Agent in Charge of the ATF Boston Field Division, announced that STAG ARMS LLC, a firearms manufacturer in New Britain, pleaded guilty today in Hartford federal court to violating federal firearms laws.

"It is critically important for those who are responsible for manufacturing firearms, especially high-powered semiautomatic rifles, to diligently comply with federal firearms laws throughout the production and distribution process," said U.S. Attorney Daly. "Stag's misconduct has resulted in hundreds of these weapons being lost or untraceable. In addition, Stag's possession of dozens of unregistered machine guns is particularly egregious. Federal firearms laws exist to ensure that all legal firearms are properly accounted for and don't wind up on the street, and in the hands of those who shouldn't possess them. Gun manufacturers who don't follow the rules and violate federal law not only face license revocation, but criminal prosecution. I commend the ATF for expertly investigating this matter."

"What occurred in this case is absolutely unacceptable and will not be tolerated," said ATF Special Agent in Charge Kumor.
Yeah, right. What Kumor really opposes is the manufacture and private ownership of firearms, period. He's a Party member, and that makes him a square peg in a square hole in ATF management.
"ATF relies on individuals and corporations who are licensed to manufacture firearms to mark them in accordance with the law, keep thorough records of the manufacture and disposition of all firearms and maintain their inventory in secure facilities to prevent their theft or loss. When firearms licensees fail to comply with these federal regulations and laws they open the door for untraceable firearms to wind up on the street in the hands of traffickers and criminals. Today's guilty plea and the license revocations demonstrate our commitment to hold firearms licensees accountable when they place public safety at risk."
The whole statement is here at ATF. Be aware that these statements are often argumentative in nature, and contain claims that the USA and the LE officials never took to court — they're spin, basically. Remember that Daly, Kumor and the AUSA who handled the case, S. Dave Vatti, are all anti-gun political partisans committed to an aggressive gun control agenda. They all supported the ATF's Gunwalker program that provided at least two to three thousand firearms directly to Mexican cartels, so their outrage about Stag's record keeping is a bit… selective. The statement also contains some claims that are definitely not true.
Here is Stag's statement; it's very brief.
A STATEMENT FROM STAG ARMS, LLC

NEW BRITAIN – Tuesday, December 22, 2015 – Stag Arms, LLC today announced that the company and its founder, Mark Malkowski, have reached a resolution with government officials stemming from an investigation that began last year relating primarily to the timing of recordkeeping during the manufacturing process and compliance with federal firearms manufacturing and registration requirements. Both Stag Arms and Mr. Malkowski cooperated fully with the government throughout the investigation. While both Stag Arms and Mr. Malkowski believe that public safety was never compromised, they have agreed to enter guilty pleas and to pay significant fines, because doing so is in the best interests of the company and its employees. Mr. Malkowski has also agreed to transition the business to new ownership and is in advanced talks with a potential buyer. Mr. Malkowski will continue as a marketing consultant to the business and the industry for a period of time following the sale. Stag Arms takes its obligations to comply with all laws and regulations very seriously and has made comprehensive changes to ensure that similar problems cannot happen again and that best compliance practices are maintained in all of its operations.
In response to a question, a Stag spokesman confirmed that the company is up and operating.
The federal government has agreed to allow Stag Arms to continue operating with an effective firearms license during the transition to new ownership and the plan moving forward is for business as usual during the transition and beyond.
Stag is noted for reasonably priced, entry-level AR-15s. Its most unique products are probably its near-mirror-image left-hand models.
ATF has its marching orders, which are to destroy FFLs, especially manufacturers. It gets froggy about this when its own party controls the executive, and eases up when its preferred politicians are out. But today, the mission is, "Get licensees!"
This is why they're not taking MG cases that state investigators or other Feds develop, unless (1) the case is a slam dunk that the AUSAs won't whine about, (2) the guy is a licensee, or (3) manufacturing without a license or (4) can be leveraged to inform on a manufacturer or dealer. That's also why they're not prosecuting straw buyers, instead running them as paid CIs against one dealer after another, trying to get one to agree to break the law.
Back in May we wrote this about this case, in a roundup of industry bad news:
Stag Arms is in a Legal Jam

Once again we'll go to Guns.com for the tale of the tape, as it were.

Federal agents seized thousands of gun parts and documents from New Britain gun maker Stag Arms LLC today.

According to court documents, an investigation by the Bureau of Alcohol, Tobacco, Firearms and Explosives revealed that Stag failed to comply with the National Firearms Act when agents found 3,000 unserialized machine gun lower receivers, and that the company failed to maintain documents for 136 unserialized receivers.

Stag's owner, Mark Malkowski, was named as the claimant in the civil suit filed in Connecticut federal court on May 6.

ATF inspectors discovered the alleged violations last July and August during a routine check of Stag's facilities and the inspector subsequently informed the company.

Tadeusz Malkowski, the federal firearms licensee for the Stag facility where the unserialized parts were found, told ATF inspectors that the receivers had been on the premises between seven and 30 days because the employee who serialized the receivers was on vacation, according to the filing.

This sounds pretty bad, but so far there have been no criminal charges. What is really happening here is that Stag's Industry Operations Inspector seems to have gone wild on the firm.

The IOI reneged on a verbal OK previous IOIs had given the company about keeping spare receivers on hand to retro-serialize to replace damaged receivers for warranty or other repairs. If you do this, expect ATF to target you (not that they're consistent at all from one office to another). If you want to keep receivers to be serialized as replacements, keep those receivers in an incomplete state, which ATF has generally interpreted to mean no milling or drilling of the fire control pocket (partially finishing the pivot and takedown pin recesses, broaching or EDM'ing the magwell, finishing the mag release and bolt release recesses, and partially finishing the buffer tower (drill and tap for receiver extension), have all been ruled OK in the past). Go beyond that without a serial number and maker name, city and state on the receiver and they will violate you.

ATF Managers and US Attorneys, including the ones involved in this case, have been given marching orders to destroy firearms companies, and especially, makers of Modern Sporting Rifles, by any means necessary.

Here's the .pdf of one forfeiture complaint. As is customary with forefeiture proceedings, the "defendants" are the seized guns and they are guilty until Stag proves them innocent. The file is courtesy of Guns.com.

ATF_Stag_forfeiture_complaint.pdf

The forfeiture complaint makes little sense to us, as they charge that these receivers were unserialized, but they list them by serial number. There are also many fewer receivers listed in this complaint than the 3,000-plus that the ATF supposedly seized. Three thousand receivers are a staggering number but as Stag produces about 150,000 a year, it's really only a week's production.

The anti-gun reporters at the Hartford Business Journal breathlessly reported that, "a large cache of gun parts" was found — at the gun factory. Layers and layers of editors!

In court filings and to the Hartford Business Journal, ATF agents charged that Stag is "suspected of ongoing illegal activity" and "unauthorized trafficking of guns." They have also called all the receivers the company had on hand "machine guns," and have obtained an opinion from the ever-flexible Firearms Technology Branch supporting that position.
Nothing in this seems to be changed by the case's resolution, except that Mark Malkowski was charged with one or more felonies, did enter into a plea bargain to plead to a single misdemeanor, and did enter into a consent agreement not to apply for an FFL. He is not barred from working in the industry, working for an FFL, or owning personal guns.
To recap, the problem was caused by the receivers being processed in two separate locations — separately licensed as 07 FFL manufacturers — with the serial numbers added only after completion. This meant that at any given time there was work in process that was literally not legal because it consisted of complete, unserialized receivers. This process had been approved verbally by previous IOIs, but even a written opinion from ATF is not considered binding or precedential by ATF, when they want to get you; a verbal opinion is not worth the paper it isn't written on.
It looks in the end like it was an expensive, near-death experience for Stag. The large fines paid will be put to work to further persecute industry firms and lobby for more gun control. As a GEICO ad might say, if you're the ATF, that's what you do.
Moral of story, bend over backwards to be in compliance with the letter of the law, and put no faith in any variances from untrustworthy people at an untrustworthy agency. Then maybe they'll make someone else the example. Like they did to Malkowski and STAG.
They left themselves open to this difficult case by their efficient, but literally illegal handling of AR receivers. They were probably singled out due to Malkowski's high profile on 2nd Amendment issues, and opposition to the Governor of Connecticut's anti-gun platform.
When Guns are Outlawed, Only Outlaws will have Machetes
Hey, it happens. The guy who you invited to your home tries to rob you. So you unleash your kendo skillz and give him a good slicing. No, you continue kicking back as if nothing ever happened, till the cops show up at your door looking for the dude's missing finger. All of which suggests that why ever he entered your home in the first place it probably was not to watch Monday Night Football.
[Wichita, Kansas] Police found the 33-year-old man had a large laceration on the right side of his forehead and was missing a finger. Officers followed the blood trail to an apartment. Police learned the 33-year-old man was invited into the 65-year-old man's home.

"What they discovered was that the original person contacted, had the laceration to his forehead and had entered the home of the 65-year-old male, at which time a disturbance occurred," said Lt. James Espinoza.

Police say that is when the 33-year-old man tried to rob the other man. He used a machete to defend himself.
So why was he invited in? Something that they didn't want to discuss with the cops, which suggests the objective was either buggery or druggery. But somehow it became thuggery and robbery, which led to hackery and slashery. And-
Wait. We better quit while we're ahead.
Police later found out the 33-year-old suspect lied about his identity and that he had prior aggravated robbery and aggravated battery incidents. Police say the suspect is homeless.
Lied about his identity? We're shocked, shocked, that career criminals aren't more honest. Aren't you?
And homeless? You'd be homeless too if you kept trying to shake down the people who invited you in.
Police say the finger was recovered, but doctors were not able to re-attach it. He is still receiving medical treatment.
via Man with a machete cuts off robbery suspect's finger | KSN-TV.
You know, we never used to have machete crimes in the USA. Is this driven by demographics, or the widespread availability of Saturday Night Special assault machetes without common sense background checks?
What Happens When You Don't Deport Foreign Criminal Gang Members?
Shot:
ICE Director Sarah Saldana said that she was "proud of the numbers" when she testified at a Senate Judiciary Committee hearing on December 2, 2015.

In a press release announcing the numbers today, DHS falsely says "the number of convicted criminals removed from the interior continued to increase." In fact, only the share of deportations that are of criminals has increased —  the actual number has fallen, as noted above.
The actual numbers show that we're at very low levels of deportations….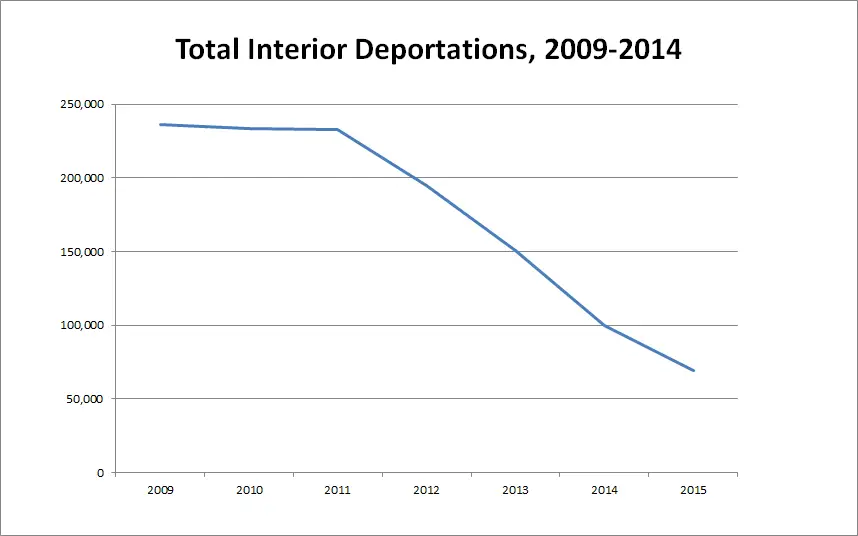 …especially criminal deportations. Saldaña is simply lying when she says criminal alien deportation has risen, it's actually down by about half in the last four years.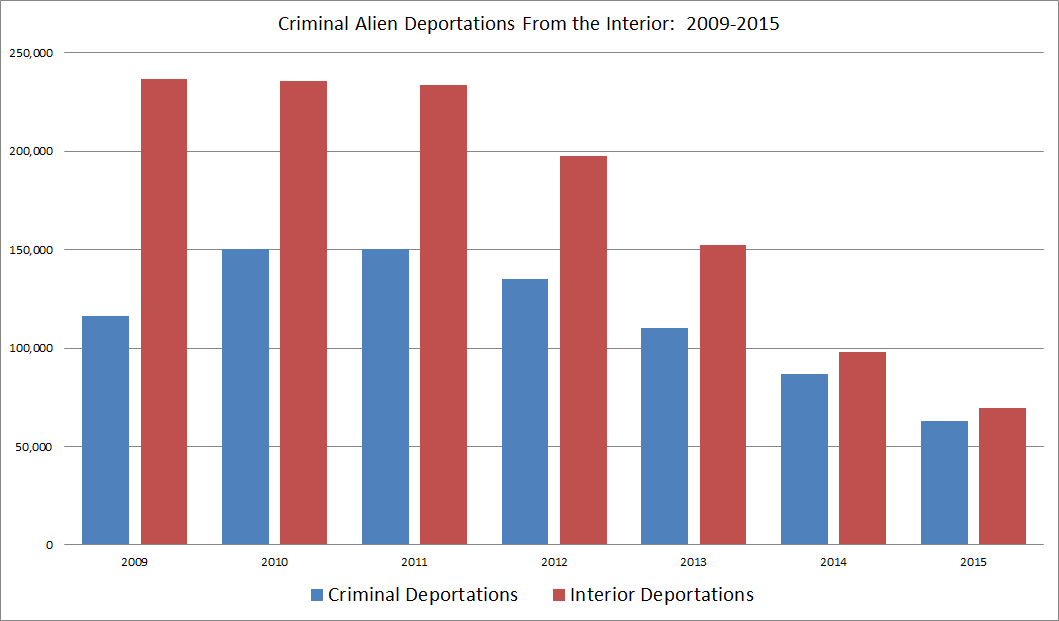 And half of the violent criminals on the FBI's Most Wanted Lists are criminal aliens.
So that was the Shot.
An 18-year-old was fatally stabbed in a gang-ordered slaying near the Montgomery-Prince George's county border by assailants who threw heavy rocks down on him as he crawled away from the attack to a stream, according to court records filed in Montgomery District Court on Thursday.

The death of Denis Montufar-Bautista follows two other recent slayings in wooded areas of Montgomery that police have linked to a resurgence of the MS-13 gang. In one of those cases — the killing of a 34-year-old man found in a shallow grave — detectives filed charges this week against four people. The suspects range from 15 to 19 years old.
via New gang slaying: Attackers allegedly stabbed, then threw rocks, at victim – The Washington Post.
This is the real world consequence of the blind eye to criminal enforcement that is Saldaña's, and above her, Jeh Johnson's, and the President's, policy.
Shot, and Chaser. You know, though, better make it a double. Two ICE SA's commenting on the CIS report:
A guy shows up at a local jail on a felony domestic assault charge. He has been ordered removed 3 times, all before 2014. According to our policy, he is untouchable unless convicted.

Charge is amended to disturbing the peace 6 months later and he is found guilty. Our policy says he does not meet our removal priorities.

I see cases similar to that all the time. Real scumbags walking free because of policies that don't make sense.
…and…
HSI processing a[n] alien is a joke. In my area it take[s] three people to process a EWI. Funny thing about the ones that HSI does process, everyone of them has refused to sign their [Notice To Appear], all most [sic] like it was never served on them. It is all good, HSI makes up for it by keeping all those conterfeit [sic] t-shirts off the streets.
That last guy can't spell to save his life (and his comments were all in caps, which we've corrected for you, so the other agents were all over him for unprofessional communications.
But we've never heard one volunteer to defend his agency's new role as copyright-cops-for-hire by crony-connected corporations.
And meanwhile, Saldaña's refusal to deport violent criminals means that more Americans will be victims of crime. That's the difference between homeland security with small letters and Homeland Security, the department of.
Forgotten Machine Weapons….
Ian at Forgotten Weapons has something new set up in his office. It's this:
He's had the Vickers (live, naturally) for years, but the diorama is a new idea, and now he can admire his MG from his desk even when he's not converting money into noise and smoke, with an intermediate stage as .303 and the Vickers as catalyst. He writes (at Reddit):
Been feeling particularly scatterbrained lately, with a lot of things going on. Things get forgotten. "The center does not -" oh, wait, not our line. It's not anything that triggers TEOTWAWKI or anything, it's just annoying. We miss bids we intended to make to snipe stuff on GunBroker. We forget Small Dog's schedule and wind up with an accident — not his fault, he's just a small dog and accordingly a bit short-ranged if his humans don't let him stretch his legs. Or we can't find our copy of Balleisen's Principles of Firearms, which we need for two projects. Or we get a call reminding us that the conference call we're on has already started. "Uh, yeah, I was on another line."
It's a little white lie: we pretend we didn't completely forget about the call, and our business partners pretend to believe us. Teamwork! Thanks, guys.
It's not always bad. Sometimes a check comes in the mail for something we already forgot we did. Nice.
We'd think it Alzheimer's if we hadn't periodically been this way throughout life. (Hell, how many times has a sentence here trailed off in mid-
And we're not the only ones. For instance, in the 90s we used to play a lot of coffee houses, and one song that was a guaranteed crowd-pleaser was I'm Just Looking for my Keys. Just about everyone could relate; if you've never lost your keys, even for a moment, you're probably too anal to be any fun at all. (We now live in the sort of place where it's not a temptation to the local diversity to leave your keys in the car; stray key problem solved).
So we have this funk of forgetfulness from time to time. And we usually snap out of it. Just like we usually find the missing keys.
Usually, while looking for some jeezly thing that comes up missing subsequently.
But right now, we're feeling scatterbrained. Good thing it's Sunday.
That Was the Week that Was: 2015 Week 51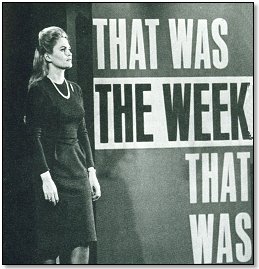 As the end of the year approaches, and the end of the week scrolls by, we're rather satisfied with ourselves.
It's been a good week and a good year, and this is the last week that will end in calendar 2015. (Week 52 ends Saturday 2 January).
Today was spent wrangling leaves again, which should have been done months ago, or hired out to one of those outfits that do that for a living. But two and a half hours of raking is excellent PT. (Well, that's what the pain says).
We're one inch closer to getting back into the cockpit, as we think we've cleared up a miscommunication between cardiologist and flight surgeon. Kids, one of the irritating things about aging is you have more doctors poking and prodding you and telling you about your bad habits (if we missed nagging, we could have just gotten married again).
The office is almost tidied up, and next week we get some cool 'chinery running.
The Boring Statistics
This week's statistics are slightly reduced by the holiday.  25 posts (about 3-4 less than usual) and about 18,000 words (down from last weeks kind of average ~23,500).  Our average post was 736 words long, and the median was 587, nothing really out of the ordinary. Post length ranged from 45 to 2294 words.
People are definitely reading the longer posts. We haven't looked at individual post readership statistics, but our 1882-word post on M203 development drew 20 comments, none of which said, "Shorter, please!"
We knew that readership would be down this week, based on the fact that we posted only one (off-topic) post on the holiday, and the holiday itself: didn't people have something better to do on Christmas Day? On a usual day we get over 6,000 unique visitors, so we were expecting maybe 1,000 on Hogmanay. Sure enough, readership was down — to 5,000 unique visitors (5,010, to be exact).
Comments This Week
Comments were lower than average at 276 by close of business Saturday. The previous week there were 329 comments at press time, and 60 more since then; but that wasn't a holiday week, was it? Most commented post was Monday's When Self-Defense is Outlawed, to Run Away is Your Only Defense with 47 at press time. Runner-up was Colt to Emerge from Bankruptcy with 30, posted on Tuesday (in the comments to that article, Shawn from Loose Rounds, whose well wired-in there,  hints at good things to come from the prancing horse brand in 2016). As we've noted, Monday and Tuesday points are most likely to have the most comments by Saturday.
The Week in Posts
Here's the recap of our posts for this week: (live links to be added later).
Sunday Sunshine is our usual Sunday nothingburger.
We look at s gun for sale: A Spencer That's Not Just a Spencer, and Connects to Two Famous Men.
This video could make any free man cringe. And they should be ashamed to call themselves police. When Self-Defense is Outlawed, to Run Away is Your Only Defense.
As far as I can tell, we write and read about criminals because they're so GD entertaining. On the page, anyway. When Guns are Outlawed, Only Outlaws will have The Whole Pharmacy.
Couldn't happen to a nicer guy dep't: Anti-Gun Publicist Closes to Fight Sexual Assault Rap.
Colt to Emerge from Bankruptcy. We take a look at the documents that describe how.
An SF medic went From 18D to MD in One Easy Helicopter Crash.
You can get killed with anything. When Guns are Outlawed, Only Outlaws Will Have Trains.
Survival tip: Don't Bring a Brick to a Gunfight. Life is harder when you're stupid, and death stands closer to you, also.
We love this thing: Walther Olympia Pentathlon Pistol.
Name a Navy that's less than 1/3 of its 1990 Size. It will probably take you two guesses.
When Guns are Outlawed, Only Outlaws Will Have Oldsmobiles. And if you're not a Senator, criminal misuse of one gets you arrested.
China Deploying Blinding Lasers? They've actually been working with "dazzlers" for decades.
Wednesday Weapons Website of the Week: Civil War Arsenal is a good set of photos of mostly Rebel guns, including some really obscure firearms.
We looked into How the M203 Got its Sights. They were lifted, in part, from an ill-fated competitor.
The Marine Corps University presents an explanation of how ISIL Has Changed the Human Terrain.
When Guns Are Outlawed, Only Outlaws will have Shopping Carts. But it's NYFC, so nothing serious will happen to them — unlike their victims.
After the Onion rejected this animal-rights plea as too unbelievable, someone with lower standards picked it up. Oh, the Humanity! …Uh, wait… Animanity?
We jump the gun by a day with our Thursday Tour d'Horizon, 2015 Week 51.
Merry Christmas! Self-explanatory. One hopes.
Mass Armory Theft Investigation Continues, with a third arrest.
In theaters never: Canadian Sniper (too bad).
No, attaching a "marital aid" to a Sawzall is not an invention that will be featured on Kickstarter: When Guns are Outlawed, Only Outlaws will have Sex Toys.
Blogbro gives us a tip: Saturday Matinee: Ancient Black Ops (UK, TV, 2014).
That Was the Week that Was: 2015 Week 51 brings us full circle, kind of like Wahoo's famous torpedo.
Going Forward
We still have OTR posts coming on Castillo de San Marcos (yes, we haven't completely explored it yet), on another installation in the same area, and on Fort Pulaski, that still shows the scars of Civil War bombardment. We have posts of our own on WWI tank warfare and maybe some SF holiday memories.
Next week, Monday or Tuesday we'll show you what's got to be a near record price for a scrap rifle sold as a parts kit.
Merry Christmas to all, and to all a Happy New Year.
Saturday Matinee: Ancient Black Ops (UK, TV, 2014)
Here's a recommendation from the Blogbrother that, after watching one episode, we're bouncing to you: Ancient Black Ops, a British series that reaches worldwide for experts and conducts some grimly low-budget reenactments in order to get across the latest thinking on elite forces of the distant past.
It's been available on several TV channels in the UK, and here in the States is visible on Netflix or on Dailymotion.com. It only ran for one season (2014) and is not available on DVD.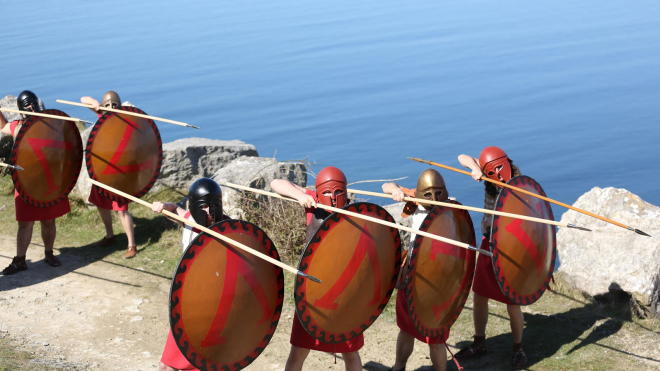 Series 1, Episode 2 dealt with familiar ground — the Greek defense at Thermopylae. Several tiers of ancient Greek elite forces were involved. First, you could argue that the Spartans themselves were an elite — the only standing army maintained by a Greek city-state. Second, Leonidas could not get authority to march the whole army (in Sparta's unique political arrangement, he was only a co-king). So he took only the troops he could mobilize himself: his own bodyguard, the famous 300. Finally, within these two elites was another, smaller elite called the krypteia.
Acting and Production
The actors in the reenactment segments seem to be more from the reenactor end of the pool, than from the professional actor end. To be sure, they are not asked to deliver Shakespearean dialogue or rise to particular thespian challenges; they're perfectly good for what they must do.
The experts, on the other hand, are on the top of their craft. Series 01 Episode 02 relied heavily on the most interesting and readable scholar on ancient Greek military tactics, weapons and operational art, Australia's Christopher Matthew, author of A Storm of Spears: Understanding the Greek Hoplite in Action, Beyond the Gates of Fire: New Perspectives on the Battle of Thermopylae (co-written with Matthew Trundel), a new, annotated edition of Aelian's Tactica for the first time in five centuries, and the forthcoming An Invincible Beast: Understanding the Hellenistic Pike Phalanx in Action. Matthew not only commands the sources, he actually strapped on armor and helmet, and took up shield and spear, and drilled until he knew the phalanx like no historian before him. In other words, on the Spartan phalanx, the producers didn't just go get a guy; they got the guy.
The other experts are equally informative. British officer cadets were drilled in basic phalanx skills by   ________ Nolan, a soft-spoken, confident Briton identified as a weapons expert, and two modern veterans — SAS  and SEAL Don Mann, himself author of many books including SEAL Team Six (and still visibly fit long after retirement; good for him) tie the elite force of the past to the ethos of today's special operations forces.
What the production doesn't have is Hollywood money. They do the best with what they have, but the pitiful few extras they can muster make for a rather short phalanx, which they get around by framing shots in tight close-up of a hoplite or two, and they seem to reuse snippets of tape multiple times.
At least they resisted the siren's call of cheap, bad CGI. Perhaps if the show had been a success, they'd have had a bigger budget for following seasons; but it looks like the ten episodes kicking around Netflix and the net are all you've got. Sorry 'bout that.
Accuracy and Weapons
If you really want to know about the panoply of the Spartan citizen-at-arms, you really need to read Matthew, who draws on such disparate sources as found weapons from graves and battle sites, depictions of weapons in contemporary art, and descriptions of weapons and their use in contemporary literature. On-screen, the Bronze Age warriors may have gleaming steel swords and armor — good-looking, but anachronistic.
There are also a few forays down the garden path that starts, "What might have happened is…", including an attack on the Persian king, Xerxes, by the krypteia. But the show is kept from going too far off the track by the presence of Matthew and Nolan, who know what was practice and what is practically possible.
The bottom line
We enjoyed the show a great deal and plan to watch the rest of the episodes soon.
For more information
These sites relate to this particular film. (As you'll see, we found — or the Blogbro did — a pretty obscure series, this time.
Amazon.com DVD page (none):
http://www.imdb.com/title/tt3905852/
Rotten Tomatoes review page (none)
When Guns are Outlawed, Only Outlaws will have Sex Toys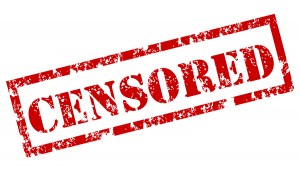 Okay, this story is seven years old, but it still comes up on a Maryland TV station's website's most-read list (which is how we found it). It explains a lot about the MD electorate and demonstrates the Bubba the Gunsmite approach to… er… physical pleasure.
The victim, a 27-year-old woman, was reportedly injured and bleeding. She was later flopicture wn to Prince George's hospital center by Maryland State Police helicopter.

On Wednesday, Saint Mary's County Sheriffs released an update on their investigation. Detectives conducted an investigation which determined the injury was a result of a consensual act between two parties and no crime was committed.
Jeepers, what kind of "consensual act" requires one of the participants to be life-flighted to hospital? Ummmm… this kind:
The accident was reported to local fire and rescue personnel about 1:30 a.m. on March 7,  from an address on Rogers Drive.  The man who made the 911 call said he had placed a sex toy over a saber saw blade, and then used the power tool on his partner, but the blade cut through the plastic  and injured the woman.
Pretty classy, TV newsies, for bringing up the address so everyone can drive by and gawp at the weirdos who
via Woman Injured In Sex Toy Mishap | wusa9.com.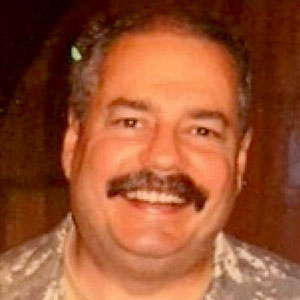 Kevin was a former Special Forces weapons man (MOS 18B, before the 18 series, 11B with Skill Qualification Indicator of S). His focus was on weapons: their history, effects and employment. He started WeaponsMan.com in 2011 and operated it until he passed away in 2017. His work is being preserved here at the request of his family.