Monthly Archives:
April 2016
Weapons Training, Special Training School 103, SOE
The following is a description of firearms instruction at STS 103, which author David Stafford describes as, "one of a network of SOE training schools, and the only one in the Western Hemisphere." (Other schools were in North Africa, Haifa and elsewhere around the Med, and in Singapore for the Far East). It shows that even 75 years ago, even before the word "mindset" was coined, this abstraction was valued far above practical skills.
Weapons training for OSS and SOE would evolve, but it was based, and remained based, on the work of William Ewart Fairbairn, a man who studied fighting with singleminded intensity, and who along with E.A. Sykes trained the Shanghai colonial police, at a time when Shanghai was a arguably the global leader in applied interpersonal violence and a Shanghai cop had to be quick with hands, feet, knives, and firearms.
As well as being suitably trained for silent killing and on armed combat, the recruits might also have occasion to use weapons, so Camp X gave them weapons training. Sharing the language of the OK Corral, SOE was interested in gunfighting. Since an agent's life might very well depend on how well he had been taught, instructors would not let a bad shot out of the camp. They instilled in the student mind the impression that he was actually killing the target and to shoot as though his life depended on it. "As with every sport, provided that the principles taught are sound, practice makes perfect." The principles so diligently instilled in practiced had as their goal, within the constraints imposed by time and the supply of ammunition, "to turn out good, fast, plain shots". Whether in the use of machine carbines like the Tommy gun or in action with a pistol, the principle was the same: "tremendous speed in an attack with sufficient accuracy to hit the vital parts of a man's body, for killing at close quarters demands aggression and extreme concentration."

There were certain obstacles in producing these good, fast, and plain shots. One was the recruits' previous experience. Instructors presumed that many of their students had some "revolver training in the old style" and, while being careful not to denigrate such skills has might have already been acquired in skeet shooting, had to impart the innovative "instinctive method" of firing.

The first point was that a pistol was not a weapon of self-defence but of attack – it was a combat weapon. Armed with the weapon under consideration, usually a .22 Hi-Standard or .32 Colt, the instructor conjured up a dramatic encounter while on a mission:

Picture in your mind the circumstances under which you might be using the pistol. Take as an example a raid on an enemy occupied house in darkness. Firstly consider your approach. You will never walk boldly up to the house and stroll in as though you were paying a social call. On the contrary, your approach will be stealthy. You will be keyed up and excited, nervously alert for danger from whichever direction. You will find yourself instinctively crouching; your body balanced on the balls of your feet in a position from which you can move swiftly in any direction. You make your entry into the house and start searching for the enemy, moving along passages, perhaps up or down stairs, listening and feeling for any signs of danger. Suddenly on turning a corner, you come face-to-face with the enemy. Without a second's hesitation you must fire and kill him before he has a chance to kill you.

This method of course meant that an agent would never fire standing straight up, nor in any of the "fancy stances" common to competition shooting, and never have time to use the sights. Since recruits under such conditions might be worried about the accuracy of their name game, they practiced "instinctive pointing","the natural way that any man points at an object when he is concentrating". Students stoodt directly in front of each other and pointed, at the instructor's commands, to such targets is the exact centre of each other's stomach, or left foot or right eye. When doing so, no one actually looked down his finger. Rather, "instinctively", the arm, with the finger extended, came in to the center of the body. Here the finger, and of course its extension the gun, was in position right down the line of eyesight. Such pointing gave the shooter a natural control over direction and elevation when firing.

After demonstrations and practice in holding the pistol or crouching in the firing position, the recruits were ready for some of the more elaborate target exercises using live ammunition. For example, using the .22, students were to imagine that they were outside a German beer cellar, automatics loaded and drawn. In the old style of attack, in order to position themselves for firing, they would have to rely on a totally silent approach. This, of course, was not only dangerous but impossible. SOE felt their method was much superior: "you have reached the doorway of the cellar by a stealthy approach, making no sound whatever. Very quietly turn the handle of the door as far as it will go, And then, preparing yourself for the effort, you kick the door open and kill your targets before they have a chance to realize what has happened."

If this all sounds rather like a B-grade movie, reads like a spy novel, or looks like a TV SWAT team in action, it's because SLE instinctive firing was so successful that after the war this innovation swept through commando schools, boot camps, and police academies alike, replacing forever the older shooting style.
Indeed, Rex Applegate, an American instructor trained by Sykes and Fairbairn, would adapt his training notes and syllabi into a postwar book, Kill or Get Killed, that was extremely influential. (The picture above is of Applegate, and it is from this book, which stayed in print for decades).
The gunfighting style of 1942 does look extremely dated today. SOE (and later, OSS) training emphasized instinctive, point shooting, without reference to even the limited, low-profile sights of a wartime or prewar pistol. Nowadays much better sights are used much faster, and pistols are routinely shot two-handed. At the start of World War II, the Japanese alone trained for two-handed shooting; this picture shows that by 1944 Jedburgh teams were training to shoot two-handed, but even long after the war Applegate continued to train one-handed point shooting.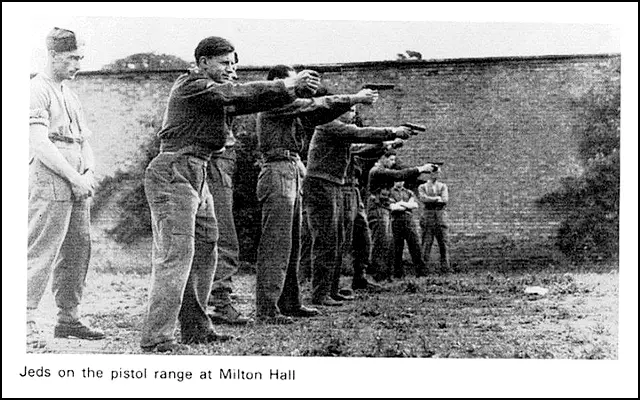 One suspects that William Ewart Fairbairn — by all accounts something of a drip while off duty, having no interests broader than instruction in impartial and immediate unchristian mayhem, and means of delivering same — would approve.
Sources
Stafford, David: Camp X: OSS, "Intrepid," and the Allies' North American Training Camp for Secret Agents, 1941-1945. New York: Dodd, Mead & Company, 1987. (pp. 97-99).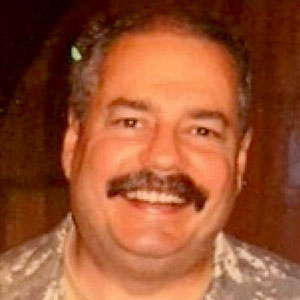 Kevin was a former Special Forces weapons man (MOS 18B, before the 18 series, 11B with Skill Qualification Indicator of S). His focus was on weapons: their history, effects and employment. He started WeaponsMan.com in 2011 and operated it until he passed away in 2017. His work is being preserved here at the request of his family.