Monthly Archives:
October 2015
The Wisdom of Solomon and the Economics of the AK
Chris Solomon, that is. And a careful read of his article on International Policy Digest, The Economics of the AK-47, left us with an aching head from trying to follow his convoluted, faux-academic prose. It was immediately clear that he can't write. When we finally figured out what we think he's saying, it's pretty clear he can't think, either.
Shorter Solomon: Africa is a mess (and so is the Mideast) because there are AKs and AKs are bad. Why? Because they're guns, and they're cheap. Guns are bad, and therefore, cheap guns are doubleplusungood.
Kalashnikov Group is also in the process of rebranding the famous weapon as an instrument of security and counter-terrorism. The effort has largely been criticized by humanitarian groups as the arms company embarked on a marketing blitz.
Um, if you're a Russian under the looming threat of random Chechen massacres, you probably do see AKs in the hands of your national security forces exactly as "instruments of security and counter-terrorism." Why do you think that might be, class?
What's that? "Because that's what they're being used for, as they're after all just dumb implements with no will of their own, and their use depends on the intent and abilities of those using them." Oh, very good! Congratulations.
You're officially smarter than Solomon.
Now, let's take a step back, shall we? The first sentence of our little excerpt above says:
Kalashnikov Group is also in the process of rebranding the famous weapon as an instrument of security and counter-terrorism.
Rebranding it from what, exactly? We can always Ask a Russian (Max, you there?) but we're pretty sure Russians and other Soviets thought it was a service rifle for the defense of their country and, in the bad old days, "the socialist world". Is Solomon suggesting that national defense is somehow an illegitimate activity? It's hard to say.
Pro tip: you can be perfectly clear and we can disagree with what you said. But if we can't figure out what you said, you probably were not perfectly clear.
The effort has largely been criticized by humanitarian groups as the arms company embarked on a marketing blitz.
This has more than a whiff of, "The effort has been criticized by Chris Solomon who used soi-disant humanitarian groups as a cloak for his own opinion."
Oxford professor Paul Collier's book, Wars, Guns, and Votes, describes the cycle of arms stockpiling by African governments to safeguard against or fight off rebellions only to have poorly paid conscripts siphon Kalashnikovs from local armaments for illegal resale elsewhere. Small arms cannot be easily shipped off the continent, so they tend to stay local.
Funny. There's an African-made AK in Safe II downstairs. How'd it get here? We're on a whole other continent! Across an ocean and everything. See, there's this thing called trade. If you are going to invoke Economics in your article title, you might want to write that down.
Weapons last a long time (rifles are the poster child of a durable good, a concept from a class in some subject… what might that have been) and they will go where they are valued.
This is one reason why countries with neighboring civil wars are also vulnerable to civil war themselves. Troubled countries make for a troubled region.
Ah, never would have occurred to us. Africa's a mess because of the proliferation of AKs. It has nothing to do with peace and prosperity having peaked on that continent when it was under the thumb of cruel foreign colonizers… or that the colonizers left behind borders that drew "countries" that don't align remotely with the underlying "nations," a concept that in Europe animated everyone from Bismarck to Garibaldi to Gavrilo Princip. Was Europe a mess because of the proliferation of Mausers? Maxims? Brownings?
Poor governance is also considered in assessing the AK-47's destructiveness.
See what we mean? Dude can't write. Is there a subject in that sentence, where ponderous construction replaces clarity in an attempt to sound Highly Educated™? He should send his degrees back to his school for a refund. We think he means that, "Poor governance is an alternative explanation for African misery to AK proliferation," because he seems to try to dismiss the poor governance argument (never been to Africa, has he?) in the next paragraph.
In any event, he seems bewildered by the concept of the arrow of causation. African kleptocracies, which are the global arms market's bottom feeders, buy lots of cheap AKs. They keep lousy track of them, because Africa. (Poverty/corruption/tribalism/low mean IQ/lousy education/famine/war, you pick your causal factors, they're all there in abundance). The AKs are used, ultimately, by unsalubrious actors to rebarbative ends. Ergo, the AKs caused it all.
Wait, what?
However, in Phillip Killicoat's 2007 World Bank study, "Weaponomics: The Global Market for Assault Rifles," he found that purchasing power parity (PPP) income measure was not so much an indicator of government efficiency but rather a sign of demand in the local market.
Actually, Killicoat's actual study (abstract; or actual .pdf) is worth looking at for several reasons. It is an attempt to quantify weapons trade in the legal and black markets over time, so, unlike Solomon's credentialed-but-uneducated chaos, it really is a look at the "Economics of the AK-47." It does suffer from spotty data (Killicoat does not seem to have looked far and wide for early data, whose relative absence he apologizes for), and it suffers from Killicoat's assumptions, which seem to have been structured to give great weight to regulatory effectiveness. He does, however, admit that his model is imperfect:
On the demand side, there is some evidence that, for a given level government effectiveness, increasing income raises the price of weapons as a wealth mark-up for a partially non-tradable good. Proxies for the motivation to acquire weapons: lagged income growth, homicide rate, and share of young men do not perform as well as expected. This may suggest that the historic focus on the supply side is justified. More likely, however, it indicates that better modeling and operationalization of the preferences for purchasing weapons is required. A further qualification to the demand side results is that the price data collected are predominantly for the AK-47. By focusing on the AK-47, the most basic assault rifle, substitution effects are ignored if buyers substitute into other higher-grade weapon types as income rises.
These conclusions are arguable, but it's a real economics paper; Killicoat shows his work and others can build on it, or develop alternatives, if they like.
Returning to the wisdom of Solomon, we have this:
All too often, supplying weapons to bolster local governments results in the very instability the suppliers are trying to prevent. South Sudan, currently embroiled in a civil war, was the recipient of a sizable arms sale in the summer of 2014. Prior to the outbreak, China North Industries Corp. (Norinco) transferred 9,574 automatic rifles to the Sudan People's Liberation Army (SPLA) for some $20 million.
Again, correlation != causation, a concept every scientist and statistician thoroughly understands, and Solomon thoroughly doesn't. The AKs did not make Sudan unstable. Having two incompatible nations within one set of borders — a jihadi Arab dictatorship and a black African kleptocracy — is why Sudan, and South Sudan (itself a spin-off of this instability), is unstable.
It is what we have called a War of Identity™. And Hognose's Law says:
A War of Identity™ has three potential conclusions:

One side defeats and exterminates the other;
One side defeats and assimilates the other;
The war reaches an Equilibrium of Violence that is acceptable to both sides.
The War of Identity™ in Sudan isn't caused, mediated, or exacerbated by AKs. If they didn't have AKs it would be Mausers, Lee-Enfields, jezails, or sticks and stones. Until one side or the other wins, or both sides get exhausted except for a handful of underground die-hards.
Solomon continues in this vein. Violence in Iraq was not only caused by AKs, it was caused by American-supplied AKs. And they're still making trouble!
The weapon's legacy in Iraq still endures with today's sectarian violence. Iraqi government forces and Shia militia recovered the Baiji oil refinery from Islamic State.
How the AK is implicated in that, we're not quite sure, being unable to read what passes for Solomon's mind. Iraq is, of course, as well-equipped with AKs as it is with oil. In Hussein's day, it imported and manufactured them in staggering numbers, and along with the US supplies, the Iranians and Russians and Chinese have poured millions more into the conflict. War is magnetic, at least with respect to guns.
We do note his second sentence doesn't follow in any meaningful way from his first. But be reassured, AK fans: he doesn't think the AK is a force for evil everywhere: 
The AK-47 alone isn't to blame. Cuba, for example, utilizes the weapon for its military, but does not suffer from internal instability. The correlation appears to exist between poor governance, the availability of cheap weapons, the resource trap, and proximity to neighboring conflicts.
Of course! The worker's paradise uses the AK, but does not harm the hair on anyone's head, despite the presence of many creepy AKs (pay no attention to the legacy of quasi-judicial murders and the enduring prison camps). Cuba used to be unstable, but that was before they got lots of AKs. Now the repression's keeping the stability solid. ¡Hace progreso, señor!
And here's his conclusion:
Regardless, the assault rifle's longevity and abundance is all too apparent. The AK-47 and its variants continue to wreak havoc and have a long term negative impact on the security and economic failings of resource-rich states. This makes the Kalashnikov a key ingredient for disaster in the developing world.
Yeah, it's got nothing to do with entire countries that are neither organized on stable national lines, nor possess the human resources to successfully govern themselves. It's all the AK, baby.
If you get to the end of the Solomon piece and you haven't had enough of his fuzzy logic and turgid, professor-wannabe prose, you're in luck: he posts regularly at Global Risk Insights. His comments on a recent Coalition hostage rescue in Iraq are as shallow and off-target as we have come to expect of him.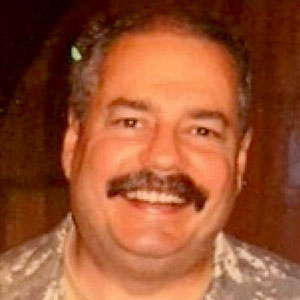 Kevin was a former Special Forces weapons man (MOS 18B, before the 18 series, 11B with Skill Qualification Indicator of S). His focus was on weapons: their history, effects and employment. He started WeaponsMan.com in 2011 and operated it until he passed away in 2017. His work is being preserved here at the request of his family.