Now, we're not Andrew Branca, and we don't have a Barracks Lawyer License, even, but we're thinking that these two cases of claimed self-defense have… problems.
ITEM: Zero-Dark-Twenty-Five. And Drunk.
The first is the weakest. It begins at 0125 hours in a strip club in Key West. The shooter, one Derek David of Denham Springs, LA, is out on bail pending trial. (His bail was almost $600k surety). He has invoked the Florida Stand Your Ground law, which (contrary to most media reporting) gives him a chance to get the charges dropped early, or at least to make that argument in a pretrial hearing. It's a big rock for his lawyer to push uphill:
Derek David, 34, pulled out a .380 handgun while on Charles Street, a short alley off the 200 block of Duval Street, at 1:25 a.m. March 21, 2016, his attorney says, but only after he had been beaten by four people who included one of the so-called victims and his wife.

"Mr. David found himself in the middle of a violent, unprovoked attack," according to a defense motion asking a judge to dismiss all charges, including three counts of attempted murder, two counts of aggravated assault with a weapon, firing a gun while intoxicated and resisting arrest.
The alcohol and resisting arrest seem rather… incongruent with self-defense and are facts that will certainly complicate the case. He will, however, get his hearing in a couple of weeks.
Key West police have told a much different version of the shooting, depicting a couple that was "obnoxiously drunk" before they got into a fight in which David pushed his wife down and strangers tried to separate them. Officers said David, who had been staying on Sugarloaf Key with his wife Jodie David, drunkenly brandished a pistol and fired four times into a crowd near Duval Street after bystanders intervened.

David is also accused of pointing the gun at two people before fleeing the scene.

David ran off but was followed by a strip club manager who waited until police arrived to take the gunman into custody. Police used a Taser stun gun to get him to comply.

But David's lawyers, Donald Barrett and Dustin Hunter, say David was only protecting himself and his petite wife after being knocked to the ground and further harassed by four strangers.
You can read his lawyers' version of the story at the link. One more confounding fact that they will undoubtedly try to keep out of this trial, and prosecuting attorneys will doubtless attempt to have admitted:
Six months before the shooting, David had the same handgun confiscated by Key West police, who said they found him drunk on Duval Street, angry that a friend had taken his truck without permission.
It'll also hurt that of his four shots, two struck people who were not involved in the fight. Not good. Nobody's a lawyer around here, but we're thinking the Stand Your Ground hearing is not going to call this self-defense, and at trial time he might want to bring a toothbrush.
ITEM: That's Putting the Dead in Deadbeat
Anthanasia "Nasia" Moncrief, 28, left, had an argument with Richard Spadel, who rented a room in her home, over rent. There might be two sides to the story, but Spadel's not telling his: he's dead. Moncrief shot him; she's claiming self-defense in a fight that started as a pushing match.
Whether there was a pre-existing relationship between Spadel and Moncrief,  other than landlord and tenant, is unclear: they lived at the same address in the Manayunk section of Philadelphia. Spadel, for his part, had been in trouble with the law.
But now it's Moncrief who finds herself in trouble with the law. Here's how Philly.com explained it:
Early Saturday, Anthanasia Moncrief, who lists herself on Facebook as a former real estate sales agent, got into an argument with Richard Spadel, 32, who rented a room in Moncrief's house on the 4300 block of Boone Street, Clark said. The argument was over Spadel's failure to pay rent, according to Clark.

The dispute escalated to pushing and shoving, and Moncrief retrieved a gun and shot Spadel in the upper right back, police said.

When officers arrived, Moncrief directed them to the second floor, where a third person was trying to help Spadel, police said.

But that man's efforts were futile. Spadel was pronounced dead there by medics at 2:55 a.m.

Moncrief went to the Homicide Unit and gave a statement, Clark said, and the District Attorney's Office subsequently approved murder and related charges against her.
With so many facts still out in this case, it;s hubris to draw any conclusions. But as the cops tell the story, murder charges were a near inevitability. You can use self-defense to protect human life from imminent mortal threats. But how imminent are they if you can go get a gun ad come back? That looks bad for Ms Moncrief, as does the location of the fatal wound (in the victim's back) and the hour of occurrence (who has a rent discussion at quarter to three in the morning?)
We can say with confidence, though, that de-escalation is always a wise move, if you can pull it off. Also, good judgment is in short supply after 0200.
But one other thing. Compare the picture of Moncrief at the top of the page to the one on the left — her booking mugshot from this charge.
Now, no one is at his or her best whilst bring arrested at 0300. But are we right in seeing some direct changes between the two pictures? Changes that might explain how a gal who used to be, but isn't anymore, a real estate agent, winds up arguing over a few dollars with a guy who's got sex crimes on his rap sheet?
This entry was posted in Uncategorized, Weapons Education, Weapons Usage and Employment on by Hognose.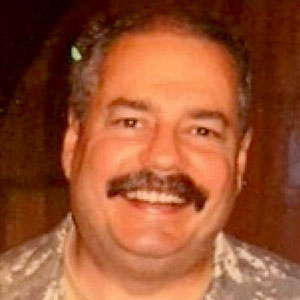 Kevin was a former Special Forces weapons man (MOS 18B, before the 18 series, 11B with Skill Qualification Indicator of S). His focus was on weapons: their history, effects and employment. He started WeaponsMan.com in 2011 and operated it until he passed away in 2017. His work is being preserved here at the request of his family.