One advantage you can get from reading out-of-date books is insight to what was current thinking many years ago. Looking over L.R. Wallack's American Pistol and Revolver Design and Performance from 1978 (one of a series of four books Wallack produced beginning in the seventies: Rifle, Shotgun, Pistol & Revolver, and a combined sporting arms Design and Performance) reminded us of what it was like to live the transition from revolvers to automatic pistols.
It didn't happen all at once; instead, different groups of shooters transitioned at different times or in different phases. These phases were defined less by nation or area of the world, and more by the functional purpose of their firearms. The phases went approximately like this:
Phase I: First tier armies chose semi-autos to replace revolvers as service pistols.
Phase II: Bullseye target shooters embrace semi-autos for competition.
Phase III: Police transition from .38 or .357 revolvers to semi-autos as service pistols.
Phase IV: Private-Sector shooters follow, mostly, those three groups, which are more or less influential on informal sport shooters and those who purchase firearms for self- or home defense.
Phase V: The last group to transition are criminals, who depend on weapons stolen or otherwise diverted from the streams of lawful commerce.
Three of these phases deserve a little more explanation, for each of the first three phases was keyed to a specific need of those particular shooters.
Phase I: Militaries
The armed forces of the world, often reviled as backward and hidebound, were by far the first to transition to auto pistols, most of them beginning in the fifteen years from 1899-1914. Most of these services had adopted cartridge revolvers in the 1870s, so their previous service sidearm was barely more than two decades old. (The US, for example, adopted the Colt revolver in 1873, but by 1903 was experimenting with auto pistols and by 1906 had selected a cartridge and shortlisted three pistol designs). By 1907 the Colt was nearly final, and by 1911 it was adopted and in production.
What drove the military adoption of the auto pistol was the same thing that drove the adoption of Col. Colt's own magnificent invention fifty years earlier: the advantage more portable firepower gave to the army's scouting, screening, and shock arm, the horse cavalry. The auto pistol trumped the revolver by providing not only more shots without reloading, but also rapid reloading, via the clip of Steyr or Mauser, or the detachable box magazine of Luger or Browning designs.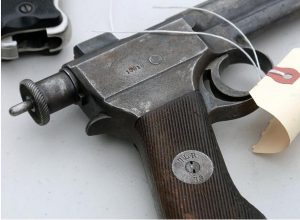 Sure, the gallant mounted branch was due to be rendered obsolete by both the superior scouting and screening that could be done by the airplane, the superior shock that came from tanks, and the increased lethality that modern machine guns and artillery brought to the battlefield. But in 1907 (Steyr), 08 (Luger), and 11 (Colt 1911) military planners expected the cavalry to be as vital as it was in the American CIvil War or Napoleonic Wars, and their preferences in a sidearm not only helped select those pistols, but also drove some of their detail design (the Colt's grip safety was one such horse-soldier request).
Having bought the guns with cavalry in mind, services worldwide continued to use them even after the last cavalry mounts had been put out to pasture (literally or figuratively.
Phase II: Bullseye Shooters
We hadn't thought much about why paper-punchers transitioned from revolvers to autos in the sixties and seventies of the last century. But Wallack did, and had a pretty good explanation (pp. 194-195).
Most target shooters use autos in preference to revolvers. There are several reasons. A revolver poses more problems in target shooting because it must be cocked for each shot, has a longer hammer fall and thus longer lock time, and, many shooters claim, is not as well-balanced for target work.  These are not factors for any sporting use. the point is that if your interest is purely target shooting, your choice ought to be an autoloader; but if it's a sporting gun you have in mind, then you may choose either one according to your personal likes. ….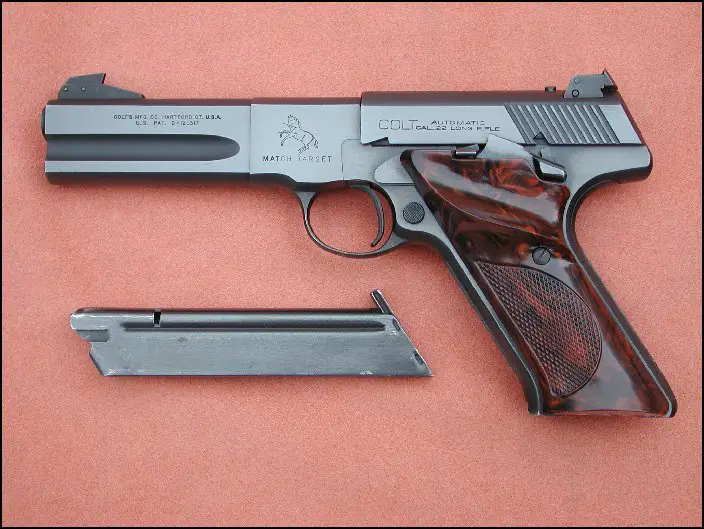 The big advantage autoloaders have over revolvers would seem to be that there is only one chamber rather than the revolver's cylinder with six to nine charge holes. This doesn't necessarily mean better accuracy, but it does mean that it costs more to machine all the parts necessary to perfect alignment in a revolver. That means that dollar for dollar you have a better chance of getting a more accurate gun at a lower price with the auto simply because there's less manufacturing time involved.

Autoloaders do not require you to recock the gun each time it's fired, which is a big advantage for the target shooter, because he doesn't have to change his grip, nor does he have to take the time to cock, but gets back on target quicker. More or less in the same breath it should be mentioned that the longer hammer fall of the revolver produces slightly lower lock time. on the other hand, it also provides a heavier and more consistent hammer fall with corresponding better indignation ignition. I suspect these to might cancel each other out.

Which gun provides a better grip is purely subjective and need not be a consideration, except that it is frequently given as a reason by many top target pistoleers and so cannot be ignored completely.
These advantages were tangible enough that a strong majority of ranked bullseye shooters were using automatics by the late seventies.
Phase III: Police Forces Transition
The police were not influenced rapidly by military or target-shooting trends, but by the late 1970s some departments were issuing auto pistols and more of them were authorizing privately-owned ones. But one particular incident out of many created enough of a stir in the law enforcement firearms community that pistols (mostly in 9mm) began replacing revolvers in a huge preference cascade that shows the inflection point being 1986.
What happened in 1986? A black day for the FBI, known forever as The Miami Shootout (it was actually in Homestead), in which a squad of FBI special agents thought they brought overwhelming force to bear on two fugitive bank robbers, only to have the robbers see their force and raise them long guns. The Bureau won the gunfight, killing both robbers, but it was a Pyrrhic victory,
Here is a clip from a TV movie that depicts this shootout with considerable accuracy. We do believe the Ruger that one robber was carrying was semi-automatic, not automatic as depicted here. In addition, the three revolver rounds a mortally wounded robber fires at wounded FBI agent Ed Mirales were fired from behind his back, and he never knew the bandit was behind hi shooting (other eyewitnesses saw this). Apart from those two details, it's pretty close. (We'll post an FBI training video about this shootout down below so that you can see for yourself).
Here's the FBI training video. It doesn't have the production values of the Hollywood version, but it's official. Make sure you get through the full-speed re-enactment to get to the slowed-down, annotated version with narration by a surviving (wounded) agent.
The FBI was transitioning to 9mm Smith & Wesson Model 459 automatic pistols at the time of this shootout; but the shootout drove a stake into that gun's future with the Bureau.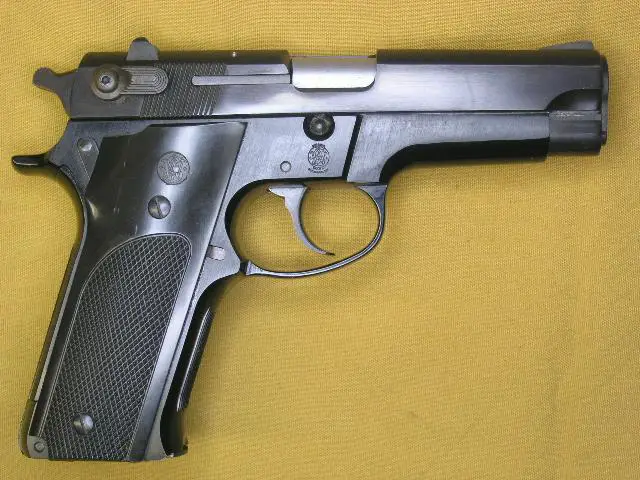 This shootout drove the auto pistol transition faster, encouraged many other departments to follow the lead of the FBI, and also was instrumental in (1) the creation or adoption of more powerful police rounds (first a hotter 9mm for the FBI, then 10mm auto, .40 S&W), and (2) the provision of patrol carbines and training on them to law enforcement officers.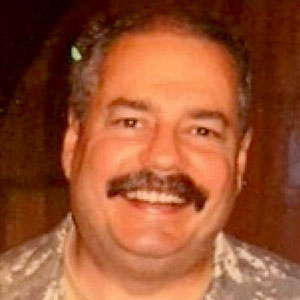 Kevin was a former Special Forces weapons man (MOS 18B, before the 18 series, 11B with Skill Qualification Indicator of S). His focus was on weapons: their history, effects and employment. He started WeaponsMan.com in 2011 and operated it until he passed away in 2017. His work is being preserved here at the request of his family.