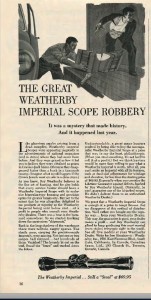 From a Weatherby ad:
Like phantom smoke arising from a dead campfire, Weatherby Imperial Scopes were appearing magically in the advertisements of national magazines (and in stores) where they had never been before. And they were priced so low it led you to believe they were obtained as prizes in Cracker-Jack boxes. Of course they disappeared faster than a buck in a tamarack swamp. (Imagine what would happen if the Crown Jewels went on sale in a dime store.)

As you know, Roy Weatherby believes in the fine art of hunting. And he also holds that every serious hunter should have a Weatherby Imperial Scope with its exclusive binocular-type focusing and precision optics for greater luminosity. But not to the extent that he was altogether delighted to see products as superior as the Weatherby Imperial being sold below cost … at a profit to people who weren't even Weatherby Dealers. There was a bear in the barnyard somewhere. So we started tracking down the mysterious "shipments."

Back in the long shadows of the warehouse there were telltale, empty spaces. The sturdy cases, carrying the precision-made Imperials, were missing. Not just one or two scopes had skipped … but hundreds of them. Vanished! The hounds lit out on the trail, found the "fence" and tracked down the felons.

Understandably, a great many hunters profited by being able to buy the incomparable Weatherby Imperial Scope at a price that was, to say the least, philanthropic. (When you steal something, it's not hard to sell it at a profit.) But we think hunters would be more than willing to pay what a Weatherby Imperial is worth. After all, you can't make an Imperial with all its features, such as dual-dial adjustments for windage and elevation, for less than the starting price of $69.95. Especially when you consider the Lifetime Guarantee against defects, backed by Roy Weatherby himself. (Naturally, he can't guarantee any of the hi-jacked scopes. He didn't deliver them to an authorized Weatherby Dealer.)

We grant that a Weatherby Imperial Scope is enough of a prize to tempt thieves. But we disapprove of this method of distribution. We'd rather you bought one the regular way … from your Weatherby Dealer. This way, the guarantee is good, your dealer makes a profit…and Roy Weatherby can afford to keep producing this most wanted (even stolen) telescopic sight in the world. See all five models at your Weatherby Dealer.
This ad ran 50 years ago, in 1964.  For example, it's on Page 16 of the October, 1964 Guns magazine. Those old magazines are a trip, and an education: a trip in time travel, and an education in how much the gun culture has changed in a half-century.
It's a general commonplace that the stories in magazines tend to be more descriptive, and the ads tend to be aspirational. In 1964, Weatherby was a premium brand, as the price of $70 in dollars that predate the guns-and-butter inflation of the LBJ 1960s and the gross economic mismanagement of all three of the 1970s Presidents. According to the Bureau of Labor Statistics' inflation calculator, the 2014 equivalent of that scope's list price is $532.86, so in real purchasing-power terms, the price of a quality scope hasn't changed much.
Of course, the $500 scope of today will be better than a Weatherby Imperial of the LBJ years on several axes of measurement. The 1960s scope most often has a very fine crosshair reticle, which evaporates in low light.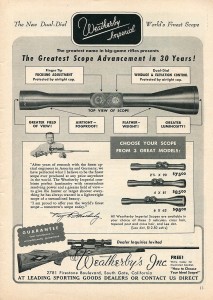 The Imperial scope had some unusual features that were unique then and are still a bit odd by today's standards. It had two turrets, both at 12 o'clock and so close as to be conjoined, almost siamesed, with nested knobs or rings in the forward turret for fine adjustments (inner was windage, outer elevation) and one knob in the after turret for focus. Gross adjustments were done with the scope base screws when setting the scope up, so as not to use up too much travel and/or get the reticle out of center of the scope whilst getting sighted-in.
Weatherby never made scopes themselves, but they had private brand scopes made with the Weatherby name for 40 years, from 1954 to 1994. In 1954, Roy Weatherby himself selected Hertel & Reuss of Kassel, West Germany; after visiting several other scope factories, he thought the Kassel company had the best handle on producing quality optics.
The Imperial scope was made in several magnification ranges by Hertel & Reuss from 1954 to 1973, when it was replaced by the Premier line, made by Asia Optical in Japan. The Premier scopes were renamed Supreme in 1983. Asia Optic also made the Mark XXI scope from 1964 to 1989.
Hertel & Reuss was founded by Otto Hertel and Eduard Reuss in 1927. As a maker of all kinds of optics, it survived the Weimar Republic, the Third Reich and its defeat, and the rocky dawn of the Federal Republic — even German Reunification in 1992. But the company had left the rifle-scope market well before it ceased trading in 1995. A successor company owns the Hertel & Reuss trademark and applies it to opera glasses made in the old university town of Marburg. The original Hertel & Reuss plant, where the Weatherby riflescopes and other precision optics were made, now is a European call center for the schlock TV sales outfit, QVC.
Weatherby Imperials are the most-sought Weatherby scopes by Weatherby collectors. You may hear the sentiment that a German Weatherby rifle ought to have a German Weatherby scope. But the scopes are not worth a king's ransom; a used, good-condition Imperial sells for $200-300, max. One not in good condition is just about worthless.
Gilbert Parson of Parson's Scope Service (aka Parson's Optical Manufacturing) in Ross, Ohio can still service the Imperial scopes; ABO Inc, in Miami, can handle Weatherby's Japanese scopes. But given the advances in the last 50 years and the high cost of skilled repairs, it may be wiser to replace rather than repair these old warhorses.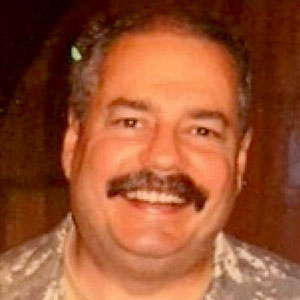 Kevin was a former Special Forces weapons man (MOS 18B, before the 18 series, 11B with Skill Qualification Indicator of S). His focus was on weapons: their history, effects and employment. He started WeaponsMan.com in 2011 and operated it until he passed away in 2017. His work is being preserved here at the request of his family.