Maybe it's the snazzy, Hugo Boss uniforms, but SunTrust Bank is inviting Godwin to the party for Hitler's Birthday, by sending letters to firearms businesses, punitively closing their accounts for dealing in Administration-disapproved goods and services. Effective on the day that was the highest holy day in National Socialism.
The cancellation comes with a 30-day deadline for some purposes, but with only 10 days before the business's debit cards go tango uniform. It's all part of a long-standing Administration plan to make lampshades out of the hides of America's gun owners, and those businesses that dare to serve them.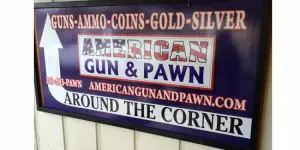 The Nashville-based bank has been a leader in sucking up to political overlords, perhaps in hopes that it too can grow to coveted Too Big to Fail (not to mention, Too Big to Be Indicted for Criminal Activity) status. Here's an example of the form letter. This one was sent to Florida's American Gun and Pawn over the computer signature of a minor bank (& The Party, no doubt) functionary, Quanisha Keel. Keel no more wrote the letter, which bears the stylistic imprints of SunTrust and possibly government lawyers and PR specialists, than you did, but her name is on one of the most blatant examples of banking corruption since the cell door closed on Carlo Ponzi.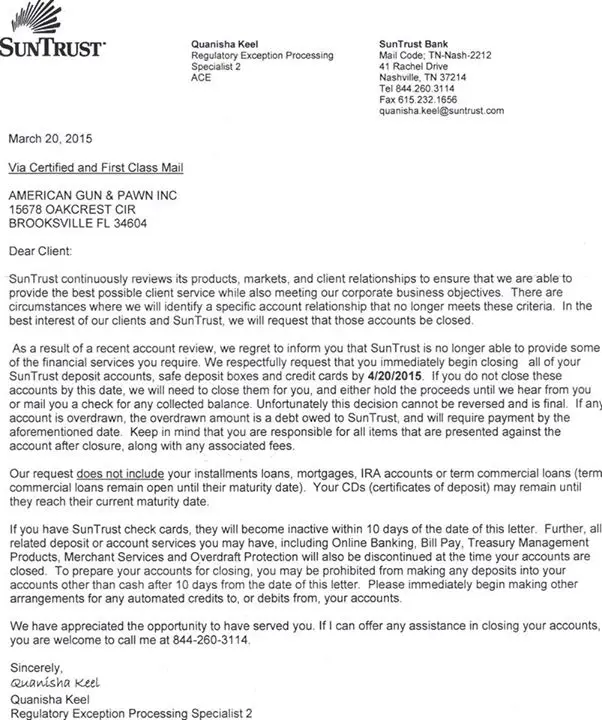 It sounds like a one off letter, but when AG&P called, March 27…
…[T]hey said they are closing Gun stores accounts all over the country! We are a licensed and legal company!
OFA's social media brigades are flooding the net with obfuscatory claims, including that (1) the letter is fake (it isn't), the business must be crooked (so where's the indictment?), and that maybe the account is being closed, but not because AG&P is a gun business, maybe because it's a pawn shop (like that's any better a reason?). To which the company's Steve Champion replies:
You are wrong. Gun dealers are part of the account closings. I called and they specifically said it was because we are a gun dealer. I have the names of everyone I spoke with.
Even as these letters were going out, one of the great successes under the authority of Operation Choke Point, Administration Made Guy (FDIC Chairman) Martin J. Gruenberg was in front of Congress, mumbling non-sequiturs to avoid perjuring himself that Choke Point was not a thing, and if it was, it was over, and who were you going to believe, a Beltway and Wall Street Made Guy like Himself, or your lyin' eyes?
Champion has gotten some small media play in outlets like Florida News Flash and local TV and radio, but this problem is not going away. If anything, it's going to grow, because the Deep State bureaucrats haven't backed away when exposed — instead, they've sought the cloak of secrecy. Not a good sign.
The NRA has a story with some of the industry's (and other targeted industries') responses to Choke Point. If you yourself have been a victim of SunTrust or another national socialist bank, the US Consumer Coalition wants to hear from you — also, if you're an inside-banking whistleblower.
No one has been able to get a response from the Hitler's Birthday celebrators at SunTrust. SunTrust has been one of the most aggressive participants in Choke Point, and has been evasive about its anti-gun policies and positions for at least two years. The participating banks have been threatened by the CFPB, the FDIC and the Department of Justice to keep the details of their participation secret.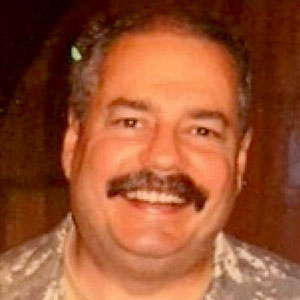 Kevin was a former Special Forces weapons man (MOS 18B, before the 18 series, 11B with Skill Qualification Indicator of S). His focus was on weapons: their history, effects and employment. He started WeaponsMan.com in 2011 and operated it until he passed away in 2017. His work is being preserved here at the request of his family.