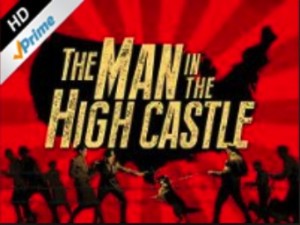 We've already reviewed one of Amazon's should-we-or-shouldn't-we pilots, Cocked. (We were pretty ambivalent about it, mostly because we don't trust Amazon, based on past performance, to deal with the gun-culture central to the story fairly or even competently). Now we're on to the pilot that seems to be getting the most buzz, and therefore, the one most likely to turn into a series: The Man in the High Castle. This 60s alt-history period piece is based on a Philip K. Dick story, the one sure way to get Science Fiction or Spec Fiction funded in Hollyweird.
Despite the Dick imprimatur, and the involvement of Frank Spotnitz and Ridley Scott, the program has struggled to find an outlet; it was developed as a miniseries for BBC and SyFy before being picked up by Amazon.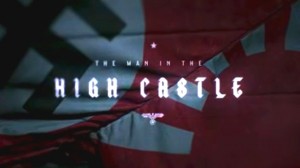 The show opens with a title sequence featuring a breathy singer intoning "Edelweiss" with a nearly inaudible accompaniment, scenes of an almost-recognizable war superimposed on almost-recognizable cityscapes and monuments.
Then it launches into a movie-in-a-movie of bland propaganda, and then exits the movie to show one of our protagonists in a theater. But he's not there to watch a movie; he's there to make a contact in spy-movie classic style. Then it's out into a Times Square that's almost recognizable: the digital signs, though (one of the few real anachronisms in the setting) are a mixed bag of normal advertising and political propaganda: Nazi propaganda.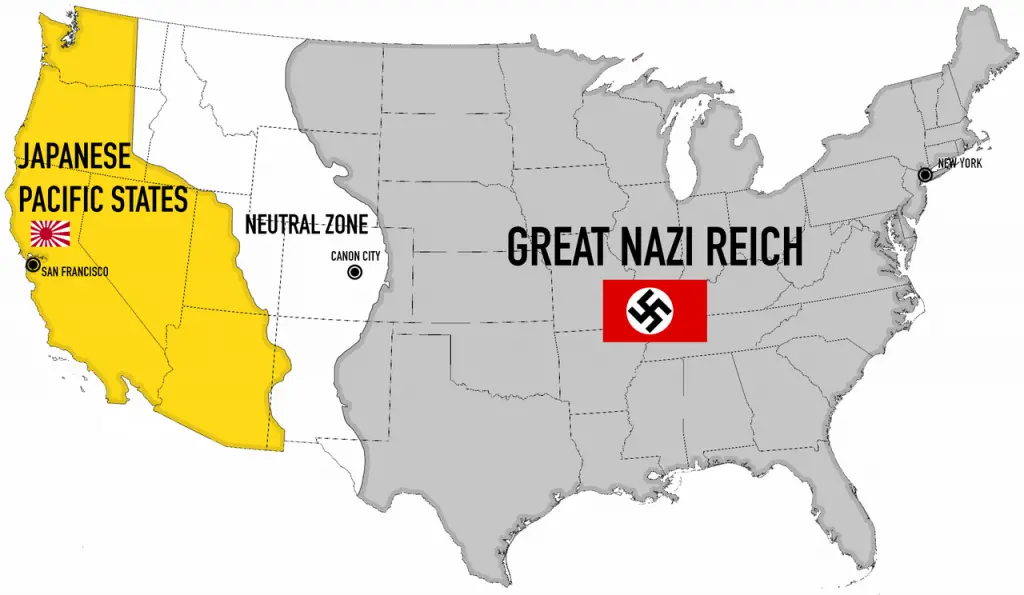 The show's fundament is this: It's 1962, and the Axis won World War II sometime in the 1950s (the pilot seems to cite two different dates). They did this, in part, by nuking Washington DC (and they say that like it's a bad thing!). The Germans occupy the eastern two-thirds or so of the former USA, and the Japanese Empire the western third. A "no man's land" called the "neutral zone" exists precariously between the two empires.
Acting and Production
We didn't see any acting that stood out either way, not for excellence nor for failure. The actors seem comfortable in their characters. (Some of the support actors do best, in their less self-contradictory roles). The Nazis are a mix of Nazi-next-door and Central Casting No. 2 Nazi Torturer; as you might suspect, the former have a depth that the latter, standard television caricatures, don't, but it's a queasily disturbing depth. Would Americans have collaborated, and rationalized their collaboration, just as men of every European nation did? You bet, and the show nails that, and it's grim to watch.
Michael Rispoli, Jackie Aprile Jr. on the Sopranos ten years ago, has a tough role as a leader of a demoralized, probably doomed, and definitely infiltrated Resistance cell. Unfortunately the nature of his part means we're unlikely to see him in future episodes.
The pilot ends with a cliffhanger/reveal that's quite a surprise in light of what we've seen so far. The pilot is cunningly constructed so that, at every stage, you think you know things the characters don't know, and you do, but the characters also know things that they haven't revealed yet, so what you know might be so far from the whole story that it's misleading.
It's a truism in entertainment that it's easier and vastly cheaper to put on something in a contemporary or timeless setting, than it is to put on a period setting. In this case, the producers are trying to reproduce a setting that never really existed, but is both speculative and set in the past. As a result, they have created an Axis 1962 that falls into an uncanny valley; it's convincing enough to be all wrong and disturbing and in that it's very true to Dick's vision.
Unfortunately, someone in Hollywood read somewhere that Dick's vision was a dark vision, and ever since then his stories have been brought to the screen without ever using more than half of the light necessary, and The Man in the High Castle is literally dim and hard to make out. It's even worse than that, because it's an Amazon online delivery show, and the show's already left-biased histogram gets further skewed by compression so heavy you can see it, especially in the gross pixelations of  large areas and the 1988-vintage jaggies disrupting diagonal lines. (And that's in alleged HD).
This seems to be one of the most likely Amazon series to see production, based on viewer response and reviews, despite what must be staggering production costs. Our concern with this series, though, is this: knowing the end of the original story, which was a classic Dick job of lame negativity, where do we go? Can they make us care about something when we know that it's Philip K. Dick and they're going to call the Science Fiction equivalent of a deus ex macchina cheat at the end? So far so good, but the tale of Amazon original series so far is a tale of promising launches and leaden thuds.
Accuracy and Weapons
The Nazi troops of the show dress and are armed like Nazis of 1939, not those of 1945. (The American Nazis have red and white stripes on their Nazi armbands. Nice touch… Betsy Ross was not available for comment). We have to suspect that the K.98k, as beloved as it may have been by your basic German Landser, would have been, shall we say, substitute standard by 1962, and they'd have been carrying K.43s or Mp.44s. But nope, it's a mixed bag of K.98s and MP.40s. The Sons of Nippon, likewise, are brandishing Arisakas and Nambus.
The producers weren't entirely mired in 1940 for their Axis technology; a functionary of the elderly, ailing Führer visits the Japanese zone, and he doesn't come by Ju52 or even Fw200 Condor (the planes that were executive transports in the Nazi state), but by a triple-sonic transport, much like the SSTs that American, French, English and Soviet engineers were really developing in 1962. They lavished some CGI on this critter, and it shows.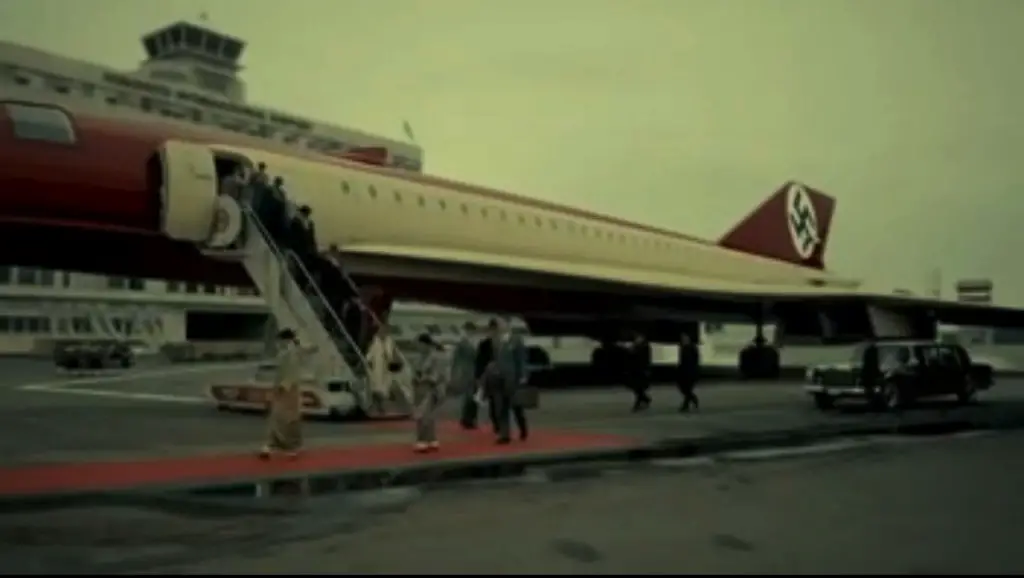 The weapons don't have a big role in The Man in the High Castle. They're mostly an adjunct to the plot. There are not any glaring anachronisms, apart from the usual Hollywood fail of pre-1970s guys using a two-handed pistol hold (the only place this was taught prior to Weaver and Cooper, was the Imperial Japanese Army; in 1962 American police and military were still generally learning a one-hand aimed shot for 25 yards and out, and a hip-level "point shooting" one-hand stance for close in, 7 yard, shots). The Resistance guys seem to use a .45 1911, reasonably enough.
The bottom line
The Man in the High Castle is the kind of thing that's likely to be loved by the usual Philip K. Dick fans, to one of whom, Roberta X, a hat tip is due (we'd not have watched it without her recommendation). Like other Amazon series pilots, it has considerable potential, which Amazon has yet to deliver on.
It's free with Prime. Wouldn't it be nice if they would leave TV to the TV nets, and instead put that money into improving their currently anti– position to at least neutrality towards the gun world, and hold the line on price and shipping?
For more information
These sites relate to this particular film.
Amazon.com streaming page:
http://www.amazon.com/gp/product/B00RSI5EHQ/
http://www.imdb.com/title/tt1740299/
None, it would probably have to be picked up as a series.
Rotten Tomatoes review page (very positive reviews, 90% fresh, but none are from top critics, although one is from some provincial backwater paper called the New York Times):
http://www.rottentomatoes.com/tv/the-man-in-the-high-castle/s01/
Wikipedia page (quite detailed, in this case):
http://en.wikipedia.org/wiki/The_Man_in_the_High_Castle_(TV_series)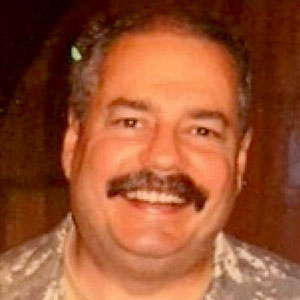 Kevin was a former Special Forces weapons man (MOS 18B, before the 18 series, 11B with Skill Qualification Indicator of S). His focus was on weapons: their history, effects and employment. He started WeaponsMan.com in 2011 and operated it until he passed away in 2017. His work is being preserved here at the request of his family.