In the world of rimfire rifles, the Ruger 10/22 lives in the equivalent mindspace of the AR-15 in Centerfire World: it's the center of an entire ecosphere of modular customization. You can buy any component for a 1022 that you might like, except the receiver. Wait! Belay that: there are also aftermarket receivers1 and even "80%" receivers2. And then, there's 3D printing.
There are several ways to 3DP a 10/22 receiver that's a fair ringer for the pukka article.
For years a drawing and 3D model [IGES] of the receiver has been available online. (We downloaded it years ago from CNC Guns, where Justin Halford may have intended to mill it from billet). It was only natural that people would think of duplicating it on a 3D printer in PLA or ABS. And it's definitely been done. Voilá:
https://www.youtube.com/watch?v=kTv6xgaSghY
Indeed, 3D printed guns pioneer Have Blue posted about success printing a 10/22 receiver over two years ago. He may have been overlooked because it was an aside to his experiments with AR lower receivers. Here's what it looked like on the printer: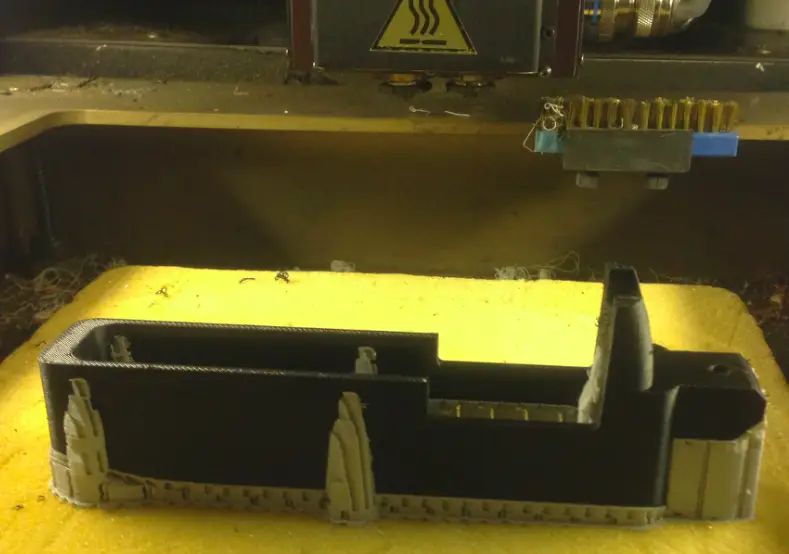 And here's what one looks like with the support material removed. This one was printed on Veterans' Day, 2013 (Remembrance Day for our British and Commonwealth cousins):
But there have been a bunch of new stories in 2015 addressing this3, and we have seen that a couple of the original gun-printers from way back have taken to the net again to point out their primacy, from 2013, and helpfully to organize it into a simple step-by-step process (but one, as you will see, that needs considerable machining tools and knowledge to correct for issues with the IGES file or the print). Most if not all of that detail was in Have Blue's original post from St Patrick's Day, 2013. But here's the new iteration of that, from a new-ish site, Printed Firearm.
In comments to his post, Have Blue noted that
My hunch is that accuracy/precision will be pretty much the same with the printed receiver when using the factory iron sights (as both are mounted to the barrel itself). However, if using a receiver mounted scope or aftermarket rear iron sight, I expect to see very poor accuracy – given that the barrel would tip down with every turn of the clamp screws during the initial barrel mount, it's not conducive to accuracy. The printed receiver is far more flexible than an an aluminum receiver, and is really quite impractical at this point (I wouldn't want to do mag dumps in the summer due to heat concerns, to answer your other question).
But that's where we were in 2013… "What is the use of a newborn baby?" as Franklin is said to have replied, when asked, what was the use of the Montgolfier Brothers' balloon.
Since 2013's initial reconnaissances of the 3D-printing world, we've seen printing evolve with new materials, vastly improved printers, and other individuals have solved some of the 10/22 printing problems Have Blue had to machine his way out of, by modifying the 3D file and printing the corrections (and adjustments for shrinkage, etc.) into the receiver. For example, the receiver can be printed in sections, oriented for accuracy and strength, and then epoxied together.
Here's a pistol "Ruger Charger" version which was done just that way (in fact, the image is from this video) from 2014.
http://www.liveleak.com/view?i=b3e_1404502736
This is one cat that is just not susceptible to being rebagged. The authorities can't issue the crackdown they're dreaming of, without cracking down on a great deal of unrelated economic and technical growth and development.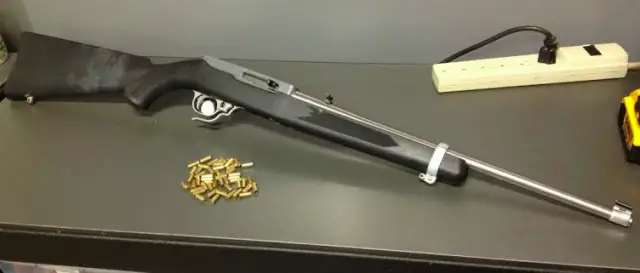 Some European authorities have chosen to extend bans to other parts, perceiving that the manufacture of, say, bolts and especially barrels is beyond new technology or cottage industry in general. (They are very mistaken about this).
Pretty amazing stuff, but then, this is the twenty-first century.
Notes
An incomplete list of 10/22 aftermarket receiver makers includes: KIDD (link is to a reseller), MOA Guns (review of their stainless 10/22 receiver), NoDak Spud, Tactical Machining (here's a review), and Volquartsen Custom, each with some selling points or improvements built in.
Makers include Select Fire LLC and Tactical Machining (uses this completion jig). Scare quotes because, while "80%" has some currency in gunners' discussions, it means zilch to ATF Firearms Technology Branch. In their (legally binding) opinion, something is a receiver — and therefore a firearm — or it isn't, and percentages don't enter into it at all.
The one that caught our eye was this one at Guns Save Lives.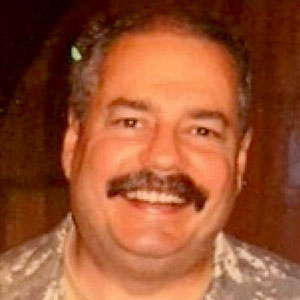 Kevin was a former Special Forces weapons man (MOS 18B, before the 18 series, 11B with Skill Qualification Indicator of S). His focus was on weapons: their history, effects and employment. He started WeaponsMan.com in 2011 and operated it until he passed away in 2017. His work is being preserved here at the request of his family.