How Many Rifles, and Where Are They?
Nick Jenzen-Jones has a new and interesting working paper at the Small Arms Survey in Geneva (Here's the Abstract and the PDF). The title of the paper is dry but promising: Global Development and Production of Self-loading Service Rifles 1896 to the Present. 
As always with the Small Arms Survey, this is a publication more aimed at non-proliferation NGOs and quangos than at enthusiasts, but that does not make Nick's painstaking work any less interesting or useful to us.
Painstaking? It is. He goes deep into the history of semi-automatic and select-fire rifle production over a century and a quarter, and makes a valiant effort to make sense of conflicting numbers that come more from estimates, propaganda, wild guesses, and serial-number sleuthing than they do from any real solid reporting.
Here is a discussion of AK production, probably the toughest nut to crack for those who want to know, "How many?"
AK-type rifles are the most common self-loading service rifle in the world today by a considerable margin, and are thought to constitute in excess of 40 per cent of the total number of self-loading rifles produced up to the present day. Their ubiquity means that they are encountered in almost every modern conflict zone. Nearly 200 variants, copies, and derivatives of the AK rifle have been identified to date.

According to Russian sources, IZHMASH (now Kalashnikov Concern) only patented the weapon's design in 1997, and in 2006 Russian Federation AK-type rifles accounted for only 10 per cent of the world's production of this type
The Soviet-era practice was to share their design and engineering widely to encourage production in nearby "fraternal socialist" allies, and to promote industrial development in distant allies. Nations as diverse as India, Iraq, North Korea and Egypt would never have produced AK clones without direct Soviet assistance (the Egyptian plant was even supervised by Soviet engineers, initially, and used every single process of its Soviet prototype).
So the modern Russian inability to issue a concrete figure of X AKs produced is an understandable result of previous policies, as well as of Izmash and Amtorg/Rosoboronexport giving up control of the design of the firearm. The AK's very simplicity led to further proliferation of manufacture, especially after the 1960s change from machined receiver to stamped with machined and stamped parts riveted in place.
But the paper goes far beyond AKs to discuss the entire history of the self-loading rifle.
Here's a snip of Table 1 from the paper, which should give you an idea just how thorough and historically interesting it is: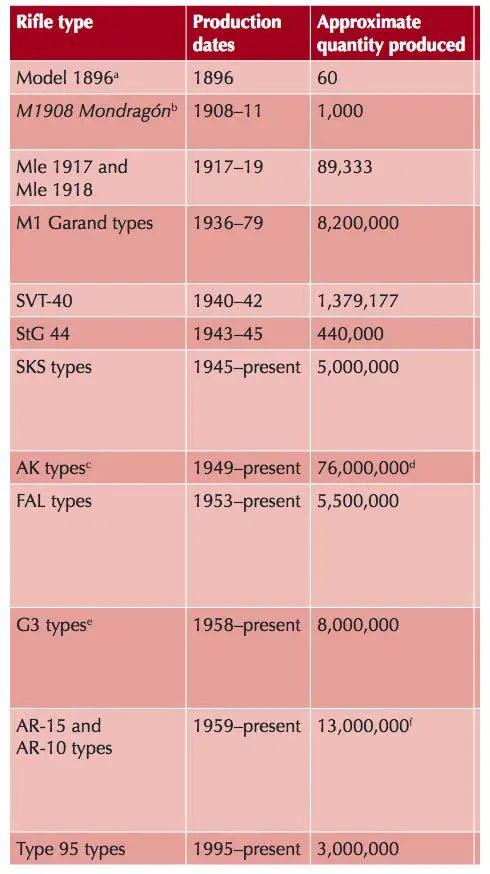 Sure, it's missing some firearms that were produced in the millions, including the M1/2/3 Carbine (~5.5 million in WWII alone, if memory serves), the G/K 43 (perhaps under a million), and the  AG 42 and Hakim. But all of those are obsolete firearms washed away by the tide of ARs, and, especially, AK. And some of them, like the M1 Carbines, are mentioned elsewhere in the report. Sure, you can quibble with the numbers. But the original table includes extensive sourcing and notes. He appears to be, from his notes, excluding firearms produced for civilian markets including non-militarized law enforcement, which means he's not capturing the bulk of AR production.
Production, of course, is only half of the conundrum, and Nick tries to understand and estimate inventory shrinkage and diversion, demilitarization and destruction, and wear-out. The problem with that, of course, is not only that there are no comprehensive prior numbers to be exploited as found data, but also that rifles are fiendishly durable goods; and are valuable enough that many possessors will take care to maintain and store them properly, if they can and know how. He makes this note:
International Security Assistance Force (ISAF) troops in Afghanistan captured several well-worn but functional examples of AK and AKM rifles manufactured in the 1950s (Iannamico, 2015).
In fact, in Afghanistan in 2002, our team captured, along with tons of common AKMs and a mountain of World War II weapons, a quantity of prewar Mauser rifles and ZB-26 machine guns, and very first model AK-47s that were 1940s production with a primarily stamped receiver, that pre-date the familiar machined AK-47 receiver. Along with them, we turned up some real oddities like a Ross. All were functional, although there was no ammunition for the .303 and 7.92mm weapons in the caches.
One can quibble with this aspect or that of what Nick has written is, but the fact is that this is the single most comprehensive look at world service rifle stockpiles. Were the numbers to be graphed, they'd need to have really large confidence-interval indications, like error bars or something, because the data are squirrelly, but that's not his fault. Indeed, to produce a readable, informative document out of such a primordial chaos of data is a signal achievement. We predict that this paper will be widely cited in future scholarship.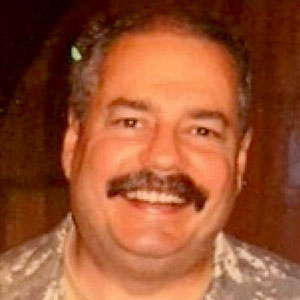 Kevin was a former Special Forces weapons man (MOS 18B, before the 18 series, 11B with Skill Qualification Indicator of S). His focus was on weapons: their history, effects and employment. He started WeaponsMan.com in 2011 and operated it until he passed away in 2017. His work is being preserved here at the request of his family.