As we all know from Junior High French, Tour d'Horizon means Hognose has too many stories in his open tabs at the end of the week. What do you expect? It's Friday!
Guns
I don't wanna work, I just wanna bang on my gun all day.
For the Worst Sportsman in the Trap Club
We give you a belt-fed, full-auto shotgun (if it's on a registered lower).
Given the fact that any twist in the fabric belt seems to stop it, it has no imaginable use whatsoever, except for turning shotgun shells into noise — and grins. It was invented by a guy named Derek Miller, and he was bringing it to Knob Creek in 2009. Dunno what happened after that. He had one other video, seven years ago, for a flash enhancer, but the website it shows is dead.
Gun Stocks update
Pre-Election closings: RGR 64.40, SWHC 28.45, VSTO 38.94.  [8 Nov 16]

-10 week's closings: RGR 53.20, SWHC 24.13, VSTO 40.02. [18 Nov 16]

-9 week's closings: RGR 52.50, SWHC 23.82, VSTO 41.05. [25 Nov 16] [short trading day and week]

-8 week's closings: RGR 50.25, SWHC 21.10, VSTO 39.66. [2 Dec 16]

-7 week's closings: RGR 51.90, SWHC 21.07, VSTO 38.62. [9 Dec 16]

-6 week's closings: RGR 53.45, SWHC 21.59, VSTO 36.81. [16 Dec 16]

-5 week's closings: RGR 54.05, SWHC 22.11, VSTO 38.02. [23 Dec 16]

-4 week's closings: RGR 52.70, SWHC 21.08, VSTO 36.90. [30 Dec 16] (this was the final close for SWHC, which renamed itself AOBC).

-3 week's closings: RGR 54.15, AOBC (ex-SWHC) 21.00, VSTO 38.08. [6 Jan 17]

-2 week's closings: RGR 51.35, AOBC 20.60, VSTO 28.70. [13 Jan 17]

Last week's closings: RGR 50.65, AOBC 20.13, VSTO 27.78. [20 Jan 17]
This week's closings: RGR 51.90, AOBC 20.58, VSTO 28.33. [27 Jan 17]
Everybody's up a little this week, on a general rise in the market that brought the Dow Jones Industrial Average over 20,000 for the first time in history. But the gun stocks are not back to where they were before Vista took a hit three weeks ago.
Disclaimer: Your Humble Blogger holds RGR, bought at about 56.40 on 9 Nov 16. It bottomed in the 40s later that day. We still think it has longterm growth potential, and we like the dividend.
Gun Poly-Ticks
Do Video Games Make Kids Violent?
One paper that argued that case has been retracted, after an investigation was unable to find the data on which it stood. The author claimed that the information was lost, along with a Turkish collaborator presumed imprisoned, in the Turkish coup-countercoup in 2016. But the battle over the paper has been going on for years.
Usage and Employment
 The hardware takes you only half way. Nothing this week. 
Cops 'n' Crims
Cops bein' cops, crims bein' crims. The endless Tom and Jerry show of crime and (sometimes instantaneous) punishment.
When the Cop was a Crim
A not-so-Special Agent with the Federal Aviation Administration got his wings clipped by SA's from another agency — and you won't believe why. 
Agents with Homeland Security Investigations — a division of U.S. Immigration and Customs Enforcement — and the Rio Grande Valley Child Exploitation Investigations Task Force arrested Jeremy David McCauley on Wednesday during a sting operation at Sunrise Mall. McCauley is a special agent assigned to the FAA Office of Security and Hazardous Materials in Fort Worth.

McCauley spent a week sending messages to undercover agents posing as a mother and her 13-year-old daughter, according to the criminal complaint.

"During the communications, McCauley arranged to meet the 13 year old minor female to have sex," according to the criminal complaint. After the arrest, McCauley confessed.
This is the oldest sting in the book. Look, if she says: her name is Tiffani; she's jailbaiteen; and looking for love; well, the two possibilities for her real first name are Special Agent or Detective. Thirteen'll get ya twenty, dumb-ass hornball. Q.E.D.
Do You Keep Cash Under the Mattress?
Say, in the box spring? If you were a defendant in a money laundering case you just might do that, like Cleber Rene Rizerio Rocha did. But it wasn't just the egg money; his mattress contained a lot of money. In fact, his Sleep Number was Twenty Million Dollars. (Say that in your best Dr. Evil voice).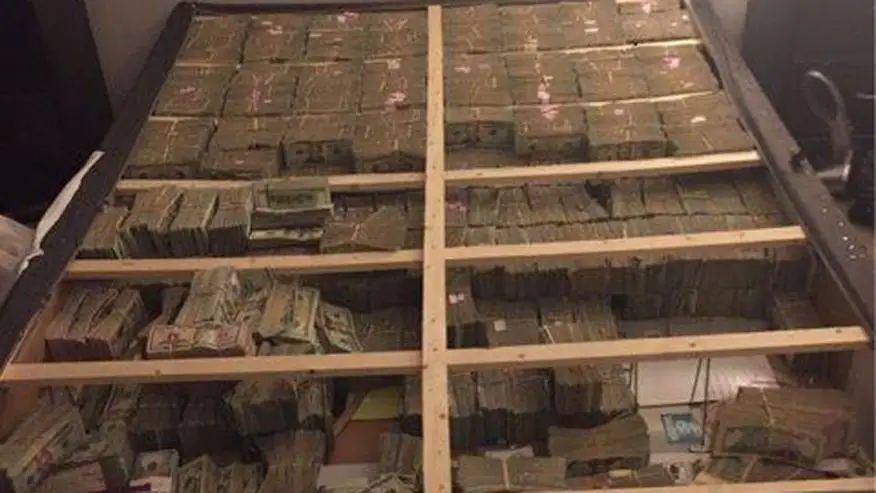 Not so clever Cleber wandered into a baited trap, in the town YHB and the Blogbrother grew up in of all places, and is awaiting trial in the US Courts in Massachusetts, whose prosecutors shared this image and the press release. Nut graf (Wanzeler is the partner in the scheme who has escaped to Brazil, which will not extradite him):
According to court documents, Rocha, acting as a courier for Wanzeler's nephew, flew from Brazil to JFK Airport in New York City a few days ago. Yesterday, Rocha met the cooperating witness at a restaurant in Hudson, Mass., and allegedly gave him $2.2 million in a suitcase. After the meeting, agents followed Rocha to an apartment complex in Westborough, Mass., and later arrested him. That night, federal agents searched an apartment at the Westborough complex and seized a massive stockpile of cash hidden in a box spring. The cash appears to total approximately $20 million.
This was an HSI score (the investigations branch of ICE). FMI: Fox, the New York Post. (New York Post? Where's the Boston Globe on this story? Not covering it, it seems. Probably smashing Starbucks windows in DC with their peeps).
"Get Thee to a Nuttery!"
And with those words, or their modern English equivalents, a Harvard research professor managed to get a perfectly sane graduate student that he was supposed to be mentoring, involuntary committed to a booby hatch for evaluation. Turns out he isn't any crazier than the usual Harvard STEM PhD candidate. Interesting article about a hard case. Yes, in some states, just one person's word can get you thrown in the nut ward. Hat tip Retraction Watch.
The Perils of Kathleen: It's Aliiiiive
How can we miss her, when she won't go away? Well, part of the answer is that she has gone away from the Attorney General's office, but the evil that she does was not interred with her political bones.
ITEM 18 Jan: Watchdogs Call for Corruption Investigation. Two good-government nonprofits have called on incoming AG Josh Shapiro for a "full faith effort to review and correct the Kane era. The connections and interactions of Kathleen Kane, Stacy Parks Miller and Bruce Castor need to be examined." These included a prosecutor solving a legal problem by forging a judge's signature — and getting away with it.
ITEM 21 Jan: Kane's Sister & 4 Other Kaniacs Get the Chop. Couldn't happen to a nicer crew, as new AG (and onetime Kane supporter himself) Josh Shapiro clears the decks for his coatholders and hangers-on. Inquirer story.  Penn Live story.
ITEM 23 Jan: AG Shapiro Asked to Recuse Himself. A few days after the watchdogs asked him to investigate several shady Kane-era figures, they discovered that Shapiro had personal and professional relationships with several of them, and asked him to recuse himself in the light of these conflicts of interests. Shapiro has refused.
Pennsylvania politics. It wants to be Illinois when it grows up!
Vontaze Burfict may not be the Class of the Bengals
The National Football League's dirtiest player gets in the news for all the wrong reasons, but he never did this:
Cincinnati Bengals cornerback Adam "Pacman" Jones … had some harsh words for his arresting officers.

In the video from the police car, Jones can be heard telling the officer, "Suck my d***."

"I hope you die tomorrow," he later added.

Jones continued to berate the cop, calling him a "b****" and "n****."
N plus four stars? We'd get it, if there were five stars. Anyway, Jones didn't stop at berating the cops who were arresting him, basically, for multiple counts of being a violent jerk. Taken to jail, he spat on the jail nurse. One more count, this time a felony.
And, regardless of Jones's twisted hopes, the cop is still with us.
No doubt what's-his-name, the lousy quarterback on the San Francisco 49ers, is proud of him. His momma, not so much.
Unconventional (and current) Warfare
What goes on in the battlezones of the world — and preparation of the future battlefields. 
Thought You Were Getting Away with Rioting
Funny. Ernst Stavro Soros paid to bus the rioters in, but they were on their own for their bail, are on their own to face serious felony charges, and at least some of them don't like it. (Image at link full of NSFW language)
Let's Have a Big Hand for the New State Sponsors of Terrorism
The United States Department of State (John Kerry edition), in an eleventh-hour $221-million cash dump to Hamas and the PLO, aka the Palestinian Authority. And San Francisco State University, which sponsors — we are not making this up — a program that puts convicted American terrorists together with their Arab co-belligerents to talk shop:
Participants in the "Prisoner, Labor, and Academic Delegation" to An-Najah that culminated in the workshop included four self-described American "political prisoners" who met with self-described Palestinian "political prisoners" for the purpose of sharing "presentations about the marginalized histories of colonial repression, racism, and resistance in Palestine and the U.S.
Lord love a duck.
Update — the Trump Administration seized the money. Hamas, Hezbollah, the KKK, and Samantha Power hardest hit. Does no one think about the poor Palestinian mothers? Their sons blow up so fast!
Army Corruption Gives Military Dogs to Racketeers
This story at the Washington Free Beacon defies synopsis, but it has Army crooks, Secret Service crooks, Joe Biden crony crooks, and abused and mishandled military working dogs, and dog handlers, at its core. And absolutely none of them has been called to account. Read The Whole Thing™ and see if it makes your blood burn like it did ours.
Federal Hiring Freeze Exempts Military, National Security Jobs
It also has a number of other holes but our sources in the Federal service are nervous. Given where most of them work, we think they're okay. Emphasis ours:
The head of any executive department or agency may exempt from the hiring freeze any positions that it deems necessary to meet national security or public safety responsibilities.

This hiring freeze applies to all executive departments and agencies regardless of the sources of their operational and programmatic funding, excepting military personnel.

[T]his memorandum does not prohibit making reallocations to meet the highest priority needs and to ensure that essential services are not interrupted and national security is not affected.
This line means that Your Humble Blogger's ox is likely to remain gored, but that's the price you pay sometimes:
Contracting outside the Government to circumvent the intent of this memorandum shall not be permitted.
Text of the memo was posted by WSB Radio reporter, Jamie Dupree.
Sailor Seeks Pardon from President
Last year, a few political figures got a pass on mishandling classified information. This year, one of the most notorious information-mishandlers got his sentence commuted. Now, a sailor who went to prison for taking cellphone pictures of the sensitive nuclear spaces in his submarine is asking to be let off, too. Our guess is that he will have no luck with that.
Veterans' Issues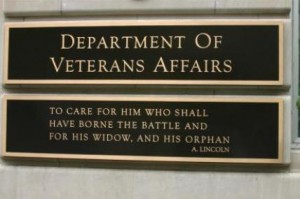 Is it time to o disband this thing yet, and letting all its bloatoverhead seek its own level in the Dreaded Private Sector™?
Some Heads Finally Roll
Two extremely rotten eggs got their walking papers from the VA on January 20th. Luke Rosiak at the Daily Caller:
DeWayne Hamlin, who offered an employee $305,000 to quit after she played a role in exposing his drug arrest.

"Mr. DeWayne Hamlin was removed from federal service effective January 20, 2017"–inauguration day–the VA said.
They also showed the armed robbery gal in Puerto Rico the door.
Heh. They told us if Donald Trump got elected, Hispanics would lose their jobs; we guess that's Number One.
Read The Whole Thing™ as Luke has a mind-blowing list of felons and dirtbags in the VA who still haven't gotten the boot.
Yet.
A Small, Local Win for VA
Here in New Hampshire, something remarkable has happened. Every Single Hospital is participating in the Veterans' Choice program, although the VA still prefers to send them to the run down and shabby facility in crime-ridden Brockton, Massachusetts, or the American Siberia of White River Junction, Vermont.
Health & Fitness (NEW Category!)
'Nose Fitness Results
In a traveling week, working out is down, and since the New Orleans trip, the diet's been suffering, however, since signing up with a strength trainer last summer, weight hasn't moved much but dimensions have changed: hips -2.5″, waist -2.0″, biceps +0.5″ each. These numbers are small, but remember it's an old body we're talking about here (so old, AARP has stopped sending come-ons in the mail). And the numbers don't express the change in mobility, flexibility, strength and endurance.
Why Use a Roller?
A meatworld associate sends this article with a recommendation that Your Humble Blogger acquire one.
What if You Can't Increase Output?
Interesting findings reported in Scientific American (treebark edition) by a team that studies metabolism. In both humans and other primates, the actual caloric use of relatively idle and relatively active individuals tracks with their mass, but not with their activity level. As if your calorie burn is relatively homeostatic and … here's the kicker! Independent of your level of activity to a great degree. The implications of this are… well, they're not clear. It's science; the only fixed conclusion science can reach is that more science is needed. Still, it's very interesting.
Lord Love a Duck!
The weird and wonderful (or creepy) that we didn't otherwise get to.
Let's Go Out in a Wave of German Pop
When Your Humble Blogger lived and worked in Germany, he had a secret (apart from the ones at work, which he still keeps). He was a big fan of a German new wave band, Münchener Freiheit, that played sappy love songs (think Paul McCartney) in a synth-pop style (think ELO). If any of you are old enough to remember those references, you needn't cut off a leg to count the rings: you know he's old.
Well, imagine the delight that befalls a guy when he learns that a band, whose 80-something album Traumziel he played over and over till he wore out the LP and cassette, is still around, touring, and recording? Here's a video from an apparent 2009 hit, Sie Liebt Dich Wie Du Bist, which is not just consciously retro in the way they throw in a couple of Beatles-at-Ed-Sullivan cues, but is also retro to the 80s, in that, as the band plays the song, the video tells a scripted story. So listen and commiserate with young Herr Martin and his bad luck with speed dating, no matter what more exciting version of himself he tries to be. You honestly don't need to know German to understand; just that the refrain of the song translates She Loves You As You Are, the first magazine headline our hero reads is The Man Who Can Be Everything, and the form letters from the dating service tell him that, unfortunately, they were unable to find him a match. 
For a while in the late 80s they had some success singing in English — I think they charted once in England — but their German-language versions seem superior. These guys have hook, melody and harmony down.
Here's a favorite from Traumziel. Perhaps an unofficial or fan video? The title translates to Over and Done With or Over and Gone, and the song's as melancholy as the title, but beautiful to hear.
Thanks for visiting WeaponsMan.com this week, and we can't wait for all next week's posts!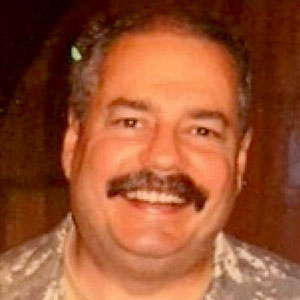 Kevin was a former Special Forces weapons man (MOS 18B, before the 18 series, 11B with Skill Qualification Indicator of S). His focus was on weapons: their history, effects and employment. He started WeaponsMan.com in 2011 and operated it until he passed away in 2017. His work is being preserved here at the request of his family.