A very rare M16 variant, fully transferable, is up for auction on GunBroker. It's the retro AR guy's Holy Grail — an original Colt Model 601. It has a low serial number (605), meaning it was one of the first production ARs, making it a gun of notable historical significance. It's being offered by a reputable seller (Frank Goepfert/Midwest Tactical).
That's the good news. The bad news? It's going to be very expensive. They've set a buy-it-now of $35K, and the no-reserve auction is already bid up to over $19,000 as we draft this (we suspect it will be higher yet; ordinary M16A1s bid up to this level all the time). And the ugly news? While the gun is described as original in the auction writeup, which we excerpt below, it's not. Not even close. After the blurb, we'll tell you what's missing, and what's "off" about this rifle.
Colt Armalite model 601. These were the gun that started it all. They are considered the first production M16. These primarily went to military buyers but a few were sold to LE, some of which made it into civilian hands. The 601 is the only M16 on the C and R list! The "01" would be one of my personal top picks for an NFA investment due to the limited number available, the Colt name and the fact that they are a C and R gun. The gun you are bidding on is in nice condition. We have it here on hand. The bore is good, all parts are original and the gun works perfect. The caliber for this firearm is .223. According to the ATF paperwork, Colt Ind. is the maker for this firearm. This will transfer direct to your c3 dealer tax free from our inventory on a Form 3 without delay after payment is made. This is the fastest type of transfer so approval and shipment to your ffl should not take long.
via M16 Colt Armalite Model 601 C and R : Machine Guns at GunBroker.com.
Note how the mag-well bosses in the lower receiver match the upper receiver exactly.  That is a 601 characteristic; by the 603 model (with the forward assist, the one that went to the Army for general issue in Vietnam) these did not align perfectly any more.
While this rifle clearly contains some rare and hard-to-find 601 parts, like the dimpled pins, straight ribbed magazine release and bolt release, and slightly-differently-cut 601 upper and lower receivers, it's also got a lot of later-AR pollution on it.
The characteristic green-then-black- oversprayed brown mottled fiberglass 601 furniture appears to have been replaced with more durable, but dirt-common, M16A1 furniture.
The early-601 barrel has been replaced by a not-quite-as-rare and distinctly different 1967-vintage chrome-chamber-only M16A1 barrel, a so-called MP-C barrel, and the early barrel, FSB and flash suppressor are not included with this firearm.
This is the C that marks chrome chamber, quite rare in its own right but not correct for a 601:
The bolt carrier group has been replaced by a common M16 or AR BCG.
It's also been refinished a later, darker shade of anodizing.
Whoever buys this will have to spend thousands (and probably take years, waiting for parts to come on the market, or for repros to be manufactured) to really own a 601 — and even then it will be a restored firearm, not an original. For example, the last set of 601 handguards we saw in really nice shape was five or six years ago, and the guy wanted $1,500 for them.
So how to appraise this semi-601? Its mixmaster status means that it'll never have the appeal to auction with Rock Island, James D. Julia, or even Poulin unless that long and costly resto is done, and even then, some of the deepest-pocketed collectors will shy away from it (unless it's described inaccurately or dishonestly… but now the Intertubes know that this firearm, SN 000605, was a mixmaster as of April 2015, and the Internet never forgets).
The bottom line? It is what it always is.
Caveat emptor.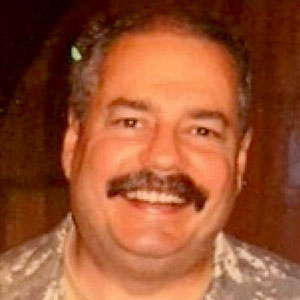 Kevin was a former Special Forces weapons man (MOS 18B, before the 18 series, 11B with Skill Qualification Indicator of S). His focus was on weapons: their history, effects and employment. He started WeaponsMan.com in 2011 and operated it until he passed away in 2017. His work is being preserved here at the request of his family.