Thanks to more news stories and an informative email from a frequent commenter, we have more information on the individuals who lost their lives and the circumstances of the accident. The two men fatally injured were Steve Preston, 51, the owner of the tank and a Board member and Convention Chairman for the Military Vehicle Preservation Association, and Austin Lee, 22, a friend (or relative?) of Preston's. Both were residents of Oregon CIty, OR; Preston owned Sergeants Towing in Portland.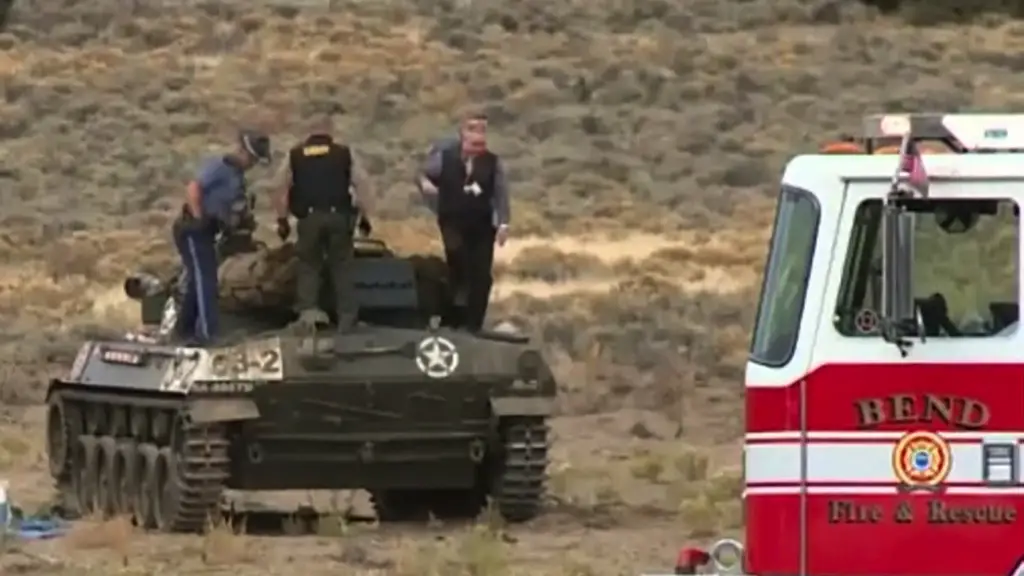 As we noted, the vehicle was an M18 Gun Motor Carriage (tank destroyer). Preston bought the TD in Denver in 1999 and enjoyed displaying it — at car shows ("It's a 1944 Buick!" he would say, parking it in the appropriate area) or for charity fund-raisers. He painted his wife's name — Rachel — on the vehicle's flank.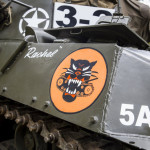 The vehicle served in World War II for the US and had wound up back in the US after being surplused by the Yugoslavian Army. Preston, a school-trained mechanic as well as a pilot and philanthropist, also owned a DUKW amphibious truck, and, reportedly, an M5A1 Stuart light tank. He had owned a firearms dealership.
He old the Portland Oregonian once:
"The craziest thing I've ever done with it? At a car show in Portland, I showed up early and towed a 1984 Camaro with no engine in it into the middle of the grounds. Soon there were hundreds of cars there, and I had the announcer say: 'Would whoever owns the 1984 Camaro, please move it, or we're going to have it towed away.' Of course, nobody moved it. With everyone watching, I fired up the tank destroyer and crushed that Camaro. The crowds loved it."
For all his love of military vehicles, Preston never served in the military. He did take special pride in showing his vehicles to vets who had used similar machines, and giving them a chance to drive their old mounts again.
The other victim, Austin Lee, was an avid World War II buff who'd become fascinated by the great war as early as age 6 or 7.  He was a professional restorer of World War II vehicles, weapons, and equipment.
The two were firing live 76mm rounds for a film crew, making a film for an interactive exhibit. How the round exploded — if that's what it did — inside the Hellcat's open turret is under investigation. As the accident happened on the range of the Central Oregon Shooting Sports Association in unincorporated territory, the investigation will be led by the county Sheriff, L. Shane Nelson. ATF and Oregon State Police have provided investigative assistance.
An emergency call was made immediately. First responders found the victims in the turret; some stories say they still had minimal signs of life, but they were pronounced at the scene.
There has been no indication of whether they were firing continuously (which seems unlikely) or responding to a misfire at the time of the mishap. Overheating (cook-off) or a premature or mis-run misfire drill can produce out-of-battery firing, very bad news in an armored vehicle's main gun. Mechanical failure can't be ruled out, also: the gun was 71 years old, which shouldn't matter much with a steel gun, but the ammunition may have been past its use-by date.
In the long run, this mishap may have consequences for every member of the small community that live-fires vintage Destructive Devices. In the short run, it is a tragedy for the families concerned, including Austin Lee's parents and Steve Preston's wife and two kids. May they find comfort, and may the accident victims find rest in peace.
FMI:
The (Portland) Oregonian has especially good coverage:
The Wall Street Journal did a photo essay last month:
Additional media coverage:
Personal media: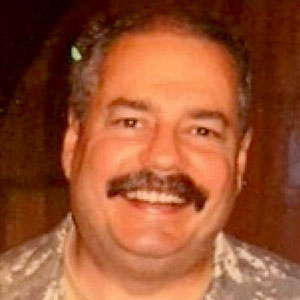 Kevin was a former Special Forces weapons man (MOS 18B, before the 18 series, 11B with Skill Qualification Indicator of S). His focus was on weapons: their history, effects and employment. He started WeaponsMan.com in 2011 and operated it until he passed away in 2017. His work is being preserved here at the request of his family.