The US Marine Corps has established one battalion (3rd Battalion, 5th Marines, 1st Mar Div) as an experimental, testbed unit, and that unit is looking at some possible new small arms approaches. The first of these is a more general issue of the M27, currently used as the Infantry Automatic Rifle (IAR) with one per Marine infantry fire team.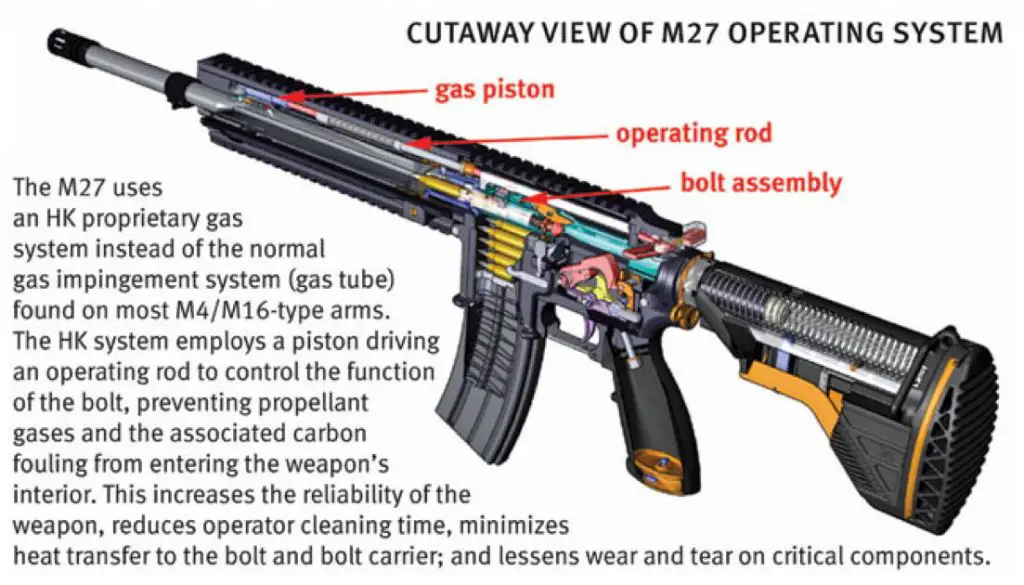 The concept under test would replace all the M4s in the rifle squad with the M27, which is a version of the HK 416 with a couple of USMC-requested mods, like a bayonet lug. Military.com reports:
Chief Warrant Officer 5 Christian Wade, the gunner, or infantry weapons officer, for 2nd Marine Division, told Military.com the M27 costs about $3,000 apiece, without the sight. Because the Marine Corps is still grappling with budget cutbacks, he said he was skeptical that the service could find enough in the budget to equip all battalions with the weapons. He said a smaller rollout might be more feasible.

"To give everyone in a Marine rifle squad [the IAR], that might be worth it," he said.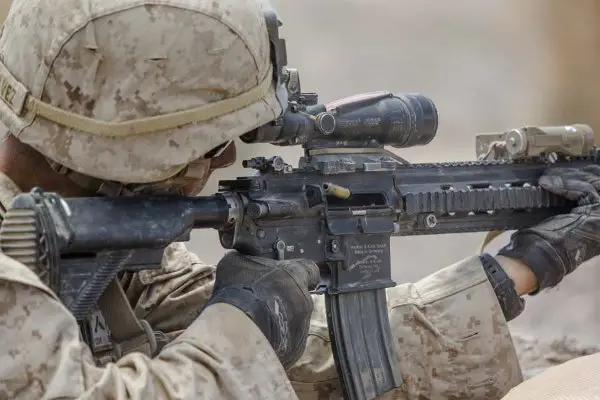 [Commander of 1st Marine Division, Maj. Gen. Daniel] O'Donohue said feedback would be collected on an ongoing basis from the Marines in 3/5 as they continued workup exercises and deployed next year. Decisions on whether to field a new service weapon or reorganize the rifle squad would be made by the commandant, Gen. Robert Neller, when he felt he had collected enough information, ODonohue said.

If the Marine Corps can sort out the logistics of fielding, Wade said he would welcome the change.

"It is the best infantry rifle in the world, hands down," Wade said of the IAR. "Better than anything Russia has, its better than anything we have, its better than anything China has. Its world-class."
If there's an obstacle, it's cost-effectiveness. The best is the enemy of the good, and the M4 delivers a good 95% of what the M27 can offer. But the Marines seem certain that they can exploit the incremental improvement in accuracy that comes with the free-floated barrel and
There's much more to it than that, so do Read The Whole Thing™.
Meanwhile, another test unit (B/1/2nd Marines) is going to go 100% suppressed, from carbines to heavy MGs, to see how that works. Also Military.com:
"What we've found so far is it revolutionizes the way we fight," [commanding general of 2nd Marine Division, Maj. Gen. John] Love told Military.com. "It used to be a squad would be dispersed out over maybe 100 yards, so the squad leader couldn't really communicate with the members at the far end because of all the noise of the weapons. Now they can actually just communicate, and be able to command and control and effectively direct those fires."
Chief Warrant Officer 5 Christian Wade, the division's gunner, or infantry weapons officer, said the Lima companies in two other battalions — 3rd Battalion, 6th Marines, and 3rd Battalion, 8th Marines — now had silencers, or suppressors, on all their rifles, including the M27 infantry automatic rifles. All units are set to deploy in coming months. The combat engineer platoons that are attached to these units and will deploy with them will also carry suppressed weapons, he said.
The Marines are discovering, as SOF (including Marine SOF) discovered some time ago, that the benefits from going quiet are not just the obvious ones.
"It increases their ability to command and control, to coordinate with each other," Wade told Military.com. "They shoot better, because they can focus more, and they get more discipline with their fire."

The noise of gunfire can create an artificial stimulus that gives the illusion of effectiveness, he said. When it's taken away, he explained, Marines pay more attention to their shooting and its effect on target.

"They've got to get up and look, see what effect they're having on the enemy because you can't hear it," he said.

He added that suppressors were already in common use by near-peer militaries, including those of Russia and China.

Wade said he is working on putting suppressors on the Marines' M249 light machine gun and M240G medium machine gun, using equipment from Marine Corps Forces Special Operations Command. The third and final objective will be the suppression of the .50 caliber heavy machine gun, he said.
The Marines are showing, in this as in the IAR experiment, a real commitment to experiment-driven (and therefore, data-driven) procurement decisions, which is an interesting contrast to the other services' way of doing things. Rather than hire a Federally Funded Research and Development Center like the Rand Corporation or Institute for Defense Analyses to write a jeezly white paper, they put the stuff in the hands of real mud Marines and see what use they make of it.
And then they write the report.
As the units conduct training and exercises with suppressors, 2nd Marine Division is collaborating with the Marine Corps Warfighting Lab to collect and aggregate data. Weapons with suppressors require additional maintenance and cleaning to prevent fouling, and the cost, nearly $700,000 to outfit an infantry battalion, might give planners pause.

But Wade said he will continue to gather data for the next year-and-a-half, following the units as they deploy. And he expects the idea to have gained significant traction among Marine Corps leadership by then, he said.

"When I show how much overmatch we gain … it will have sold itself," he said.
$700,000 sounds like a lot of money, until you put it on the scale against the cost of losing one lousy fight.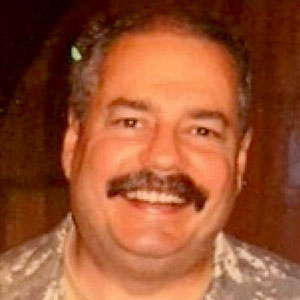 Kevin was a former Special Forces weapons man (MOS 18B, before the 18 series, 11B with Skill Qualification Indicator of S). His focus was on weapons: their history, effects and employment. He started WeaponsMan.com in 2011 and operated it until he passed away in 2017. His work is being preserved here at the request of his family.