…O,r lack of the same. A class for a large Army unit came completely unglued as weapon after weapon failed. Charging handles broke. Dust covers went flying off. Locking lugs sheared. A furious Defoor, noting that the guns were Colts, posted a nastygram on his Facebook page with a photo of some of the parts: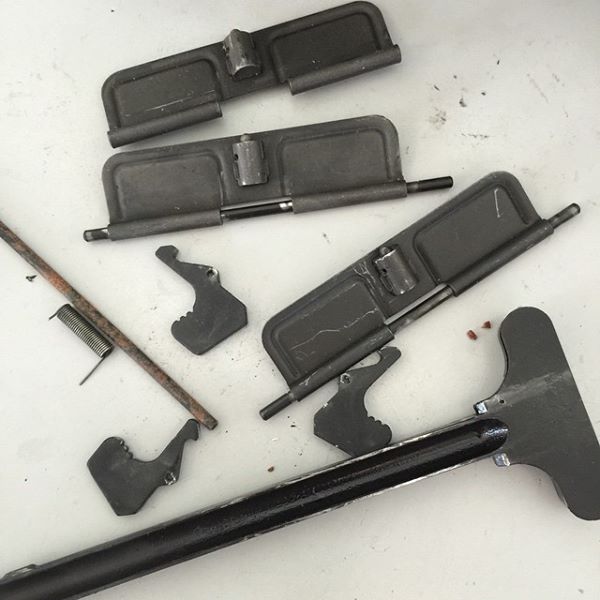 These were supposedly new guns, but look at the condition of these parts. They're not milspec parts after two days of shooting. The dust cover pins don't appear to be grooved for the c-clip, which explains the absence of c-clips and the parts being off the firearm.
As it happens, Defoor learned more about the unit's situation, and soon changed the title of his post to: Military and unit level maintenance issues with Colts produce serious issues in less than two days of shooting.
Soon, he posted a followup, explaining what he meant.
Update- After three broken locking lugs….(not kidding)

I made a mistake and posted too soon. My apologies.

Found that new bolts and c handles from new "headquarter" guns were interchanged with deployed guns or sent forward as spares and replaced with either used or non Colt parts. There is no rhyme or reason to the how or why and no one who can say who did what exactly. It's a zoo and has turned training into a damn armory class.

My spot checking wasn't good enough due to the large number of guns online, it provided a false feedback because I saw Colt bolt markings on the few I looked at. I should've checked them all along with c handles before the lugs broke. Big lesson learned but I could've never came up with this scenario if I tried.

Obviously we are steering them in the right direction but money seems to be the big issue here.

I changed the title of this post to reflect our findings and again shouldn't have posted so quickly and apologize.
In other words, the bolts that failed were non-Colt bolts of unknown provenance that were swapped into some old guns after the bolts from the old guns were cannibalized to support a unit in the field.
It's generally not good practice to replace new for worn bolts (or simply swap worn bolts from gun to gun) in AR rifles, unless you also replace the barrel extension. This is for the same reason it's not good to replace a worn camshaft in an internal-combustion engine without also replacing the valve lifters or cam followers — otherwise the worn lifters will quickly reshape the cam.
The AR design can actually tolerate a lot of that, but not an indefinite amount.
The problem of no-name parts is a different, and larger one. Defoor continued:
They can't within any reasonable degree tell the use of the parts that failed due to poor records and high turnover with personnel. Also there are no big mil tests for bolts or charging handles beyond "looks good" as I found out today. Very surprising.
Not that surprising. Military parts records are hamstrung by the one-size-misfits-all computer systems used for military inventories. (They still use thick printouts, impact-printed on green-and-white-striped paper — remember that?) It's hardly a shock that a system designed to keep track of the wool socks in the warehouse in Shemya, and getting pallets of dry cargo from the Liberty Ship to the Red Ball Express, chokes on trying to trace the provenance of parts. (The Army's aviation supply system can sort of do this, for obvious reasons; but they're still decades behind the industry).
Some long-ETS'd or retired supply sergeant probably dealt with a bunch of yelling about deadlined rifles, especially in a headquarters company that hardly ever shoots, by shipping good parts to fix bad rifles downrange, and then, rather than wait for the bad parts to come back from the deployment, turn them in, and wait months for reissue, or simply turn the unserviceable weapons in for higher-echelon maintenance, simply went online and bought some generic AR parts and swapped them in. That's our take on this; somebody bent the rules in classic SF "if you ain't cheatin', you ain't tryin'" style and the unit got bitten in the gluteus maximus because he didn't know what he didn't know.
See, parts is parts, right? No, wrong. Even though the military does a crap job of keeping track of the parts once they're accepted, they actually test each lot of spare parts (on a sample basis, of course) fairly thoroughly. Many commercial parts are never tested at all, not even one in ten thousand parts, not even for critical parts like bolts. So the first "test" a charging handle, or dust-cover pin, or, God forbid, a bolt gets is when Joe unlimbers his service rifle at the range with live ammo.
There are some nondestructive ways to test some of these parts. For example, a properly forged charging handle is likely to weigh more than an el cheapo. Ditto for a bolt. The roll pin (a key point of failure) can be visually inspected. But these inspections are not in the manual, and in any event, the average Joe (the -10 level of maintenance, "operator" in a non-tactical sense) has no training on inspecting individual parts. Neither does his unit armorer (-20 level maintenance, "organizational").
Some of the comments on Defoor's Facebook page are very helpful. For instance:
Matt Murray

As a former member of TACOM SARET, I'll weigh here. I'm not sure what unit this was, or what MACOM they fall under, but preset and rest missions by TACOM and direct support units have been lacking in both funding and personnel since the slowing of the ARFORGEN cycle in 2011. Soldiers at the 10 level are not trained or qualified to make repairs or diagnostics on the myriad of issues that come to light in TIs per 23&P TMs. When units can no longer get the level of quality reset maintenance after deployments, or preset maintenance before deployments, issues like this unfortunately manifest on the range rather than the 30 level shop. Furthermore, unit armorers are not trained to identify issues as expertly as a 91F or TACOM equipment specialist, and lead times at DS assets are horrendous at present due to budget cuts. So when training cycles begin, armorers and Supply NCOs are stuck issuing weapons that haven't been properly inspected at the 30 level for years in some cases. In any case, this ain't Joe's fault.
Stripped of the Army acronymese, Murray is saying the units are not getting the opportunity to have their weapons inspected pre- and post-deployment by expert direct-support or depot armorers and gunsmiths. So problems turn up in the range, when they would have been caught by a proper TI (technical inspection) at the -30 (direct support maintenance) level.
Which is frustrating to a unit that's used some of its discretionary funds to bring in Kyle Defoor to train hundreds or at least dozens of soldiers (how does that even work?), and frustrating, obviously, to Defoor and his assistants.
How do you avoid this kind of problem with your firearm? Learn to inspect guns and parts, but also, be extremely judicious in your choice of parts.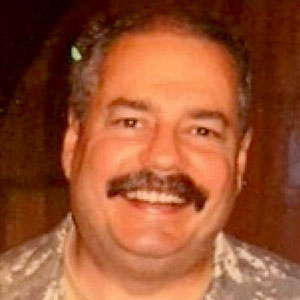 Kevin was a former Special Forces weapons man (MOS 18B, before the 18 series, 11B with Skill Qualification Indicator of S). His focus was on weapons: their history, effects and employment. He started WeaponsMan.com in 2011 and operated it until he passed away in 2017. His work is being preserved here at the request of his family.