This memorable photo, by an unfortunately uncredited National Guard photographer, shows something that just plain wouldn't have happened prior to the Global War On Tourism and its various offspring, like the unpleasantness in Iraq. It also happens to be a great photo. So after you look it over, we'll give you the official credit line and link, tell you why it took the war to make this photo happen, and talk a little bit about the once-revolutionary 40mm high-low pressure grenade and the systems that fire it.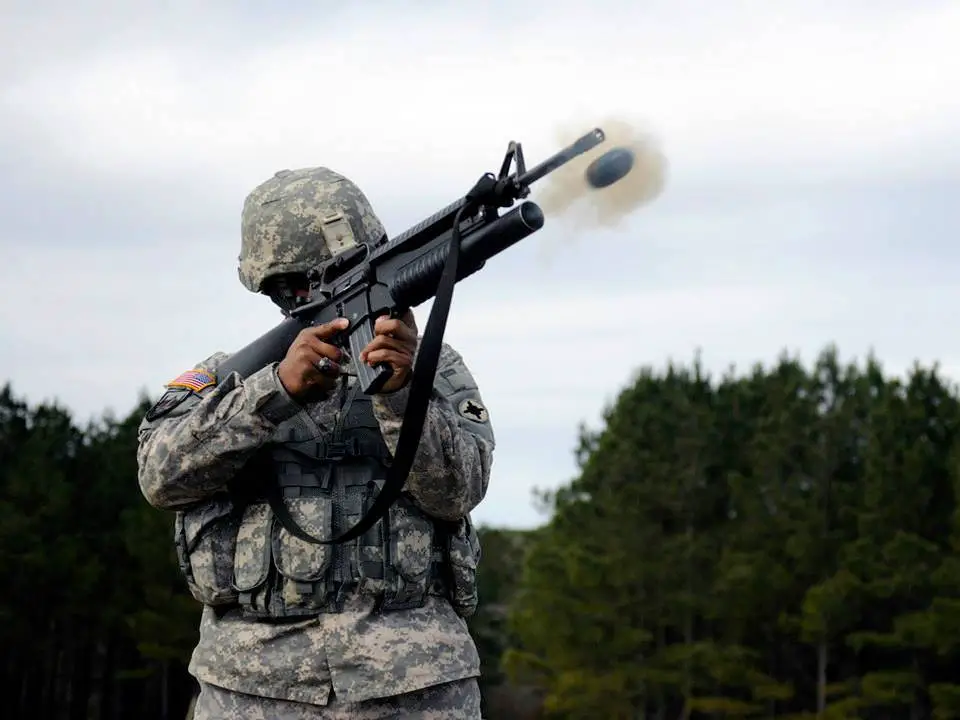 Our caption would be: "Tooonk!". The Army's somewhat more prosaic one is:
Staff Sgt. Nehemiah E. Taylor, with the 298th Support Battalion, Mississippi National Guard, fires an M203 grenade launcher during the individual weapons qualification weekend at Camp McCain, Miss.
Nice shot. The muzzle gases are captured, and the round is almost frozen in time: enough so that you can see it's a blue-plastic-capped M781 training-practice round. (The filling of this round is a Hunter Orange chalk powder, so that soldiers can mark the fall of the shot readily. M203 and other 40mm gunners improve rapidly when given the chance to live fire these rounds).
Before the war, Army practice would never have been to let a service support soldier like this live fire his M203. Soldiers didn't even see the weapon in basic combat training, unless they were on their way to combat arms assignments. Even combat arms soldiers seldom live-fired 40 mm. Only SOF tended to get enough ammunition for a reasonable training schedule, and even those didn't always get all the ammo they really needed. During periods of constrained budgets, it was common for entire units to just get enough of an ammunition allocation to allow each individual to fire his rifle for qualification — no additional ammo for practice.
In SF, we routinely bought our own ammunition during these periods, which was a major violation of Army regulations. The Army is very jealous about its weapons. You are not permitted to load them with your own ammunition, take them to your home, or even take them to the range in a privately owned vehicle. Of course like any other Army regulation, there is a legal way to get around or waive these regulations, but it requires the conscious and strenuous efforts of your staff judge advocate, who may or may not be interested in doing that sort of thing.
As we learned, you can even buy 40 mm training practice ammunition, but it's rather expensive. The 40 mm warshots – HE or HEDP rounds for example – were a different matter. Each round is considered a destructive device.
The 40 mm design is ingenious. It's initiated by an ordinary percussion primer, like a rifle round. Inside the casing the powder charge pressurizes a smaller, internal high-pressure chamber, with small ports to the larger casing. The ports let the high (up to 25,000 psi) pressure bleed comparatively slowly into the larger part of the casing; the low pressure area peaks at around 3,000 psi at midcase and only 1,400 or so at case mouth (See Slide 19 here). This is called the high-low pressure system and the tight containment of the high pressure lets the casing and barrel be made of lightweight materials — these days, the cases are aluminum or plastic, and the barrels generally machined aluminum forgings.
The initial 40mm was the break-action M79, a kissing cousin of everybody's first H&R single-shot shotgun. The 79 had a stout stock with a thick rubber recoil pad, necessary because, while the 40 mike-mike has a soft report (Toonk!) it has a pretty beastly recoil.
The Army considered arming a soldier with an M79 suboptimal. The M79 was his primary weapon, but for close-range self-defense he was issued only an M1911 .45. So from the very beginning, they were interested in a hybrid weapon that was both a rifle and a grenade launcher. For years, this led the Army down the blind alley of the SPIW, which certainly deserves a post or post of its own. The SPIW was meant to combine a flechette firing-rifle with a multishot semiautomatic grenade launcher. It required, in engineering terms, the scheduling of too many inventions and never succeeded.
The Army's fallback was to suggest an under-barrel weapon that would attach to the then-new M16A1 rifle. Several vendors worked on this project and Colt initially provided test versions that were used in the field as the XM148. Colt developed an improved version that responded to Army criticism of the XM148, but the improved Colt system, the CGL-5, was beaten out by a system designed by Aircraft Armaments Inc., which was type standardized as the M203. The last laugh, though, was on AAI: Colt received the contract to actually produce the AAI system.
The M203 is slowly being replaced by the improved M320 grenade launcher. As this photo shows, 203s are still in very wide use.
One last thought — Army photographers hang it out with the combat units for a SP4 or sergeant's pay, and bring back some images that become iconic (and get ripped off and stamped with copyright attributions by Corbis or AP, but that's another story). We're sure this guy or gal would rather have spent that day on the range with the Mississippi Army National Guard than downrange in Anbar Province, but we think the photog deserves credit. Can anybody find out who it is? We'll update the post.
UPDATE! 1500R 20140117
Thanks to commenter Wes, who did what we probably should have done and picked up the phone to call Camp Shelby, the photographer has been fingered. He wasn't a PAO at all, but MAJ Andy Thaggard, the Mississippi National Guard's Command Historian. Thanks again to Wes, to MAJ Thaggard for the fine shot, and to SSG Taylor for letting him take the picture whilst firing. "It was a good day at the range," says the Major. Is there any other kind? -Ed.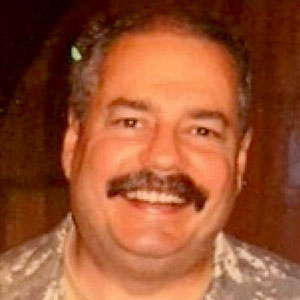 Kevin was a former Special Forces weapons man (MOS 18B, before the 18 series, 11B with Skill Qualification Indicator of S). His focus was on weapons: their history, effects and employment. He started WeaponsMan.com in 2011 and operated it until he passed away in 2017. His work is being preserved here at the request of his family.