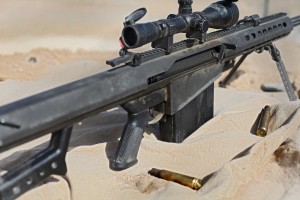 Of course, from the point of view of the Taliban, nobody knew anyone was counting down. It was just thwack! out of the blue, and their commander was instantly among 72 virgins, clean young boys, or, possibly, goats. (Hey, we're non-judgmental about Taliban lifestyle choices around here).
His fellow Talibs didn't know what or who killed him, or why. But his death was an instant, undeniable, and demoralizing fact.
The men who knew the answers were lying prone a mile and three-quarters away. They were Australian snipers from D Coy 2 Cdo, and they'd just shot him with a Barrett .50 caliber sniper rifle. Chris Masters in the Telegraph (AU):
Two marksmen using Barrett M82A1 50 calibre rifles simultaneously fired. The bullets were six seconds in the air. One killed the Taliban commander. It is not known for certain which sniper fired the fatal shot.

While there have been no triumphant press releases, in the tight global Special Forces sniper community the shot is much discussed, because it seems certain to be a world record.

As the bullet yawed through the thin air on a windless morning, GPS aids measured the distance at 2815m. That amounts to 2 1/2 times the length of the Sydney Harbour Bridge. The targeted Taliban would not have heard the gunfire.

The previous world record achieved by British Corporal Craig Harrison occurred also in Helmand in November 2009. Firing from a distance of 2475m, Harrison killed two Taliban.

While British, American and Canadian sharpshooters are often celebrated the Australian Defence Force says nothing. When I sought to check this story I was politely told I could not be assisted. Fair enough. We are not talking about an Olympic event. An expert I did prise a few words from said that shooting at that distance beyond the weapons capability calls for luck, but it had still taken skill.
That's a reasonable assessment of the shot. Even a smith-tuned Barrett with painstakingly crafted handloads isn't going to shoot minute-of-hadji at a mile plus. Not consistently, anyway. A rack-grade Barrett with MG ammo is already off a man-sized target half the time at 1000m. Hence the redundant shooters.
This is not only the longest shot we've heard of, it's the longest Barrett shot by far. (Most of the really long shots have been with bolt guns).
Of course, we don't know how many unsuccessful shots have been taken at this range. This is really way out over the ragged edge of what is routine for elite snipers; it's barely possible, with a little luck.
When Masters says, "The targeted Taliban would not have heard the gunfire," he's probably referring to the arrival of the lethal projectile well ahead of its trailing sonic shockwave or the atmospheric-limited muzzle blast, but depending on the atmospherics, there are good odds the surviving Talibs didn't hear the gunshot at all. (It would reach them, if it did, several seconds after the sickening thwack! that announced their leader's demise).
This kind of sniping is extremely stressful and strain-inducing to the element under fire. The conventional military countertactics don't work when your assailant is "out there" somewhere. Your element's deaths seem fruitless, pointless, and they go unavenged. And the point of the sniping is, not merely to slay enemy leaders but to sow just this sort of psychological corrosion.
Only accurate, effective sniping produces the full effect in the enemy's mind.
The Commandos are among the last conventional Australians to redeploy to their home island/continent, but any relief the Taliban feel needs to be somewhat tempered — the OZ SOF are planning to stick around for four or so more years. And any one of the Talibs could be six seconds — or less — from thwack!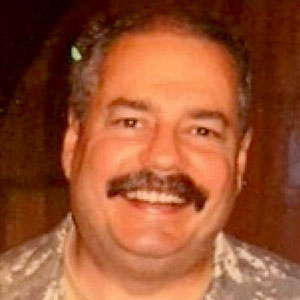 Kevin was a former Special Forces weapons man (MOS 18B, before the 18 series, 11B with Skill Qualification Indicator of S). His focus was on weapons: their history, effects and employment. He started WeaponsMan.com in 2011 and operated it until he passed away in 2017. His work is being preserved here at the request of his family.