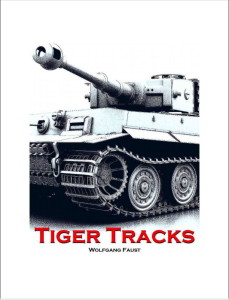 We've been reading Tiger Tracks: The Classic Panzer Memoir by Wolfgang Faust. Republished by Sprech Media, which publishes and republishes English translations of German combat memoirs of WWII (mostly), this is a 1947 memoir by a Panzer VI Tiger driver who fought on the Eastern Front, it says here. Its German title was the Wagnerian Panzerdämmerung. 
But there are a few details that give us pause. In the first place, it's graphic to the point of gaudy. Here's a taste:
One such tank shot at us with a maniacal speed, its tracer rounds flashing past us as we manoeuvred around it to put a shell in from its side. Our 88mm round went exactly centre, just above the snow-covered tracks. The turret hatch lifted up and detonating ammunition spiralled out into the red-tinged sky, adding to the smoke pouring across the stained, rutted snow. Even then, the driver's hatch opened and a crew man emerged, still in his protective headgear, holding a machine pistol. He fired on us with the little gun, the bullets pattering on our front armour, until our hull MG man brought him down with a single shot. Every round had to count now, had to find its mark; while every manoeuvre and evasion used up our dwindling fuel.

I lost track of time in that fight, with my head spinning from the amphetamines and my body unaware of pain. I noticed, with a strange detachment, that the sky was whitening, and the sun was now looming over the ridge above us. It was a fierce, crimson sun, casting jagged shadows from the peaks, and lighting the scattered wrecks of panzers that burned around us. In its light, the Stalins withdrew up the slope, reversing rapidly, firing as they left. Our 75mm PAK in the bunkers caught one of them with repeated hits as it lurched backwards in the snow, smashing off the very tip of its pointed hull. The Red tank kept on reversing, with two crewmen visible inside the hull through the split-open front. Wilf was unable to resist the temptation: he fired directly into the exposed compartment. Cool as always, he had selected high-explosive, and the detonation of the shell deep inside the confined steel box blew out the driver and machine-gunner from the fractured hull, sending them cartwheeling across the snow, trailing smoke. The Stalin's ruptured compartment became an inferno of orange flames, in which other men were visible, struggling and writhing, until the vehicle was enveloped in its own smoke.1
Driver station of the Tiger in running condition at Bovington. Note vision block (all images embiggen with a click).
There's a lot of writhing in flames in this book. Hits on tanks frequently let Faust (through his single vision block!) observe the deaths of the Russian or German crew inside. Hits on half-tracks (which he calls "Hanomags," after the original manufacturer) do likewise, when they don't blow vividly-described body parts in the air, launch vehicles in the air to land on screaming Panzer Grenadiers, or scythe heads off.
It's all very Hollywood. One scene has German infantry struggling in neck-deep snow until an artillery shell neatly beheads them, leaving their "red spurting necks" as the only parts visible. It all seems rather over-the-top, even for the eastern front.
No doubt there was unimaginable carnage, we don't question that. We question whether one guy could see all that carnage, although one guy could certainly see lots of carnage and imagine the details.
And there are a few oddities. He claims to be fighting JS- (or IS-)3 Stalin tanks in 1943. He just calls them "Stalins," but its clear from the way he describes the vehicles — domed turret, and a precise description of the arrangement of the glacis armor — that he's talking about a JS-3, not the earlier Stalin I or II tanks. (The JS-1 resembled the Tiger and other prewar and early-war tanks in its armor layout, and had a roughly square turret. The JS-2 had a turret resembling a T-34-85). Yet every reference we've seen suggests that Chelyabinsk Tractor Works, the Soviets' go-to tank shop, didn't start on the Objekt 702 project until the fall of 1944 at the earliest, and the JS-3s first showed up in combat in the Battle of Berlin, and were unknown to the Western Allies until the first Soviet victory parades.
Finally, there is an entirely implausible subplot with a captured Russian female lieutenant. Ripped right out of the movie script, that!
And yet… there are parts that ring true. There's Faust hastily cannibalizing a vision block from a knocked-out Tiger, and detailed descriptions of the running gear and its limitations. He never drives his Tiger at an unreasonable speed — it was a slow tank, and he's typically grinding along at  a plausible 10 or 20 km/h. For example, these sound plausible to us:
Inside our panzer, it was humid now, as the groaning transmission became hot and warmed the sealed-in air. Condensation collected on my dials, scalding oil from the transmission spat on my face, the reek of carbon monoxide made my head throb, and I almost envied our commander up in the turret, still with his head up in the morning air – despite the risk he ran of losing that clever brain to a shell or a sniper.2
This running gear layout is a Tiger II, but it gives you a sense of German practice.
Driveshafts and transmissions crowded the driver in his position in the left bow of a Tiger. And this should ring true to any former tank or mech guy:
Our Tigers were never designed to drive sustained journeys, not even on smooth city roads. The stress and wear to the running gear was too great, and the entire engine and transmission itself only lasted for 1,000 kilometres before being completely replaced. Several of our panzers were at that point now , and their crew muttered gloomily about the prospects of them finishing the journey at all without burning out or seizing up. Even the track links – those great chunks of steel weighing ten kilos each – wear quickly under the duress, and the tracks must be tightened and adjusted if the track is not to snap or become tangled on the drive wheels. The pins that hold the links together are thick metal rods, like your grandmother's biggest knitting needle – but if one breaks, the sixty tonne panzer can be lost.3
One is left with the impression that perhaps the author is a trained Tiger driver, or at least has read his Tigerfibel closely,but has embellished his combat experience to make for a more vivid (and horrifying, and salable) book. Some years ago we reviewed very positively a book by a Soviet TC who fought on this same front in a T-34; Vassily Bryukhov's descriptions of combat were no less vivid, but were much more credible than Faust's.
We suspect we are not the first to have doubts about this work, and wonder if it was equally controversial when it was first published in war-wracked Germany.
UPDATES
A small note at the end of the book's text says that "Wolfgang Faust" is a pseudonym, and the names of all others in the book have also been changed.
At book's end, Faust is very nearly a sole survivor (his TC, a unit XO turned commander, is another). While there certainly have been sole survivors of crews, units, etc. in history, "sole survivor" is a very common claim in wannabe war stories, perhaps to explain plausibly the lack of corroborating witnesses.
A reader in Germany  tells us that there is absolutely no reference to this "classic Panzer memoir" discoverable on the German-language internet; he reminds us of the stirring Boy's Own type tales that were printed in the pulp mag Der Landser (something like a German equivalent of The GI) during the magazine's 1954-2013 run. (It has resurfaced as Weltkrieg, "World War", and seems to have its roots in a wartime propaganda pulp for Hitlerjugend boys. They also were apocryphal stories, with brave heroes, minimal Nazi politics, accurate technical details and lurid combat scenes.
NOTES
Faust, Wolfgang (2015-03-04). Tiger Tracks – Classic Panzer Memoir (Kindle Locations 1769-1782). Bayern Classic Publications. Kindle Edition.
Ibid., Kindle Locations 59-62.
Ibid., Kindle Locations 718-724.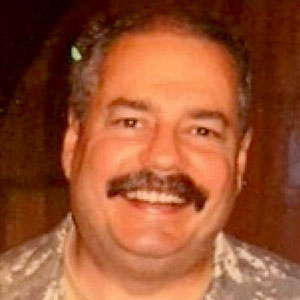 Kevin was a former Special Forces weapons man (MOS 18B, before the 18 series, 11B with Skill Qualification Indicator of S). His focus was on weapons: their history, effects and employment. He started WeaponsMan.com in 2011 and operated it until he passed away in 2017. His work is being preserved here at the request of his family.