One gun jeep — looks dead butch, but needs work. (Starting/charging system has proven resistant to troubleshooting). Ian at Forgotten Weapons has reached that stage that all vintage-vehicle LTRs reach; he is so eager to be divorced from this 1946 CJ-2A Jeep (basically, a wartime Jeep with bigger headlights for the civilian market) that he's throwing in the semi-auto 1919A4 and mount. Beats the hell out of the toaster oven they might throw in at the local Buy Here Pay Here.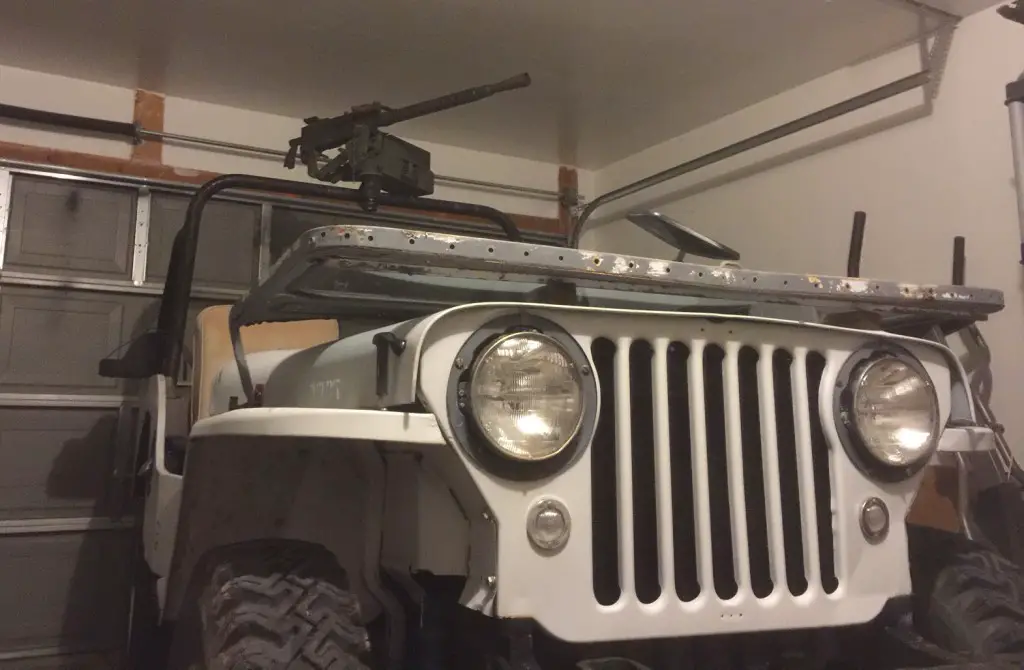 Where's Dietrich and his half-tracks? Lemme at 'em!
I love old guns, but it turns out I only like the *idea* of old vehicles – not so much the actual working on them. It's time for the Jeep to go, and free up some space in the garage for a project I will enjoy more. And what the heck, I'll include the Browning 1919 semiauto with it.

The Jeep was basically rebuilt from the ground up, and while it isn't a looker, it is top-notch underneath where things count.

The engine is a fully rebuilt (professionally) Studebaker Champion flat 6-cylinder, 170 cubic inches. It gives about 50% more horsepower and torque than the stock Jeep engines did, and it bolts right up to the stock transmission. That's enough extra power that the thing can basically drive up trees, but not so much that it requires making the rest of the drivetrain beefier.

The transmission and transfer case are are the stock type (3-speed stick shift, with a 2-lever transfer case), and were both professionally rebuilt as well. The axles and diffs were in good shape, and have the original 5.38:1 gear ratio.

The ancillary equipment was all replaced or rebuilt – water pump, carburetor, radiator, radiator shroud, all the wiring, alternator, starter, and fan. It has 11″ drum brakes all around (in place of the stock 9″ ones), and a dual master brake cylinder. It also has an electric fuel pump. In addition to the stock 10-gallon gas tank, I replaced the passenger side toolbox with a second 10-gallon tank, and there is a switching valve on the dashboard so you can choose which tank to use at any given time.

The suspension was also replaced, with a set of Rancho 1″ life springs and new shocks. It has standard 16″ rims with some really cool looking narrow tires. The roll bar has the socket for the gun, and also has a gas can mount on either side, allowing you to carry a can of water and a can of gas.
via Want to buy a Jeep with a Browning 1919 on it? « Forgotten Weapons.
Don't suppose he'd take a 1996 Impala SS in partial trade?
The counterweight to all that good stuff and sensible improvements is the dodgy electrical system. (Well, you could just paint it green, put a star on the hood, hang a Left Hand Drive placard on it and tell people it's a British Jeep — no one would expect the electricals to work). $9,500, pick up in Tucson.
For more details (including the ones on the 1919, which is something that goes for $2k or so on its own) and to see two of Ian's videos, one on the installation of the 1919 on the roll bar, and the other a Rat Patrol parody, or maybe tribute, go to Ze Link. But for Ian, ze voor in ze dezzert is over.
And hell, there are countries in South America that you could overthrow and govern better than the caudillo doing it now.
Wait, did we say South America?
We've seen several of the WarFairy designed 3D-printed AR lowers being put through their paces, but here's something we weren't expecting to achieve test-fire status so soon — the Deimos 3D-printed fire control group.
The printer used was a Rostock Max V2, a deltabot style printer. An E3D hotend was used. The material was ABS filament and was treated with acetone vapor after printing. The same printer printed the lower receiver (which had mods to accept this FCG) and the FCG itself.
The FCG design is based on general best practices, adapted for 3D printing and for ABS plastic as a material. Before it is manufactured, it is rendered, both bare: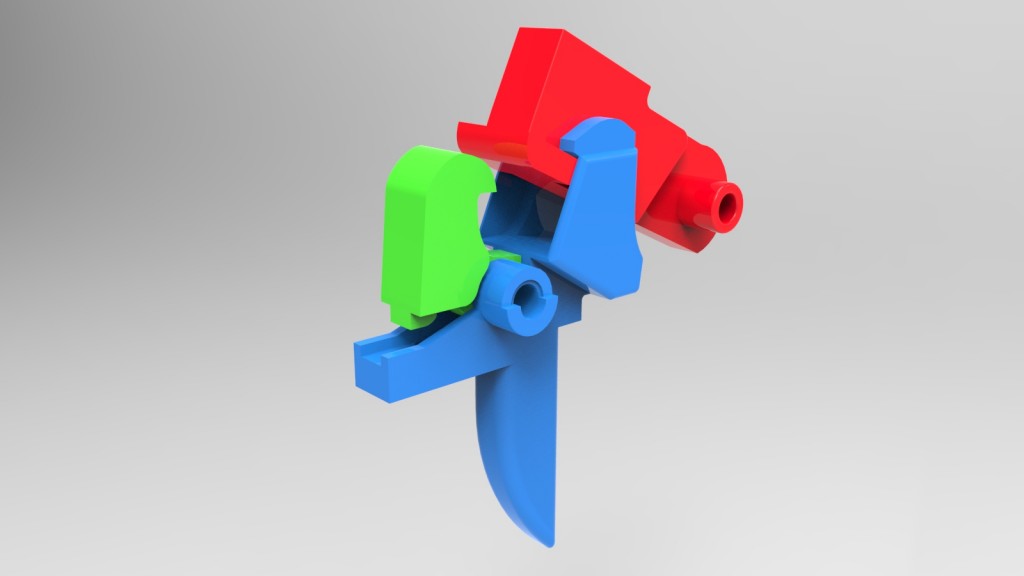 And in a rendering of the lower receiver:
By "general best practices," we mean a trigger with hook or hooks, hammer (with places for the hooks to engage) and disconnector (also with hook) of the type designed by Browning over 100 years ago for such semi-auto firearms as the Auto 5 shotgun and the Remington Model 8 rifle. This general Browning design was adapted by Garand, Kalashnikov, Stoner and many other subsequent designers. (If you examine an AK and AR closely, you'll see their kinship in this area. Both inherited the Browning fire control, the AR via Garand and the AK via Remington Model 8). This FCG has three parts in semi-auto form: a trigger, a hammer, and a disconnector.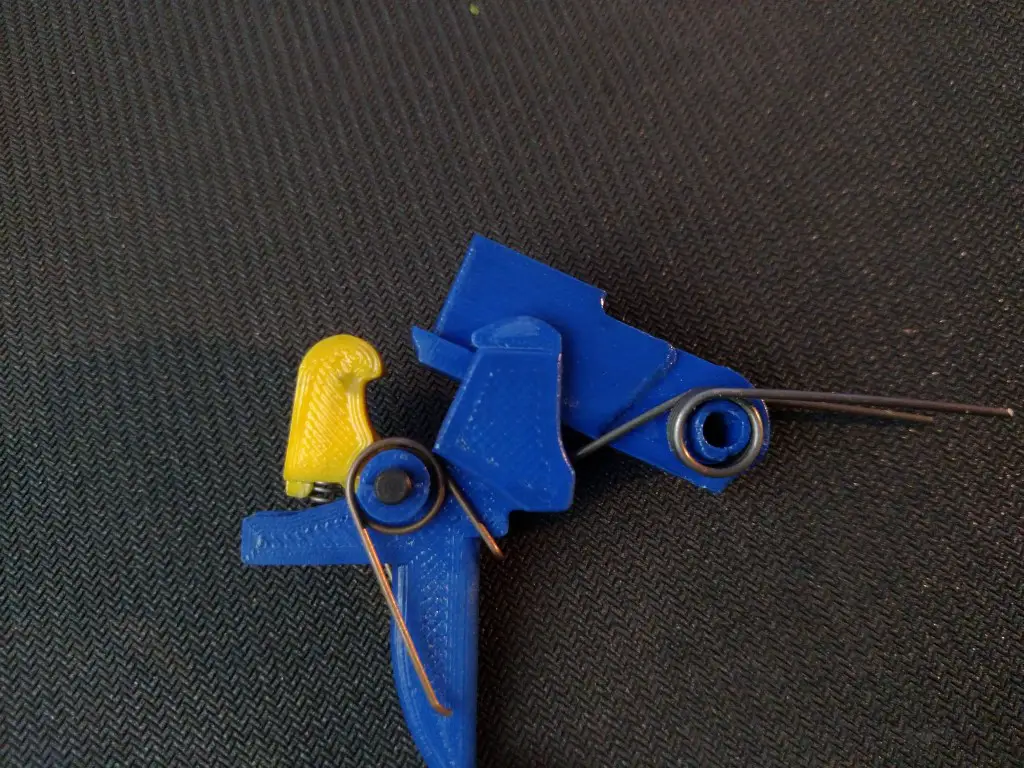 By"'adapted for 3D printing and ABS plastic" we refer to changes required by this material and means of manufacture. Each of the parts is printed on the Rostock Max before getting its acetone vapor bath. And each part has some base and support material that must be removed.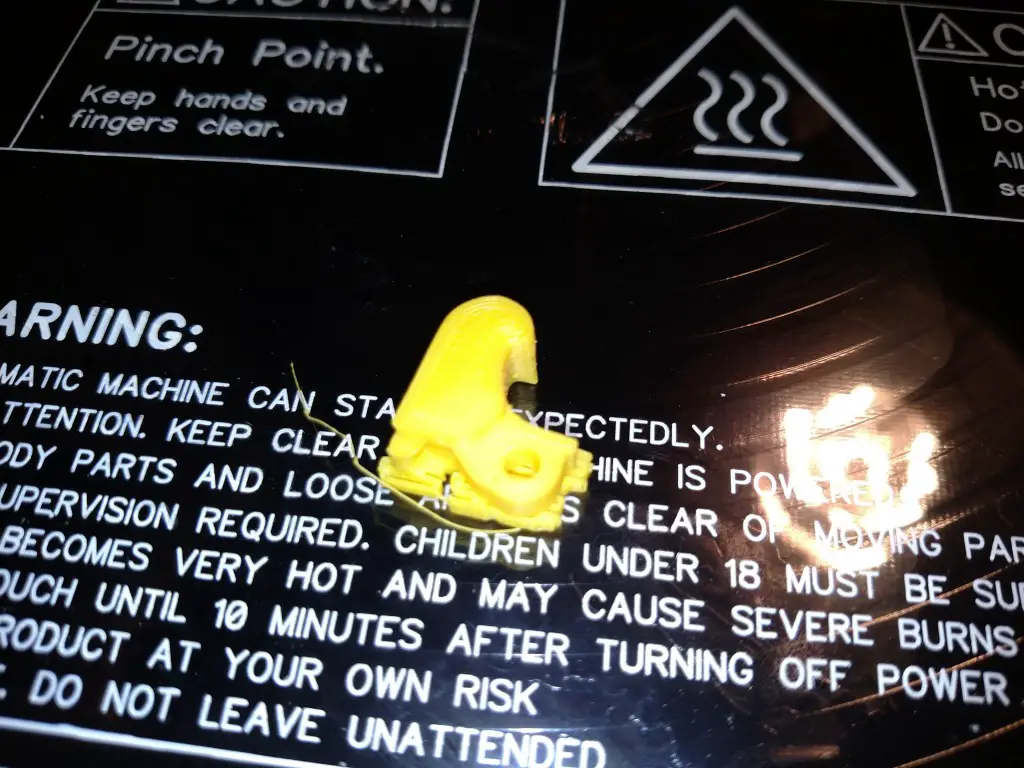 ABS is a strong plastic, but a brittle one. Nylon may be better; an FCG printed in white nylon (presumably Taulman 618) is shown here. It's unknown why this version has not been given the test-fire treatment, yet; perhaps there are yet undisclosed problems with it. But the nylon works better "on paper."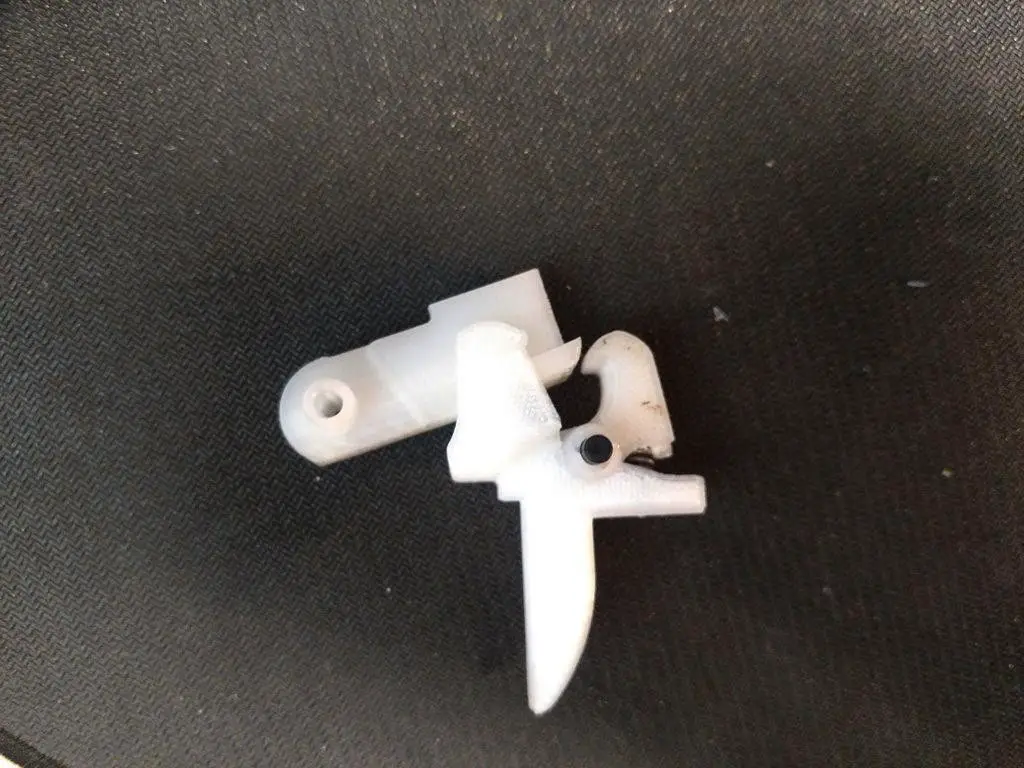 Here's the FCG in the lower, cocked: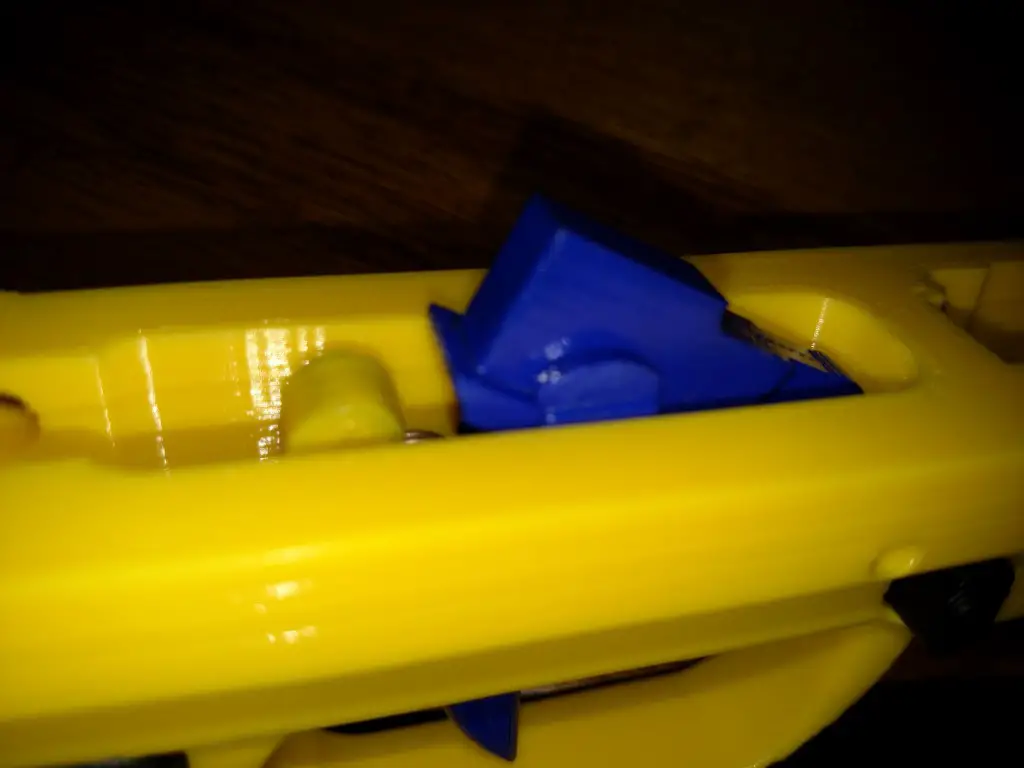 And here it is, decocked: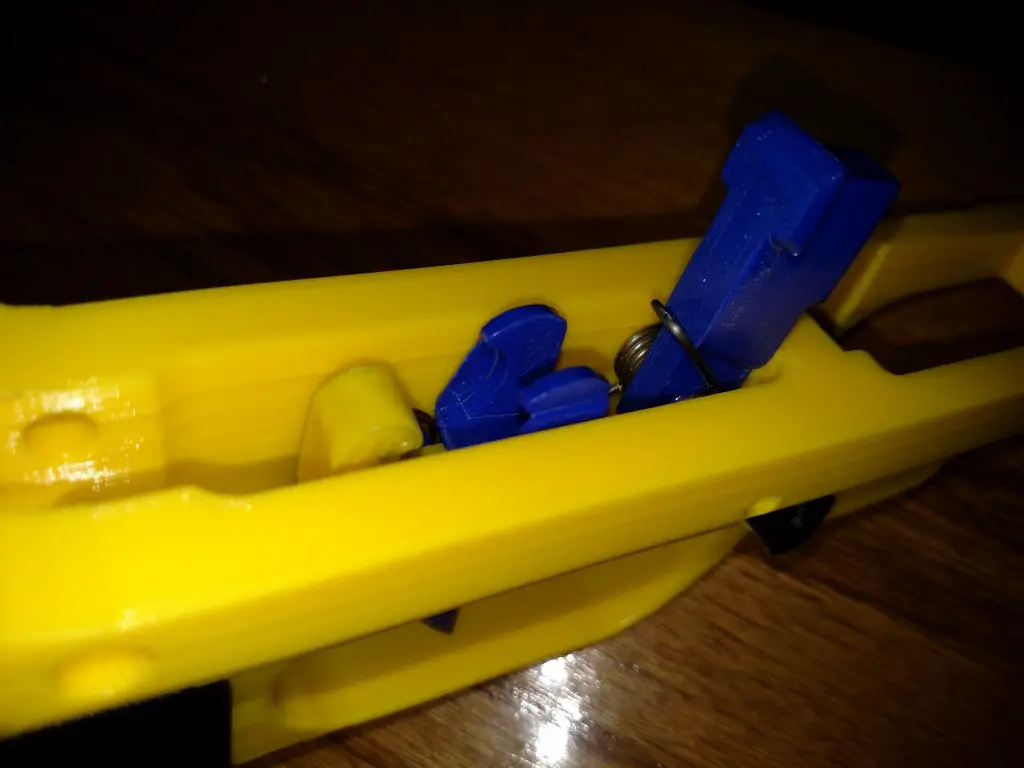 The "wet look" of the plastic is a result of the acetone-vapor bath.
Home manufacturing is just getting started, and right now, it's still for tinkerers and fiddlers, not for end users. It's a bit like computers were in the early years — it's in the hands of a shadowy priesthood, guardians of abstruse knowledge. But it turns out the priests are very friendly and helpful once you show a sincere interest.
It's still harder than (and easier to go wrong with), say, starting up a new Mac or assembling an Ikea table. But so were earlier versions of the same products.
Some people will try to stop this. Lotsa luck. You can't stop the signal.
This isn't just about one single design for an AR fire control group. It's about putting the tools of design, testing, and iteration — the whole RDT&E cycle, really — into the hands of anyone who's got the nerve to pick them up.
John Browning had to file metal into shape, largely by hand, to transfer his ideas into real prototype firearms. But that was a century ago. Today, we don't have to any more.
Hey, it's just a Ka-Bar, right? An $11k Ka-Bar?
Hey, it's just a Ka-Bar (on this day of edged weapons, which we've now added as a category). Just a Ka-Bar. Even if this one is a Camillus, these Marine knives are best known by the name of their original maker. They're good, simple, sturdy, dependable and cheap field knives, much used in SF and other Army units as well as in their birthplace, the Corps. So what makes this one worth, says the auctioneer, $11k? (That's the opening bid, for an auction opening in a few hours). It doesn't look real special, does it?

Well, what about the markings? Perhaps there's something special there.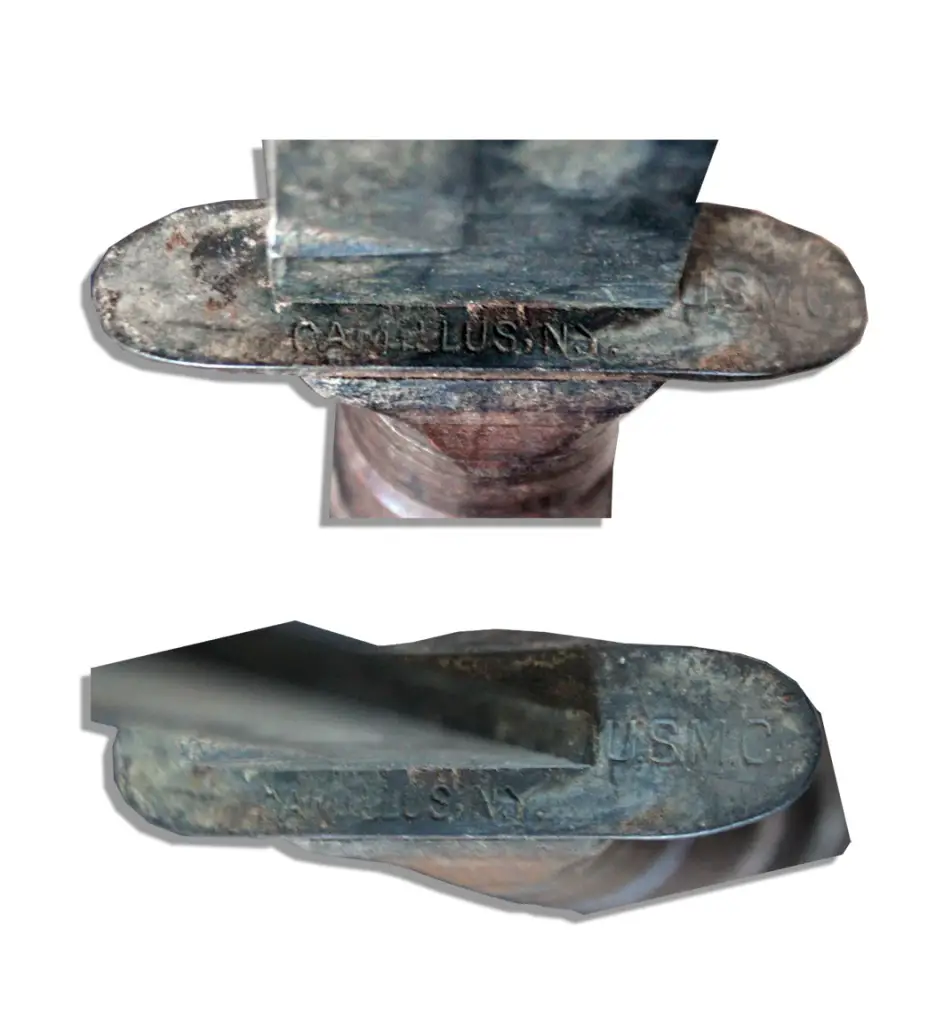 Nope. And the condition is OK, but not too special. Call it average. Well, then, if the knife is unremarkable, and its condition is just middling, it's got to be something about the guy whose knife it is or was. 
The guy that wrote this, home from boot camp:
[I]t certainly gives you a funny feeling to know that in my hands I hold two means of killing a person…stabbing him…or shooting him…Those are the things we're fighting for…when I was a kid I never realized that I one day would actually kill a man, as a matter of fact none of us really like the idea of killing, but if that's the only language the Axis understand then that's what it will have to be.
That introspective Marine was this rakish, Hollywood-handsome fellow: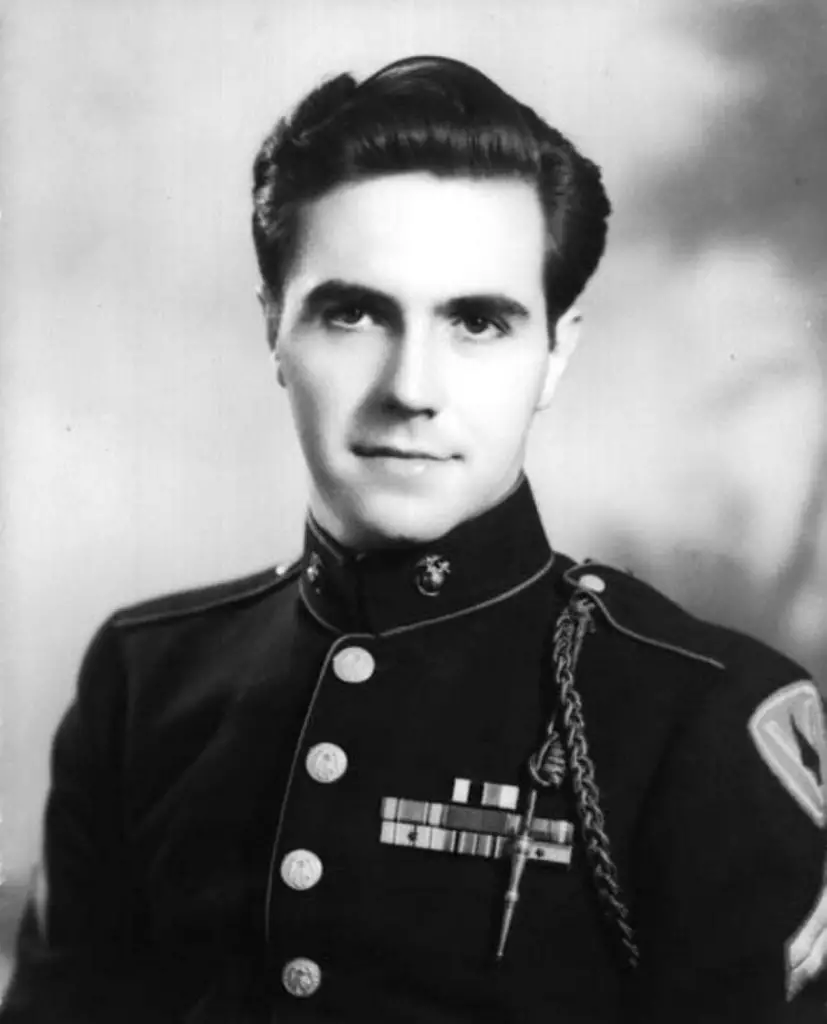 But he's famous not for motion pictures, but for a still. This still: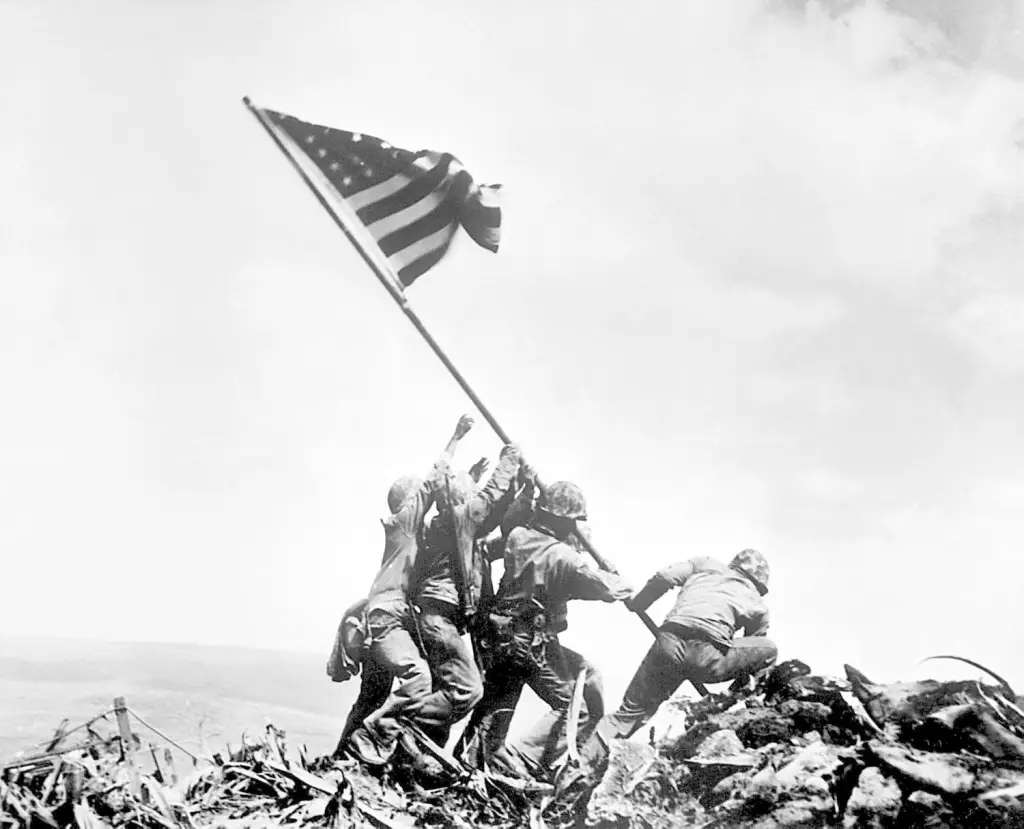 Joe Rosenthal's famous flag-raising picture is a powerful symbol of the Marine Corps to this day. And Rene Gagnon of Manchester, NH, was one of the six men in that picture, raising the flag. (He's the guy opposite the guy whose helmet is bisected by the libe of the flagpole. Gagnon's mostly hidden, apart from his hands and one leg, but he was definitely there). He's one of the three that survived. (His story is told, along with those of the other five, living and dead, in the bestseller Flags of Our Fathers by James Bradley — a descendant of another survivor).
When Rene Gagnon passed away he left the knife to his son. The Manchester, NH Union Leader's Amanda Beland interviewed Rene Jr., and reports:
The Marines-issued knife belonged to Gagnon until he died at age 54 in 1979. Since then, it has officially belonged to his son, Rene Gagnon Jr.

But for Gagnon Jr., of Concord, the knife was a part of his life long before his father's death.

"I used it growing up — in Boy Scouts, cutting things up around the house, playing cowboys and Indians, lots of ways," he said.

Gagnon Jr. said he always expressed his fondness for the knife — which is how it came into his possession. "When I was younger, the whole time I really liked that knife and I made that clear."

Gagnon Jr. said he decided to sell the knife now partly for financial reasons, partly because he was unsure of where it was going to end up.

"I have three daughters and a son, and it was never like 'I like this,' so there's the thought of where do I leave it," he said.

"A lot of my father's memorabilia is in Wolfeboro (at the Wright Museum of World War II History). If there's someone there who cares for it, then it's not going to get lost or something."

Gagnon Jr. said he's aware that his father has a public persona that's been perpetuated by interviews, books and movies. But to him, Rene Gagnon represents something much simpler.

"To the whole world, he was a hero, but to me, he was my father, just my father," said Gagnon Jr. "I had the knife, yeah, and now someone who cares about that type of thing can have it, but I had and have my father."
The auction house thinks the knife may bring as much as $20k. In that rarefied air, individual bidders may be competing with museums, although most military museums are much happier trading a paper tax-writeoff for "free" stuff, than laying out actual cash for exhibits.
When Guns are Outlawed, only Outlaws have Dentists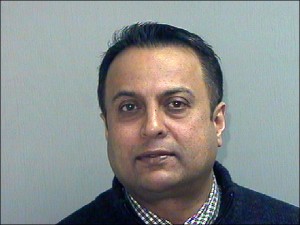 Everyone knows that guns are dangerous, and if you're careless with one, you can get your ticket (or someone else's) punched, and wind up in front of a judge on a negligent homicide charge.
But Connecticut fixed that problem and solved all crime for all time with a variety of new gun bans and restrictions championed by Governor Dannel Malloy. So why is this man under arrest?
Enfield police say 45-year-old Rashmi Patel turned himself in Tuesday on a misdemeanor count of criminally negligent homicide and a felony count of tampering with evidence.

Authorities say Patel's patient, 64-year-old Judith Gan, of Ellington, died at a hospital last February after her oxygen levels dropped while under sedation when she had 20 teeth pulled and implants installed.

Gan's death prompted the State Dental Commission in December to suspend Patel's license pending a comprehensive review.
via Dentist charged in death of patient getting 20 teeth pulled | National & World News | Seattle News, Weather, Sports, Breaking News | KOMO News.
Er. Good news and bad news, Mrs Gan. First, the good news: everybody's going to love your new smile. Now, the bad news: they're only going to see it once before someone closes the lid on you for good.
Juxtaposition: Who to Trust with Life and Liberty?
Well, with your life, liberty, and a big honkin' knife?
In New York, a local pol, one Tony Avella, says: "Trust no one." Avella wants to ban big knives and machetes, since the gun bans already imposed by guys like him have ended all firearms crime in the back alleys of Newburgh and Schenectady, or something.
So, really, why does he want to do this thing? The New York Daily News (which provides the hilarious picture of him vogueing with the two el cheapo machetes) says:
"The fact that anyone can easily purchase this potentially lethal tool is just crazy," he said.

Under Avella's proposed legislation, the mere possession of a machete could lead to a year behind bars.
OK. The ever popular, "Restore sanity by banning stuff I dislike." We bet he'd have been strong for the Volstead Act. But, don't let him see the statistics for baseball bats, or his constituents might just have to become fans of the Newark Yankees. But still, why?
… Avella's push comes in response to an attack last summer on Long Island in which, according to authorities, a man hacked a teenager to death.

On his way to being arraigned, the suspect, David Sadler, 45, told reporters he'd bought the weapon on Craigslist.

Police say Sadler slashed Terrance Grier, 17, in the neck with the massive blade during an argument down the block from Sadler's Hempstead home in July.

"I didn't even know it was possible to buy a machete online," Terrance's mother, Greta Price, told the Daily News…. "He'd still be alive today if it wasn't for a machete."
Yeah, that'll work. The next guy inclined to "hack a teenager to death" instead will think, "Oh, snap, better not do that! Possession of this-here machete is against the law. Why, I could get in trouble. I guess I'll just have to give up my little scheme of murdering this kid that irritates me, or use some weapon it's legal to murder him with."
What percent of murderers were deterred by the fear of getting in trouble? Exactly, zero. That's why they're murderers, for the love of God.
Meanwhile, an old Ranger buddy (tab-Rangers, us, not regiment-Rangers who are the "real" Rangers in our book) sends the following under the title, Waiting for ISIS: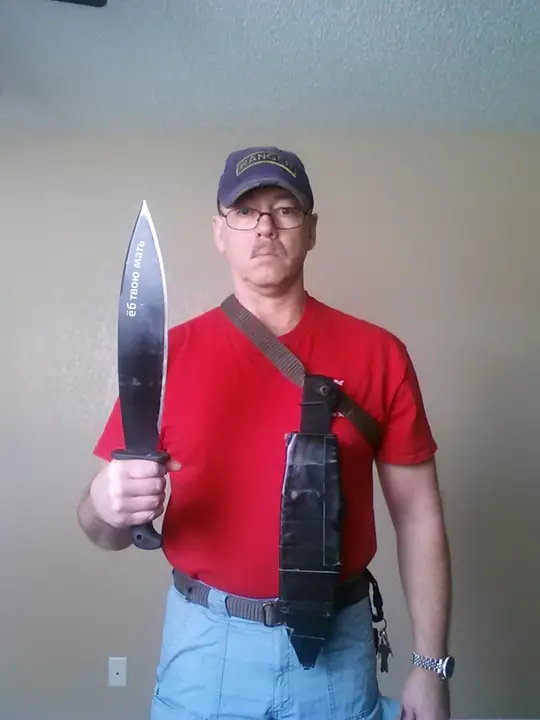 From the inscription on his knife — which is decidedly NSFW if you're Russian — looks like he's ready for Little Green Men, too.
The knife is a Cold Steel repop of the OSS Smatchet. Sort of a gladius for the modern age.
So who's safer, the people who trust their lives and liberty to Wielder #1, or the ones who rely on Wielder #2?
Ghost Gunner Shipments Blocked, by…. ?
We haven't heard directly from GG or Defense Distributed or Cody Wilson, but he's tweeting up a storm on the subject. (Not having heard is irritating, when he's sitting on four figures of our money. But we've received only one of the updates supposedly sent to all hands since purchasing a GG).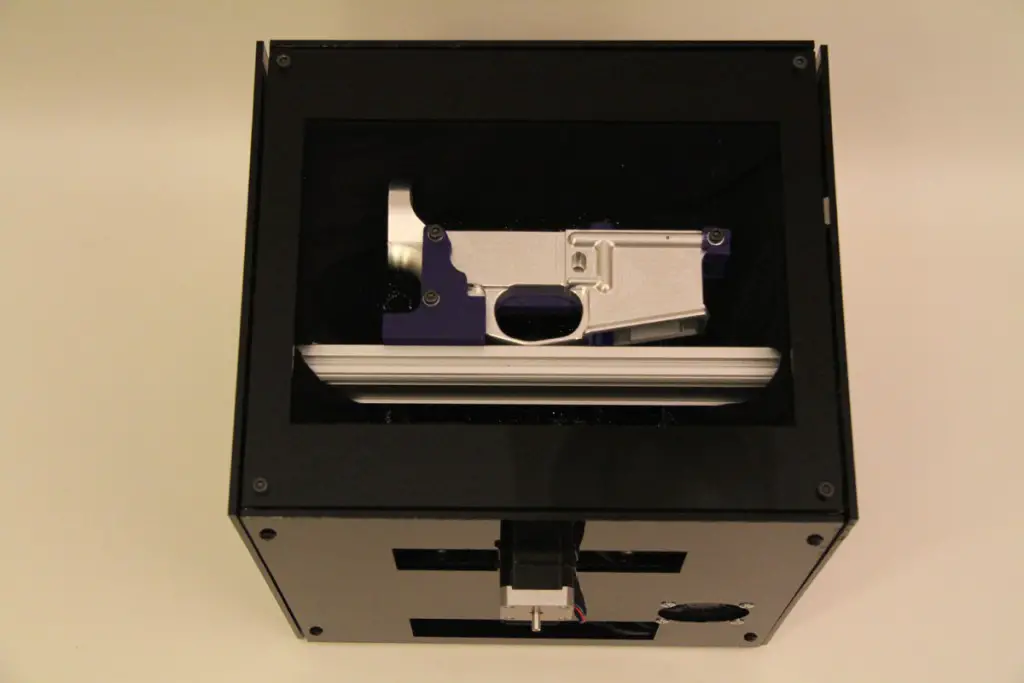 Both FedEx and UPS have refused to ship the Ghost Gunner, and there is no convenient common carrier option apart from that shipping duopoly.
The funny thing is this: despite its name and its firearms application, the Ghost Gunner is really a general-purpose, open-source, CNC machine tool. We want it as much to see what ecosystem of fixtures and part files emerges, and to apply to airplane building, as we do as a way to do custom lowers (for which there are already other machines are on hand.
According to the shippers, any machine that might be used by a private party to ship guns is contraband, the law be damned. (It's suggestive that both carriers reached this unique interpretation at the same moment in time). Does this mean that Sherline, Taig and Miniature Machine Shop will not be able to ship their goods in interstate commerce? (We probably shouldn't give the Feds, whose threats are no doubt at the bottom of this debacle, any ideas).
Apparently, one part of  the "a pen and a phone" system of government that has replaced the obsolete Constitution in latter days is the ability to declare contraband not just things that some politicians don't like, but machines that can make the things.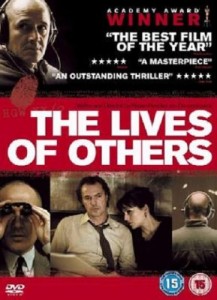 One is reminded of the old Communist system, which not only had a media monopoly and pervasive state surveillance, but went so far as the licensing and registration of deadly assault information technology, which in those days meant typewriters and mimeograph machines. Russian dissidents circulated manuscripts copied, sometimes one-at-a-time in the fashion of medieval monks defending knowledge from a new Dark ages, in a cultural phenomenon called samizdat — a term with the denotation of "self publishing" but a connotation of underground, forbidden, risky activity.
FedEx is particularly two-faced in this, as they offer NRA discounts, which is why Cody initially used them. But statements from FedEx spokesman Scott Fiedler to Wired and other online outlets make it clear that the company is fully on-board with the administration here. UPS spox Dan McMackin has confirmed that his firm, too, is firmly in the antigun camp and is pleased to collaborate in Administration anti-gun initiatives.
Wired Magazine's Andy Greenberg goes all out to give the carriers the benefit of the doubt, but reaches (with the help of anti-gun UCLA professor Adam Winkler, who's studied and written about gun control in America) an interesting conclusion (and one that Cody Wilson would recognize as suitably bleak for would-be regulators):
FedEx seems to be joining the same club of companies trying to avoid any part in digital DIY gunsmithing. But as more tools like 3-D printers and CNC mills find their way into Americans' homes, they may have to face the reality that those devices can also create deadly weapons, says UCLA's Winkler. "It's going to be very hard to get people to stop using these same devices to make firearms," he says. "To a certain extent, FedEx will have to get used to shipping gun-making machines."
There is good news for buyers in this, perhaps: by refusing to deliver the product, FedEx and UPS are in effect insuring you against the project's failure to deliver. If you never get the product you have paid for, you can add the carriers as defendants to your suit, and recover from their (and their reinsurers') deep pockets. They want to take a partisan, political position? Let them pay for it.
For More Information:
Ostensible Cody Wilson letter (he did not send this to us, and we are fully-paid purchasers). If this is authentic, it looks like what began as a dispute over rates escalated into an outright ban on shipping, based on what FedEx was told by persons unknown but presumably aligned with the Administration:
https://www.documentcloud.org/documents/1675453-putting-the-federal-in-federal-express.html
That email was posted by Ars Technica writer Cyrus Farivar; Farivar's article follows:
http://arstechnica.com/tech-policy/2015/02/fedex-wont-ship-the-box-that-makes-homemade-metal-semi-automatic-rifles/
GunsAmerica story:
http://www.gunsamerica.com/blog/fedex-refuses-ship-perfectly-legal-diy-ar-15-cnc-machine/
Wired story:
http://www.wired.com/2015/02/fedex-mill-untraceable-firearms/
Reason Magazine's Hit & Run Blog:
http://reason.com/blog/2015/02/23/cody-wilsons-ghost-gunner-banned-by-fede
Numerous other sites have secondary stories derived from the above (like us, now), including TTAG and Infowars.
Since the initial statements of anti-gun and anti-manufacturing policy, both FedEx and UPS have clammed up.
When Guns are Outlawed, only Outlaws Will Have Flex Ties
Here's a heartwarming story of a piece of human detritus who will be locked up for good… too late for the lives of at least five people, but you can't expect efficiency out of the courts. They're fully staffed by government workers, after all. The wire story from Wilkes-Barre, PA, reacting to the jury's decision not to impose the death penalty:
Hugo Selenski, 41, was convicted last week on two counts of first-degree murder in the killings of Michael Kerkowski and Tammy Fassett during a robbery at the pharmacist's home. He showed no reaction to the jury's decision, which means he will serve life without parole. He will be formally sentenced next month.

One of Selenski's lawyers, Bernard Brown, said he was pleased with the decision to spare him.

"We're happy," he said.
Yeah, that would make a lawyer happy. That and his paycheck, no doubt picked up by the chumps taxpayers. This morning, he's trying to spring some other human pathogen loose on society, no doubt.
The outcome of the sentencing phase of the trial was always a bit academic. Had Selenski, a serial killer who had at least three other victims' bodies on his property near the remains of the missing couple, actually been sentenced to death, it wouldn't have mattered: Pennsylvania Governor Tom Wolf, an attorney himself, has issued a de facto commutation of all death penalties in his state.
Still, one doesn't even risk the death penalty in most Northeastern states just for committing a murder or two. What else did Selenski do?
[H]e and a co-conspirator brutally beat Kerkowski to compel him to reveal the location of tens of thousands of dollars he kept in his house and then used plastic flex ties to strangle him and Fassett.
You know, when an interrogator does it to a terrorist, reporters say it's torture. When a criminal does it to a victim, it's just a beating. Nothing to see here.
Why did a pharmacist have tens of thousands in cash in his house? What made this crumb think he could cash in by torturing the guy?
The pharmacist had pleaded guilty to running an illegal prescription drug ring and was about to be sentenced when he and Fassett were reported missing in 2002. About a year later, authorities found their decomposing bodies and at least three other sets of human remains on Selenski's property near Wilkes-Barre.
via Man with bodies buried in his yard gets life in prison | National & World News | Seattle News, Weather, Sports, Breaking News | KOMO News.
OK, so the pharmacist was a crook, too, and this is that good old standby, crooks whacking crooks. (Ask a homicide detective what percentage of his victims are purely innocent. The number may shock you).
Did Selenski face charges in the case of the other bodies? Well, yes and no:
In 2006, he beat two other homicide charges in the deaths of two suspected drug dealers whose charred remains also were found in his yard. The fifth body found on the property was never publicly identified.
What made Selenski turn?
Selenski has spent most of the last 20 years in prison, with convictions for a 1994 bank robbery, a 2003 home invasion and robbery and now murder. He escaped from a county lockup in 2003 using a rope fashioned from bed sheets but turned himself in days later.
Oh, that. He never "turned"; he always was a violent criminal, an utter waste of sperm and egg. Seems like it was a mistake letting him out in the first place. Note that he was arrested and imprisoned twice in 2003, after the pharmacist murders that he did in 2002. If they searched his grounds at the time they didn't find his garden of deaders.
VA Secretary Robert McDonald is a Stolen Valor Phony and Must Resign.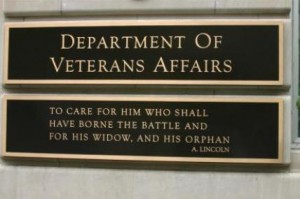 Why are we not really shocked that the Beltway drone that the Beltway dredged up to continue mismanaging the Veterans Administration is a Stolen Valor character, specifically, a Special Forces poseur?
McDonald graduated from the U.S. Military Academy at West Point in 1975 and completed Army Ranger training before being assigned to the 82nd Airborne Division until his retirement in 1980. According to the Huffington Post, while McDonald was formally recognized as a graduate of Ranger School, he never actually served in a Ranger battalion or other special operations unit.

"I have no excuse," the website quoted McDonald as saying in its report. "I was not in special forces."
Mac, "I have no excuse" worked when you were being braced by an upperclassman for violating some nit noy Point regulation or custom. What you have violated here is neither trivial nor excusable. It reveals a collossal lack of respect for those that you are ostensibly assisting. The only acceptable outcome is resignation or dismissal.
Funny thing: it almost certainly was a line he threw out in the direction of another phony.
In a statement released Monday by the VA, McDonald said: "While I was in Los Angeles, engaging a homeless individual to determine his veteran status, I asked the man where he had served in the military. He responded that he had served in special forces. I incorrectly stated that I had been in special forces.
Like most Special Forces vets, we run into so many phonies that we're pleasantly surprised when the guy with the SF hat, shirt or claim turns out to be the real thing. We have never encountered a homeless bum whose claims of veteran status were entirely true, and never encountered one who actually served in any SOF capacity. This is not saying that there are none, just that most veteran claims among the homeless are bullshit.
Kind of like McDonald's, actually.
"That was inaccurate and I apologize to anyone that was offended by my misstatement."
"Inaccurate?" "Misstatement?" Bullshit, Mac. It was a lie. To put it in terms even a brainwashed Academy mind can understand, it was an Honor Code Violation. Remember that? It goes something like this:
"A cadet will not lie, cheat or steal, nor tolerate those who do."
Let us explain how this works. You just blew it spectacularly on the first clause, and now the rest of us implement the second. You are lost. Your soul is forfeit. You are unfit for your position. You must resign. You may not believe it, serving as you do an Administration that had no qualms about a Secretary of State who also slung cross-border bullshit about his military career, another who "remembered" being under fire (but never was), and a Secretary of the Treasury who was a serial and decadelong tax chiseler.
You probably can't understand this, in your monumental, towering self-regard, but you've blown it on this to a much greater level than if you simply were a greedy, crooked tax cheat like Timothy Geithner. This goes to your fitness for any job, but it goes doubly for your fitness for this job.
McDonald told the Huffington Post that he had "reacted spontaneously and … wrongly" in response to the homeless man's claim.
What. The. Prevarication. "Reacted spontaneously?" Let's throw some comparisons out there so you all can see what this really is.
When I met Richard Petty, I reacted spontaneously and told him I, too, was a NASCAR legend.

When I visited the Little Sisters of the Poor, I couldn't resist telling my press retinue about my own formative period in a religious mendicant order. 

When I ran in to Clint Eastwood out the back gate of DLI, I reacted spontaneously and told him I had three Oscars.

On touring Studio Two at Abbey Road, I was pleased to see they still had my guitar in the corner.

When Ringling Brothers Barnum & Bailey came to town, I reacted spontaneously and told a press conference I was the Flying Wallendas.
Something's flying here, and it's not Wallendas. No doubt they're flying in Sarasota, getting ready for the season, and not lying about what they did and didn't do. Which makes any one of them a better choice for Secretary of the Department of Veterans Affairs than McDonald.
What this is, of course, is narcissism writ so large that it's swallowed the guy's actual accomplishments, which are not trivial — if we can trust anything else he's uttered. And there you see the reason for the Honor Code: it sheaths the credibility of a cadet and graduate of the Academy in the armor of righteousness. But that armor is hard to the point of brittleness: one crack and the whole thing goes. Q.E.D.
(The SF Honor Code, by the way, is nothing formal, but is what sociologists call "in-group morality," aligning well with the Rogers Rangers Standing Order — as given in the mid-20th-Century book and movie Northwest Passage: "You can tell other folks anything you want about the Rangers, but don't never lie to a Ranger nor officer.")
Returning to the subject, we have never seen longterm good come out of employing narcissists. ("Spotlight Rangers" is an in-group term for 'em). In a way, they're a leader's delight: keep the spotlight on 'em, they perform highly. Easy! But they're corrosive to trust in the ranks and up and down the chain of command.
The Navy frequently reports that it has sacked some captain or admiral because they have lost confidence in his or her ability to command. It's been a cold end to many storied careers. Recently, the flailing Secretary of the Army, John McHugh, went to the politically friendly Gannett newspapers with a story that says the Army has relieved 139 battalion and brigade commanders over the last 10 years of so. (These are lieutenant colonels and colonels. For civilians, "relieved" is like being dropped from a particular management job, but it usually carries with it a delayed-action end of service. Our guess is about 10% of these reliefs have been performance problems, 50% have been conduct problems — diddling the help, and drinking-and-driving, mostly — and 40% have been failures of political correctness). The Army uses a rationale much like the Sea Service does: a colonel who has stepped on his Johnson in a public way has a hard time maintaining the confidence of troops and/or political leaders, so it's time for that officer to go.
Secretary McDonald, what time is it?
But wait, he's not done making excuses for himself.
"As I thought about it later, I knew that this was wrong," McDonald said of his false statement.
What. The. — Wait, we already said that. Lord love a duck! You need to think about it later to understand that lying about your attainments is wrong? What else is AFU in that guy's values and morals? What else is he lying about?
In our experience, with Stolen Valor guys it's never just one incident and it's never the only thing they're bent about. There's a lot of comorbidity with other kinds of corruption and crime. The only possible answer is dismissal.
Well, at least an Administration that's stayed in practice by sacking scores and hundreds of ship skippers and battalion COs for lapses of PC will have no trouble firing the guy, right?
Er… wrong.
The White House released a statement Monday evening saying that it had accepted McDonald's explanation.

"Secretary McDonald has apologized for the misstatement and noted that he never intended to misrepresent his military service," the statement said. "We take him at his word and expect that this will not impact the important work he's doing to promote the health and well-being of our nation's veterans."
Hey, because Stolen Valor doesn't matter to them, either.
McDonald is a fraud, a poser and a phony. He's fundamentally dishonest at something that goes to the core of his character and his fitness for this position.
If there was a strand of the Military Academy Cadet left inside him, he'd already have killed himself. But since there isn't, McDonald must resign.
via VA Secretary Robert McDonald admits lying about Special Forces service | Fox News.
We've featured an MP.18-II before, which is a later iteration of this exact same gun, with a magazine well reconfigured for straight magazines. (It led in turn to the MP.28, the Lanchester, and the Sten, by fairly direct process of derivation). But this gun, the MP.18-I, is the granddaddy of them all, and it could be yours.
It is certainly the first widely produced submachine gun, defined as a shoulder-fired infantry weapon firing a pistol cartridge with an automatic or select-fire mechanism. A blowback mechanism, it showed the way for many designs that would follow through three generations of submachine guns, until the rise of compact versions of intermediate-cartridge assault weapons would replace most of them.
Some would say it has a face only a mother could love: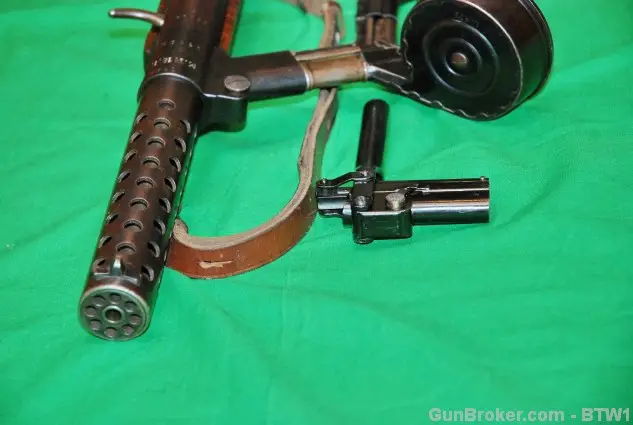 And it's just as awkward looking from behind.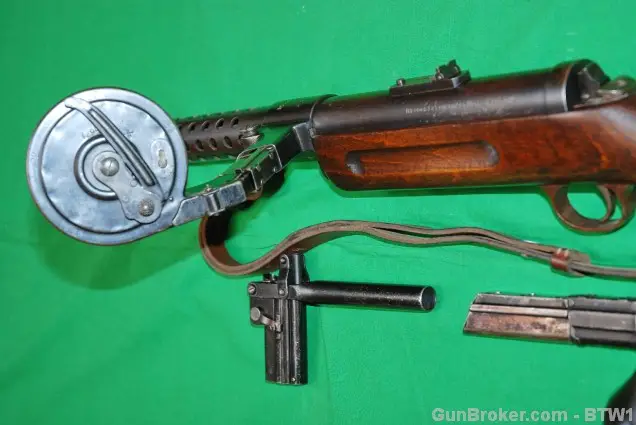 The drum magazine is so odd looking because it was already in production for the Lange P.08, the "Artillery" Luger. Rather than try to design a thirtyish-round magazine, the engineers at Theodor Bergmann in the weapons-manufacturing center Suhl, Germany, did what many later gun designers would do and borrowed a proven one.
The gadget with the lever is the magazine loader, a must-have for these unique mags. Note the sleeve that fits on them for SMG use.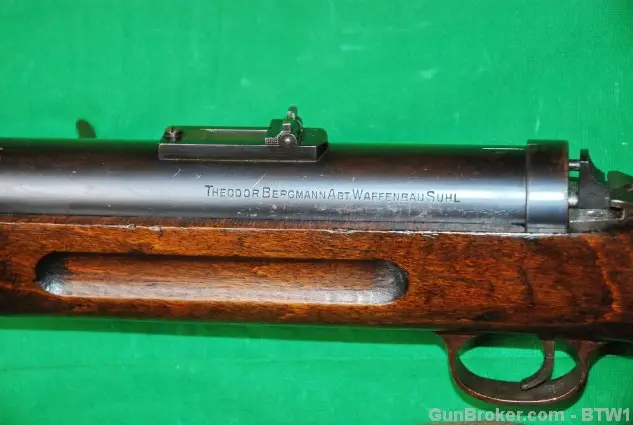 Like all first-generation submachine guns the MP.18-I is made using the rifle processes of the early 20th Century. It is primarily made of steel parts machined from billet or forgings, richly blued; and the stock is solid walnut. If four years of relentless naval blockade had damaged the German Empire's war production capabilities, this gun doesn't show it.
The auction has a very reasonable opening bid, for what it is, but there is also a reserve. No, we don't know what the reserve is.
As the catchy song goes, what does the ad say?
This is a really nice example of the early 9 mm German submachine gun used in WWI. MP18-1 was the first true Submachine Gun. This is not all matching, but is an excellent example with an excellent bore.

These are very rare and hard to find because most MP18's were modified to accept the straight magazine instead of the drum magazine.
There was a show on the tube, the one with that perv guy, where they bubba'd up a later MP. 18-II to resemble this, so you might want to ensure that this is not the Bubba gun version.
It has a 1920 stamp on the receiver so it was used by the Weimar Police.

This comes with 2 drums with adapters and 1 drum loading tool. These drums are the same drums used with the Artillery Luger. This is C&R fully transferable and is currently on a form 3.
via German WWI MP18,I with 2 Drums & Loader : Machine Guns at GunBroker.com.
If you're familiar with later German SMGs, the bolt and striker of the MP.18 look pretty familiar:
The simplicity of this firearm was so elegantly perfect for its purpose that it spawned hundreds of work-alikes, few of which improved on its basic function (after replacing the overly complex magazine).
This may look like a lot of pictures, but there are way more at the auction link — something like 30 of them all told. You know you want to click over there anyway.
Sure, it's more than our pickup cost, new, and it's almost 100 years old. But on the other hand, our pickup will be worth approximately $0 in ten years, and an original MP.18-I is unlikely to lose much value. (If you buy it into a business you can even try depreciating it and see if the tax guys let you).
In case two drums aren't enough for you, the same seller has a third, too. Without loader, but with dust cover. They're all First Model snail drums. Annoy a totalitarian, buy a 32-round magazine.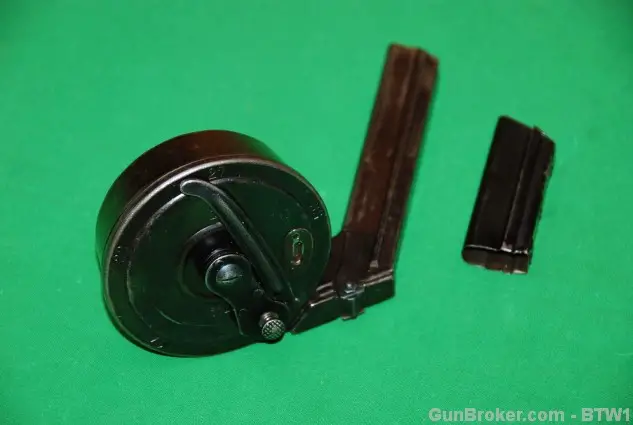 One nice thing about this seller's auctions is that they run for a good, long time. The MP.18 has eight days to go. (Serious bidders may not show up until close to the end. Don't read too much into lack of bids on an auction when it still has weeks to run).
Another nice thing about these auctions? They give all of us the chance to see many rare collector pieces. We can't own them all, but we can get eyes on them when they change hands. How cool is that?
Poly-Ticks: The Shape of Antigun Astroturf
Over the years, a lot of anti-gun groups have been created. Some have burned brightly — and burned out. Some have been millionaire's (or billionaire's) playthings. (This is actually getting more common with time). Many have been driven by celebrity, and like the celebrities themselves, inevitably plunge into the where-are-they-now category, like a particularly tough Jeopardy entry.
In recent years, as gun rights have ridden grassroots popularity to victory in one state capital after another, gun ban groups have increasingly masked their intentions behind benign or even misleading rhetoric. This has extended as far as actually producing "black" propaganda groups, groups that pretend to be pro-gun, but are actually working against gun freedom.
Attached to this post is a first rough draft of a map to some of these groups and their interconnections. It is pretty homely at this point; there has been no attempt to make it colorful or to clarify the types of connections between groups and individuals. It is set up to print as an 11 x 17″ .pdf (or maybe that's 11 x 14).
We couldn't have done it without the efforts of the pro-, anti-, and ostensibly neutral writers whose blog posts and news articles are cited in the Sources section of the document.
Corrections, extensions, revisions and discussion are all welcome in the comments.
White, Grey and Black Propaganda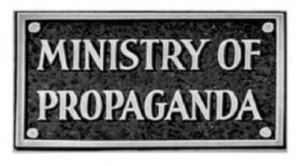 Classical propaganda theory classifies propaganda as White,  Black and Grey propaganda. All of these are in play in the gun-politics field.
White Propaganda is material that openly and accurately represents its origin, and attempts to be accurate. For example, the Bloomberg groups are open (mostly) about their anti-gun orientation, and the NRA and NSSF operate openly in the pro-gun field.
Black Propaganda is material that misrepresents its orientation or source. As you might expect for such a clandestine effort, accuracy is generally not an aim. (In fact, inaccuracy may be an aim). For example, The American Hunters and Shooters Association, a false-flag operation created for the Obama campaigns that was intended to give 2nd Amendment cover to then-candidate Obama. They were not able to keep the black veil on tight (black prop seldom is); the head of the group, former football player Ray Schoenke, had a long anti-gun record as a Democratic politician manqué. 
Grey Propaganda does not reveal its orientation or source. Its information may or may not be accurate. The group Evolve.us is an antigun group that tried desperately to present itself as grey but is generally recognized as a black propaganda effort due to its tight ties to extant anti-gun White and Black Propaganda outlets.
These major labels are something different from the kind of rebranding a bad or failing message as something slightly dishonest, like selling gun bans or registration as "gun safety." There is a continuum between honest advocacy ("We want to ban..") through slippery double-dealing (Candidate Kerry: "Is these where I can get me a hunting license?") to outright misrepresentation ("The American Rifle + Pistol Association is…" just about anything those crapweasels said).
You can have an argument as endless as medieval monks' or Talmudic scholars' on whether, for instance, newspapers that slant their coverage anti-gun have crossed the line into propaganda; if they have, because they misrepresent their coverage as not being propaganda, it's probably black propaganda. But that battle is not worth the fighting; the newspapers are dying themselves, in part of their bias and monoculture. So rather than fight the newspapers, let's just assume that they're all the enemy, and concentrate for now on classifying the weeds in the antigun astroturf jungle.
Some Historical Background
The gun control movement started in the United States as a movement to ban handguns and other guns that offended modern, urban, progressive thinkers. Anti-gun sentiment was contained within Congress and the coastal elites until the 1960s, when it spread through liberal society. That was a different time, and while our political parties had the same names they do now, both parties had both liberal and conservative wings, and the party a person, or a politician, was with was more a matter of history and heredity than political proclivity. It has been a 60-year process that has seen the gradual death of the liberal Republican and conservative Democrat, and that has made gun control, with a few exceptions, a partisan political issue.
The politicians who pushed gun bans in the 1960s, people like WWII draft dodger Howard Metzenbaum and corrupt pol and Thomas Dodd, at first did it alone. But during the 1960s, non-profits sprang up to promote bans. Their names were usually indicative of their intent at this time: The National Coalition to Ban Handguns was one example.
As they began to rack up more Ls than Ws beginning in the 1980s (especially at the State level),  they began to moderate, not their aims, but their messaging. By the 1990s they were not saying "ban" or even "registration," but talking about "common sense gun laws…" which all seem, when reduced to practice, to amount to bans and registration.
By the new century, we had groups that were created by checkbook and that were not shy about misrepresenting themselves as pro-gun, while they actually work hand in glove with our enemies.
Some of them show up in this chart. Once again, we need to thank the many whose research has gone before and enabled us to present this chart. Enjoy.
The Shape of Antigun Astroturf 20150223.pdf
In the morning, we'll be back with technical stuff again and take a break from politics. Even researching these rats makes us feel unclean.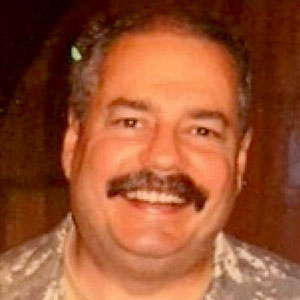 Kevin was a former Special Forces weapons man (MOS 18B, before the 18 series, 11B with Skill Qualification Indicator of S). His focus was on weapons: their history, effects and employment. He started WeaponsMan.com in 2011 and operated it until he passed away in 2017. His work is being preserved here at the request of his family.