Somebody's going to say it, or a lot of somebodies: "Happy Memorial Day." And a veteran's going to throw a wobbler. Or at least, grind his teeth.
Or, that other favorite, "This day is all about you. Thank you for your service."
As readers of this blog certainly know, Memorial Day is not on occasion to celebrate those many of us who survive. At least, not in the USA. We've got a day for that, in the bitter month of November, for good and historical reasons. That's the day for those who returned upright and animate. This day is to honor the ennobled among us, the ones that did not. And so many of us vets are thinking about absent friends, today; it may not be an occasion for happiness.
We are about to argue the opposite.
Nobody died so that you can mope around bewailing his fate. Let us consider an alternative way to think about him, about them. Let us, rather, take comfort and find joy in the fact that they lived, however briefly; let us remember them not as they died in a flash of HE, that unforgettable sound of a rifle-bullet impact, or an unstoppable running-down on the operating table; but rather, as they live: full of life and life's joys, or even more honestly, life's passions.
Surely you can call up that friend, or relative, or friend's relative, in your mind. This was a person with a distinctive smile, a laugh, and a gait that you could spot in a throng at a hundred yards. Bring that picture into your mind, that man (or, perhaps, woman) in color and in three dimensions.
Now, take that fallen hero — for the foundation of our little world stands on the shoulders of these, and that makes them heroes if nothing else does — along with you. To the cookout, to the ball game, to the beach, to the water park.
Expect others to look at you funny, as you're attentive to the old friend's envy of your home or kids — or his mockery of your current state of physical fitness.
Don't be surprised if he takes the last hot dog or the last beer — or if he leaves it for you. Either way, that's just the kind of guy he was, wasn't he?
We have been bringing our dead friends to holiday festivities for some years now. We haven't told anybody, because we enjoy, most of the time, just passing as regular, sane, non-vet Americans. But now it's time to let the secret out of the bag.
Maybe a pshrink would say it's a coping mechanism or something, but like Tom Cruise, we stay away from those guys (maybe they could help Mr Cruise, but it's still a free country, and that's his business, not ours).
Anyway, when some smiling, secure, comfortable citizen looks at you and says, "Happy Memorial Day," look right in his or her eye, shake hands if it's suitable, and say, "Happy Memorial Day" right back. Say it like you mean it, because you're saying it for two.
And if you're sensitive to it, if you're really tuned-in, that pressure on your shoulder is a squeeze from a dead hand, telling you it's OK.
Happy Memorial Day.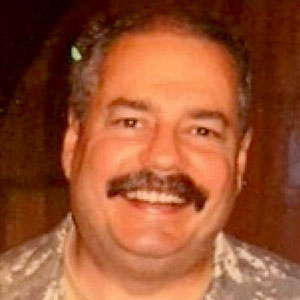 Kevin was a former Special Forces weapons man (MOS 18B, before the 18 series, 11B with Skill Qualification Indicator of S). His focus was on weapons: their history, effects and employment. He started WeaponsMan.com in 2011 and operated it until he passed away in 2017. His work is being preserved here at the request of his family.