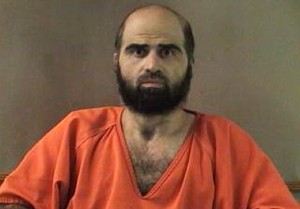 This is from a week or two ago, and we've been having trouble believing it, but it's real (.pdf). He's still on track to get executed, but Nidal Hasan wins: SecDef Hagel has caved on his beard, and on any other extremist Mohammedans, and on any other bizarre religious style, affectation or disfiguration.
So Hasan has beaten the Army twice: once when he shot up dozens of people, and once again when the Secretary of Defense elevated Hasan's religious whims above good order, uniformity, and discipline. Heartless Hasan has to be laughing his, again bearded, face off.
The Pentagon on Wednesday is expected to announce widespread changes to rules governing religious items and religion-based physical attributes that service members can maintain while in uniform — including beards, some religious tattoos, and turbans.

NBC News obtained an early draft of the new Department of Defense instruction which states that the military will make every effort to accommodate "individual expressions of sincerely held beliefs" (conscience, moral principles, or religious beliefs) of service members.

It goes on to say that unless doing so could have an adverse impact on military readiness, unit cohesion, good order and discipline, health and safety, or any other military requirement, commanders can grant service members special permission to display their religious articles while in uniform.

Requests for religious accommodation can be denied when the "needs of mission accomplishment outweigh the needs of the service member," the directive will explain.

Earlier this month, a major in the U.S. Army who is a Sikh American took his case to staffers on the Hill, explaining how he and other Sikhs should be able to serve in uniform and still maintain their religious beliefs, including wearing turbans and unshorn hair, including beards.

The new directive will explain that if the articles of faith or physical attributes interfere with the proper function of protective clothing and equipment, the request could be denied.  For example, a beard or unshorn hair cannot interfere with gas masks or helmets.

Jewish service members can request permission to wear a yarmulke while in uniform. Muslim service members can request to wear a beard and carry prayer beads. Even Wiccan service members, those who practice "Magick," can seek accommodation — the directive covers all religions recognized by the U.S. military.
via Pentagon to relax rules on personal religious wear — including beards, turbans – U.S. News.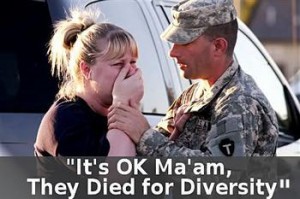 The Pentangle did indeed make the announcement, and you can read the regulation change here (.pdf). It reads as if it was drafted by anti-military lawyers.
It was probably inevitable once you realize the Administration views the military as a workplace like any other. After all, Hasan's attack was simple "workplace violence." And General Casey responded that the death of a few soldiers was no big deal, but it would be terrible if we let a few deaths threaten the overriding greatest value, "diversity."
We have a diversity of ideas on that. And we reckon none of them would be pleasing to GEN Casey, or any of the other politicians, suited or uniformed alike.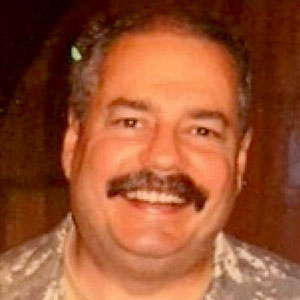 Kevin was a former Special Forces weapons man (MOS 18B, before the 18 series, 11B with Skill Qualification Indicator of S). His focus was on weapons: their history, effects and employment. He started WeaponsMan.com in 2011 and operated it until he passed away in 2017. His work is being preserved here at the request of his family.