While the major gun initiative likely to come from the incoming Trump administration is national concealed carry reciprocity ("like a driver's license," according to the President-Elect himself), and restoration of the self-defense rights stripped from soldiers and dependents by executive-branch action (these are likely to be restored the same way), industry watchers consider a delisting of suppressors from the National Firearms Act a third possibility. After all, suppressors have gone from known mainly for their use by Hollywood miscreants, to legalfor civilian ownership in 42 States, and in 40 of those states legal to use for hunting, also.
The American Suppressor Association (which finally gave up calling itself the Silencer Association) keeps track of these things, and the current map shows how suppressors are legal just about everywhere except highly urbanized states where criminals and their families are an important constituency, such as California, Illinois, New York, New Jersey and Massachusetts. Those states, where gun bans of all kinds remain popular, are unlikely to waive their restrictions.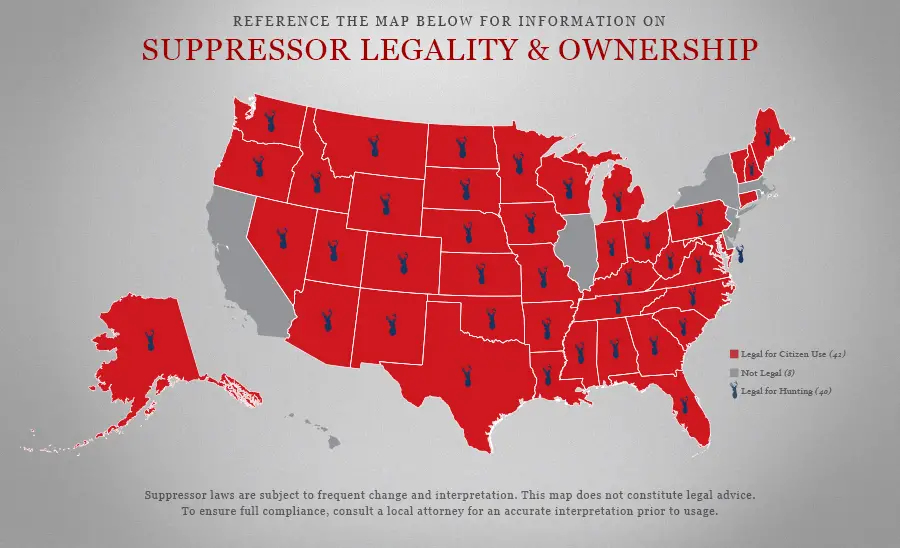 Despite the holdout states, suppressors have become increasingly common as safety and comfort equipment, and the biggest single drag on the market is the ATF's sluggish 1930s approval process.
That makes this magazine special from Guns & Ammo extremely timely. It's not their first one — they published an edition in 2015 (visible right), also — but this year's, the yellow covered one seen at the top of this post, is a more complete and interesting one. We picked it up, of all places, at Walmart. If you can't find it in Walmart, you can try ordering it direct from the publisher's website for $8.99 (free shipping, presumably to the USA).
Here's the editorial blurb from that website:
The second issue of Suppressor magazine is filled with reviews and roundups of the latest in suppressor trends. Josh Watson puts a roundup of .22 suppressors to the test, Kimberly Marie discusses why you don't have to be an experienced shooter to use a suppressor and Sean Utley reviews several new offerings from SIG Sauer, Bell Precision, Thunder Beast Arms, SureFire, SilencerCo and more. You'll also find a bolt vs. gas case study, an update from the American Suppressor Association and much more. Pick up your copy of 2016 Suppressor today!
The magazine has all the pros and cons of glossy gun magazines, with the pros including excellent, clear photography and punchy prose. The cons? Well, they'll never say anything that might offend an advertiser. For example, an excellent technical article on the products of SIG's "silencer division" is completely devoid of the interesting human story of how SIG developed the division by hiring Kevin Brittingham and his AAC team away from AAC after the company's acquisition by Cerberus Capital's Freedom Group (now Remington Outdoor). Is that because they don't want to offend SIG's Ron Cohen, Cerberus's Stephen Feinberg, or burn any bridges with Brittingham's quiet (pun intended) new firm, Q, LLC? We don't know, but all the mentioned individuals (and the team members who have traipsed around following Kevin) are extremely interesting human stories that tie into the suppressor industry. (We hear from guys "in the community" that Feinberg in particular is "a great guy," although the actual quotes tended toward more earthy soldiers' and Marines' language).
How is SIG going to keep innovating in suppressor design, when it's in-house innovators checked out? You can bet that Cohen has a plan for that, but he hasn't shared it with us, and there's no sign that Sean Utley of G&A asked him.
On the other hand, Utley did get a lot of technical information about the SIG SRD-9 suppressor, and he understands the importance of some of the things that come in the box (like two boosters for tipping-barrel pistols, one with standard imperial threads and one with standard metric) and things that don't (an adapter for fixed-barrel firearms, available as an option).
Utley also wrote an excellent article comparing four suppressors for the .338 Lapua Magnum, a round that can be fatiguing to shoot unsuppressed. (In our subjective opinion, it's not as bad as the .300 Winchester Magnum in blast or recoil).
As always with magazine tests, the tests are brief and round counts low. That's just the nature of the beast.
One suggestion that is made in a couple of the articles is that it's probably best to try several suppressors before choosing one. This is, of course, impractical, given that it takes most of a year to transfer one, and is subject to punitive taxation under the NFA.
Suppressor delisting would not be a trivial undertaking, requiring Congress to amend a very old law. But as the existence of this magazine on a WalMart magazine rack illustrates, suppressors are increasingly part of the gun culture, and gun culture is increasingly part of the culture at large. Ergo, delisting is an inevitability; activism can simply fiddle with the timeline.
One article that novices should welcome is a very brief suppressor overview article for beginners by Kimberley Marie, that addresses why you should use suppressors, and why not, or, some of the pros and cons of these devices. Something like that belongs in every issue, but also an overview of how they work would allow authors of technical articles (like Utley) to assume a greater level of baseline knowledge.
And one article we'd like to see is a historical article per each issue. Probably not practical, given the limited editorial pages in a short publication. Fortunately, most of the ads are for other interesting suppressors, adding to the value of the magazine.
All i all, for $9, it's a decent if incomplete survey of some of the most interesting (and most widely available) suppressors on the market today.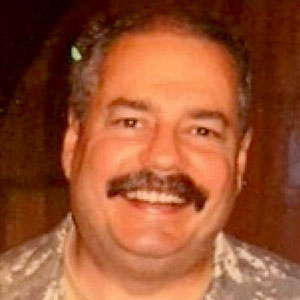 Kevin was a former Special Forces weapons man (MOS 18B, before the 18 series, 11B with Skill Qualification Indicator of S). His focus was on weapons: their history, effects and employment. He started WeaponsMan.com in 2011 and operated it until he passed away in 2017. His work is being preserved here at the request of his family.