These magazines are for sale on GunBroker. While actually in SF, we could never have used these operationally, as they're a rollicking OPSEC violation as they sit there shining at you, but we think they're hell for cool: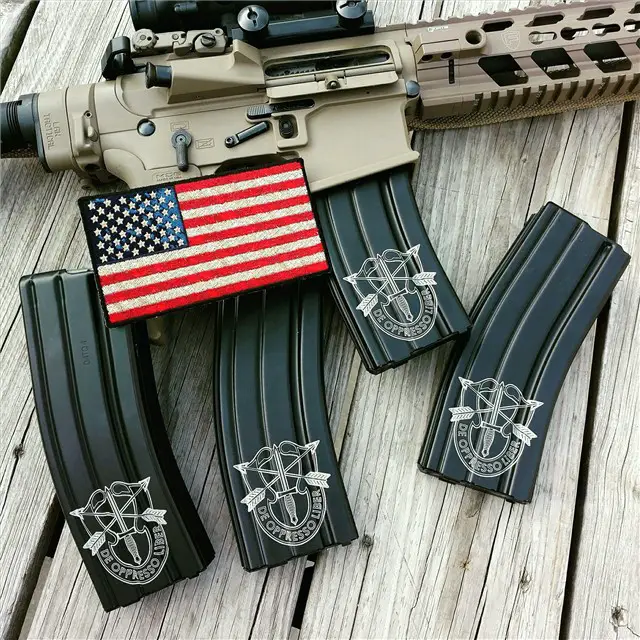 Yep, SF crest (officially, "Distinctive Unit Insignia," which yields an unfortunate acronym) engraved magazines. Back in the day, we could have rocked 'em only on the range, as most operational use required unmarked if not sterile arms and equipment. But now, they're just the thing for a retiree's gun bag.
Of course, if you're, say, the Frogmen or MARSOC, you're going to buy a couple of these to drop any time you do a Blackwater and plug the wrong locals, sending the nearest SF unit into the DAMN drill:
Deny everything
Admit nothing
Make counteraccusations, and
Never change your story!
The seller says:
Black Teflon coated mil-spec 30 round mags with PSA marked floor plates and gray MagPul Anti-tilt followers. These mags are manufactured by D&H, very HIGH quality materials! All images are engraved on the lower right side of the mags. These are DEEPLY engraved for a lasting bright image, cheaper laser equipment etchings may fade with time, NOT THESE!!

We accept VISA/MC USPS Money Orders, bank checks, cashier's checks and personal checks. Personal checks held for 7 days. $7 USPS priority shipping. NO CREDIT CARD FEES. All laser engraved magazines etched in our laser shop when ordered, we do not buy them from a third party, these mags will usually ship in 3-5 days depending on laser shops workload.
We've handled but not shot D&H mags, and they looked good at the time. The guys running them were having no trouble with 'em.
Of course, they can't ship them to Libya, Iran, North Korea, Massachusetts, New York, California, and places like that.
We're not going to order any of them for, say, 12 hours, to give our SF readers the chance to go first. Although one suspects that however many of these he sells, he'll happily make more.
Update
If you're not SF, maybe you'd like their USMC Eagle, Globe & Anchor mags, or mags with the Air Force logo, a Navy fouled anchor, or a laser engraved American Flag.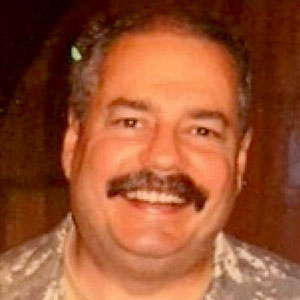 Kevin was a former Special Forces weapons man (MOS 18B, before the 18 series, 11B with Skill Qualification Indicator of S). His focus was on weapons: their history, effects and employment. He started WeaponsMan.com in 2011 and operated it until he passed away in 2017. His work is being preserved here at the request of his family.