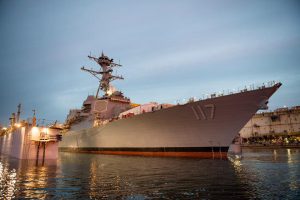 Having forgotten many Naval heroes and distinguished ships of the past, the Navy named a Burke-class guided-missile destroyer, DDG 117, after an obscure political horse-holder for various Democrats, including LBJ, Saturday. The ceremony took place at one of the yards that builds these ships, Ingalls Shipbuilding in Pascagoula, Mississippi.
The future USS Paul Ignatius is named in honor of the Honorable Paul Ignatius, who served as assistant secretary of defense for installations and logistics and later as secretary of the navy between 1967 and 1969, both under President Lyndon B. Johnson. Ignatius had previously served as a commissioned lieutenant in the Navy during World War II. The future USS Paul Ignatius will be the first ship to bear his name.
So we'll have a ship named after this obscure bureaucrat from LBJ's micromanagement of Vietnam, one of Macnamara's Harvard Business School beancounters, but we haven't had one named after Esek Hopkins since 1945, or John Glover since 1990, or Abe Whipple since 1992, and that's just distinguished Revolutionary War Naval heroes.
Who was behind this? As it turns out, the outgoing social justice warriors who have gutted the Navy rushed to lock in names for the Navy's ships through 2024. While some ships were named after Medal of Honor heroes — mostly Marines — a number were named with a social message in mind. One Burke-class is named for a pioneering Navy… nurse. Others for service members whose distinction was to be a member of a particular race. Others… bedamned if they didn't name one for Arleigh Burke (who deserves it if only for fighting the Kennedy brothers within an inch of court-martial to try to save Brigada 2506).
But Ignatius is puzzling. At least the nurse was the first Navy head nurse (stop snickering, you in the back rows). Why Ignatius, who wasn't first at anything?
Well, when you read the following, bear in mind that his son is Washington Post columnist and Washington society kingpin David Ignatius.
"When the future USS Paul Ignatius joins the fleet, it will serve for decades as a reminder of Secretary Ignatius's service to our nation as both a naval officer and as the civilian leader of our Navy and Marine Corps," said the Honorable Sean Stackley, acting secretary of the navy. "This ceremony will honor not only the service of this ship's distinguished namesake but also the service of our nation's shipbuilders, who, for centuries, have helped make ours the greatest Navy in the world."
It will serve for decades as a reminder that a guy named Sean Stackley wanted to give a slobbering tonguebath to a fellow Washington glitterato. Who knows, maybe if there's a United States when the Ignatiuses and Stackleys are done profiting from underselling it, there will be a ship named USS Sean Stackley some day.
If there's going to be a United States to do something that stupid, the US and particularly the US Navy has to pull its head out of its bilge drain with utmost dispatch.
Here is the Navy's boilerplate on what DDG-117 is and what it can do.
Paul Ignatius will be the 67th Arleigh Burke-class destroyer, the fifth of 14 ships currently under contract for the DDG 51 program. The DDG 51 class provides advanced combat capability and survivability characteristics while minimizing procurement and lifetime support costs due to the program's maturity. DDG 51 destroyers are warships that provide multi-mission offensive and defensive capabilities. Destroyers can operate independently or as part of carrier strike groups, surface action groups, amphibious ready groups and underway replenishment groups. DDG 113 and follow-on DDGs are being built with integrated air and missile defense (IAMD) capability.
via Navy to Christen Guided-Missile Destroyer Paul Ignatius > U.S. DEPARTMENT OF DEFENSE > News Release View.
Of course, you probably wonder who the hell Esek Hopkins, John Glover, Abraham Whipple were. Hopkins was the first commander of the Continental Navy, who was ultimately sacked because he couldn't outbid privateers for seamen. Glover was the first commander of a commissioned US ship, also the hero of the evacuation of Long Island and the crossing of the Delaware, therefore the First of the Gators, although he was technically an Army officer. Whipple, originally a privateer for the British against the French in the Seven Years' War, was arguably the Colonies' first naval victor — in 1772, he led the burning of His Majesty's Ship Gaspee, which had run hard aground. Later he served both as a naval officer and (more lucratively) as a privateer, capturing dozens of British ships (once, 11 at once). The British captured him in 1780, and then his war was over.
Of Revolutionary War naval officers of distinction, only John Paul Jones and John Barry have active units named for them. And the motto of Barry was at some recent time changed to, we are not making this up, Strength and Diversity. Diversity is Our Vibrancy!
And the ship after DDG-117, DDG-118, will be named for… another politician, but at least a distinguished one, and a decorated veteran: Daniel Inouye.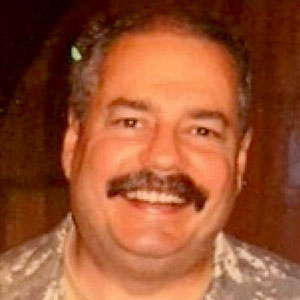 Kevin was a former Special Forces weapons man (MOS 18B, before the 18 series, 11B with Skill Qualification Indicator of S). His focus was on weapons: their history, effects and employment. He started WeaponsMan.com in 2011 and operated it until he passed away in 2017. His work is being preserved here at the request of his family.