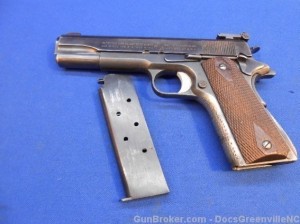 Welcome to the lastest installment in The Continuing Adventures of Bubba the Gunsmith ™. Please keep your hands, feet, and metal-cutting tools inside the ride at all times.
OK. We understand that there was a time when a 1911 was just a gun, they were two-for-a-case-of-beer-and-you-can-owe-me-the-beer, and all that. Still, every once in a while you see a weapon so violated and mutilated that its metal soul cries out for release. Like the puppies in ASPCA videos, it begs you to give it a forever home — even in a Bessemer Converter. Just to put it out of John M. Browning's misery.
There's an auction up on GB with a gun like that. It was someone's brain-dead idea of a target gun. He started with a rare Colt M1911 (not A1), a gun produced only from 1911 to 1918, and then in small numbers until 1926. Then he added an el-cheapo, crudely machined aftermarket "Triangle" brand rear sight, a large front sight, and a tighter-fitting aftermarket barrel bushing. Someone — maybe Bubba, maybe one of the GIs or other owners whose clumsy hands it may have passed through over the last ninety-odd years — apparently used everything but the right size screwdriver (no kidding, Bubba, screwdrivers are not one-size-fits-all) to remove the grips.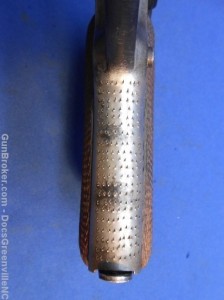 If he was done then, any actual gunsmith could have restored the 1911 to its original pre-Bubba configuration. But no, the .45's grip frame needed that new, ultramodern "stippling" treatment. Which Bubba that applied with a chisel, an ice pick, or some other steel tool. In the sort of straight lines that he walks when Officer Friendly is making him do the sidewalk Olympics after he's been hitting the 'shine a little too hard. It's like gun acne, but that's a bad analogy, because acne is temporary. It's more like Bubba has given this poor old .45 gun smallpox.
Smallpox, of course, is marked by its high mortality rate. Q.E.D.
It seeems highly likely that before he started that stipple job, Bubba proclaimed, "Y'all hold my beer, and watch this!"
The guys who are selling this firearm know what they have, and they've priced it accordingly: rock bottom for a genuine 1911. But it's really a gunsmith special — for a gunsmith comfortable with welding, we'd think. Not that we want to give Bubba any ideas.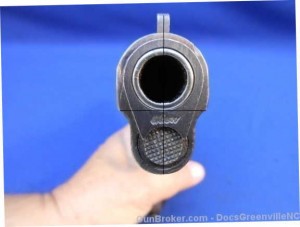 Oh yeah. One more thing. That Bubbafied "target" front sight? Might be the perspective in the image, but it looks to us like it isn't exactly square. Suggesting it might have been silver-soldered on after alignment by Mark I Eyeball, Bubba, One Each.
Not that there's anything wrong with that. At least, not in the messed-up, tossed-up, never-come-down world of Bubba The Gunsmith™.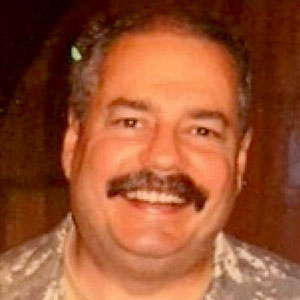 Kevin was a former Special Forces weapons man (MOS 18B, before the 18 series, 11B with Skill Qualification Indicator of S). His focus was on weapons: their history, effects and employment. He started WeaponsMan.com in 2011 and operated it until he passed away in 2017. His work is being preserved here at the request of his family.