The Village Voice, of all outlets, calls its attention to an unusual aspect of the present riots in Baltimore: the degree to which they were triggered by an arrest under Maryland's weapons bans, bans proceeding from the gun control philosophy espoused enthusiastically by figures from Baltimore 's pathetically ineffectual Mayor, Stephanie Rawlings-Blake, and incompetent police chief, Anthony Batts, to Maryland's late Governor, Martin O'Malley, to such figures as Jesse Jackson, last seen in the rubble of a burned-out CVS egging rioters on. Maryland's current Governor, Larry Hogan, is a Republican and only a half-hearted supporter of the gun control regime.
So, how do we get from gun control, to this:
The root of gun control is in the desire to blame the weapon for crime, and so it is closely related to the desire to hold the criminal unaccountable for his actions. Gun control had its roots in vaguely written gun bans in former slave states (Maryland, you may recall from your readings in history, remained in the Union but was a slave state; passage of Union forces through Baltimore was sometimes impeded by the rioters of an earlier age). With youth, especially black youth, enjoined from acquiring firearms by "may issue" permit laws enforced then as now with a racial bias, newsmen in the 1950s imagined they were seeing an outbreak of knife violence. These West Side Story-era bogus reports led to a series of knife control laws.
That's how the Voice comes into it. They noted long ago that New York enforces a vaguely worded "switchblade ban" in a way that (1) encompasses most modern folding knives, and (2) lets them single out minorities for disparate harassment and prosecution. Do they do that? Here's the graphic the Voice uses to say that, yes, they do:

That's for people stopped in New York, with knives covered by the ban; the Voice wonders, as do we, whether Baltimore's numbers would be an iota better (Baltimore has a majority black police force, a black Chief and black Mayor, but like New York it has a disproportionately black criminal class, so these cross-racial comparisons are always fraught with risk).
And as you've probably surmised by know, Freddie Grey, the black suspect whose mysterious but violent death in police custody was the trigger for the rioters, was arrested on one of these bogus knife charges.
But Gray's initial arrest may not have happened if not for an antiquated provision of Baltimore's municipal code, which prohibits the possession of a "switchblade" knife. Gray had allegedly been running from the police, for reasons that still aren't clear, and after a brief chase, officers found the knife clipped to his pocket in a closed position — he was not alleged to have brandished the knife or threatened anyone with it.

The arrest charge recalls an issue we've been covering in New York City for months — the NYPD's enforcement of a half-century old law against so-called "gravity knives." The law was the subject of a lengthy investigation we published last year which found as many as 60,000 questionable arrests in ten years, making the statute one of the top-ten most-prosecuted crimes in New York City.
Here's a snap of Grey's charging instrument, showing what he'd have been charged with if something hadn't snapped his neck and severed his spinal cord while the cops had him locked up. The Voice is right: it's a bogus malum prohibitum knife charge.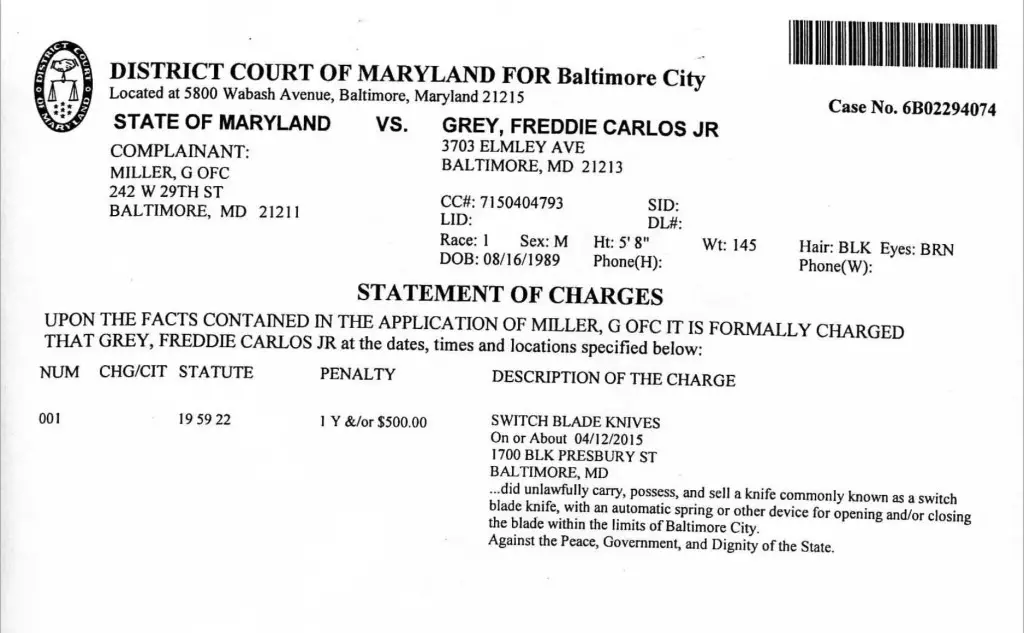 Many legal experts — from defense attorneys to labor unions to an official body of the New York State Judiciary — say New York's law is often being applied, incorrectly, to common pocket knives that the legislature never intended to ban. We documented the arrests of construction workers, building supers — even a bible camp counselor — for simply possessing a knife that most people would regard as benign, if somewhat utilitarian. In fact, under the NYPD's interpretation of the gravity knife statute, virtually every pocket knife on the market can be considered an illegal weapon, regardless of size or criminal intent.

The municipal code under which Gray was arrested resembles New York's law in several ways, and its peculiar wording is equally ill-suited to modern technology; as we discovered when we looked at gravity knife laws in New York, knife statutes often have not kept up with current knife designs.
We'll get to the knife in a minute — once again, the Voice is absolutely right about the technicalities here, and so we'll let them do the explaining — but we're going to take this where they didn't, and note that Maryland has a pathological police culture of ignoring violent crime and pursuing malum prohibitum gun and knife violations with Javertian tenacity.
That's how we get from Freddie Grey being slammed into the back of a Baltimore cruiser for his last ride, to hanging the whole thing on Maryland's totalitarian gun control regime. The Maryland Port Authority Police (the Harbor Tunnel cops) and Maryland State Police have both taken to running license plate scanners and stopping and hassling out-of-state motorists whose pistol permits come up in the automated license-plate dragnet, in hopes of catching someone transiting Maryland with firearms. (Interstate 95, the direct route between gun-friendly destinations like New Hampshire, Maine, Virginia North Carolina, Georgia and Florida, runs right through Baltimore).
Maryland's oathbreaking State Troopers do not recognize the pre-emption of Federal law, 18 U.S. Code § 926A, that explicitly allows owners free transit with a secured firearm from any place where they may lawfully possess it to any other such place, regardless of the laws in between. (Maryland is not the only state to reject the law, but it is the only state to use systematic, automated searches to identify persons exercising their rights under § 926A. Likewise, it is one of very few states using a law designed to combat the Sharks and Jets menace to harass and imprison its own citizens).
Some news reports have suggested that Grey was a drug dealer. Perhaps he was; but that is not why the Baltimore PD says that they chased, arrested, beat and killed him. They say they did it over knife technicalities, as the arrest document above shows.
Here is the Village Voice, again, on those technicalities:
While news reports have described the knife Gray was carrying as a "switchblade," the actual police report (see charging documents …) describes it as a "spring assisted, one hand opening knife," … the most common on the market in recent years.

Popular models typically feature a "thumb stud" on the blade, designed for one-handed opening. The user starts opening the knife manually, and then a spring takes over, "assisting" in deploying the blade the rest of the way. Switchblades, by comparison, open with a button or switch contained in the handle of the knife.
The Village Voice report is thorough and accurate, albeit infused with the alt-weekly's viewpoint. (One gets the impression they'll like Freddie better if he was a dope dealer). Still, we suggest you   Read The Whole Thing™, and don't neglect any sidebars or links to their back stories on the New York knife ban.
Knife bans are common where gun bans are law. The same impulse leads liberty-loathing legislators to proscribe tasers, mace, BB guns, airsoft toys, and in Massachusetts, even, model rockets. (The state became a national laughingstock when it required a gun license — one the state makes difficult for its subjects to acquire — for model rocket engines). These are always the same few coastal states, whose lawmakers often complain that the seething crime wave that is their urban underclass is somehow caused by your rural duck hunters or suburban MG collectors. Places like, naturally, Maryland, where the two largest sources of family income are working for government or collecting from government.
You might say, "When guns are outlawed… knives are next."
It seems to us that the Voice is comfortable with the switchblade aspect of the ban; their objection is to extending it to ordinary pocket knives. They shouldn't be; there are practical reasons to have an automatic, one-hand-opening knife, to wit, a switchblade. (We drew them in jumpmaster school, courtesy of the same taxpayers who bought the inept Baltimore PD all those cop cars that flickered their souls to the city's overweening carbon footprint over the last few nights). Every jurisdiction from Afghanistan to Zimbabwe already criminalizes anything you can do with a knife that is harmful to others or to society, from assault to homicide to brandishing and threatening. All of those things are all crimes, they are malum in se and they ought to be crimes.
One definition of a crime is, or ought to be, some wrong act that society sufficiently disapproves to authorize the police to use deadly force to stop you doing. Certainly threatening, assault, and homicide are crimes under that definition.
But having a "wrong" knife in your pocket is a crime under Maryland's definition. Just ask Freddie Carlos Grey.
You might have an eternal wait for his answer, though.
Just maybe, a knife sitting in a pocket or on a belt ought not to be something any Patrolman Palooka can impose the Nickel Ride Death Penalty for.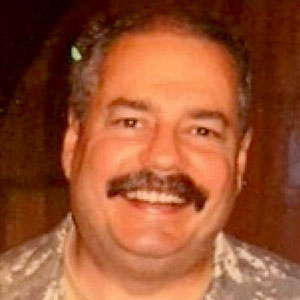 Kevin was a former Special Forces weapons man (MOS 18B, before the 18 series, 11B with Skill Qualification Indicator of S). His focus was on weapons: their history, effects and employment. He started WeaponsMan.com in 2011 and operated it until he passed away in 2017. His work is being preserved here at the request of his family.