Here is an AK as prepared by Bubba the Gunsmite. It has been given a good gun smiting, both in its tacticool appendages, and in its horkworthy finish. That paint job — is Bubba actually blind from a bad batch of white lightning?

It was posted to Arfcom by a guy wondering what it was, and whether he got a good deal swapping a police trade-in Glock worth maybe $350 for it (and a bunch of low-quality mags). The AK is a Bulgarian kit with its original barrel, built up on a high-quality Nodak Spud LLC receiver. (Yes, their AK stuff is just as outstanding as their AR stuff). Apart from the sprayed on crapkote finish, front rail with a questionable VFG, and love-it-or-hate-it Hogue grip, the 5.49mm rifle has a homemade bumpfire stock, on a cheap plastic (polyethylene?) "buffer" tube held on with (we are not making this up) a wood screw. The new owner wanted a "tactical" AK with rails and all, but didn't want an eyesore. 
As bad as the gun looks in overview it's worse close up: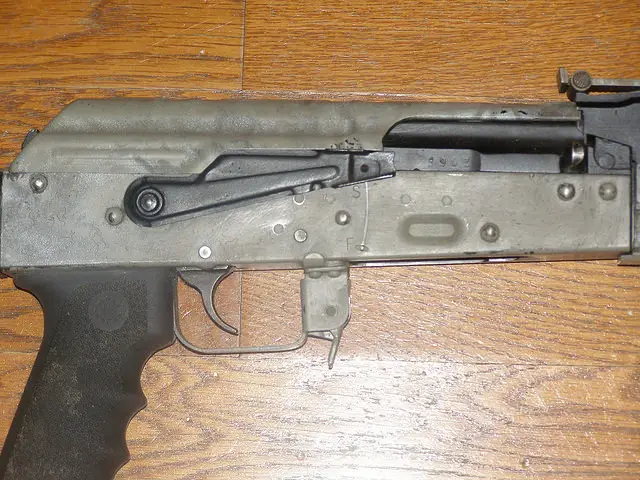 You could call that the "Been there, done that, got tagged by a Bronx graffiti 'artist'" look. But as bad as the outside of this Bubba job was, the inside was worse yet: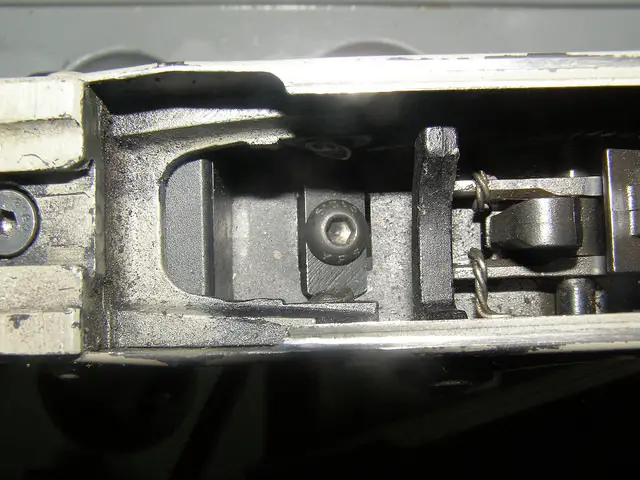 The collective wisdom of the Arfcom thread was to strip and refinish it — or have a pro do it — and install Magpul Zhukov furniture in a Bulgarian-like plum finish. The Zhukov allows the use of a top rail only.
But the guy was on a tight, tight budget. He couldn't swing the Magpul stuff ($200 plus shipping)
Can you heal a sick AK in a tiny home workshop, on a rock-bottom budget?
Here's what Adam decided to do:
Strip the old finish;
Refinish with a modern coating. He chose Norell's MolyResin in semi-gloss black;
Replace the Bubba-built bumpfire rig with a conventional stock, perhaps a Magpul CTR in due course;
And do it all himself.
Skip ahead to Results
Here it is "afterward," still well endowed with tactical gingerbread, but at least not so badly finished as to make Mikhail TImofeyovich weep:


Although, not exactly well finished either: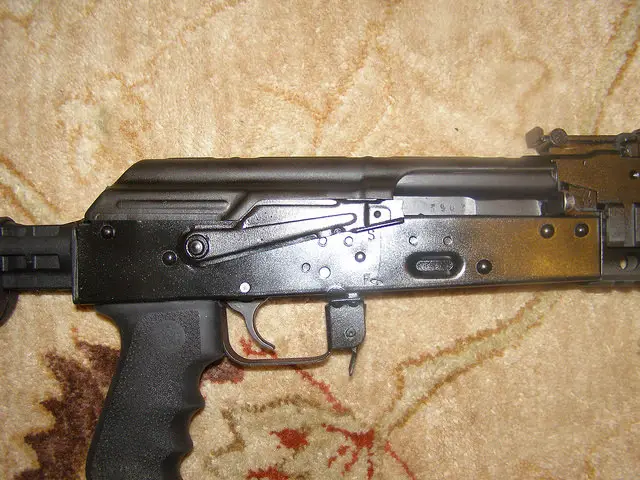 But still, let's compare that to the status quo ante: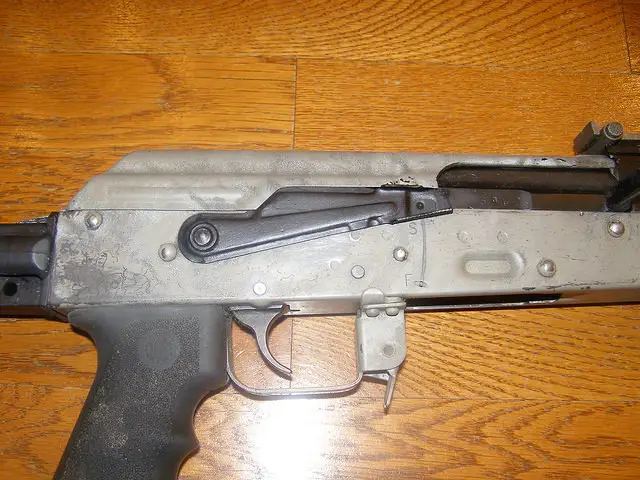 Not so bad in that light, eh? Really, this thing started out looking like all five of the Lee Sisters — Ug, Home, Ghast, Beast and Gnar. Indeed, the finish was so bad it made the underlying metalwork look bad (which it wasn't): for example, the rear trunnion rivets look like they've got a "smiley" on them (a common result of using an undersized set tool) but it's just an optical illusion produced by the paint and wear.
The bare metal pins were an oversight, but — that's the way they are on a factory AK-74, either bare metal or blued.
The finish was done with Norell's MolyResin ceramic-metallic coating, and the orange peel can caused by a variety of things, including too much paint to quickly, not preheating the work to 100ºF or so, and not properly preparing the work. For any spray-on coating, metal needs to be prepared a little differently than it is for a soak-in coating like Parkerizing. Norell highly recommends abrasive blasting. (Or, if you're equipped to do it, you can simply parkerize the bare-metal firearm — but you need to remove the old finish first).
Here's how Adam did it. The longest journey begins with a single step, disassembly. Fortunately, the gun-disassembly tricks and tips that were gunsmith secrets a generation ago, are now available to anyone with a computer. Of course, this has just made more work for gunsmiths as guys (sorry ladies, it's always a guy) who can't follow instructions or a video, take short cuts, break things, or can't reassemble them continue to bring them in — in a basket, or a brown paper bag. If you see a guy in Market Basket tonight answer the checkout question with "paper," he's probably bringing us his Glock in the morning.
Here he is using the Tipton Gun Vise in the one role for which it's really suited, a photo stand.
When we see the tight spaces guys like Adam work in, we are more grateful for our second-class (at least) workshop, which we don't have to share with a water heater. (Or an F150, or lawnmower, snowblower, washer and dryer, or any of those other things we see guys working around). Having lived in small apartments and government quarters we will say that when you have to work in a small space, it helps a lot to keep it picked up and organized — that makes it seem bigger even though it takes a lot of time to be constantly shuffling things in and out of "put away." We believe that in the end, organization saves more time than it costs.
Here's another view of the AK at about the same stage of dismantling.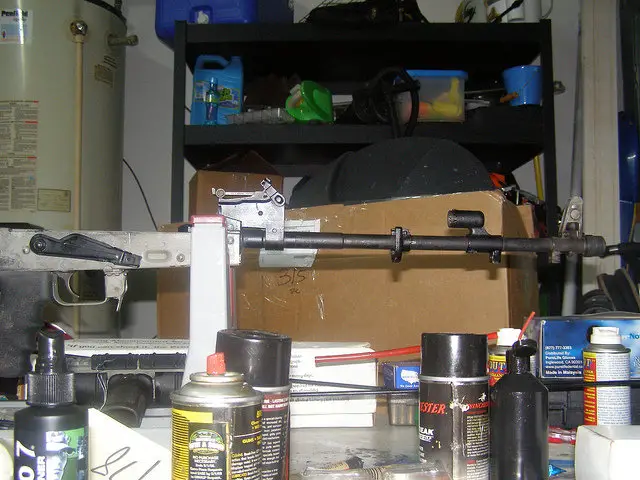 And here it is further along, after most of the weird paint job has been stripped. It clings grimly to the trigger guard and internal parts, but you can see the factory blued finish on the Bulgarian barrel and trunnions, and the Parkerizing on the Nodak receiver. It looks like it took a little scrubbing (note how shiny the rivet heads are).
At this point, if you want to strip the finish, you have no options but bead blasting and/or chemical warfare. Adam went all chemical. He made a solvent trough out of a section of steel gutter from the hardware store, two end caps, and epoxy to hold them in place (in fact, he used leftover Brownell's glass bedding compound. It worked fine). He lay the AK barreled receiver, with the barrel plugged at both ends, in there, and added a gallon of acetone. Almost immediately an black chemical began to swirl away from the barrel, like an octopus squirting ink. As the acetone evaporated away, the remaining chemical turned purple with the "octopus ink" that's the old bluing salts leaving the barrel.
With the old finish off, he resprayed it with MolyResin black semigloss, and baked the finish on, with the results you've already seen. In a few days' part-time work he's removed an unwanted personalization from a Bubba'd gun and made one that is not only more to his own tastes, but also more readily sold to the next owner, and certainly worth more than the $350 value of the Glock plus the ~$150 value of the materials he bought for the project (some of which, like the stripping solvent trough, are reusable).
Some suggestions, if he ever does it again:
Using a more reliable thermometer than the one built into any non-industrial oven. They're built to a price, not to a quality level, and the difference between 300º and 325º F matters a lot more to a MolyResin job than it does to a pork roast.
More cycles of stripping and baking the firearm. It's amazing how much gunk hides in the little interstices of a
Completely stripping the firearm, until there are no vestiges of earlier paints, bluing, or parkerizing.
Thoroughly removing all the finish solvent. This usually suggests another round of baking.
Metal-preparation in accordance with the intended finishing medium. For bluing, you want a high gloss. Norell's makes very specific recommendations for media-blasting pre-MolyResin. Those are based on many years of experience — it's a lot faster to learn from their experience than from your own.
Pre-heating the gun before application of MolyResin. (This depends on the specific MR product and degree of gloss you're shooting for).
Using an airbrush instead of an HVLP sprayer (although Norell's recommends either).
Very thin coats, not trying to get the thing to finish color in one application.
Still and all, the post-refinish AK is considerably better than the original Bubbafied state. And one has the impression that the owner will not be content with this stage of affairs, but will further improve the firearm.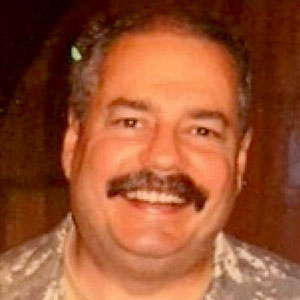 Kevin was a former Special Forces weapons man (MOS 18B, before the 18 series, 11B with Skill Qualification Indicator of S). His focus was on weapons: their history, effects and employment. He started WeaponsMan.com in 2011 and operated it until he passed away in 2017. His work is being preserved here at the request of his family.