This is a considerably smaller auction than those that are conducted by Rock Island Auctions and James D. Julia, but there are some absolutely fantastic and rare firearms being auctioned here this month.
Auction Nº113 is a 2-day live auction sale, offering over 1700 lots beginning at 0900 on 25 and 26 March 17  (which are a Saturday and Sunday, for those of you who are not autistic and don't know that already). On Day 1, Saturday 25 March, Lots Nº 1 through 821 go under the hammer; on Day 2, Sunday the 26th, lots Nº 1000 through 1909. (There aren't 909 lots, because there are some gaps).
Yes, we'll be bidding (probably absentee). There's stuff here we really want. Of particular interest to collectors (and to us as an ongoing gun blogging enterprise) are some of the fine 1911s and Lugers. A good example of either pistol is a point of pride in many a small collection; in childhood, the most impressive gun in the family was certainly an uncle's Luger.
Many fine auto pistols in the collection came from the Walt Rauch collection; we didn't know Mr Rauch, but after looking through this auction catalog, we're very impressed with his taste and pursuit of quality. Most of his guns are in can't-be-improved-on-or-upgraded condition. In addition, they have many firearms and books from the collection of noted gun writer Craig Brown.
At first it was the 1911s that first caught our eye. Many people are familiar with the Argentine Sistema 1927 Colt. This was a very slightly modified 1911 that was built in Argentina on a line set up under Colt license and with Colt cooperation. But most Americas have only seen the beat-up end-of-life police guns imported a decade or so ago by Century. Lot # 8 in the auction — one of the first to go Saturday morning — is a near new in box, non-import-marked Sistema 27 that is easily the best one on the market at present.
This one was made in 1953, and comes with its original box and two spare mags, still in the wrappers.
Amoskeag estimates that Lot Nº 8 will go for $1500-2000. While auction houses often estimate low deliberately to encourage bidding (and so that they can brag about beating estimates, and thrill their consignors with surprise upsides), we'll go out on a limb and say it's going north of $3k, maybe even 4.
Want a beater? Saw one in a shop yesterday for $650, and had a sense they were ready to negotiate. Remember, in Collector World the three words are condition, condition, condition. Rarity is also a factor, but a preference for high condition produces a rarity all its own. You are unlikely to see another Sistema 27 like this for years.
Those of us not bidding can be thrilled just to look.
Our personal favorite 1911 is not the Argentine, although that's ver' nice (said with an Italianate Spanish accent like a native Argentine would). Nope, our favorite is the Norwegian 1914, basically a ringer for the Colt 1911 apart from a glove-friendly slide release, a nod to an Arctic nation that has eight months of skiing around Harstad and Narvik, and 12 months further north. Amoskeag has a near-new 1914 a couple lots later, Nº 10. This pistol was assembled and finished postwar, in 1945, after the Norwegian Resistance took the surrender of the massive German army in the nation. (How massive? The Heimevernet, the Home Guard, would be armed and equipped with German stuff for forty years after the war, and a Guardsman took his Kar 98.k home with him after his draft service).
In any event, this one seems to have gone right onto a shelf (perhaps in the Harstad tunnels) and stayed there until the Norwegian Army surplused it as excess crown property.
Lugers? There are 91 of them, all German, Dutch (Vickers made) or Swiss, except for one oddball, a stainless steel Stoeger made in the 1980s from castings. There are 37 P.38s, mostly wartime guns, with Lot Nº 1701 being one oddball custom job, shortened almost to Man From U.N.C.L.E. proportions, and featuring rich re-bluing and gold-plated small parts. Just the thing for that hard-to-please Wehraboo pimp on your Christmas list!
Plenty of long guns, too. Winchesters, Mausers, exquisite sporting shotguns, they have it. There are several Prussian needle fire guns including a rare M1857 carbine (it's one of the first lots up).
But wait… there's more. The lots mentioned above are all from the live action auction catalog. There's also a silent auction, with thousands more firearms. Most of these are modern or lower-condition firearms, that will not sell for nosebleed prices, but will thrill their new owners. Some are oddities. One such was entertaining:
2241. A.H. FOX STERLINGWORTH BOXLOCK DOUBLE SHOTGUN serial #52744, 12 ga, 28" solid rib barrel choked modi ed and improved modi ed with a very good bore on the left barrel and the right barrel has had a catastrophic failure and is blown out along with much of its length. …. This is an excellent display gun for the walls at camp or as a Hunter Safety teaching aid.
Not all the silent auction lots are illustrated, so if you can't make it to Amoskeag's Manchester, NH offices for a showing (like all the terms and conditions, explained in the auction catalogs) then you've got to put faith in their descriptions. But the Silent auction is not aimed at advanced collectors; many of the bidders will be retail dealers looking to stock their shelves with the guns customers want; others will be individuals who want the guns themselves. A few may be fools who overbid, even! You can't get too invested in an auction item until the auction is over and your list of winning bids is in hand. (If you don't know who overbid at that point… it's you).
The silent auction, along with its great quantity of modern and sporting firearms, also has a few lots of gun parts, a lot of .22 1911 conversion kits (including a rare Norwegian one, in which you load .22 rounds into faux .45 casings), and — be still, beating heart — lots of books. Here's a different non-gun item that caught our eye.
3674. VERY RARE GERMAN SNIPERS TRENCH PLATE This lot consists of a German military steel sniper's trench plate. This breastplate shaped heavy steel plate measures 18" tall and is about 13 1/2" wide. The plate features two folding legs which extend to support it in standing position and it has a 4" x 2 1/2" window with pivoting cover. The plate is a solid 3/8" steel which has a small crack at the top center that is about 2" in length and has light oxidation throughout. Much of the original green paint remains and included is a tan canvas carry strap. Designed to protect a sniper in the prone shooting position it offers protection from counter attack and stray re.[sic] A unique piece of German military history. (47884-63) [Craig Brown Collection]
Body armor, OG style.
While the gun auctions are all for individual firearms, the accessory, parts and book auctions often are for lots, but the lots often have some internal coherence to them.
Finally, Amoskeag has been doing this for a while (and its principal, Jason Devine, has been doing it for longer) and they're, naturally, very savvy about firearms (they are a firearms and related materials auctioneer only) and about auctions. Accordingly, reading their site can be very educational for a bidder. For example, this page demystifies absentee bidding and explains what bidding strategies are effective and which are not, in plain English.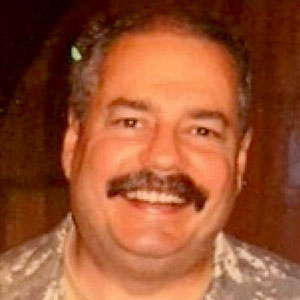 Kevin was a former Special Forces weapons man (MOS 18B, before the 18 series, 11B with Skill Qualification Indicator of S). His focus was on weapons: their history, effects and employment. He started WeaponsMan.com in 2011 and operated it until he passed away in 2017. His work is being preserved here at the request of his family.