As we write these words, the US responded to a Syrian escalation in the Syrian Civil War with a series of cruise missile strikes on a single Syrian air base.
Here is what we know:
More than 14 hours after the attack (which took place at 0440 local on Sharyat Airfield, 2040 EDT) the US has not released any BDA of the target, despite presence of real-time ISR assets in the theater. The implication is that the strike's effects were relatively inconsequential.
59 Tomahawk Land Attack Missiles (ship-launched cruise missiles) struck targets. As this is an odd number, it seems probable that there was one or more launch or guidance failures. (In case of a guidance failure, SOF may be hunting an errant missile deep in enemy territory).
Targets were, per the only Pentagon statement yet, "aircraft, hardened aircraft shelters, petroleum and logistical storage, ammunition supply bunkers, air defense systems, and radars," but…
"Russian forces were notified in advance of the strike using the established deconfliction line.  U.S. military planners took precautions to minimize risk to Russian or Syrian personnel located at the airfield." By notifying the Russians and Syrians in advance, planners ensured an ineffective strike. Aircraft are highly mobile, and it's probable that airworthy machines were scrambled to other sites.
One thing that was not struck was the Syrian chemical weapons storage facility, almost certainly because it is Russian-staffed. Syria has long stockpiled and employed chemical and biological weapons, but has no indigenous development capability and relied on the world's leading exporter of these pariah weapons, Russia, for the capability and the materials. It's quite unlikely that Assad conducted the 4 April chemical attack on civilians in Khan Sheikhoun, Syria, without Russian aid, guidance and approval. It is also possible that Russian airmen and chemical officers actually led and conducted the attack.
Since World War II, Soviet and Russian, and Soviet or Russian-sponsored regimes, have been the primary if not sole employers of prohibited chemical and biological weapons. Generally, in accordance with Soviet and Russian doctrine, they have used them to exterminate civilian populations in insurgent regions.
There have also been a number of mishaps within Russian and former Soviet territory from slipshod handling of these weapons.
The Justification
According to statements from DOD and President Trump, the attack was in response to the most recent of many Syrian chemical attacks on population centers. (See graphic). 79 people, most if not all civilians, including 20 children were killed in the attack. The US had threatened counterstrikes for chemical warfare use before, but Assad and Russia called then-President Obama's bluff, and he did nothing.
There are essentially three factions remaining in the Syrian Civil War, all of which are hostile to the United States. There is the Alawite de-facto monarchy of Bashar Assad, who inherited the country from his father and is a lifelong Russian client. His support comes from those of the elite who have not left, from ethnic and religious minorities, and from moderate Moslems. There is the ISIS faction, whose objectives and motivations are well-understood. And there are anti-Assad, anti-ISIS rebels, almost all of whom are Islamists whose differences with ISIS are more a matter of "who, whom" than policy or religion. The original moderate "Arab Spring" resistance, never numerous on the ground (but easily accessible to Western reporters via Twitter), was quickly and ruthlessly exterminated by Assad during a period of characteristic Obama dithering, which meant that by the time the US was arming rebels, they were arming al-Qaeda affiliates who are considerably worse for Syria and the world than Assad — and he's the guy who gases his own people.
The Politics
Democrats are already lining up against the strikes and the forces that carried them out; lost to memory is the Red Line of Obama days (which Democrats may have tolerated because it was always empty bluster). The Democrats have done something uncharacteristically smart for either of our blockheaded political parties, in using Massachusetts Congressman Seth Moulton, a very very rare infantry combat veteran in Congress, as their spokesman on the issue.
The Slippery Slope vs. the Ineffectual Pinprick
Moulton did say one thing that rings true:
"War doesn't get any easier than what he did last night, throwing a few Tomahawks at a foreign country," Moulton said Friday on CNN's "New Day."

"We don't really know what we're fighting for in Syria. And fundamentally, that's just not fair to our troops."
Moulton implied that boots on the ground may be required, and if so, why? His implication is that we are embarked upon a slippery slope to yet another war, and further, that he and other Copperheads Democrats will, characteristically, oppose and undermine the effort.
As far as that goes, he is probably right about the weakness of the attack. (Reuters says Syria reports six killed on the airbase; it was a bad night to be SDO). It's reminiscent of the pinprick attacks that then-President Clinton launched on Afghanistan and Sudan to drive Monica Lewinsky out of the news cycle, which wound up only encouraging Osama bin Laden and al-Qaeda.
It is extremely unlikely that it will deter despots from using their Russian-supplied weapons of mass destruction on their own or neighboring populations, and the probability is approximately zero that it will deter the Russians from continuing to produce and supply these weapons to the world's pariah regimes.
What We Don't Know
Here are a few questions that we don't know the answers to right now:
How will the Russians react? Probably in something approximately howling rage, especially if any of their nerve gas techs were whacked.
Did the missiles actually hit anything of value? We know they can't have hit anything of more value to Assad than his Russian alliance, the only thing keeping him from the fate of Qaddafi at this time. But have they disrupted any of his war-making capability? Lack of traffic from the Pentagon suggests no. Instead, they were parallel to the Clinton strikes, blowing up empty mud huts and bleachers and calling it a "terrorist camp." (Terrorist camps don't kill people. Terrorists kill people." Likewise, targeting Hardened Aircraft Shelters that don't have aircraft in them is a waste of multimillion-dollar missiles.
Is this a one-off strike (in which case Moulton may be right about ineffectual) or the start of a campaign (in which case he may be right about "quagmire," a Washington term for quagmires in a Republican administration).
What's next? That's the question nobody knows the answer to.
We do live in interesting times.
Update
World reactions are pouring in and the New York Times published this graphic of who's in favor and who isn't.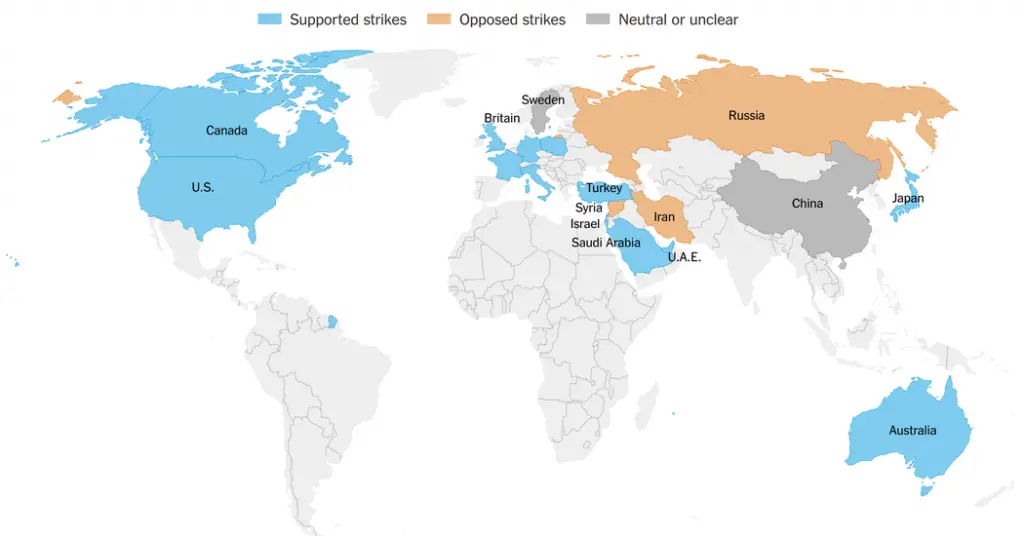 Not surprisingly, the opponents are Bashar Assad and his two allies, Putin and the ayatollahs. North Korea is probably opposed too, but this isn't the day they have Internet.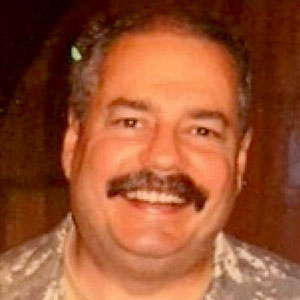 Kevin was a former Special Forces weapons man (MOS 18B, before the 18 series, 11B with Skill Qualification Indicator of S). His focus was on weapons: their history, effects and employment. He started WeaponsMan.com in 2011 and operated it until he passed away in 2017. His work is being preserved here at the request of his family.