In an entirely unexpected turn of events, ATF has reclassified completed and even so-called "80% lowers" with a fake auto sear marking as machine guns, depending on who makes them. Here's an image of one such receiver the Bureau has taken custody of and ordered destroyed.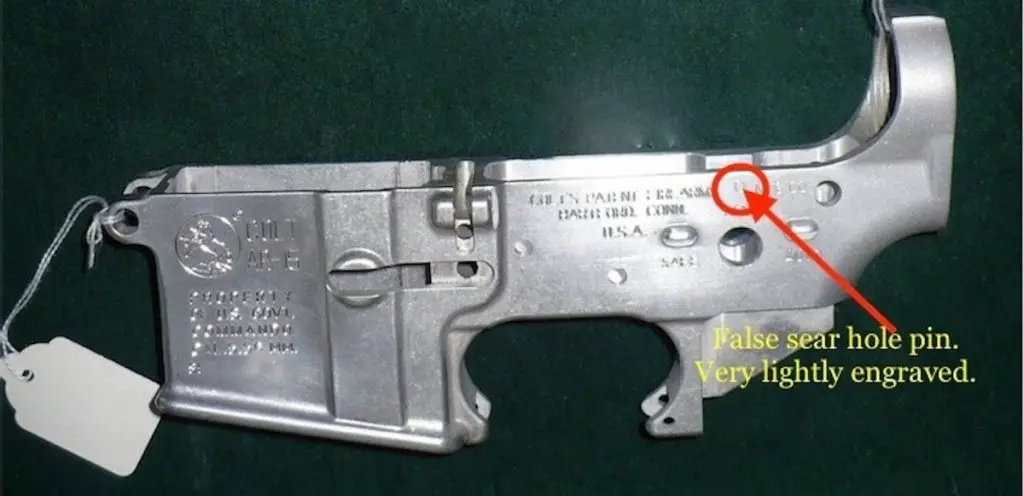 The problem is that fake sear hole. Marking such a receiver with a small, engraved ring has been one detail adopted by detail-obsessed retro builders for years. The receiver above is a typical example of this detail obsession. It began as a so-called 80% blank, and has been completed to firearm stage. But it also has been engraved with Colt markings and extensively machined to change its profile from the current reinforced lower to the M16A1 vintage shape, especially in the vicinity of the pivot pin bosses and the buffer tower. Internally, the receiver remains AR-15 semi-auto profile only, and cannot accept M16 full-automatic parts.
Under this novel, stretching interpretation, this 80% receiver blank, too, is probably a machine gun, even though it is not completed. No trigger group machining has been done, and it cannot accept machine gun (or any) trigger group parts.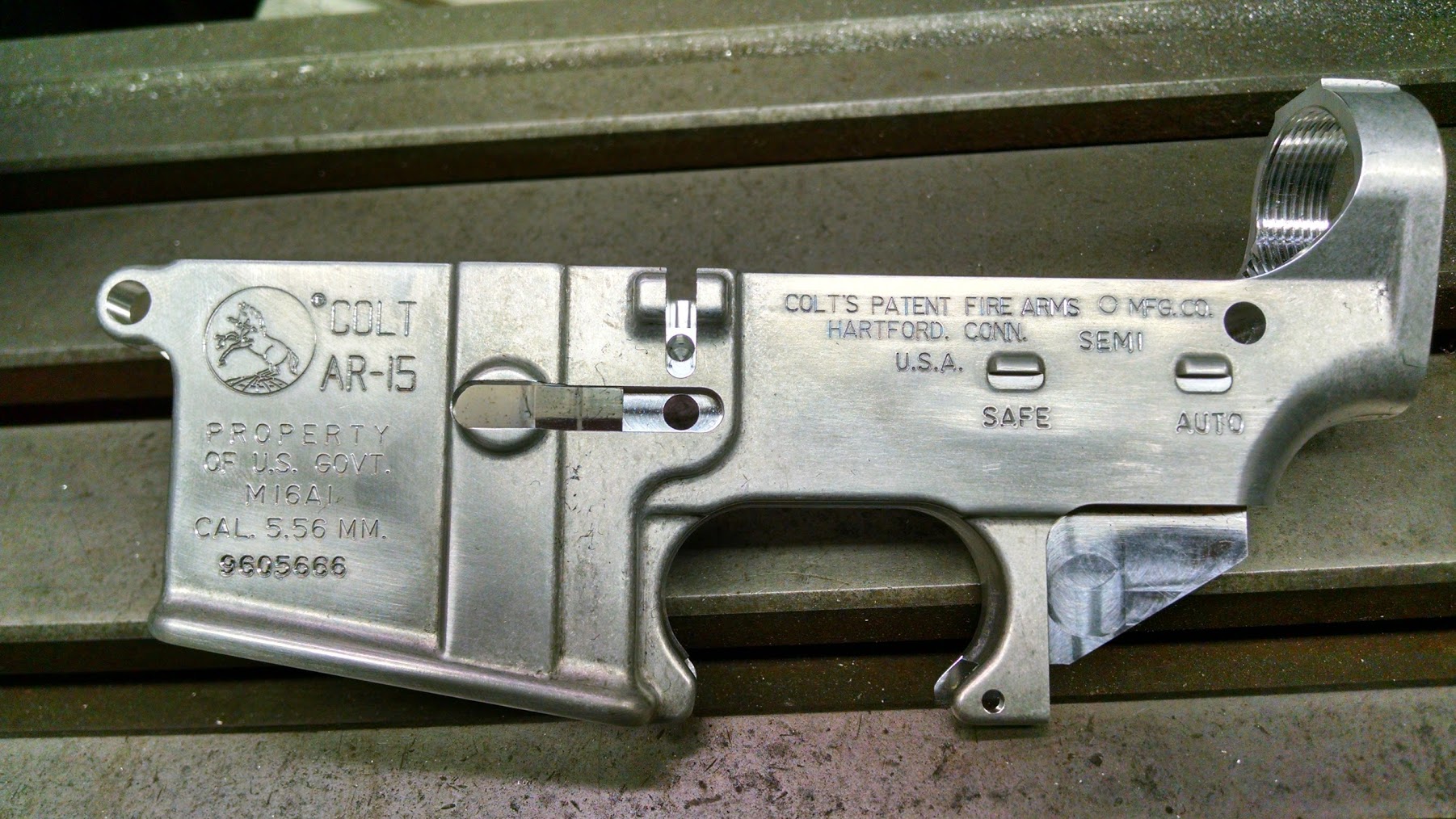 There is no consistency to these rulings, and ATF lawyers insist that every ruling applies only to the single case at hand, which must be considered de novo, and that previous rulings are not precedent or even evidence. ATF lawyers will take you to court, and will fight to keep their own agency's prior determinations out of that court.
The ATF has even given written approval to this engraving — when it's done by large licensees who can afford lawyers to haggle over ATF rulings, like Colt and Troy: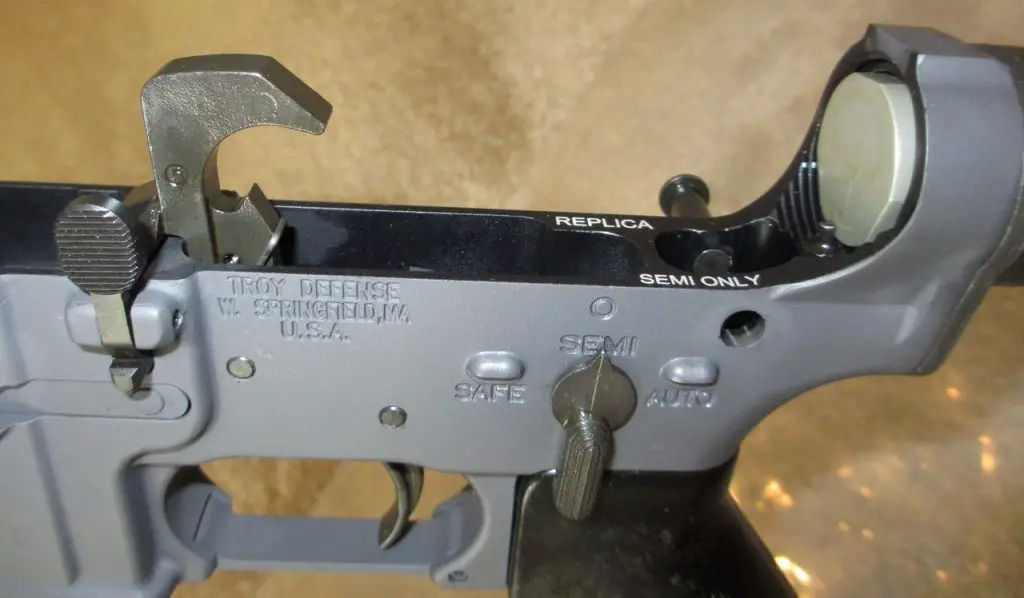 (Troy has taken hits from the market before for hiring a disgraced ATF figure, and some infer an unusually cordial relationship with ATF management. The Troy receiver also has a couple of unique features, which are discussed below).
ATF has also approved the marking in the past, in letters to individuals and licensees, when it is out of position relative to the factory location of an auto sear. But the same engraving now, and done by or for a little guy who has no practical defense against an ATF attack? Strengstens verboten. 
When the definition of an object depends not on what it is, but on who you are, is it really law we're talking about, or just power? Are we operating under a system of laws that claims derivation from the US Constitution, or under Hammurabi's Code, which provided "different spanks for different ranks"?
This whole affair began during a routine inspection of US Anodizing in Virginia. All licensees accept such inspections, during which ATF inspectors or occasionally agents examine paperwork, inventory, and overall regulation compliance. Generally these are cordial and professional, but given the weak firearms knowledge of many ATF personnel, and its politics-first pursuit of gun control enthusiast personnel, sometimes they lead to disagreements or disputes. (And some licensees screw up; nothing thrills the ATF more than the chance to hammer a licensee, the bigger the better). On this particular inspection, there was no tension and no suggestion that US Anodizing was doing anything wrong, but ATF initially set several lowers in-process aside for further review. The inspector made a tentative determination that lowers completed from so-called 80% lowers, and showing any indication of a mock auto-sear pin anywhere on the side of the trigger group, was a "machine gun" because it would be "readily convertible." That's even in the case of a firearm that would require considerable internal machining to accept MG parts.
There were relatively few receivers — more than three but not more than six — with such a marking on site, but others may have passed through in the past, given this feature's popularity with retro-heads.
The ATF actually hasn't seized the receivers in legal terms. Instead, it is holding the receivers and has demanded that the owners voluntarily surrender them to be destroyed, or face prosecution. They say that this is a generous offer that they don't have to make but are willing to do because they have determined that there was no intent to violate the law.
But, and here's the rub, they're demanding that the owners not only allow the ATF destroy the receivers, but also, that they sign a sort of Chinese-show-trial-confession letter, admitting having produced an "unregistered machine gun."
UPDATE: The following was received from the owner of the 1st receiver illustrated above:

The 1st pic is of my receiver. I am one of the 6 or so that have had my receiver seized. I must tell you that this part :

But, and here's the rub, they're demanding that the owners not only allow the ATF destroy the receivers, but also, that they sign a sort of Chinese-show-trial-confession letter, admitting having produced an "unregistered machine gun."

…is not true. I, at least , have only been given an ATF Form 3400.1. I have NOT been asked to sign anything admitting to creating anything or breaking any laws.

We stand corrected and have lined out the paragraph in question. Form 3400.1, Property Taken into Bureau Custody, is used in nonjudicial takings. It describes the property, and the person or entity from which the property was taken, but does not require or expect any admission of anything. This OIG report of some of ATF's problems (.pdf) managing seized property in the 2004-05 period shines some light on the regulation in question, ATF 3400.1B. ATF takes approximately 200,000-300,000 items a year, of which about 10,000 to 30,000 have historically been firearms.
The owner of the receiver in the first illustration above decided to sign the ATF letter and let his "machine gun" be destroyed; others, who are not in the crosshairs of the ATF like he is, have criticized him for "caving," but his choices are (1) give the ATF the Cardinal Mindszenty confession uncontested, nonjudicial surrender-of-property that they want, or (2) fight, with the possible outcomes of: (2a) a pyrrhic "victory" that would leave him a financial ruin after years of stress; or, (2b) a decade of two in Club Fed.
Of course, given the legal constraints and historically demonstrated character of the ATF as an institution, you can choose (1) and get (2a or 2b) also, if they feel like making an example of you.  Today. For something they approved for Harry yesterday and will approve for Tom tomorrow.
It is hard to fight this kind of creeping, arbitrary, whimsical regulation. Under most US regulatory law, the courts defer almost absolutely to the regulatory agency. As we understand it, and we're not lawyers, court precedents rule that the expertise on any particular regulatory area is contained within the regulating agency.
There are social and organizational dynamics at work in the current regulatory environment. Once a field agent or inspector makes such a allegation, it's the instinct of the Firearms Technology Branch to produce whatever it takes to support the ATF officer and keep him or her from losing face, even at the cost of the FTB's and the Bureau's reputation for consistency and even integrity.
ATF argues that Colt and Troy are doing something slightly different. For example, Troy's receiver has a bridge between left and right sides, and is engraved REPLICA – SEMI ONLY for those law officers not steeped in firearms design and construction. But the real underlying problem is baked into regulatory law: there's no reason that ATF can't argue the law any of several different ways in different cases at the same time.
We see this ATF power grab casting a chill over the retro movement, which is a small and relatively inconsequential. But the bureau's real target is the "80% lower" builder in general and the entire home gun building movement, which senior managers and the Chief Counsel's Office would like to criminalize. This is one of the things that senior managers such as Thomas F. Brandon, who put the ATF behind the Hillary Clinton campaign in major newspapers, was hoping to get out of the Administration they wanted. (Wanted and expected. They had initiatives ready to go).
This is a legal minefield and anyone in this position needs a professional and experienced attorney (i.e. experienced with the ATF and with Federal gun laws).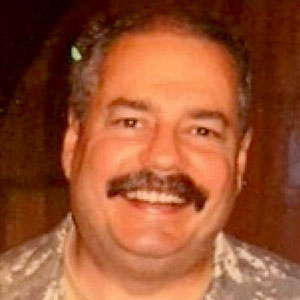 Kevin was a former Special Forces weapons man (MOS 18B, before the 18 series, 11B with Skill Qualification Indicator of S). His focus was on weapons: their history, effects and employment. He started WeaponsMan.com in 2011 and operated it until he passed away in 2017. His work is being preserved here at the request of his family.