Army veteran Nathan Haddad, who suffered a career-ending shoulder injury whilst trying to qualify for Special Forces, is facing a few other challenges. Five of them, to be precise: felony charges for possessing AR-15 magazines left over from his Army service. A politically ambitious and rabidly anti-veteran local prosecutor in New York State is pressing Haddad for a plea, threatening him with 35 years in prison for the magazines.
Ironically, one of the supposed motivators for New York's politicians to pass such draconian anti-magazine laws was the use of an AR to murder two firemen. The murderer was no novice: he'd already served one term for bashing his grandmother to death with a claw hammer. One term? About typical for a murder before the very liberal judges in New York, the guy had been sentenced to 17 years, and was such a bad actor in prison that he did every minute (this is exceedingly rare).
Yes, you have that right: it's twice as serious to possess empty magazines in the Red Queen's state of New York, as it is actually up and kill somebody. Emily Miller of the Washington Times has some details:
Since 1994, magazines over 10 rounds have been illegal. This month, Gov. Andrew Cuomo signed legislation that makes any ammunition feeding device over 7 rounds illicit in New York.

Mr. Haddad, who was medically discharged in 2010 after 12 years of service, was arrested when he was stopped by police on Jan. 6 in LeRay, NY. Through his brother Michael, Mr. Haddad declined to comment on the cause until after his Feb. 20 conference date to meet with the prosecutor and the judge.

According to Jefferson County Sheriff's office sources, Mr. Haddad was in the parking lot of a closed business at 7:30 p.m. when an officer asked him what he was doing. The police allege that the Fort Drum civilian employee said that he was meeting someone to sell the AR-15 style rifle magazines.
This is obviously much more serious than murder. What sort of selfless civil servant would make this case a priority?
Kristyna S. Mills, the chief assistant district attorney for Jefferson County, is prosecuting the case. "It's against the law to possess these types of devices," she told me in an interview Friday.  "He was arrested in accordance with possession of these devices, and it's our job to prosecute those cases that run amok of the law."
Now, that's the magazine scofflaws she's talking about. Murderers, she's got 17 years for.
We bet the murderers are real glad they didn't do something serious, like serve in the Army and have some leftover magazines.
The local paper also has some details:
Mr. Haddad was deployed four times during his decade in the Army, the Times reported in a story featuring him in September 2009. At that time, he was a staff sergeant with the 3rd Battalion, 85th Infantry, Warrior in Transition Unit at Fort Drum, undergoing aquatic physical therapy for an injury he suffered in South Korea during special forces training. He was discharged from the Army in October 2010, according to Fort Drum.
Disregard the "South Korea… special forces training…" bit, it's an error.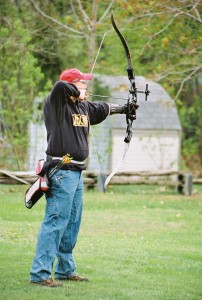 Haddad also competed in the wounded-warrior Warrior Games while on active duty (even though his injury was a training injury, he's still eligible).
Staff Sgt. Nathan Haddad is a well-traveled young man. He has completed tours in Korea, Iraq, Alaska, Arizona and New York. Most recently this Operation Iraqi Freedom Soldier's travels have focused on training for the Warrior Games.

"The Warrior Games are as close as I can get to fulfill a dream I have had since I was four," said Staff Sgt. Haddad as he checked the tension on his bow. "And, the training and exercises are similar to that of the physical therapy that I do for my injuries."

Staff Sgt. Haddad is scheduled to compete in archery (recurve open) and shooting (100M air rifle prone) at the Warrior Games. He is focused on his rigorous Warrior Games training routine. He devotes three hours daily to archery and three hours to marksmanship, usually followed by a run.
Remember, to Andrew Cuomo, Kristyna Mills, and the power elite of New York State, this guy is not only worse than a murderer, but judging from the threatened sentence, over twice as bad. 
You can do something about it here: Nathan Haddad legal defense fund.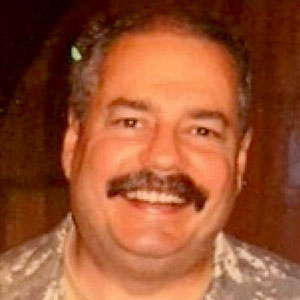 Kevin was a former Special Forces weapons man (MOS 18B, before the 18 series, 11B with Skill Qualification Indicator of S). His focus was on weapons: their history, effects and employment. He started WeaponsMan.com in 2011 and operated it until he passed away in 2017. His work is being preserved here at the request of his family.