Category Archives:
Weapons that Made their Mark
This interesting Walther P.38 up for auction is interesting both due to the quality of the listing — there are over 100 pictures with it (also available here, which may require you to accept a certificate mismatch) — and the degree to which small details drive the collector market (or try to). This particular pistol presents as an ordinary, Walther-made, 1943-production P.38.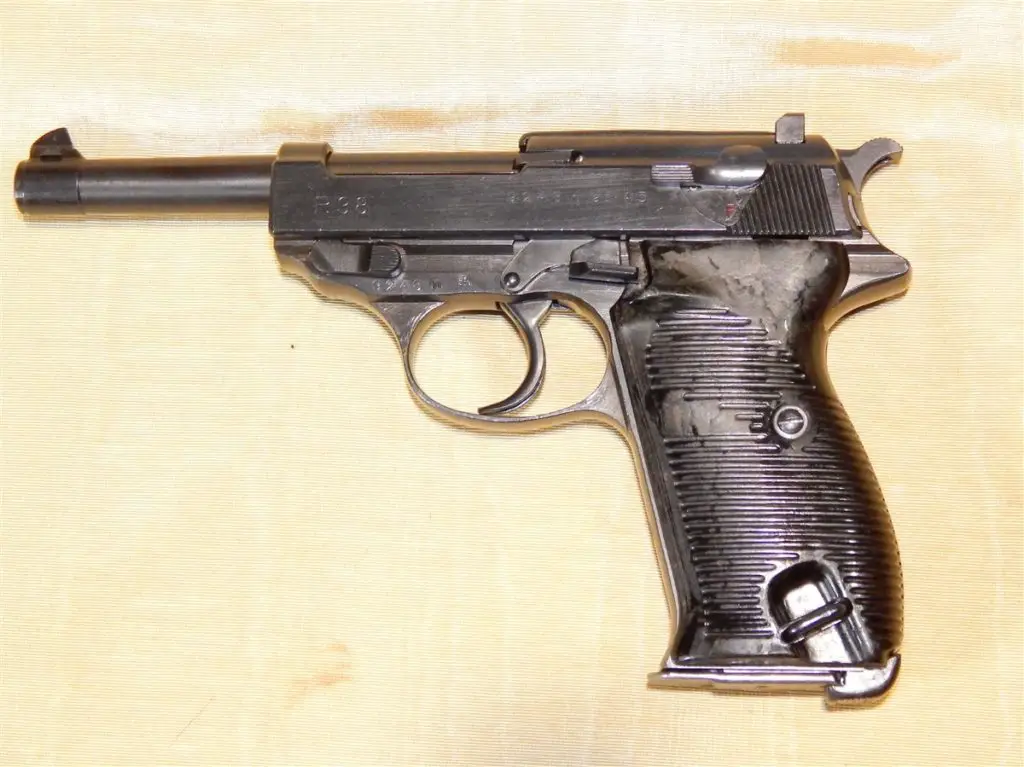 What makes it unique, and a bestower of bragging rights on the owner, is that it is the highest known pistol of Walther's 1943 production. In that year the pistols were marked, "ac 43" and serial number, and Walther serial numbers were one to four digits and a letter suffix (all running in numeric and alphabetic succession, with Teutonic precision). Previous reference sources have documented ac 43 "Third Variation" production from serial numbers 218m to 7932n. This pistol is 9248n, and records suggest it was made in December, 1943, after which month Walther transitioned to marking pistols ac 44.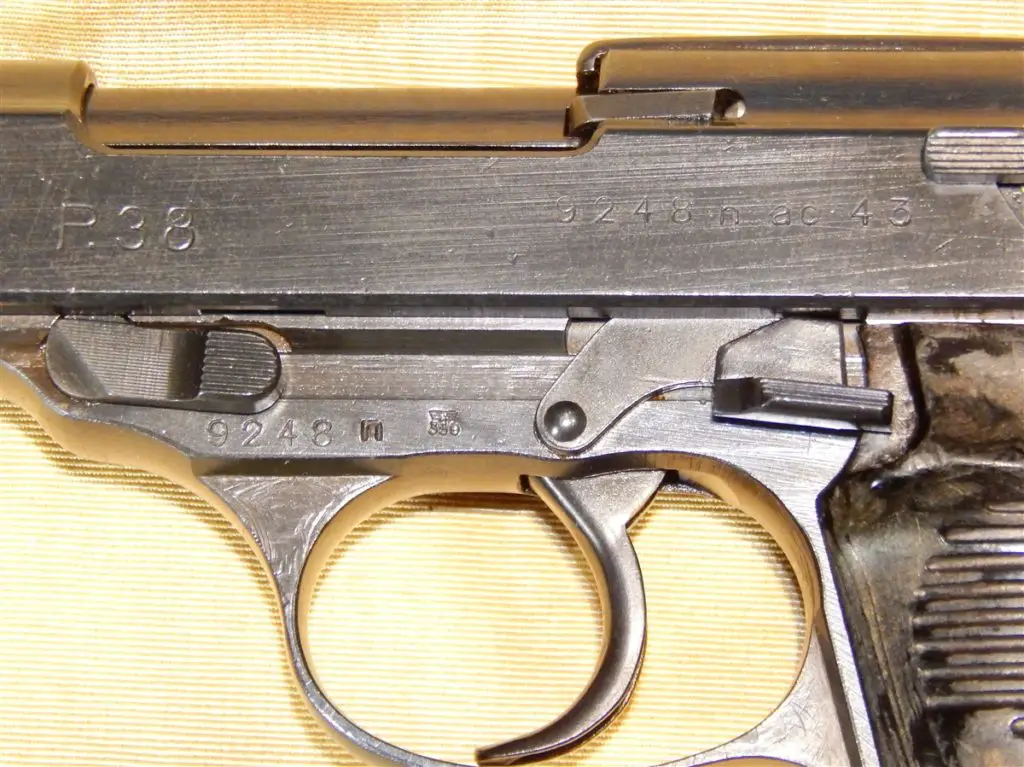 It may have been the last one made that year; it's definitely the last one to turn up so far.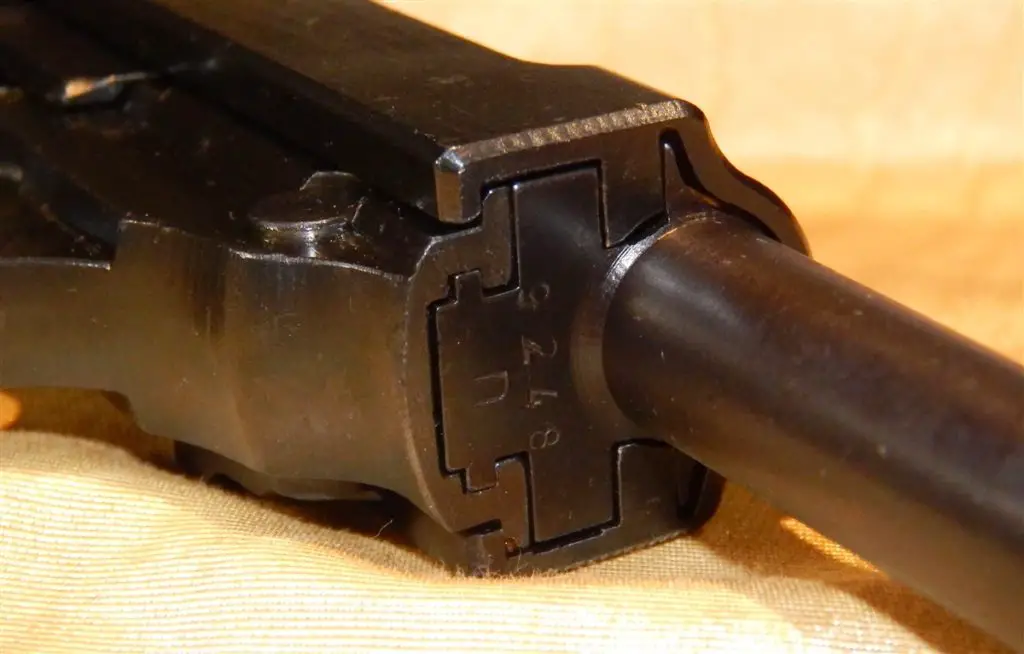 It's a nice condition, all matching example, but the buy-it-now is set at $1,700, which suggests that the reserve (unmet at press time) is also high.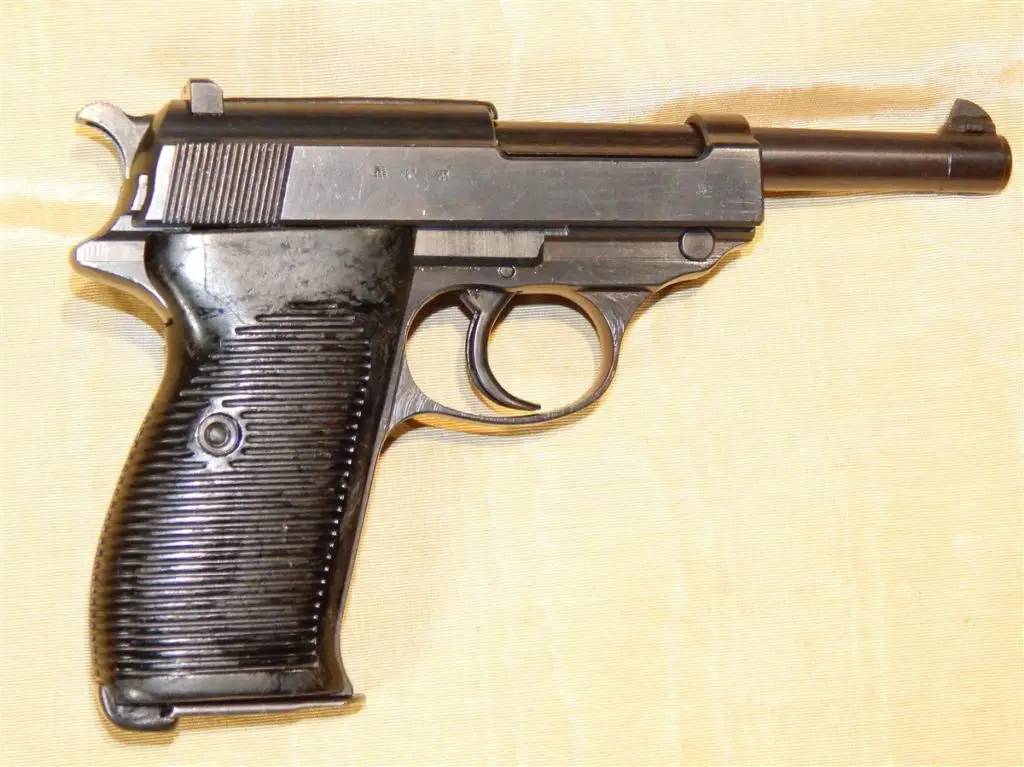 (For the record, "First Variation ac43" production ran from ac 43 1 to ac 43 8xxxg from Jan 43-Jun 43, and "Second Variation ac 43" from approximately ac 43 9000g and ends in the -l or -m range, made from June to October. Third variation was produced from about Oct 43 to Dec 43. If you were fuzzy on the three variations of 1943 Walther-built P.38s, you're not alone, but as in all things Nazi, they've been exhaustively researched. The auction says this of the differences:
The Second Variation differs from the First Variation by the following: 1) the lightening hole in the frame, located in the front of the partition between the take down lever well and trigger well, was omitted; 2) elimination of the narrow secondary extractor spring plunger relief slow on the slide; 3) the left side of the slide's cavity now included the extractor spring relief cut, which became standard on all subsequent models; and 4) increasing the thickness of the area between the trigger axel hole and the trigger guard to eliminate a weak spot in the frame.

The Third Variation ac43 P.38 differs from the Second Variation in several key respects. First, the previously used stacked code was eliminated and, in its place, the new line code was first introduced. This resulted in a new slide marking configuration: P.38 on the far left on the slide center line, the serial number, which is now just above the center line and beginning at the point of the slide parallel with the breech face, followed by the company code "ac 43." The second principal difference is that, beginning with the Third Variation, the barrel was now left with the milling marks on the outer surface. Prior to this, the barrel had been polished smooth prior to bluing. This change was undoubtedly implemented to speed production.
With what we know of industrial production, this certainly sounds like collectors are sperging out and trying to bundle normal running production changes, something that happens on every production line for everything, into sets that they call "Variations," a distinction that would have been quite meaningless to any of the production planners in Wehrmacht ordnance offices or in Walther's production-engineering spaces.
All these serial number calculations assume, of course, that Walther retired the ac 43 stamp with a ceremony on 31 Dec 43 and opened the new year stamping guns ac 44 — firearms factories don't often work with such military precision, but maybe all these Germans did. In the real world, stampings and serial numbers often get out of sequence and overlap.
This all matching gun has been bid up only to a low price for an all matching generic P.38, with a few hours to go in the auction (we think it's very likely to be relisted). But that's the sort of thing that collectors dig deep into, and one reason many people with quite a few guns don't think of themselves as capital-C Collectors.
One last note — the collection of well-lit and well-shot pictures is a good look at the internal workings of this very interesting, world's first DA/SA service pistol, if you're not already familiar with its many innovations (for its era).
Update
With three hours remaining in the auction, the bid is now $855, and the reserve price remains unmet. The $855 strikes us a low to average price for a superior condition P.38 like this (collectors also prize condition), but we are not experts in the Nazi pistol market. The question is, does the rare nature of this very-late-1943 gun justify its price?  After all, it might be the last known '43 Walther gun forever, or just until some higher number n-suffix ac 43 firearm turns up. It's a very nice high-condition wartime P.38, though, and clearly one that hasn't been buried in a bunker in Belarus for the last seventy years.
Want a Project? Here's a Half-Track that Needs Everything
Every so often, we find something at auction that cries out for just the right buyer. This early World War II halftrack is just such a case.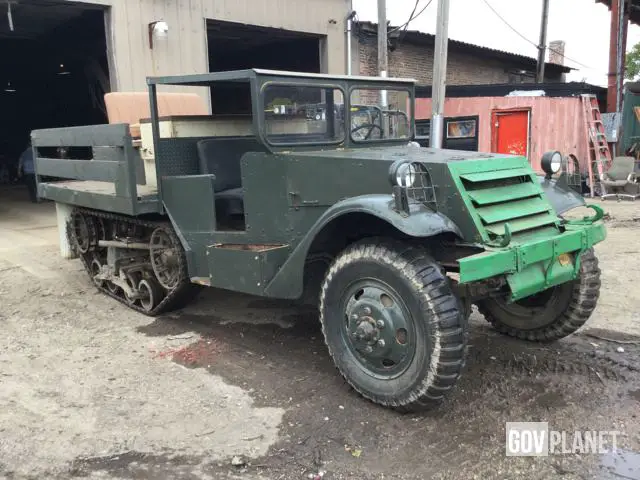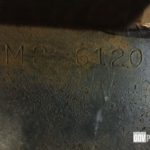 As you can see, this M2 (serial number 6120 of about 13,500 M2s made from 1940 to 1943) is lacking all its armor aft of the A pillar, plus the windshield assembly, plus all the stuff that was attached there. It does have an intact driveline that needs maintenance but does work — pretty amazing after at least 73 years.
One of the most interesting things is the original 6-cylinder flathead motor, still trucking after all these years. If you look closely right of center, you can see the "White" script trademark cast into the engine block.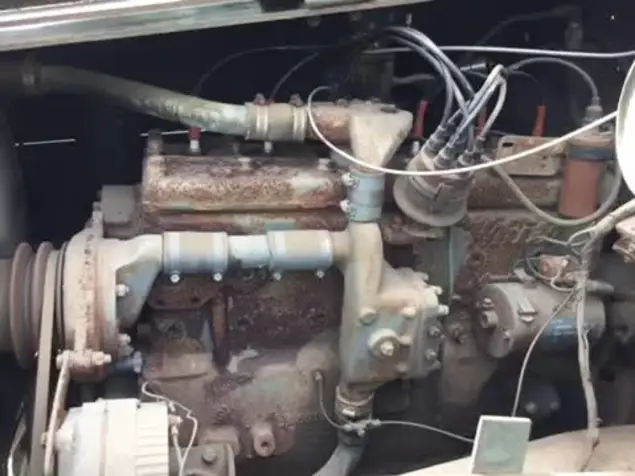 This picture shows the other side of the motor in its native habitat: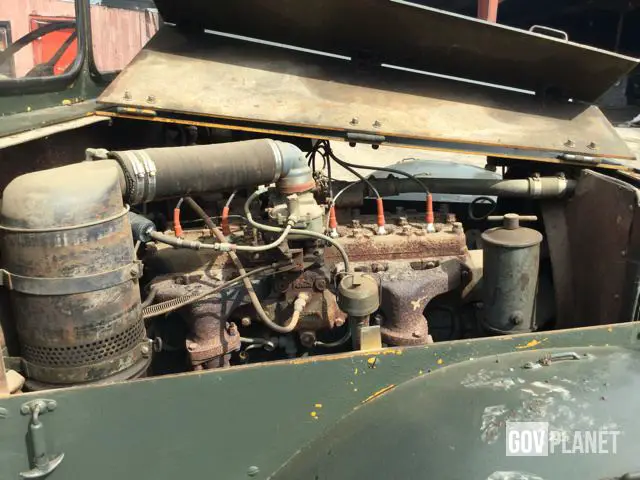 Reproduction and restoration parts for halftracks are available, but you see what we mean when we say this vehicle needs the right buyer. (Welding and riveting skills a plus!)
While the body is mostly missing (lets you pick your own variant, perhaps), the office looks pretty much untouched since GI Joe last turned it in.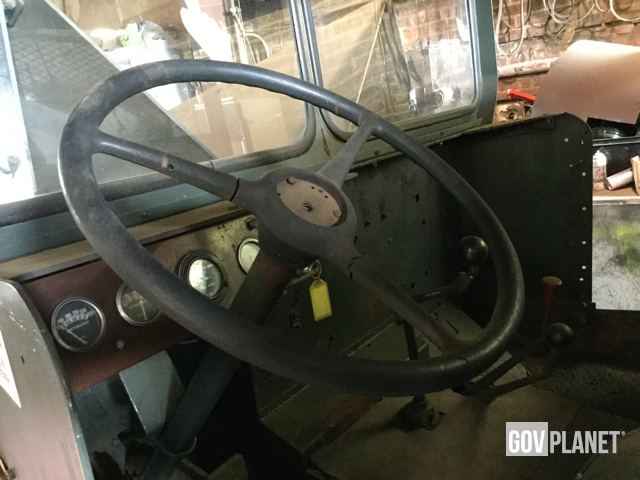 The M2 was used as an artillery tractor, mechanized MG squad bus, and reconnaissance track, whilst the more common M3 (~45k built) and less common International Harvester M5 and M9 (~11,000 built) were mostly used as infantry carriers. All variants of halftrack were made into specialized AA, field artillery / tank destroyer, and other special-purpose vehicles, and many of them were supplied to American allies both under Lend-Lease and postwar.
They soldiered on with Israel through the Yom Kippur War, and served in South America into the 21st Century. Bolivia still may operate some ex-Argentine models (or they may have run out of spares, always a problem for the poorest nation on the continent).
How this one wound up at a US Government auction this month, with a minimum bid of $7,000, is anybody's guess, but there's a hell of a story in there.
Minimum bid is $7k, and you'll have to pay a 10% kicker and Illinois state taxes, and remove it within eight days of the auction close (which is 28 September).
M2 Half Track Truck

ITEM NUMBER 766646

LOCATION

Maywood, Illinois, United States. 60153

AUCTION DATE

Sep 28, time TBD

METER READING 41 Hours

SERIAL # M2 6120

White 6 Cylinder Engine, Manual Transmission, Stake Sides, Bench Seating, Tool Box, Additional Undercarriage Components
via Surplus M2 Half Track Truck in Maywood, Illinois, United States (GovPlanet Item #766646).
It does seem to have a second flatbed-load of bogie and idler wheels and other gear, all of which look like they could use overhaul. At that link there are over 100 photos and a video of the motor running (it's image number 55 if you want to skip ahead in the gallery).
If you buy it, we'll come out to Illinois and help you load it!
Czechoslovak vz. 22 Picture Post
We recently discussed the Czechoslovak Model (vzor) 22 semi-automatic pistol, the first handgun produced by the state arsenal at Brno, and showed a couple of pictures of an example in our collection. Fine and good, but let's do like we did with the Praga of similar vintage and look in some depth at the vz. 22.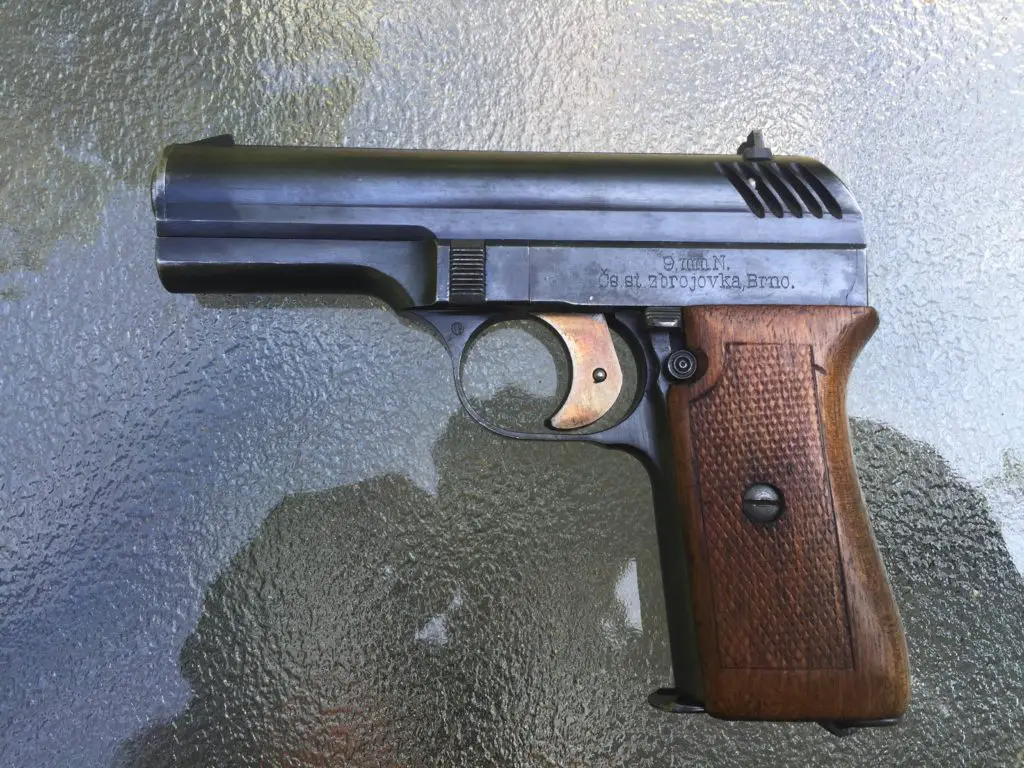 The look of this series of guns, which begins with some Mauser experimentals in 1903 and runs through many prototypes and the production M1910 and 1910/14 to the Czech vz. 22, 24 and 27 is a matter of taste; some people like them, and some think they look "blocky" and awkward. Of the series, the vz. 22 probably has the best lines.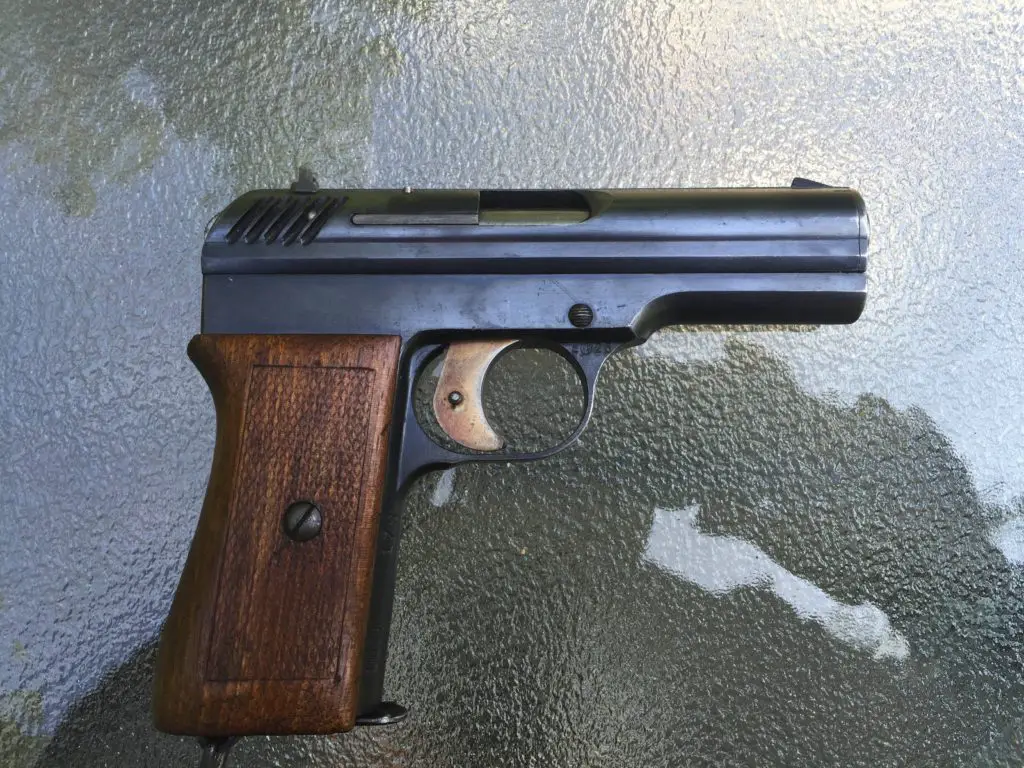 This pistol is a very good condition, late example of the type. As all were, it is chambered for the Czechoslovak Naboj vz. 22, which is functionally the Browning 9 x 17 aka .380 ACP. This particular pistol was accepted by the Czechoslovak Army in 1923, and seems to have lived a mostly indoor life. The external finish is generally smooth, deep and beautiful, as befits a gun made in an arsenal created in the image of the Mauser-Werke, but internally there are signs of extensive handwork.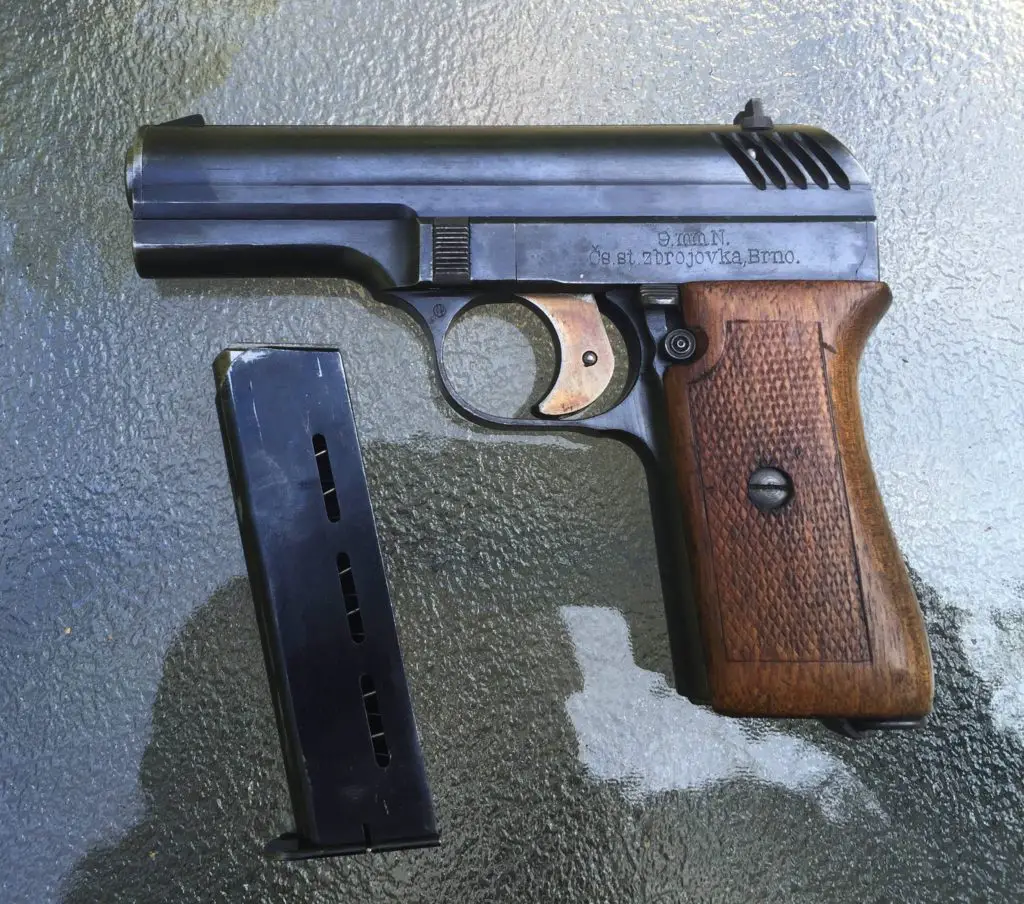 The parts all fit extremely well — too well for machine production only, circa 1920 — and all seem to be marked with full or partial serial numbers, which reminds us of the reports in the literature that these guns were hand-fitted and that the Czechoslovak authorities found the parts not to be interchangeable. (Without more vz. 22s on hand, unlikely considering what we paid Rock Island got for this one, we haven't yet confirmed that the parts are not interchangeable).
The stocks are made of walnut and have shallow checkering (this is a good first-glance discriminator between the rare vz. 22 and the merely uncommon vz. 24). The finish is deep blue with some parts finished in a heat-straw finish, as was common on Mitteleuropäische pistols of the period. As on Lugers, probably the pistol that is most familiar to collectors and uses such a straw finish on trigger, safety, etc, the straw generally fades long before the blue goes. Our impression, which is subject to change as we see more examples, is that the CZ-Strakonice factory that took the project over (for vz. 24 production) later used fire blue instead. Both are beautiful but not well-wearing finishes.
More pictures after the jump!
The First Czechoslovak Service Pistols. Nº2: the vz. 22
The first Czechoslovak service pistol, the Praga, was developed by private industry. The first Czech-developed service pistol from the national arsenals, on the other hand, wasn't really all that Czech-developed. It was designed by Josef Nickl of Mauser-Werke, and, in his honor, was often called the "N" pistol during its long and fraught development. A version very similar to the one that would become a Czech service pistol was put forward in Oberndorf in 1916 as a single-action 9mm Parabellum auto pistol.
This hand-crafted, tool-room prototype is, apart from its 9 mm chambering and size, a ringer for the Czechoslovak vz. 22 in many details, as we'll see. In 1916 and subsequently, Mauser never put his pistol into production, but they let him pitch it to the Czechoslovak military while he was helping set up a production line for Mauser 98 rifles (which would be, confusingly, the vz. 22 and vz. 24 also!). The Czechoslovak Army tested both 9mm and, at their own insistence, scaled-down 9 mm Short (.380) versions. (This development was taking place, according to Col. Dr. Milan Šada, contemporaneously with the procurement of the Praga pistol in 7.65 mm).
The initial accepted version was the vz. (vzor, model) 22 for the cartridge vz. 22 (the 9mm Browning Short or .380 ACP, for all intents and purposes), and from the very beginning, the Czechoslovak Army had trouble with it. In time, they developed an improved version as the vz. 24. That in turn was developed into a 7.65mm pistol for police and export, the straight-blowback vz. 27. (We'll use the Czech and Slovak word vzor, the official abbreviation vz., and the English word "model" interchangeably in this article. They all mean exactly the same thing and identify the model by year of adoption. Note that, unlike many nations where, say, Model 24s start appearing in 1925 or 26, Czechoslovak practice often had the guns in production before the year of adoption marked on them!)
One nice thing about Czech and Czechoslovak firearms (inherited from their Austro-Hungarian imperial masters) is that most of the firearms are dated with a proof date (civil weapons) or MOD acceptance date (military ones). Some weapons bear multiple dates, if they were (for instance) accepted by the military, and later proofed for surplus sale.
Model 24s are relatively uncommon, compared to the Model 27 which the Germans kept in high production after the occupation, but the Model 22 is more uncommon yet. Production numbers are estimated at: vz, 27 (and German Pistole Mod. 27), 590,000 (all but about 30,000 of them under the Nazis); vz. 24, 190,000 from 1923-37, possibly -39; vz. 22, about 19,000.
Several common strains in Nickl's Mauser designs were united in this firearm: a single-action auto pistol with a breech locked by rotating barrel, like an Obregon or some Steyr pistols; and the unusual safety arrangement from the Mauser Model 1910, 1914 and (later) 1934 "pocket" pistols in 6.35 and 7.65mm. The safety has two buttons: One is activated with a sweep of the thumb to put the weapon on safe; the other instantly releases it with a press. Described like that, it sounds awkward, but is quickly learned and intuitive to use.
The overall size, shape and form of the vz. 22 and later CZ 24 and 27 pistols is very reminiscent of the 7.65mm Mausers, also. The side plate is similar. The frame rails are similar; the slide is similarly offset to the right, from the shooter's perspective (although the barrel is centered on the frame), which is a peculiarity of the Mausers as well. The grips are similar.
Where the Nickl pistol departs from the earlier Mausers (in which the relative contributions of Nickl, the Feederle brothers, and other Mauser engineers are not entirely clear) is that the Mausers are striker-fired, and the CZs are hammer guns.
Prototypes of the Pistole N (for Nickl) were made in 9×19 mm as well as 9×17. The Czechoslovaks preferred the smaller cartridge (also adopted by other European nations, including but not limited to Italy and Hungary) and that was adopted as Naboj vz. 22. 
The vz. 22 was manufactured at the Czechoslovak State Arsenal, Brno, and it is a rare Czech pistol to bear Brno markings on its slide. (Production of subsequent models would take place in a satellite factory in Strakonice, and after 1936 in Uhersky Brod, and many later pistols, regardless of where they were made, would be marked as if they had been produced in Prague, the corporate seat).
Changes from the Model 22 to the Model 24 were aimed at increasing reliability, increasing interchangeability of parts, and increasing production speed and lowering production costs. The Czechoslovak Army was bedeviled with reliability issues, and the extensive hand-fitting that makes them fit together beautifully makes them hard to replace parts in.
As mentioned above, the Model 22 is a rare pistol that is actually marked as having been made in Brno. Interwar Czechoslovak leaders had a touching faith in the power of central planning, and tried to run their arms industry on such a basis, reorganizing it several times during the short life of the Republic. They decided that Zbrojovjka Brno specialize in rifles (and, when it picked up Vaclav Holek's MG design from Praga, light MGs); pistols would be made by Česká Zbrojovka's factory in Strakonice (although they would often be marked "Praha" or Prague, the locaction of ČZ HQ), and over the years other plants would specialize in other weapons. After World War II some pistols would be marked with ZB trademarks (notably the ex-Dušek Duo pistol, the "Aut. Pistole 'Z'," but none of them would actually be made by Zbrojovka Brno.
The vz. 22 wasn't the greatest pistol ever, but it was an important building block in the nascent Czech arms industry. Survivors, fairly plentiful, are prized today. It's interesting to speculate what its position in auto pistol history might have been, had it been produced as Nickl originally intended, in the 9×19 mm service cartridge.
Sources:
(to be added).
Wanna Get Your Crank On? With a Gat? (ling?)
Sure, there's always a couple of vendors trying to sell Colt's new-edition 1875, 1877 or 1878 Gatling Guns for prices around $50-60k. (There were eleven of them on GunBroker when we put this story to bed last night). What about those of you who jones for a Gatling, but can't afford the price of a luxo car or SUV for it, or can't get a decent trade for your first-born child?
Fear not, the cheapskate New Englanders at WeaponsMan.com have your back. Mission: save you money on a Wild West icon, so you can go bankrupt buying blackpowder or Cowboy Action rounds and getting your crank on.
Fun fact about Gatlings: they had been so well employed by one American officer that the US Army's machine gunners — who were, mostly, under his sway — clung to the Gatling into the 20th Century, long after the armies of Europe and the modern armies of Asia had chosen automatic machine guns.
Item 1: Museum Quality Gatling Gun w Carriage 45LC Mag
Price: Buy it now for $18k, or make an bid on the penny auction — against the unknown reserve. No bids yet.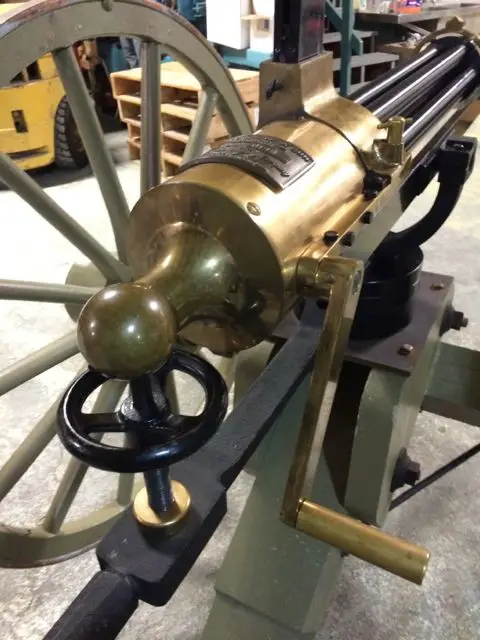 Great looking Gat(ling).
Seller's been trying to unload this gat since 2015, at least on GunBroker and at the Portland, OR gun show. Initially he wanted $30k, then $25, and now he's down to $18k. Ground shipping to your FFL (it's a Title 1 firearm) is $600.
$18k too high? Let's move on.
Item 2: Replica Gatling Gun in 45 Black Powder
Price: No Reserve sale with minimum bid of $10k, or actually $5 under that number. No bids yet.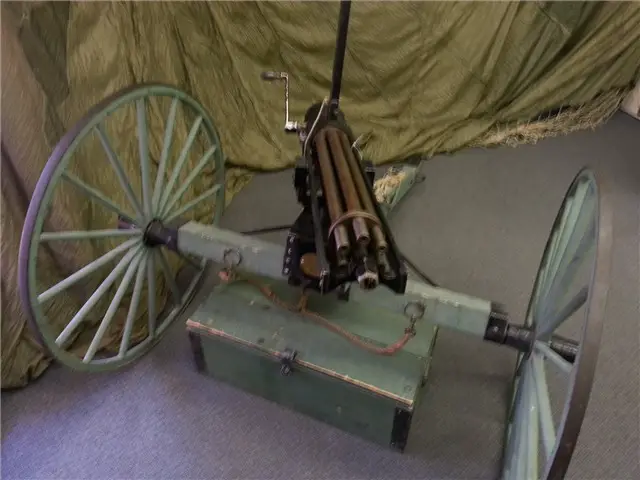 This one's not as impressive as the $18k gun; it has a homemade-y look. But it's $10k plus actual shipping from a gun shop in Tucson. The seller says:
Up for auction is a Modern Replica of a Gatling Gun, built in the 1980's by a machinist who was also a civil war re-enactor.

6 barrels. Working Black Powder Gatling Gun, designed to fire cap and ball blanks only but barrels are .45 caliber and rifled.

Perfect for Recreations, Movies or Stage Prop. The gun has been a fixture in the shop for years and gets a lot of attention but it is time for us to change some of our decor so it is reluctantly for sale.
Item 3: GATLING GUN FULLY- FUNCTIONAL LIVE-FIRE 45 L.C.
Price: No Reserve sale with minimum bid of $7k, or actually $5 under that number. No bids yet.
While this is the price leader of the authentic(ish) Gatlings, it seems to be a high-quality piece with a lot of brass. The seller complicated his sale by not taking a single good picture of the whole Gatling, but there are some character-rich detail shots. The business end:
And here's the rear half, left side: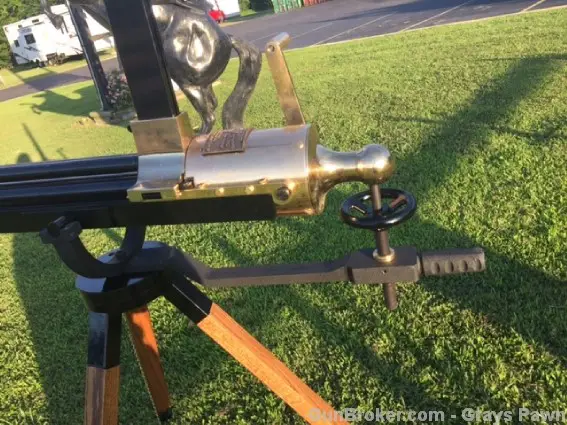 The rear half, right side: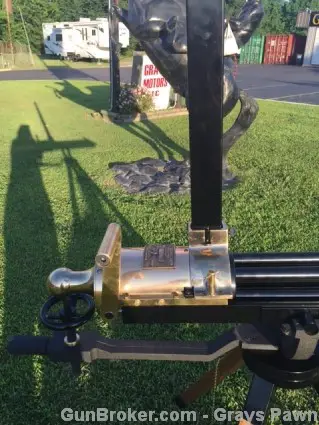 And the forward: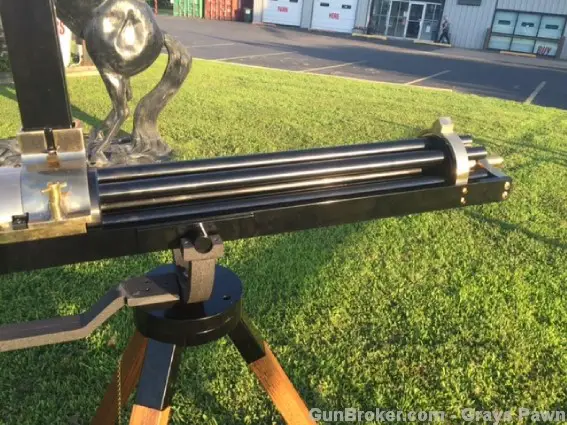 Sure, it's not for everybody. Some guys will complain about its lack of Picatinny rails and others will turn it down because there is no place to mount a bayonet. The magazine capacity probably makes it illegal in Massachusetts, Colorado, California, and North Korea.
But it would be worth the price of the ammo (and the target frames) to crank this puppy up from time to time… maybe on the anniversary of the Little Big Horn.
But there you go — three options for less than the somewhat stiff cost of entry to the Colt Repro Gatling Club. Just the thing for getting your crank on.
And on the other hand, if you feel diffident about saving money on a 19th Century classic firearm, there are eleven Colt replicas available for up to $60k.
But if you feel diffident about saving money on anything under the sun, we don't know what you are but you are not a cheapskate New Englander.
Wednesday Weapons Website of the Week: Soviet Armorer
We won't go deep into the weeds on what you can find here. Notes of a Soviet Armorer is an occasionally-updated (last in March) detailed review of aspects of historical Soviet weapons, especially the weapons of the Great Patriotic War. He takes information from Soviet-era archival sources, and Russian-language firearms forums, and posts rare but in-depth examinations of Soviet small arms questions.
We could go into greater depth, but we'll just refer you to his post on Tokarev SVT sniper rifles, which includes serial number lists and production counts. Most "SVT snipers" in the USA or here in the West in general are fakes and forgeries, so it's worthwhile to see what Russian sources say about these rare firearms. (The rifle and scope are relatively common. The mount? Vast majority out there are fake). He also has a post with entire photo galleries of real period photos of snipers armed with these elegant sniper rifles.
If that's not enough for you, here's a comprehensive examination of Soviet-era ammo pouches as used with the SVT and Mosin-Nagant rifles.
Good stuff. If you collect Russian stuff, maybe priceless.
Why Were Little Cartridges Ever Good Enough?
Today the defensive caliber argument seems to have devolved into two warring camps: those who like a small .380 or 9mm, and those who sniff at anything whose Imperial measurement does not begin at .4. So the older pocket pistols of the 20th Century, and even the police revolvers and some military pistols of the early 20th, seem inexplicable to a modern shooter.
Sure, they're small, but so is a Seecamp .380 or a Micro Desert Eagle (both of which, completely off topic, have Czech antecedents. We'll get back on topic, now). And the standing joke, which we believe may have originated with .45 aficionado and 10mm impresario Jeff Cooper, is, "Never shoot a man with a .32. It might make him angry, and then he'll want to fight."
Yet, who ever thought it was okay for cops to walk the mean streets of New York and Chicago with a .32 Police Positive, Official Police, or M&P? Why did European cops cling to the .32 ACP well into the 1980s? Why did the Wehrmacht, of all things, reopen a conscientious objector's closed factory so that his product, a tiny .25, could be produced — 117,000 of them — for sale to German officials?
More generally, why were micro .25s and compact .32s made and sold in the tens of millions worldwide?
First, the small size of these firearms (and their ammunition) is not just a disadvantage. Ninety-nine percent of the time, it is a boon: you carry a gun a lot more than you shoot it. In this nation of 330 million citizens and probably 3 million legitimately armed law officers and everyday concealed carriers, there are almost certainly under 300 police officers and Federal Agents who have fired their guns at suspects in more than one situation. (There wouldn't be that many, if not for the emergence of tactical teams). The civilian who's been involved in two defensive shootings is rare enough that we can't think of an example — maybe you can.
Second, a small gun encourages carry. A gun that's small and light inclines you to include it in your pocket litter or slip its holster onto your belt or waistband. Remember the first rule of gunfights: bring a gun. A small gun is, ceteris paribus, more likely to "get brung" than a big hogleg.
Third, for ex officio gun carriers, if not constrained by regulations, any gun will do. That's why the Germans wanted all those .25s and .32s. Most cops were never going to shoot anybody, but the pistol in its flap holster was a mark of authority, like the badge. While that's true for the National Railway Police riding the trains under Hitler, it's also true for the large amount of American and worldwide cops who have a house-mouse assignment or are promoted to management rank.
Likewise, an officer of the vaunted German General Staff was supposed to have a pistol, but he had no serious plans to go down guns blazing like a Karl May hero, in front of a Red Army assault. The gun was a badge of office. It's possible more officers killed themselves with their small pistols than killed a Russian, Brit or American enemy.
Fourth, there was historical precedent for small guns. As far back as a before the Civil War, Colt made its revolvers available in small and large caliber (.36 and .45). Others made .32s at this time. When Colt came out with its cartridge .32 in the 1890s, it had actually made a small, spur-trigger .22 some 20 years before that. Some people wanted a big gun, some wanted to trade off that gun's advantages for the advantages of a small gun, and the market responded.
Fifth, the small guns were thought adequate at the time. The advent of the much more powerful smokeless powders in the late 19th Century made it possible to pack more power into a smaller gun. The NYPD did not adopt the Colt .32 at the behest of some berk ignorant of guns: Commissioner Theodore Roosevelt, a lifelong gun enthusiast, drove the 1896 adoption of the New Police, a longer-barreled and square-butt version of the 1893 New Pocket revolver chambered for the .32 Colt. (Later, an improved version became the .32 Police Positive, chambered for the slightly less awful .32 S&W Long, which Colt called ".32 Police" because they wouldn't say the two initials of their despised competitor upriver).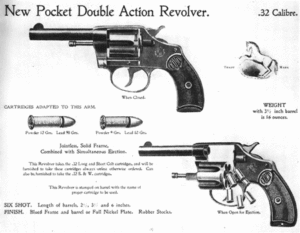 Why was a .32 adequate in 1896 but not by 1996? Certainly there have been many improvements in firearms since those beautiful little Colts left Hartford 120 years ago. Some of it may just be that more powerful handguns are available.
But another possibility is that human beings have changed. Anyone who has observed collections, for instance, of WWII uniforms notes that, compared to modern soldiers, midcentury guys were small. They were shorter and much leaner. Statistics bear this out.
The Union Army in the Civil War:
The average height of the Federal soldier was put at 5 feet, 8¼ inches.  …  Incomplete records indicate the average weight was 143¼ pounds.
That's definitely a lot leaner (and a little shorter) than today's median GI.
And here's a table showing the gradual but real growth of the American soldier to 1984. (The Civil War numbers here are better supported than those in the link above). We submit that this growth has accelerated since (and note the small n of the 1984 study suggests it may produce a less reliable mean than the earlier ones). Also, the Civil War measurements were taken clothed, WWI and up naked, so the differences were probably greater. Source.
Table 3-1Comparison of Some Anthropometric Characteristics of Male Soldiers in 1864, 1919, 1946, and 1984
Year of Study (n)*
Anthropometric Characteristic
1864 (23,624)
1919 (99,449)
1946 (85,000)
1984 (869)
Height (inches)
67.2
67.7
68.4
68.6
Weight (pounds)
141.4
144.9
154.8
166.8
Age (years)
25.7
24.9
24.3
26.3
Neck girth (inches)
13.6
14.2
14.5
14.5
Chest girth (inches)
34.5
34.9
36.4†
35.5
Waist girth (inches)
31.5
31.4‡
31.3‡
32.7
Estimated body fat (percent)
16.9
15.7
14.4
17.3
Fat-free mass (pounds)
117
122
133
138
Source: Table 3-1 at https://www.ncbi.nlm.nih.gov/books/NBK235960/
As you see, not only the overall mass of the soldier had increased by over 25 lbs, but also, over 20 of that was fat-free mass — presumably, stronger bones and thicker muscle. A 15% or more increase in musculature on the average young man makes him harder to stop and to kill, once again all other things being equal. Scientists ascribe this in part to improved nutrition as civilization's benefits came to include refrigeration, rail transport and industrial-scale farming.
The people police may engage with, criminals, are also likely to be obese, unlike soldiers.
In Conclusion
In the last 120 years, more powerful cartridges (and more of them) have been a trend in pistols. We identify several possible reasons for this trend. But when you break it down, they basically fall into two categories:
More powerful pistols are possible now, given technology's advances in powder chemistry, metallurgy, etc.
More powerful pistols are necessary now, given the increased robustness of the mean and median human target.
In addition, there's a third factor that may outweigh these two practicalities: fashion. We won't raise it with reference to the present time — we'll just point out that Roosevelt's adoption of the .32 New Police for his New York coppers in 1896 set off a preference cascade that led many big cities to .32 Colt and Smith & Wesson revolvers within 10-20 years.
No sooner had the .32s graced police holsters than clamor for more powerful cartridges would set in. This led to a step up to .38, until S&W were finally convinced they had put the police firepower issue to rest for all time with the new .38 S&W Special cartridge.
But that's another story.
Here's a 1942 British Pathé Newsreel clip on the Owen Machine Carbine in testing:
And if you need more information, a thorough Owen source document was distributed to libraries (we think, in Australia) but the post of its contents at Machine Gun Boards stands as an excellent bibliography and list of what we suppose ought to be called Owenalia.
http://www.machinegunboards.com/forums/index.php?showtopic=12765
Roland might have been a warrior from the land of the midnight sun who carried a Thompson into musical memory, but the Owen gave its name to one of the most interesting fictional characters of the new century. For that alone, we's love the beast, but it has a lot of other qualities that inspire affection, too.
Here's a Guy's UZI SBR Build in Progress
An Uzi build is one of the easier ones you can do, thanks to the gun's simplicity. This builder lucked into a bag-o-parts containing an already-modified semi-auto bolt and striker assembly. He chose to build a carbine and then submit for registration as a Short Barreled Rifle. He described his build on Imgur and in Reddit.
I found a seller with a Ziploc bag containing an Uzi parts kit with all the semi-auto components (sear, top cover, bolt assembly + buffer) needed for a complete semi-auto build for just $300. After verifying that I'd only need a receiver and barrel to complete it, I couldn't resist buying it.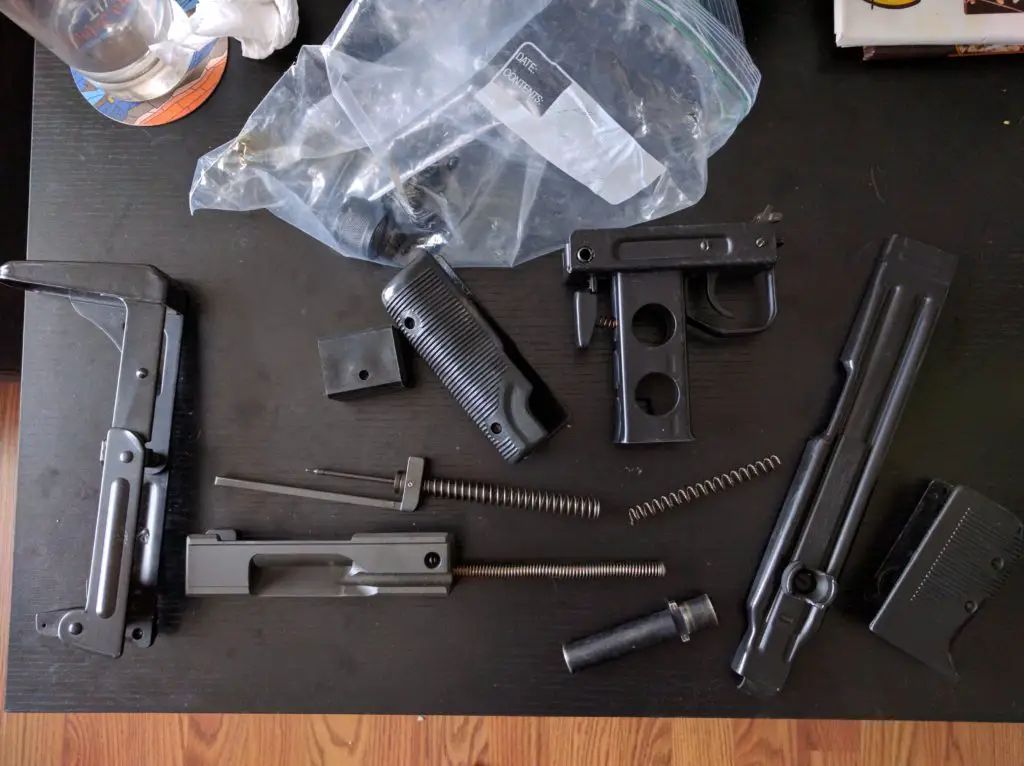 He chose to use an already assembled, Title 1 semi receiver from McKay Enterprises ($239). McKay also sells flats, non-FFL bent but not welded receiver shells, long barrels and other Uzi parts. With the supply of parts kits drying up, they may be tapering off this business.
With only a barrel and receiver to add, he was able to quickly build the gun up. An Uzi is a really simple, blowback operated, low-parts-count weapon even with the added complexity of the semi system.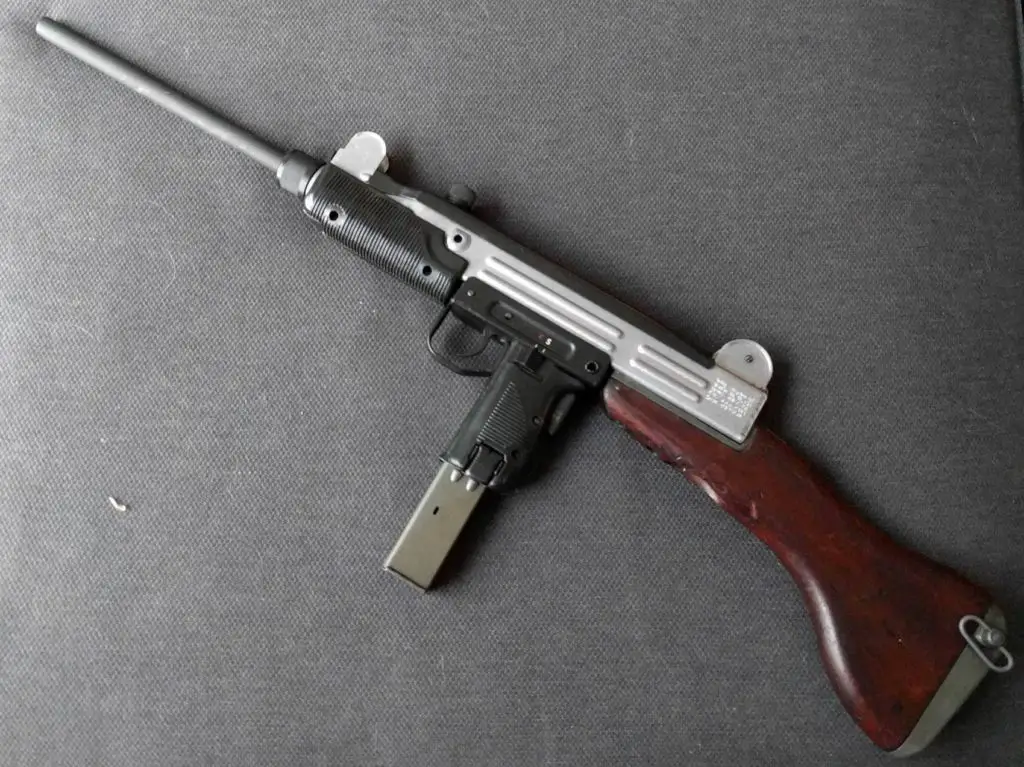 It worked right out of the box, a testament to the simplicity of the design and the quality of the McKay receiver. He then finished the in-the-white receiver with Alumahyde, and redid the stock.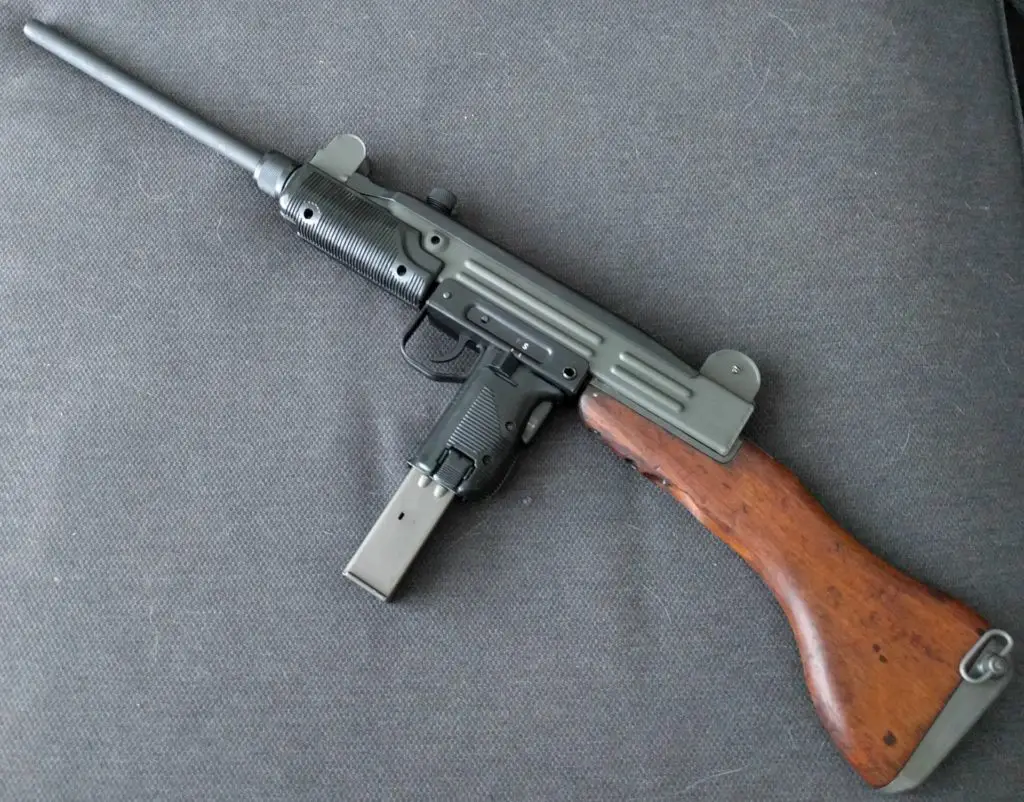 IMI Uzis may have been blued — he says his was — but FN Uzis we've handled were semi- or glossy paint over parkerizing.
On the factory Uzi, the wood stock is detachable This is not legal on a 16″ barreled Title 1 Uzi in the USA, because with the stock removed the whole thing is under 26″, making it an unregistered SBR. Therefore, he permanently fashioned the stock. (The semi version can't be fired without the stock, but the law is the law).
With the alternative folding stock, the carbine with 16″ barrel just breaks 26″ and is Title 1 legal. Here it is with a dummy barrel in it, showing what it'll look like when his SBR application comes back.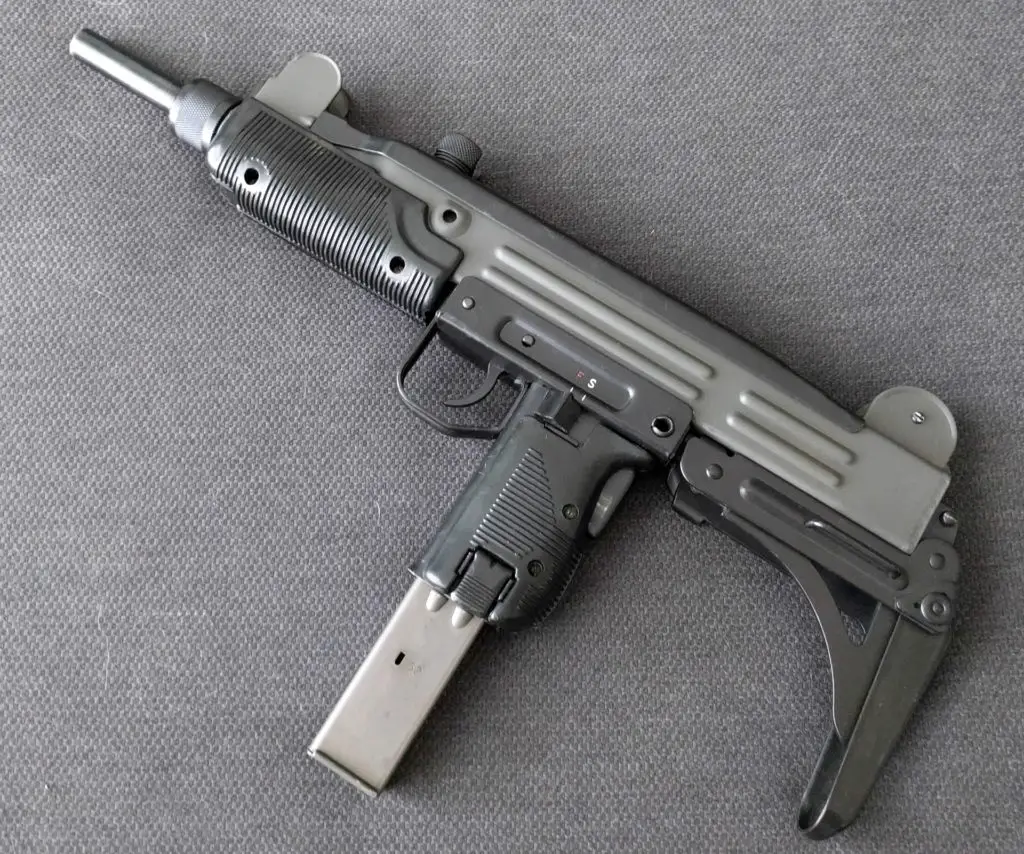 The detachable wood stock was used on early Uzis, but by the time of the Six Day War, the folder was more common.
He's got, assuming he buys a short barrel and doesn't turn down his 16-incher, about a grand into the firearm. That's because he got lucky on the parts kit including the semi parts.
A 9mm carbine like this has no real tactical place or purpose any more, but it's a great range toy, evocative of the submachine gun era. And the Uzi is great for a first build or first-but-AR build. You need no special tools, just the skills to assemble the parts.
Retro American Service Rifles, Part 2: M16A1 from the Great State of Texas
Mostly, retro black rifles have been the province of individual builders and small gunsmiths. In the last year, Troy and Colt have gotten into the game with their respective carbines (Colt's isn't cataloged yet, but they've showed it; Troy sells GAU-5 and XM177E2 clones). But a company in Texas is offering something different from the CAR-15 variants that Troy is selling and Colt has promised (but not yet cataloged): M16A1 rifle clones.
Built with original M16A1 parts on a Brownell's M16A1 lower (something that Nodak Spud OEMs for Brownell's), the firearms match the profile and details of the iconic Vietnam-era rifle.
Say hello to My Little Friend:
Yep, that's a semi M16A1 with a (very real) M203, available in several states of NFA-ness (registered Destructive Device (DD), parts to register yourself on a Form 1, unregistered non-DD 37mm launcher or dummy). We believe the 203 is an LMT.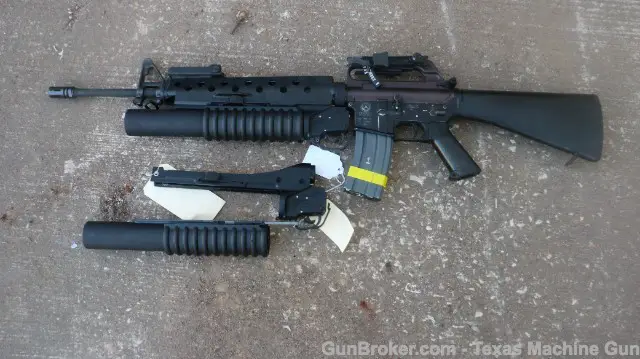 Here's the Tony Montana view: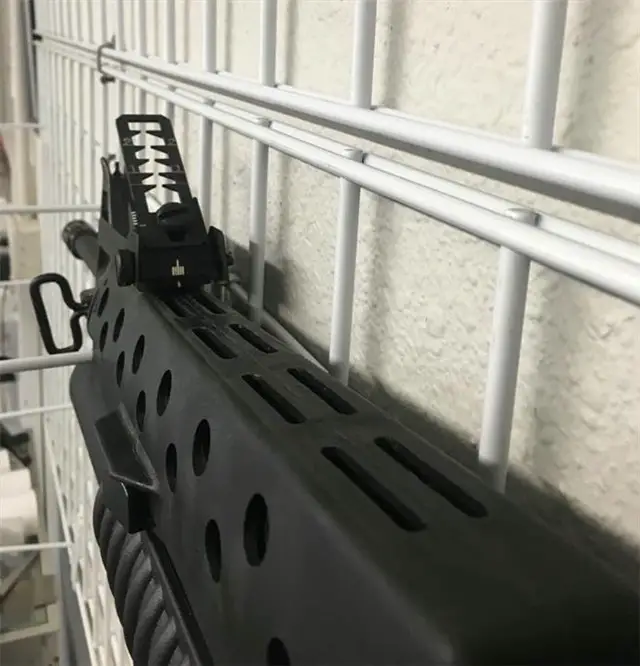 They are asking a rather mainstream $3,300 for the DD version. Sure, you could build it for less if you took your time and scrounged parts. But not for a whole lot less.
Texas Machine Gun & Ordnance is working to launch a full line of clones, plus other fun stuff (like flamethrowers).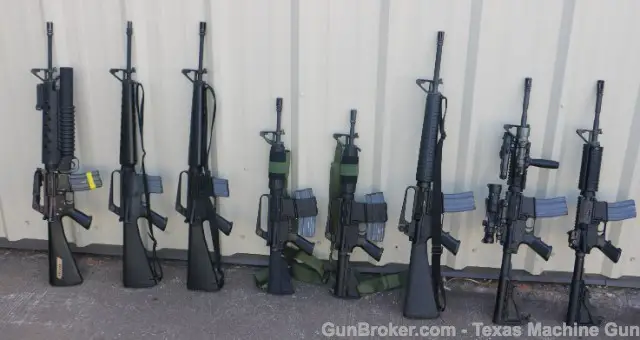 Their website is currently an early-days work in progress. But they have several auctions on GunBroker. Among them is an upper modeling the short Colt carbines from the classic caper movie Heat, a non-NFA "XM177" tribute (which uses a later barrel, the wrong diameter at the front sight base, unfortunately), an IDF Clone, and an "M4 GWOT Home Starter Kit" that shows they have a sense of humor (emphasis ours):
Texas Machine Gun & Ordnance "GWOT Home Starter Kit". This is as close to the off-the-rack, sign the DA2062, M4 many of us were issued in the Global War on Terror. The rifle has a complete kit of Knights Armament rails, MaTech BUIS, and engraving to match an M4. The barrel is a 14.5 pin & welded extended A2 flash-hider, to make it non-NFA. For maximum authenticity, the package also includes a crisp, refreshing can of Rip-It energy drink, reflective belt to ward off all dangers, USGI 30rd magazine, and case. All items are new, except the BUIS, which shows some handling wear.
We laugh now. In 2116 collectors will be haggling over genuine reflective belts. (But will they be haggling in Arabic, or Mandarin?).
Here are a couple examples of their base M16A1 clone, priced at $1,225 plus $50 shipping to your FFL:
Their description:
This is one of Texas Machine Gun & Ordnance's new retro rifle line, that's a SEMI-AUTO ONLY M16A1 replica (it's not a machine-gun). It is available with either a grey A1 style lower, or a black one that is engraved to match a USGI M16A1. It is also available with your choice of a duckbill, 3 prong, or M16A1 flash-hider. Stocks are used by in excellent condition, and all internal parts are brand new, with Sons of Liberty Gunworks' BCGs. Gun comes with one 20rd magazine, sling, and case.
Here's the receiver, showing the Brownell's lower with TXMGO's added crest and engraving.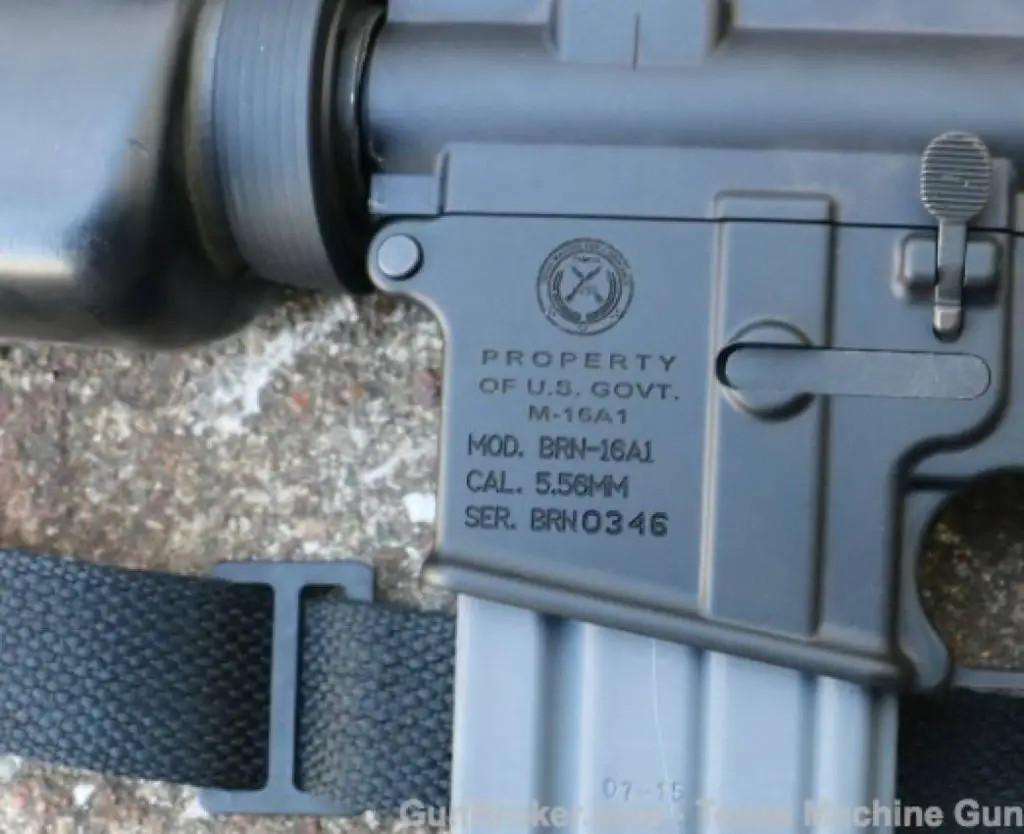 For those of you still in the clone market, here's a viable alternative to build-it-yourself and local armorer builds.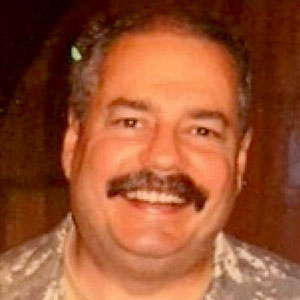 Kevin was a former Special Forces weapons man (MOS 18B, before the 18 series, 11B with Skill Qualification Indicator of S). His focus was on weapons: their history, effects and employment. He started WeaponsMan.com in 2011 and operated it until he passed away in 2017. His work is being preserved here at the request of his family.