We had a birthday in the family recently, and gave some thought to presenting one of these to a 16 year old. They're all WWII vintage AT guns, and most of them are live. We've listed them based on asking price, from most expensive to most economical (for some values of the word "economical.")
#1: M-1 57mm Anti-Tank Rifle 1943 Carriage Buy it Now: $65K
The American 57mm AT gun served throughout World War II, and was the main AT gun used in the peak years of the war. Effective against Japanese armor, it struggled to be relevant in Europe against better-armed and more-mobile German tanks. The US could, however, field a lot of them, and at close range they could make life miserable (if short) for Panzer crews.
#2: British Six Pounder (57mm) Buy it Now: $35k
The six pounder was the kissin' cousin of the American 57mm AT gun and served throughout World War II. This one has been modified for movie duty, but is legally convertible to a registered destructive device (given ATF approval of manufacturing in advance. Unlike MGs, DDs can still be made by and for private owners). Don't tell Governor Moonbeam, but it's in California, and it's actually CA-legal.
 #3: Swedish Bofors AT (37mm) Opening Bid: $33.5k
Thanks to the annoying Swedish habit of neutrality, the next gun lacks the combat cachet of the combatants' pieces, but it's, live, intact, and in beautiful condition. Of necessity, you become a reloader with any gun like this — this one comes with 15 cases. For loading data? KMAGYOYO!
While the mount is unique, and the muzzle brake follows midcentury Swedish practice, the gun itself seems to owe a lot to Krupp design. The Wehrmacht 37mm and the Red Army 45mm were both Krupp designs, and clearly cousins — as were the social systems the two armies fought for.
Same seller also has a carriage (no breech or barrel) available as well.
#4: WWII 25mm SA.L 1937 ANTI-TANK GUN. Opening bid $25k, Buy it now $30k
If a 37mm gun was already trending obsolescent at the outbreak of World War II, and it was, imagine how weak a 25mm gun is. Plus, this one has to wear the stigma of being from a nation defeated rather thoroughly by the Nazis in cut time: France. Still, it works, and it looks cool:
It also has an extremely thorough description, and lots of pictures:
Museum quality, live-firing, French WWII 25mm SA.L Mle 1937 anti-tank gun, serial number 566. This anti-tank gun was built in 1939 by the French design & manufacturing company, Atelier Puteaux, and is marked accordingly: "A.PX 1939". These guns were manufactured and used by the French, but they were also captured and used by the Nazis, who gave them the designation: 2,5cm PaK 113(f). A quantity of the captured guns were sold by the Germans to Finland, who gave them the designation: 25 PstK/37. The gun has a muzzle velocity of 3150 feet per second, and is a very accurate weapon. We spent 165 hours performing a complete restoration on this anti-tank gun. The restoration work included: sandblasting, complete disassembly, painting, parkerizing, bluing, polishing, lubricating, new tires, reworking the recoil mechanism, and reassembly. This cannon is live firing, and has been fired several times. The gun performed flawlessly when fired…..please take a look at the video below, where we fired upon, and disabled a Ford F-150's running engine, at a distance of 340 yards.

The chamber and rifling are in very good condition. Weighing only 618 pounds, this gun can easily be moved and fired by one adult male. The actual weight at the lunette when the gun is picked up is only 84 pounds. The gun is also very compact: 152″ in length (139″ with muzzle brake removed), 40.5″ in width, and 41.5″ in height. The cannon is equipped with iron sights, as well as an optical 3x M69C telescopic sight (very clear optics). All traversing, elevating, and depressing adjustments work completely and smoothly (see photos below).
For the travel configuration, the cannon's muzzle brake / flash hider unscrews from the end of the barrel, and stows above the recoil mechanism. The armor also folds up, which is also shown in the photos below. This is an all-matching numbers gun (#566). The gun includes 22 live, arsenal-loaded, rounds of 25mm ammunition. Once fired, the brass cartridge cases can be reloaded several times for additional firings. This weapon is an ATF/NFA registered destructive device, so it will be transferred on a $200 tax paid Form 4, or on a tax-exempt Form 3 to a destructive device dealer in your state. We will crate and ship this gun anywhere in the continental United States. Crating, shipping, insurance, and transfer taxes are all the buyer's responsibility. Residents within Tennessee will be assessed state sales tax. Please take a look at all 70 photos that are included in the auction description below. This is a great opportunity to get a museum-quality piece of history, that displays as good as it shoots! Would make for a stunning display piece in any museum, gun store, shooting range, or office.
There's even pictures of this type of gun in German, Finnish, and what looks like Soviet(!) service at the link (Finns below):
Some less awesomely restored examples of this gun are also available right now, one at $15k Opening, No Reserve, and a deactivated one at $10k Opening, no reserve.
#5 106mm RCL (demilled) with Prime Mover: Opening Bid, $30k
This is one of the things that replaced AT guns, a recoilless rifle, a US weapon of the 1950s-70s. Complete with a M-274 Mule, an offroad vehicle used by airborne forces of the period. An unusual feature was the semi-auto spotting rifle using a special .50 marking round (smaller than a .50 BMG casing.
The spotting rig was a necessity because the firing signature of a 106 is tremendous, which means, a first round hit on the enemy tank is a life-or-death enterprise with this weapon. It was replaced by the TOW AT missile.
This is the most gun you can have and not need heavy truck and trailer, also one of the more fun toys we had in Nam. Comes with: 4 rds in tubes 2 more in displa manuels tripod (rare) breech cover muzzle cover optics battery pack< elec start This runs and drives as it should, not concourse cond. because we use and enjoy it. If you've seen one of these at Fl. MVPA events or the Melbourne Vets reunion in the last decade or so it's this one This is one of the best equipted in the country. I also have a 25′ closed trailer for sale if this sells. will haul this and any Jeep type vehicle.
Cool, but not live, alas.
#6 20 mm Lahti w/Spares. Opening bid $15k, Buy it Now $18k
Here'e we're down out of anti-tank guns into the high end of antitank rifles. This, the similar Solothurn, and a Czechoslovak weapon that was OBE and not produced in large numbers were the high-water mark of the infantry antitank rifle.
This lot consists of 1 complete M1939 20MM lahti, w ski, 2 registered lahti receivers, 1 coffin 1 box of spare gun parts, 3 boxes of spare springs, 1 amorer box of tools, 6 boxes w 2 each magazines and 60 rounds of live 20 MM ammo. ALL NFA RULES APPLY!! $50% down and the balance upon transfer to your FFL dealer, buyer pays all shipping costs. and the ammunition MUST BE SHIPPED SEPERATLEY!!
This is live, but ammunition is extremely precious any more.
#7 D44 AT Gun 85mm Opening Bid $8,495.
This World War II Russian AT gun is a postwar Polish clone. It is rather roughly demilled, but if not for that would be the clear bang-for-the-buck leader. These guns were widely used in Vietnam and the Arab-Israeli wars, among other 20th Century conflicts.
The shield on this cannon has been cut and re-welded (at Arsenal in Europe), a 12″ metal shaft is missing off of the breech block (replacement easy to create) and we recently repainted it so it looks good. We have discounted this cannon $500 in consideration. Otherwise in good condition. No obvious damage, little evidence of any major use. Working T & E, solid tires. Dem-illed to ATF specs, breech cut [easy weld], 85mm hole in bottom of chamber [donut whole included], hole is NOT visible from exterior of cannon.
All demilled pieces [uncut breech block and cut ring] are included, a good ATF form 1 project, subcal to 30-50 BMG [no ATF reg needed], or oxy-propane conversion. We converted ours to a combination 30 cal, diesel fuel, and oxy-propane, sounds better than a real field piece, at a fraction of the price.

We will have INERT 85mm TRAINING rounds here in [about] 3 months.

Light enough to tow behind a jeep or a deuce.
When you absolutely, positively have to get those damned kids off your lawn.
That's about it for cannon right now. But if you're feeling mortarous, other sellers can hook you up,
Want a Project? Here's a Half-Track that Needs Everything
Every so often, we find something at auction that cries out for just the right buyer. This early World War II halftrack is just such a case.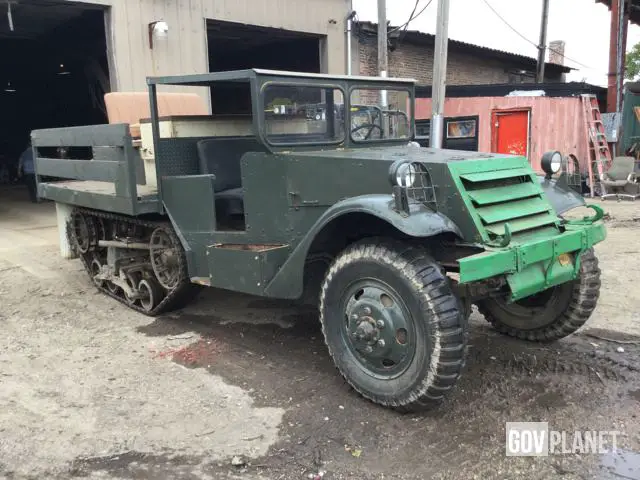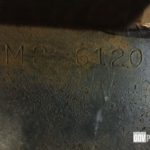 As you can see, this M2 (serial number 6120 of about 13,500 M2s made from 1940 to 1943) is lacking all its armor aft of the A pillar, plus the windshield assembly, plus all the stuff that was attached there. It does have an intact driveline that needs maintenance but does work — pretty amazing after at least 73 years.
One of the most interesting things is the original 6-cylinder flathead motor, still trucking after all these years. If you look closely right of center, you can see the "White" script trademark cast into the engine block.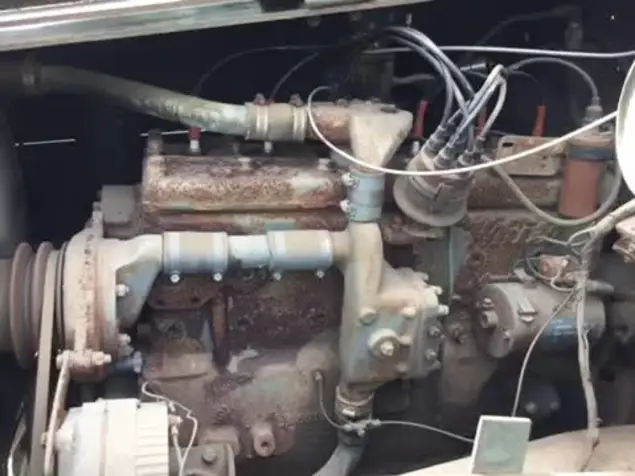 This picture shows the other side of the motor in its native habitat: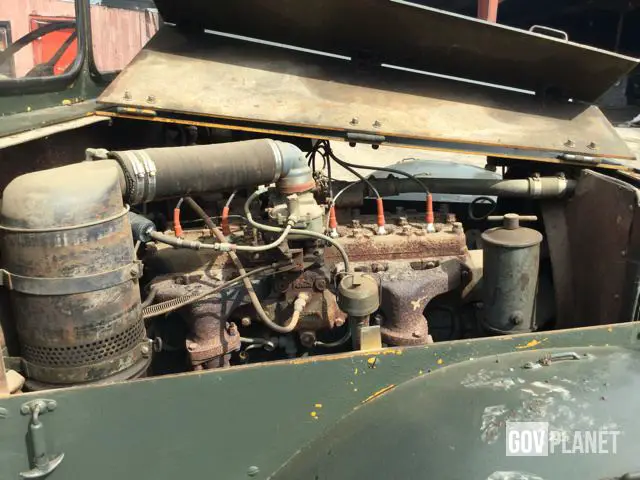 Reproduction and restoration parts for halftracks are available, but you see what we mean when we say this vehicle needs the right buyer. (Welding and riveting skills a plus!)
While the body is mostly missing (lets you pick your own variant, perhaps), the office looks pretty much untouched since GI Joe last turned it in.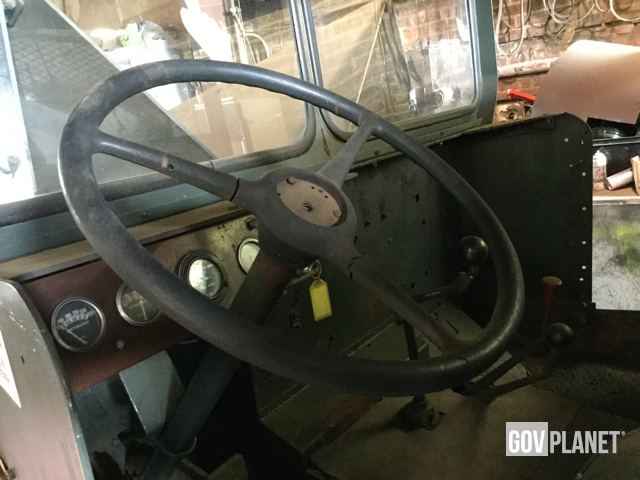 The M2 was used as an artillery tractor, mechanized MG squad bus, and reconnaissance track, whilst the more common M3 (~45k built) and less common International Harvester M5 and M9 (~11,000 built) were mostly used as infantry carriers. All variants of halftrack were made into specialized AA, field artillery / tank destroyer, and other special-purpose vehicles, and many of them were supplied to American allies both under Lend-Lease and postwar.
They soldiered on with Israel through the Yom Kippur War, and served in South America into the 21st Century. Bolivia still may operate some ex-Argentine models (or they may have run out of spares, always a problem for the poorest nation on the continent).
How this one wound up at a US Government auction this month, with a minimum bid of $7,000, is anybody's guess, but there's a hell of a story in there.
Minimum bid is $7k, and you'll have to pay a 10% kicker and Illinois state taxes, and remove it within eight days of the auction close (which is 28 September).
M2 Half Track Truck

ITEM NUMBER 766646

LOCATION

Maywood, Illinois, United States. 60153

AUCTION DATE

Sep 28, time TBD

METER READING 41 Hours

SERIAL # M2 6120

White 6 Cylinder Engine, Manual Transmission, Stake Sides, Bench Seating, Tool Box, Additional Undercarriage Components
via Surplus M2 Half Track Truck in Maywood, Illinois, United States (GovPlanet Item #766646).
It does seem to have a second flatbed-load of bogie and idler wheels and other gear, all of which look like they could use overhaul. At that link there are over 100 photos and a video of the motor running (it's image number 55 if you want to skip ahead in the gallery).
If you buy it, we'll come out to Illinois and help you load it!
We'd Have Called it the Drone Dropper… or Drone-B-Gon
This anti-drone device is going viral. They've clickbaited it well by calling it the Skynet anti-drone rifle, and it can directionally jam the GPS signals a drone needs to navigate, and the wireless video downlink.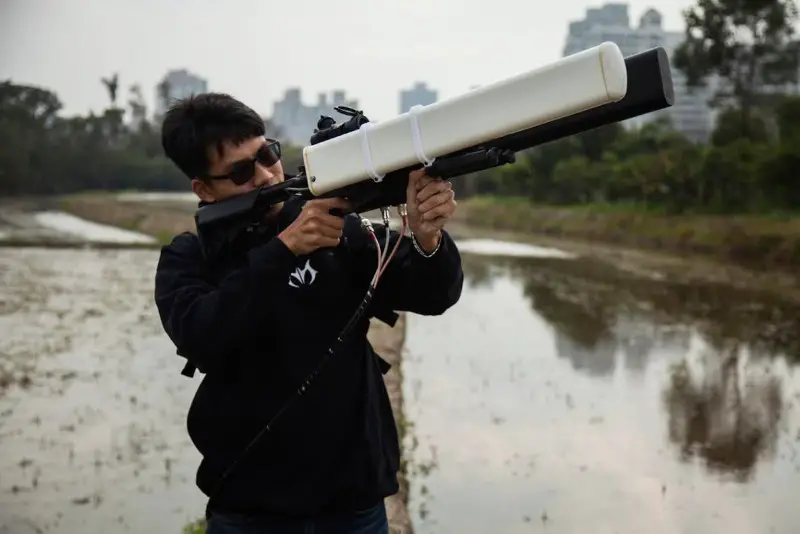 The two white and black "barrels" are directional antennae in two separate GHz ranges. The backpack is the necessary power source. Anyone who's got Electronic Warfare experience will tell you jamming is a power-intensive activity.
If you look at all the pictures available on the company's website, and watch the video (below), the whole thing appears to be built on a (partial? modified?) AR-15 receiver, with a standard M4 receiver extension and stock. A bit overkill for just something to hang an arduino, a transmitter, and some highly directional (< 10º) antennae on, but it kind of makes sense to give people a familiar interface, and the AR-15 is the point and click interface for the 21st Century.
Along with this video, there's a new one showing a live test. They claim a "suppression ratio" (difference between the range from the Skynet operator to the drone and the drone controller to the drone) of 8:1, which means (thinking of power squares here) that this jammer has vastly more power than the controller.
The two signal rangess it can jam are 1.450 GHz – 1.650 GHz and 2.380 GHz – 2.483 GHz, but it can only jam one at a time. Available hacks for, for example, the DJI Phantom drone (the one in the video) can take the drone control out of the target range, and could practically be developed for the video range.
There are a few other problems with it, to wit:
As a jammer, it is almost certainly illegal to use in the USA. The Federal Communications Commission takes a dim view of jamming, and has considerable technical and legal resources it deploys to punish violators.
It's only effective against some common commercial drones and is unlikely to have any impact on a more sophisticated government or military system, which is likely to use robust, high-availability communications, and have backup onboard navigation (usually inertial) that's immune to jamming or meaconing.
It requires clear line-of-sight to the drone, ergo, it's only useful as a point-defense weapon.
It requires a human operator and visibility of the target. (How would it work in the dark, against a drone deploying LLLTV? We suppose there's a Picatinny rail upon which you can mount an image intensifier or thermal sight).
It has the scent of early prototype all over it, and is a long way from a commercial product or (alternatively) a flexible R&D platform. But even experimenting with this thing brings you back around into the sights of the FCC.
Finally, this is, we think, the firm's first video, from May.
All in all, it smells to us like a gimmick. And within the range of this thing, there are other ways to take out a drone (one lady pestered by paparazzi drones seeking spy shots of a celebrity neighbor demonstrated her wingshooting skills and blew the drone to Kingdom Come. The paparazzi boarded their Range Rover — apparently invading privacy pays well — and were last seen heading back for Gawker HQ or whatever glutinous sump whence they emerged).
This is not the only anti-drone product out there. As well as other jammers, there are counter-drone drones that ram them or drop nets or cables onto their rotors. All of them are similarly immature at present, and no one knows if they represent a real market segment or just hobbyists tinkering.
Wanna Get Your Crank On? With a Gat? (ling?)
Sure, there's always a couple of vendors trying to sell Colt's new-edition 1875, 1877 or 1878 Gatling Guns for prices around $50-60k. (There were eleven of them on GunBroker when we put this story to bed last night). What about those of you who jones for a Gatling, but can't afford the price of a luxo car or SUV for it, or can't get a decent trade for your first-born child?
Fear not, the cheapskate New Englanders at WeaponsMan.com have your back. Mission: save you money on a Wild West icon, so you can go bankrupt buying blackpowder or Cowboy Action rounds and getting your crank on.
Fun fact about Gatlings: they had been so well employed by one American officer that the US Army's machine gunners — who were, mostly, under his sway — clung to the Gatling into the 20th Century, long after the armies of Europe and the modern armies of Asia had chosen automatic machine guns.
Item 1: Museum Quality Gatling Gun w Carriage 45LC Mag
Price: Buy it now for $18k, or make an bid on the penny auction — against the unknown reserve. No bids yet.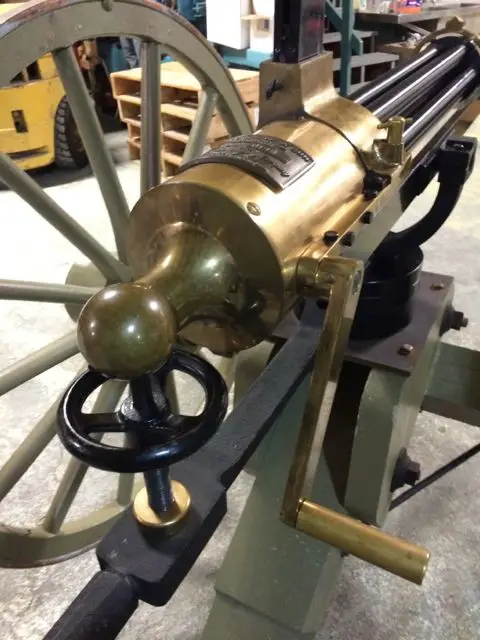 Great looking Gat(ling).
Seller's been trying to unload this gat since 2015, at least on GunBroker and at the Portland, OR gun show. Initially he wanted $30k, then $25, and now he's down to $18k. Ground shipping to your FFL (it's a Title 1 firearm) is $600.
$18k too high? Let's move on.
Item 2: Replica Gatling Gun in 45 Black Powder
Price: No Reserve sale with minimum bid of $10k, or actually $5 under that number. No bids yet.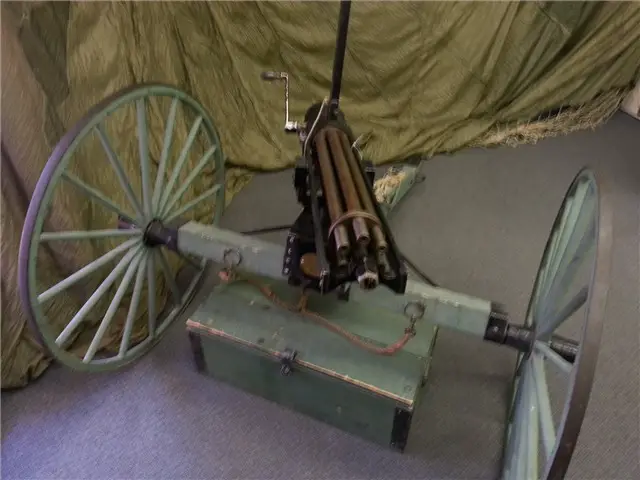 This one's not as impressive as the $18k gun; it has a homemade-y look. But it's $10k plus actual shipping from a gun shop in Tucson. The seller says:
Up for auction is a Modern Replica of a Gatling Gun, built in the 1980's by a machinist who was also a civil war re-enactor.

6 barrels. Working Black Powder Gatling Gun, designed to fire cap and ball blanks only but barrels are .45 caliber and rifled.

Perfect for Recreations, Movies or Stage Prop. The gun has been a fixture in the shop for years and gets a lot of attention but it is time for us to change some of our decor so it is reluctantly for sale.
Item 3: GATLING GUN FULLY- FUNCTIONAL LIVE-FIRE 45 L.C.
Price: No Reserve sale with minimum bid of $7k, or actually $5 under that number. No bids yet.
While this is the price leader of the authentic(ish) Gatlings, it seems to be a high-quality piece with a lot of brass. The seller complicated his sale by not taking a single good picture of the whole Gatling, but there are some character-rich detail shots. The business end:
And here's the rear half, left side: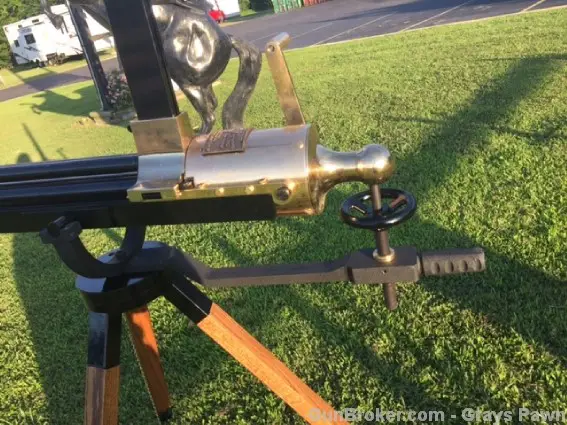 The rear half, right side: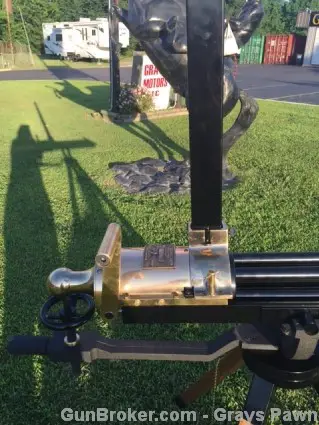 And the forward: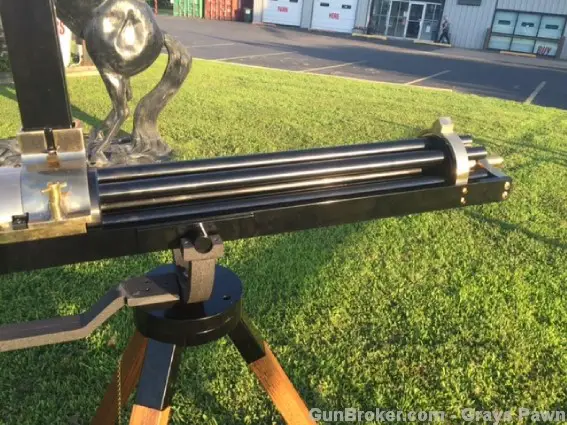 Sure, it's not for everybody. Some guys will complain about its lack of Picatinny rails and others will turn it down because there is no place to mount a bayonet. The magazine capacity probably makes it illegal in Massachusetts, Colorado, California, and North Korea.
But it would be worth the price of the ammo (and the target frames) to crank this puppy up from time to time… maybe on the anniversary of the Little Big Horn.
But there you go — three options for less than the somewhat stiff cost of entry to the Colt Repro Gatling Club. Just the thing for getting your crank on.
And on the other hand, if you feel diffident about saving money on a 19th Century classic firearm, there are eleven Colt replicas available for up to $60k.
But if you feel diffident about saving money on anything under the sun, we don't know what you are but you are not a cheapskate New Englander.
Silenced Enfield Obrez…? Uh, no.
Hey, what's this? We found it on a Russian forum, and it almost looks like a suppressed version of one of those cut-down Mosin "Obrez" sawn-offs used by various  Russian mischief makers. But that can't be what it really is. Where would Russians get a Lee Enfield (well, apart from any left behind by the Allied intervention in Archangelsk 1918-19)?

A pre-World War I vintage "Sht. L.E. III" which breaks out to "Short Lee Enfield Mk III," it says here: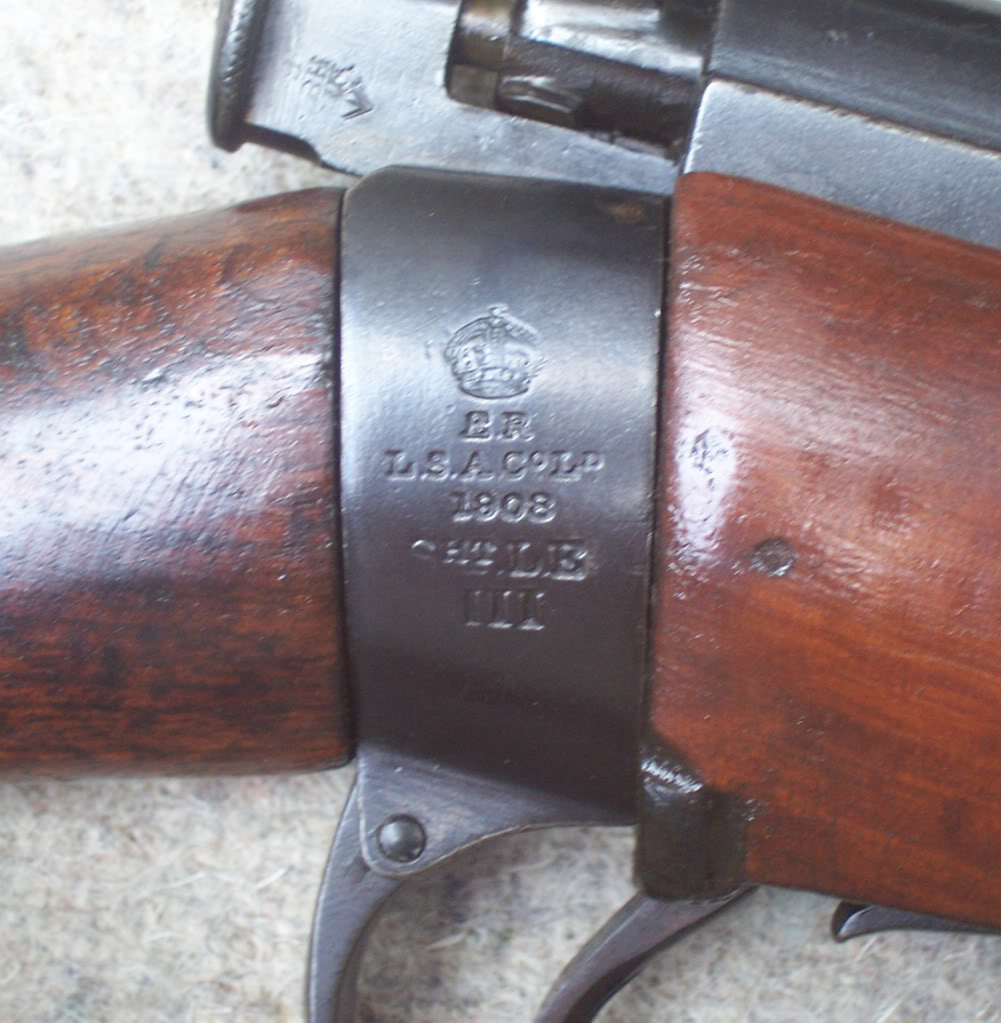 It has a King's Crown and the cartouche ER, of Edward VII, who was King and Emperor in the first decade of the 20th Century. (He was succeeded by George V, King during the First World War).
It even looks a little like a suppressor if you take it down: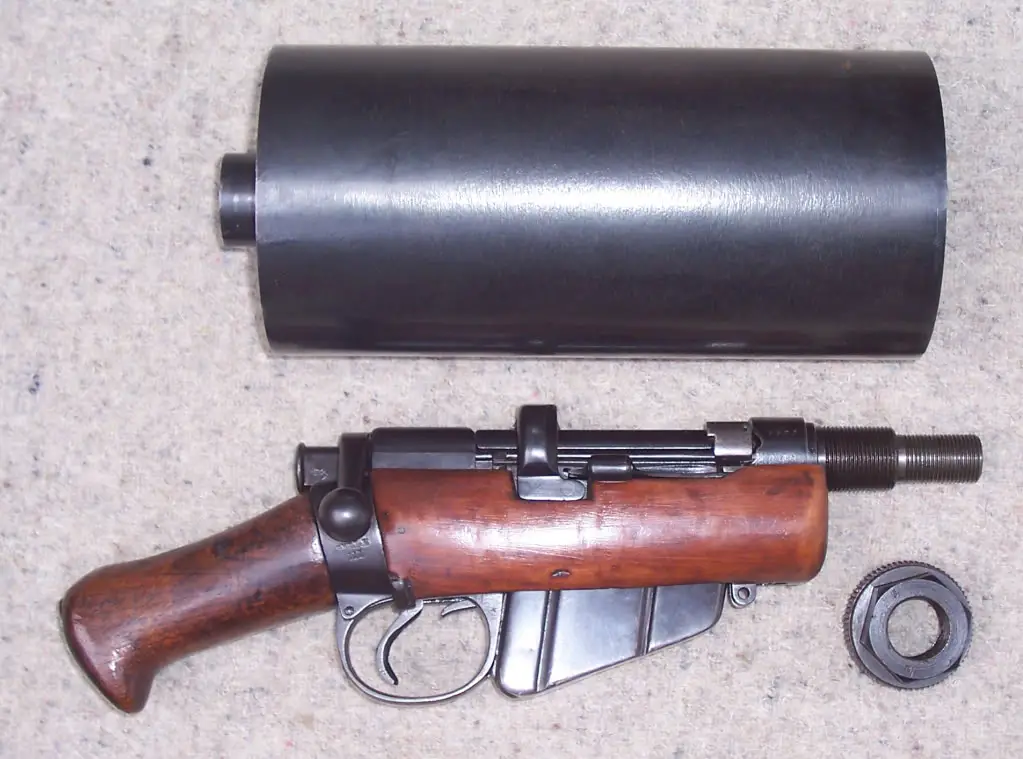 But we'll let you in on a secret — the muzzle end is wide open, like the X Products "Can Cannon." That's a clue. Know what it is yet?
Here it is in place, wrapped up: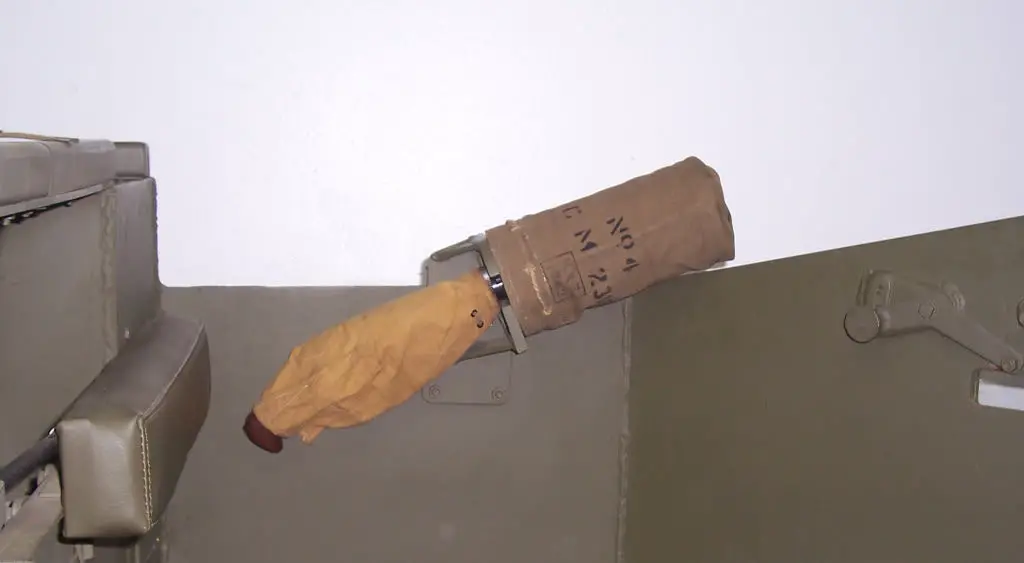 …and unwrapped. Got it yet?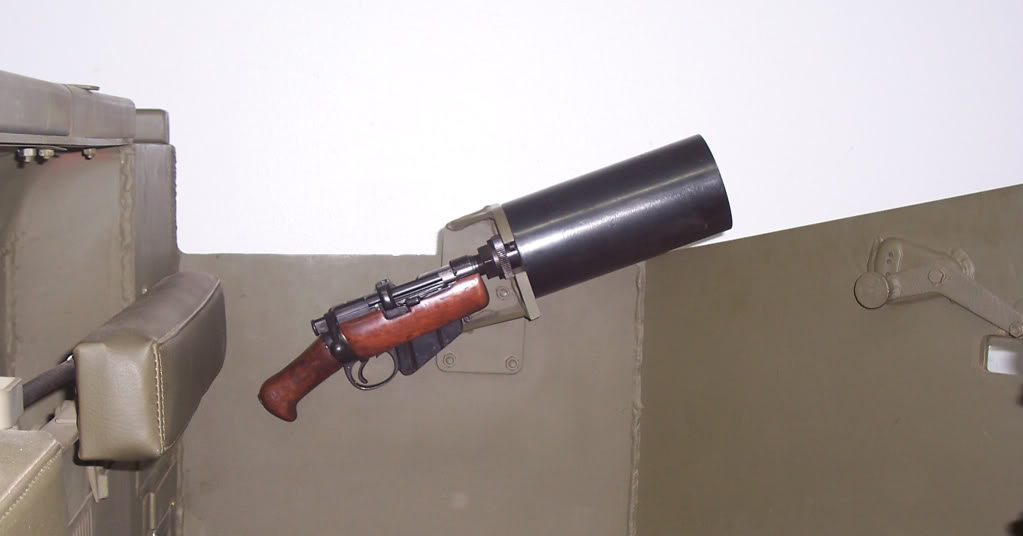 It's a grenade launcher for the light Universal Carrier, aka Bren-Gun Carrier, a tiny armored vehicle much used by British and Commonwealth forces and descended from the flimsy Carden-Lloyd light tanks of the 1920s. The launchers were meant to be used with blanks only to fire (as far as we know, only smoke) grenades. Depending on the Mark of the Carrier and where it was built, this launcher might have been built on any available .303 action — Enfield, Ross, or even Martini. Here's a Martini one in context: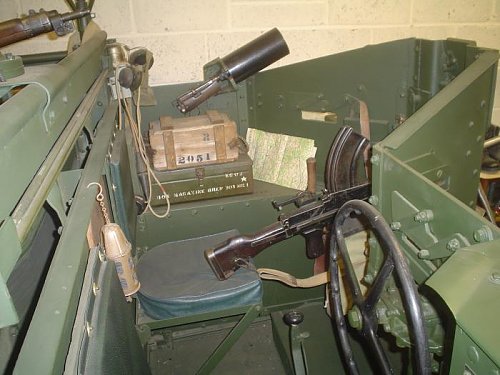 Yes, the Bren gunner or TC served this launcher from the left seat, whilst the driver jockeyed the vehicle from the right (even in the Canadian models, made in vast quantities by Ford of Canada and still occasionally turning up rusty in a Saskatchewan wheatfield). This sketch shows you where it all goes in the Mark II carrier (this one set up for a Boys 0.55″ Anti-Tank Rifle crew).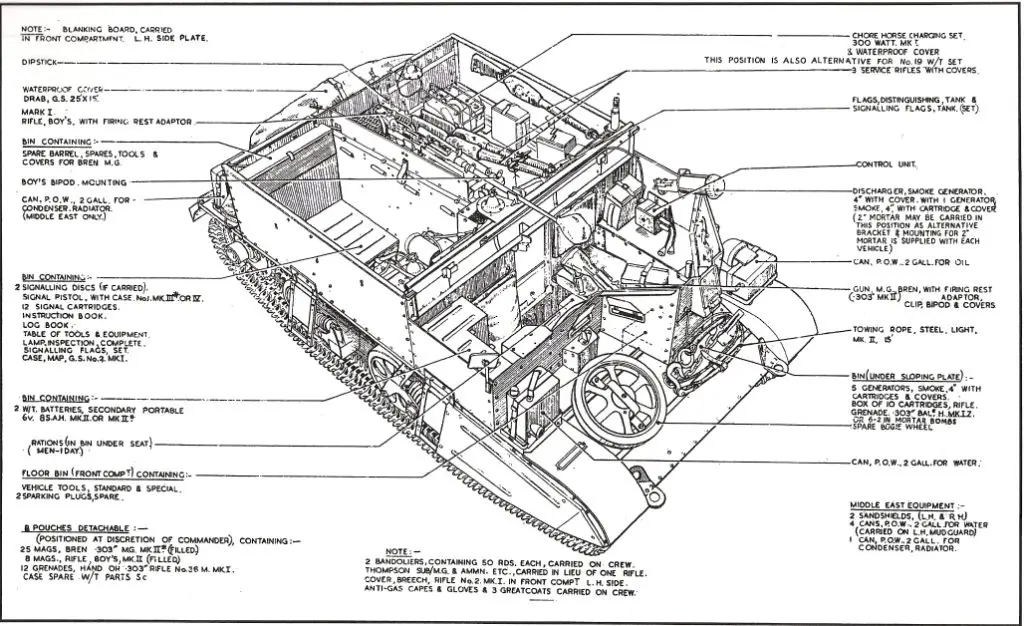 It was a tight fit for several men and all their kit in this tiny armored fighting vehicle, and it was at the mercy of nearly anything the Germans or Italians chose to fire at it. But you go to war with the Army you have.
Puts British and Commonwealth nerve in a bit of perspective, to think of calling this "armor." It's at the very bottom of the mechanized war food chain.
Here are a couple of pictures of restored carriers. The firearms and helmets should give you some idea of the scale of these toy poodles of the tank world:
After the jump, two videos of running carriers: one enthusiastically driven (he actually drifts a curve), and the New Zealanders Motor Vehicles Collectors Club in 2015, breaking an Aussie record for most running carriers at a display!
Continue reading →
"Say Hello to My Little Friend!"
You too can greet people like Al Pacino, improbably cast as a youthful Marielito thug in Brian de Palma's Scarface, did, if you drop a bit of coin on this. Actually, you can do it more quietly, because this M16A1/M203 is suppressed."Tony Montana, political ref-oo-gee from Cuba" was many things, but quiet wasn't one of 'em.
Flip side:
Just the thing, for when your betrayed Colombian partner wants to hold you to his interpretation of "free trade." Along with the registered and transferable Colt M16A1 lower:
Which has a later Colt M4 upper on it (note the forged-in "C" below the rear sight and behind the forge's keyhole trade mark):
…you also get a Colt M203, in what looks like the full-house 12″ barrel:
…but with the circa-1990s dual-purpose mount for A2 and M4. (If you buy this and just want the M16, drop us a line about the 203. Seriously). And yes, you can use the KAC SOPMOD I rail kit with this (not the bottom rail, obviously). We know 'cause that's what we did.
But, now for the bad news. We might have been fibbing a mite about the "bit of coin" part. The stinging three $200 transfer taxes (which gives ATF three shots at delaying your transfer!) are pretty trivial in the grand scheme of things: thanks to anti-gun politicians William Hughes and Charles Rangel, who jammed through the Hughes Amendment on a bogus voice vote in the middle of the night, it's got an asking price of forty freaking thousand dollars.
If we pay that for anything that does't come with a deed, the lawyer and the court need to assure us that the paperwork is final and she really is out of our life for good, and has no further comebacks on us. In writing.
Still, it's kind of a nice gun.
Paratroops vs. Tanks, 1945
The little-studied and nearly forgotten last airborne operation of World War II, Operation Varsity, eventuated along the Rhine River on March 24, 1945. The participants had no way of knowing it, but they were six weeks from V-E Day and the end of the War in Europe. That end happened for many reasons, in part because the Western Allies forced the Rhine in March. (But had the Allies been held or thrown back, the Germans still would have lost, because the Red Army was coming from the East in any event).
Both sides came to the Rhine fight with Operation Market-Garden in Holland and Unternehmen Wacht am Rhein (called "The Battle of the Bulge" by the Americans in its path) in the Ardennes fresh in mind. One was an Allied fight, one a German, but both were ambitious offensives that fell far short of their goals. The American division that would be tabbed for Operation Varsity,  the 17th Airborne, had come in at the end of the Bulge to hold the cleared salient to Bastogne open, and to push the Germans back. They knew what fighting against German armored counterattacks would be like. The Germans holding their side of the river knew that the Allies had as many as four paratroop and glider divisions opposite them, and they knew just how weakened their units were by the endless meatgrinder of combat (one division was down to 4,000 men, counting walking wounded; that was about what the 17th was short after the Ardennes casualties, but the American unit got replacements).
One thing everybody knew: paratroops were overmatched by tanks. The Germans expected the Allies to land by night and planned to crush them by tanks at first light. The paratroops knew they needed to kill tanks. The problem was: it takes a hard hit by a heavy shot to kill a tank, and things that fired hard-hitting heavy shots tended to be bulky and heavy — not something you could jump out of a C-46 or C-47 with.
In the Ardennes, along Dead Man's Ridge northwest of Bastogne, a paratroop sergeant named Isidore Jachman had engaged a German tank formation with the only organic AT weapon the airborne infantryman had, the 2.36″ (~60mm) Rocket Launcher (aka Bazooka).
Jachman engaged two tanks, killing one and forcing a German retreat, but enemy fire killed Jachman, who became, posthumously, 17th's only Medal of Honor recipient prior to Varsity. His citation:
For heroism January 04, 1945 at Flamierge, Belgium. When his company was pinned down by enemy artillery, mortar, and small arms fire, two hostile tanks attacked the unit, inflicting heavy casualties. Staff Sergeant Jachman, seeing the desperate plight of his comrades, left his place of cover and with total disregard for his own safety dashed across open ground through a hail of fire and seizing a bazooka from a fallen comrade advanced on the tanks, which concentrated their fire on him. Firing the weapon alone, he damaged one and forced both to retire. Staff Sergeant Jachman's heroic action, in which he suffered fatal wounds, disrupted the entire enemy attack.
The AT armament of the paratroops would be carried by gliders. By 1945, the inadequate 37mm gun (called by the British the two-pounder) was retired and the standard gliderborne airborne-unit AT gun was the 57mm, a good weapon for 1941 but hopeless against 1945 main battle tanks; the British users called it the six-pounder. (British and American guns had different carriages but the same tube).
In other American units, the prime mover for the 57mm AT was a half-track or a 1 1/2 ton Dodge 6×6 truck. The glider units had to make do with jeeps as prime movers. Carrying a sufficient ammo supply was a problem, and the gun and the jeep each needed their own Waco or Horsa glider.
An American AT gunner in another unit remembers this weapon:
My platoon was three 57mm Anti-Tank guns. A squad of 10 men for each gun. This gun was a reworked British "6 pounder", so called because it fired a 6-pound projectile. Our version had good ballistics. A muzzle velocity of about 3000 fpm. It would penetrate 2 inches of armor plate and ricochet with killing velocity about 50 times. It sure didn't look very impressive. The gunner had to kneel or sit to look though the sight.
His crew got a lucky hit on a Panther that let them barrage the tank and drive the crew out of it.
We had gotten our kill!  That hole in their defense had to be covered by adjoining Panthers.  Later a Bazooka team got another one. …  At least we were no longer kidded about our "Little Pea Shooter".  Most didn't consider the 57mm much of a weapon.
The 57 had definite limits when engaging modern tanks.  But it was far more accurate and longer-ranged than the bazooka!
British forces had another option. Two batteries that airlanded on Varsity had three troops each with 6-pounders and one with 17-pounders. The 17-pounder was a high velocity 76.2mm weapon. This was, much more than its 6-pounder sibling, an effective AT weapon, but it was a lot bigger — by the time it, and its crew and prime mover were all lined up, it was a 17 thousand  pound logistical nut to crack. They could only deliver these by the gigantic General Aircraft Hamilcar glider. And glider delivery was always risky. Two Glider Pilot Regiment Sergeants, Peter Young and Neville Shaw had one of these heavy guns in a Hamilcar that didn't get off its departure runway. Young:
Our load was a 15-hundredweight truck and a 17-pounder antitank gun, with a crew of eight soldiers, 70 rounds of ammunition, and spare petrol. The total weight was around 17,800 pounds.

We have the distinction of completing the shortest flight. On take off, the Halifax [tow plane] got into a tangle in the slipstream of the aircraft in front and cast me off. There was no choice but to put down in the overshoot. There was a spare loaded glider, but it was decided not to use this.1
In the American forces, there was no formal anti-tank organization, unlike the British unit's. Instead, the 17th's 155th Anti-Aircraft Battalion picked up anti-tank duty, and the weapons to go with it. (This may have been because of the weakness of the Luftwaffe by March 1945). Oddly enough, the unit had a mix of British 6-pounders and American 57mm, but since the tubes and ammo were the same, the mixture had no practical effect.
But a new wonder weapon came to the battalion less than two weeks before showtime: the 75mm Recoilless Rifle.
Exactly two of these newfangled gadgets replaced six-pounders, one in each of two batteries. One of the crewmen, Corporal Eugene Howard, remembers:
It looked a lot like a fancy bazooka. It had a 7 foot long rifle barrel mounted on a yoke, with a pin on the bottom of the yoke to fit onto a .50-caliber machine gun tripod. The rifle weighed about 175 pounds and the tripod weighed about 65 pounds.
The gun was fitted with a new electronic sighting device that made it more accurate than the sight on the 57 mm [recoilless rifle]. In one respect it was like a bazooka: when the gun fired, a blaze of hot gases came out the rear of the gun with an equal force to the projectile coming out the muzzle. It had an effective range of about 1,500 yards.

The jeep was modified to carry the gun. The tripod mount was secured to the floor of the back section of the Jeep. A cradle for the barrel was welded to the front bumper of the jeep. One of the advantages of the gun was that it could be fired from the jeep. It could even be fired with the Jeep moving. Since we did not have to pull the 57-millimeter we would get a jeep trailer to haul ammunition. This meant we could haul more ammunition than we could for the 57-millimeter.2
Howard found the 75mm recoilless rifle worked well. The first time they were called on to use it, they killed a "self-propelled 88" (probably actually a 75mm StuG-III). Then they got the jeep into defilade, and began running the 75 against German vehicles, troops, and even an OP in a church steeple.
But that's another story. What Howard and his gunner Pete found out was that the 75mm was an effective tank buster, within its limits, and they set a trend in paratroop AT weapons that lasted until the missile age. (Indeed, Russian and Chinese factories still produce much improved, larger caliber lightweight recoilless rifles).
Notes
Wright, p. 68.
Wright, p. 9.
Sources
Wright, Stephen L. The Last Drop: Operation Varsity, March 24-25, 1945. Mechanicsburg, PA: Stackpole Books, 2008.
Long after the Bronze Age was over for swords, knives and pole-weapon heads, the prehistoric alloy was still used for cannon. Why?
Because while iron and early, uneven-quality steel were fine for contact or melee weapons, they weren't a sure thing for containing the violent deflagration of gunpowder that launches cannon projectiles towards one's enemy. Bronze could be cast and machined with high consistency.
It turns out that this question has already been studied at length — and we'll quote from a 2002 thesis by Chuck Meide at the College of William and Mary. (The whole thesis will be attached at the end of this post as a .pdf. It's full of gems like this).
Writing at the end of the muzzle-loader era, British artillery officer Manley Dixon in 1858 summed up nicely the required material qualities necessary to create ordnance:

The material should be hard, so as not to yield too easily to the action of the ball when passing out of the bore; tenacious, so as to resist the explosive power of the Gunpowder and not to burst; and lastly, elastic, so that the particles of the material of which the Gun is composed should, after the vibration caused by the discharge, return to their original position (McConnell 1988: 15).

 Bronze and iron were the only two metals with these requisite qualities available to historic gunfounders, and bronze was long considered the superior metal for ordnance manufacture. Up until the third quarter of the sixteenth century, however, iron guns outnumbered bronze pieces, though the former were almost all wrought iron, of decidedly inferior quality. The most powerful guns had to be cast, not hand-wrought, and as cast iron guns were overly heavy or dangerously unreliable, bronze was the material of choice throughout the 16th century. Though Henry VIII's Mary Rose (wrecked in 1545) displayed a marked diversity of bronze and iron ordnance (Guilmartin 1994: 148) by 1569 the decision was made to equip Queen Elizabeth's navy entirely with cast bronze guns (Lavery 1987: 84).

The main disadvantage of bronze guns was their price, which was generally three to four times higher than iron guns (Cipolla 1965: 42). In 1570 England, iron ordnance cost £10 to £20 per ton while bronze cost £40 to £60. With improvements in iron casting techniques, the price of iron began to fall by the turn of the century, and the difference in cost began to steadily increase, so that by 1670 iron cost only £18 per ton, while bronze cost £150 for the same amount (Lavery 1987: 84). As the principle maritime powers continued to increase the size of their navies in the 17th century, this cost became prohibitively expensive. An example, to put this greater cost in perspective: the four small bronze cannons carried as cargo on the French ship La Belle (wrecked in Matagorda Bay, Texas in 1686) cost more to manufacture than did the entire vessel! (personal communication, John de Bry, 1996)

Not surprisingly, rulers in the first half of the 17th century began to mandate and subsidize experimentation in iron gunfounding, in order to improve the quality of iron ordnance. Other than expense, however, bronze guns were still superior to iron ones in almost every way. Bronze was stronger, withstood the shock of discharge better, and lasted longer at sea. Bronze also was easier to cast, could be re-cast, and could be easily embellished with decoration. Because of this last quality, along with their hefty price tag, bronze guns also served as status symbols, an aspect whose importance should not be overlooked in the 17th century, when capital ships represented not only the might but the prestige of the king.

Despite the fact that bronze is 20% heavier than iron, bronze guns were lighter than their counterparts because the stronger metal could be used to make thinner guns of the same caliber (Tucker 1989: 10). The dramatic weight differences between bronze and iron guns of the same caliber are illustrated in Table 1 (keeping in mind that a gun of the same size and metal could vary by as much as 2-3 hundredweight or 224-336 lbs) (Tucker 1989: 10). The reduced weight of bronze ordnance was particularly important for field artillery.
Gun Size
Bronze Guns
Iron Guns
Length
Weight
Length
Weight
shot weight
feet
cwt
lbs
kg
feet
cwt
lbs
kg
42-pdr
10
66
7392
3356
—
75
8400
3814
32-pdr
91⁄2
54
6048
2746
91⁄2
57
6384
2898
24-pdr
10
46
5152
2339
91⁄2
49
5488
2492
18-pdr
91⁄2
40
4480
2034
91⁄2
42
4704
2136
12-pdr
91⁄2
31
3472
1576
91⁄2
36
4032
1831
9-pdr
9
28
3136
1424
9
30
3360
1525
6-pdr
9
19
2128
966
81⁄2
21
2352
1068
Table 1. Comparison of the weight of bronze and iron British naval guns, ca. 1742. Adapted from Gardiner1979: Table 8. Original source, undated table in British Admiralty records (ADM 106/3067). "cwt"=hundredweight, or 112 pounds.
One especially salient advantage was that bronze guns were less likely to break while firing, and when they did the barrel usually bulged or split open longitudinally at the breech rather than explode. When iron cannon burst they tended to shatter and fly to pieces, which caused much more catastrophic damage to nearby personnel (Tucker 1989: 10; Kennard 1986: 161; Guilmartin 1983: 563). Figure 7 illustrates the striking difference between two failed guns, one of bronze and the other of iron. Improved iron casting techniques and gun design, however, would help solve this problem, though the reinforced guns had thicker metal at the breech and reinforces, increasing their weight. While iron guns were never considered as safe as bronze pieces, by the 1630s both England and Sweden were exporting iron guns of reputable quality (Cipolla 1965: 43; Kennard 1986: 161).
Figure 7. Two guns, one bronze and one iron, that have catastrophically failed (burst). The upper gun is a bronze 6-pdr, cast by Richard Gilpin in 1756 (526 lbs/238.8 kg, 4' 6"/1.372 m long). This English gun burst at St. Lucia in 1783, tearing open longitudinally at the first and second reinforces. Currently housed at the Museum of Artillery Rotunda, Woolwich, from McConnell 1988: Figure 15. The lower gun is all that is left of an iron cannon that exploded, with massive loss of life, while firing on English troops invading St. Augustine on 10 November 1702. Photograph by the author.
The sole disadvantage of bronze as a gunfounding material was its propensity to heat up quickly, which meant that when firing a great number of shots in continuous action it was prone to becoming soft and susceptible to sagging or other bore damage (McConnell 1988: 15). Due to the nature of 16th and early 17th century naval tactics, however, this defect was not readily apparent; by the time of the great broadside to broadside slugfests of the 18th century, ships had already exchanged their bronze guns for iron ones. It would not be until the sieges of the Peninsular campaigns of the early 19th century that this defect became widely known (Kennard 1986: 162; Fisher 1976: 279-280).
What caused bronze to finally lose its throne? First came some centuries of technological improvements, which had English and Swedish gun makers producing solid, safe iron naval guns by the time of the American Revolution.
Terrestrial artillery was another matter. Bronze first was replaced in large siege guns in the early 1800s, but the weight advantage kept bronze 6-pounders and mortars in the field for the British Army in the 1850s and 60s respectively, and the US didn't give up the smoothbore 12-pounder bronze Napoleon until long after other armies had done so — until the 1880s, in fact.
The thesis covers all this and more (including what all the confusing traditional names for muzzle-loading bronze artillery, such as culverin and falconet, signify).
Meide2002_Bronze.pdf
If you missed last week's Boys Mk.I., that's OK, there are other anti-tank rifles on the market. Just the thing for when "they" come, although to be sure these haven't been tested against flying saucers.
Collector weapons dealer Bob Adams (whose long dark night of ATF persecution seems to be over, in his favor) has several Anti-Tank Rifles for sale at the moment.
I: 20mm Lahti Semi-Auto: $10k
The first is a registered 20mm Lahti Model L-39:

Bob writes:
Description and pictures to follow shortly. This is a live destructive device requiring a $200 transfer tax. It has a Russian Heavy Machine Gun (DShK) tripod adapted to it by the Finns during WWII. The tripod alone is rare.
All he has at the moment is the stock photo and a picture of such a weapon in use by the Finns.
II: 20mm Solothurn M/39 Model S-1000 Semi-Auto: $12k
This is the Lahti's Swiss cousin.

Bob says:
This was recently deactivated by drilling holes in the barrel. It can be re-activated by replacing the barrel and filing a Form 1 with ATF or rebarreled (or sleeved) to .50 BMG with no ATF registration.
We're kind of doubtful a .50 x 99 conversion would be quite that easy, but people have done it.
Finally, we get to the king of beasts, historically speaking:
III: 1918 Mauser T-Gewehr: $10k with .50 BMG barrel and original barrel.
This is the original, single-shot, bolt-action Mauser anti-tank rifle, the gun that inspired the .50 Browning cartridge and machine gun. It's set up as a shooter, but no irreversible alterations have been made to this historic piece.
The .50 barrel is mounted. The inset shows the original 13 x
Rare Mauser Tank-Gewehr 13mm WWI Anti-Tank rifle with extra .50 barrel. Rare and historic German military anti-tank rifle made in 1918 by Mauser to defeat early tanks. All matching and complete with original bipod. Very good condition with much blue & some brown patina. Very good or better original bore which can be improved. Excellent .50 Browning 45″ barrel w/scope rail installed on barrel for shooting. Original parts unaltered and complete with the original barrel! Note: ATF has ruled these are not a destructive device.
This is a close-up of the single-shot breech and the sturdy scope-mount rail as installed. As you can see, it attaches to the barrel, leaving the receiver unmarked.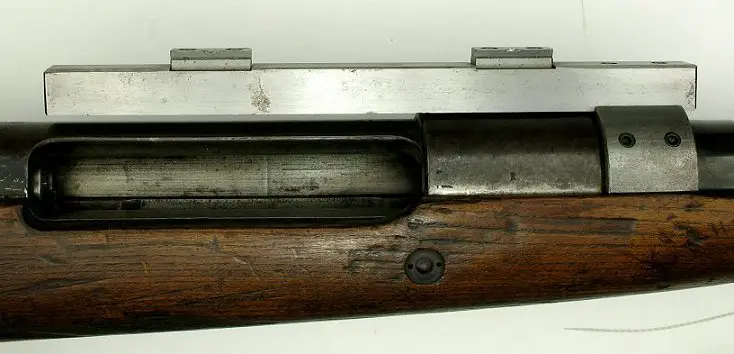 Of these, in our opinion the one with the greatest historic significance and the best potential for appreciation is the original T-Gewehr. But all these guns are priced in Barrett territory, which makes them (in our opinion, for whatever value you may give that) underpriced.
Japanese Infantry Anti-Tank Weapons of WWII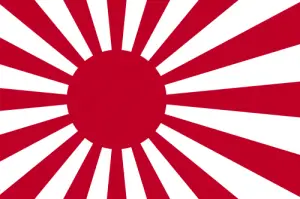 Recently we've been talking about AT Rifles. The biggest that were deployed were the semi-auto Solothurn (used by Germany and Hungary), the comparable Lahti (Finland), in 20mm, and the daddy of them all, the 20 x 125mm Type 97 of Japan.
You don't hear much about Japanese anti-tank warfare. In part this is because, by the time Japanese forces were about to fight Allied tanks, they were logistically starved, down to eating tree bark, and, in some of the last island campaigns, their own and American dead.
The 1200 Type 97s made were scattered across the Greater East Asia Co-Prosperity Sphere. You couldn't count on a supply of special anti-tank ammunition. Anti-tank tactics, for the retreating Japanese, involved infantry swarms on isolated tanks, or use of anti-tank artillery or general purpose field guns in direct-fire AT engagements.
The Russians had already encountered (and captured) some of these weapons in the fighting at Khalkin Gol in the so-called Manchurian Incident in 1939, so they knew what to expect when they declared war on Japan in 1945. The US on the other hand did not see the weapon until late in the war (we believe, in the Philippines).
The Type 97 was a real beast, weighing 50 kilograms empty (110 lbs). There is some irony in the nation with the smallest soldiers producing the largest anti-tank rifle. The Japanese Army had a clever solution — handles clipped on to the rifle that let four men carry it, like stretcher bearers (a similar approach was used to handle heavy machine guns).
The gas-operated semi-auto rifle was fired from a bipod attached to the gas tube and a rear monopod attached to the forward end of the buttstock. It used a locking wedge to hold a bolt and carrier together initially on firing. We've never seen a photo with an optical sight, but there must have been one; Japan made superior optics even then, and many Japanese MGs were fitted with optical sights so it stands to reason the AT rifle would have had them.
By 1944 the AT rifle was a no-hoper in terms of engaging American tanks. But Japan's ally, Germany, came through with samples and drawings of the Panzerschreck aka Ofenrohr anti-tank weapon. Essentially it was the US Army's 2.36 inch rocket launcher, scaled up to 88mm bore (about 3.5″) and capable of a frontal-armor penetration and kill on most world tanks.
Japan made a modified copy of the German AT rocket launcher, which they called the Type 4 Anti-Tank Rocket Launcher. The firing mechanism was a direct copy, and the rocket and warhead were very similar, albeit scaled down to 75mm.
The tube was a meter and a half long (1525mm, or 61″). Fortunately, the unwieldy tube broke down into two halves for carrying. Crew drill and firing positions were very similar to that of the American or German counterparts, although the Japanese provided a bipod like the one on their light machine guns.  The sighting system was rudimentary: a rear peep sight and two front posts, one over the other, the upper post for 50 meters and the lower accounting for the rocket drop at 100 meters. The sights were welded to the left side of the tube and protruded about 2 inches to the left; the gunner took the left side and the loader the right of the weapon. As with any rocket launcher, the backblast was hazardous and the launch signature made the area of the launch a magnet for enemy suppressive fire.
This weapon, had it been issued in quantity, might have been problematic for American (and once they joined the war on Japan in the summer of '45, Russian) tankers, except that production of the system began very late, and very few were produced (perhaps only hundreds). Those that were produced may have been retained for defense of the home islands, a defense that was canceled by the unconditional Japanese surrender to the Allied Powers. A Honshu defender who had a Type 4 was well equipped indeed, as many of his fellows had nought but lunge mines (which are exactly what they sound like) or bamboo spears. Still, he would one of millions of lives saved by the nuclear bombing and resulting cancellation of the invasion, and is probably a lucky man that he never fired a Type 4 at an American tank.
Sources
Natzvaladze, Yuri A. The Trophies of the Red Army during the Great Patriotic War. Mesa, AZ: Champlin Fighter Museum, 1996.
Popenker, Maxim. Type 97 anti-tank rifle (Japan). World.guns.ru, n.d. Retrieved from: http://world.guns.ru/atr/jap/type-97-e.html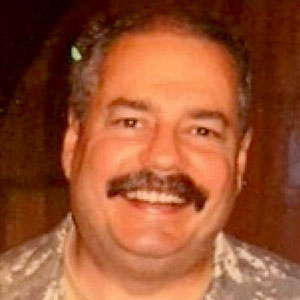 Kevin was a former Special Forces weapons man (MOS 18B, before the 18 series, 11B with Skill Qualification Indicator of S). His focus was on weapons: their history, effects and employment. He started WeaponsMan.com in 2011 and operated it until he passed away in 2017. His work is being preserved here at the request of his family.