Consider this graphic. It is a somewhat crude reproduction of one in the Rheinmetall weapons design handbook. Secretary of State John F. Kerry, who is unlucky at bicycles bur uncannily lucky with heiresses, thinks that we all should be criminals for discussing this online, so let's all get our crime on and return to a subject we've discussed before, heat management  in automatic firearms.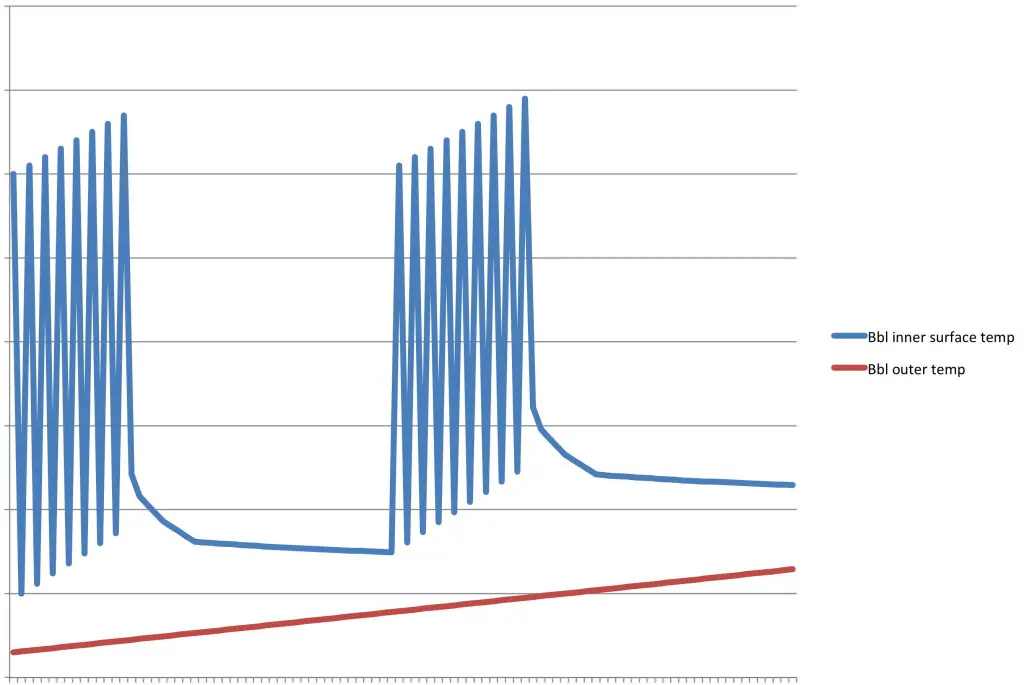 The original of this graphic is a rather dull monochrome one in the style of the rather dull, unless you are the sort of gun geek that Secretary Kerry dreams of decanting into durance vile, Rheinmetall Handbook. Our copy is the German language version, because we read po-nyemetskiy, and Amazon.com wants $300-400 for an English copy, when there is one to be had, but Amazon.de has copies of this out of print classic for about €100. (Which is going to be lunch money if they keep letting Greece set continental fiscal policy). It took us several iterations to get the slopes about right, and we got the round-count wrong: it's supposed to be two neat Teutonic bursts of 10, and we have a rather limited and non-Aryan 8 and 9, but with that difference noted, this graphic is  close enough to discuss the phenomena at issue. Here's what Rheinmetall says about this graphic:
The barrel of an automatic weapon is, as a consequence of the normally high rate of fire, subject to extraordinary temperature demands.

[This illustration] shows the approximate course of temperature of the inner- and outer wall of an MG barrel in two bursts of fire of 10 shots each with a pause lying in between. Feel long, or many short, bursts of fire can drive the temperature of the inner wall so high, that it has a significant influence on the material toughness and therefore on its use and employment.

In this, the cadence of fire, the number of shots in a burst, the pauses, the lengths of the pauses, and the number of bursts of fire fired rapidly one after the other, in conjunction with the thermal resistance of the barrel material and the strength of the barrel walls all play a role.

Comparable barrel-life shot counts can therefore be reached with the same firing rhythm. Often the "French anti-aircraft rhythm" is used: this is 144 shots in 12 bursts of 12 shots each, with a 2-second pause after each burst and a 20 second pause after every four [bursts]. With MG barrels, a firing rhythm of 250 rounds in numerous bursts is often used.

For testing automatic weapons and their ammunition, Rheinmetall has developed an electronic Rate and Rhythm Control Apparatus, which is described below in section 7.7 [of this book].

Measures for increasing the life expectancy of barrels include:

Heat-resistant materials;
Chroming or Nitriding the interior wall;
Progressive twist and rifling profile in conjunction with barrel caliber tightening.

Less effective are cooling fins and water cooling.

Barrels for MGs and machine cannon must be rapidly interchangeable.
Now, this graphic is limited in its utility because in its original version, it comes without any numbers attached (accordingly, we have eliminated from the version we show you, the numbers we used for temperature (ºC; as you might expect the Handbook exclusively uses SI units) and seconds to approximate the original. But we can draw some conclusions based on the shape and gradient of the two lines.
Our take-away is that the key point is that the baseline is higher after each burst, and that the internal temps go higher in each successive round of each successive burst. What does not show on this line is the temperature where the barrel fails. As we have seen in the M4 experiments wherein a carbine was tested to destruction, this happens at a fairly predictable and repeatable, ergo constant from an engineering point of view, temperature. As Rheinmetall points out, several roads will get you to that temperature sooner or later.
Maybe he didn't know this, but thus is why your sergeant whacked you upside the hemmet and told you to fire shorter bursts.
Looking at the Rheinmetall data, it seems that for their test weapon, whatever it was (MG3?), the barrel recovers its temperature rather speedily after the passage of each bullet momentarily superheats it. We would attribute this to the limited ability of a small projectile's friction to heat the much greater mass of the barrel — this is also why the internal and external temps diverge so widely. But note that the internal temp continues to ride steadily as long as a steady sequence of pause and fire is applied, and at each pause the internal and external barrel temps have diverged more widely.
The implication is that an automatic weapons barrel is going to be heated to its limits at some point, moreover, at some predictable point, in any continuous fire regime, and while some of the magic designers have used over the last century, like chrome plating and stellite liners, can give you some more rate of fire on the margins, only changing out the barrel (not usually possible in a light automatic carbine) or otherwise giving the barrel a chance to rest and recover from high temps will prevent failure.
Thus endeth the lesson. Apart from further education which may come in the comments.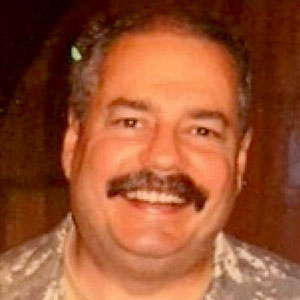 Kevin was a former Special Forces weapons man (MOS 18B, before the 18 series, 11B with Skill Qualification Indicator of S). His focus was on weapons: their history, effects and employment. He started WeaponsMan.com in 2011 and operated it until he passed away in 2017. His work is being preserved here at the request of his family.