From the equivalent of the "Early Bird" sent to Federal LEOs earlier this week:
MEXICAN CARTELS USING GRENADES. The International Business Times (UK) (8/18, 173K) reports that ICE officials have observed a "trend increase" in the use of grenades by Mexican drug cartels in recent months. James Phelps, an assistant professor in the Department of Security Studies and Criminal Justice at Angelo State University in Texas, is quoted saying, "The reason you're seeing so many more [grenades] this year is because much more heavily-armed drug shipments are coming into the United States…With Border Patrol so heavily distracted doing paperwork and watching the mass flood of people coming into the country, they don't have as much time to do what they used to do — drug interdiction."
But wait: It's Not News
The IBT article is here (it was linked in the original, too) but what struck us is not what's new about this, but what isn't. Customs and Border Patrol has been seizing grenades on the border for a long time. ATF has been tracking this since the nineties, and has been on it hot and heavy since the early oughts. We have access to a long-ago-leaked 2011 LES presentation on Mexican Drug Trafficking Organization (DTO) use of both surplus and improvised grenades.
One interesting thing is that not all cartels have good sources of military grenades, hence the back-up of improv 'nades.
Slide 1

Reports indicate that Los Zetas historically try to seek grenades from sources in Guatemala, due to their control of many areas in that country. The Gulf Cartel has historically attempted to acquire their grenades from Mexican military sources, whereas the Sinaloa Cartel has sought to acquire improvised grenades.
Sinaloa was supported to that end by the ATF's gunwalking program, which included walking grenade components, as a sideline to the main project of walking guns. The military grenades that the cartels are swapping off tend to be leftovers from 80s and 90s unrest and insurgencies in Central America, plus the Mexican military's ongoing loyalty problems. The ATF alleges that, "90% of grenades traced in Mexico are over 20 years old."
But grenades walked by ATF's cats-paw Jean Baptiste Kingery were used in 2013, along with other weapons which may or may not have been ATF-walked, to murder three officers of the Jalisco State Police in the village of Tepatitlan.  According to an ATF Significant Incident Report by liaison officer Jonathan Ortiz in the Bureau's Mexico City office, one of ten grenades was attributed positively to Kingery by the Mexican officers, based on unspecified "evidence," with no information on the other nine available.  Here's the SIR:
ATF SIR Kingery Grenade 20131010.pdf
Within days of the SIR's transmission, CBS had a story about it by then-CBS reporter Sharyl Attkisson (caution, autoplay video). It was kept off the evening news, but appeared on a morning show.
The history of the Kingery grenades is instructive. Kingery sourced his parts in the USA, then brought them to Mexico for final assembly and delivery. He was under ATF observation (although they thought he was under their control, a very different thing), from 2004 to 2010, when he made aliyah to his Sinaloa pals. He remains in Mexico; he was arrested there but ATF and DOJ has been remarkably uninterested in extraditing him.
The grenades, like the Iron River of ATF-sourced guns, were delivered to the cartels and to Mexico with the approval of Phoenix Group VII (SA's Voth and McAllister inter alia), and the local US Attorney and an Assistant (Dennis K. Burke and Emory Hurley). The grenade-walking was also blessed by every layer of ATF and DOJ supervision. This included the Phoenix SACs and all management levels up to then-director Kenneth Melson and AG Eric Holder. Particularly responsible, apart from Voth and McAllister, were Phoenix field division SAC Bill Newell and Current Director Byron Todd Jones participated in the planning of the gun- and grenade-walking from his position in faraway Minnesota, as a trusted intimate of Holder.
The objective of the grenade-walking seems to have been to support the gunwalking; the intent of the gunwalking was to produce a series of crimes in Mexico that would justify new anti-gun laws and new powers for the ATF in the USA. The Mexican Government maintained plausible deniability on the operation. Several ATF agents pointed out the likely result: cops being killed in the USA and in Mexico, but those named managers were indifferent to the deaths; after Border Patrol officer Brian Terry was murdered by an ATF-furnished weapon, and first dozens, then scores, then hundreds, of Mexican lawmen were slain, David Voth was "giddy" over the bloodshed.
One wonders if Voth is still giddy, as more and more Mexican law officers keep getting deadened by his work product. (Like most gunwalking figures, except for Melson and Burke, Voth was promoted to HQ after the scandal broke).
How Do the Bad Guys Reload Grenades?
They start with training grenades. These grenades resemble the real thing, but produce a loud bang and a puff of smoke and zero fragmentation.  Because they have a fuze optimized to do that, no frag material (usually), and no filling. The grenades are reusable for training by simply discarding the old fuze and introducing a new one. To prevent too-easy conversion, and give the report of the fuze someplace to go, the training 'nades have holes in them where the factory grenade has a thick welded-on or cast-in base plug. Training grenades also lack the internal fragmentation liner of most newer grenades (on the old Mk II "pineapple" grenade, fragmentation was supposed to be promoted by the scored lines, and the training grenade is similar to the frag, except for the extra bottom hole).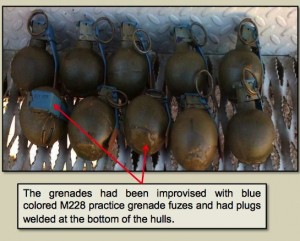 A normal defensive grenade like the M67, standard from the end of Vietnam on, has fragmentation material (often in a sleeve or liner) and a filling of high explosive (for an M67, Composition B). It has a fuze that contains a percussion cap and hammer mechanism to start the fuze train going, a delay element, and then a cap, gaine or booster which detonates with enough force to produce detonation in the relatively stable explosive filler.
The cartel-improvised grenades always lack the frag sleeve, and usually substitute black powder (or another easily manufactured low-explosive improvised filling) for the HE. (Technically, the difference between LE and HE is the velocity of the detonation front: in HE it is supersonic). As a result, they're less effective than factory grenades, and are more like offensive grenades than defensive ones. A further result is that factory grenades are preferred to improvised grenades by most cartel sicarios. 
The following picture is from al-Reuters and was one of the illustrations used by the International Business Times in the story picked up by the DHS-DOJ Early Bird. Note that along with a Smith .357 and a Tec-9, this particular cartelitito, bagged in 2012, had nine M67s, three M26s, and eight Mk IIs. Oh, and an M72A2 LAW. These weapons appear to be almost all factory, not improvised (note the safety clips on the spoons of the M67s, something rarely seen on improvised 'nades).
Just to remind everybody: Mexican law enforcement thinks this kind of thing is caused by the 2nd Amendment, and if we had the strict gun bans that they have, we'd live in a paradise, like they do.
Why Is It In The News Now?
If the cartels' 'nades are an old story, why are they in today's news? For instance, in:
We don't know for sure, but this sudden reanimation of an undead necrostory from years ago suggests that its battlefield prep by regulators, the administration, and their junior varsity in the media. It suggests an anti-dummy-grenade legislative or, more likely, regulatory initiative is in the works.
The ATF has eased its focus on gunwalking, but it's never given up its desire for more authority. So you'll see a spate of stories like those linked above, then editorial calls to unthinking action: Act Now! For the Children! They will certainly never admit that these criminals have these weapons (all, you will note, US military issue weapons) because the US furnished weapons to nations and insurgents with rotten inventory control, and definitely don't want to mention ATF's role in gunning up los sicarios. They are unlikely to give up their underpants-gnome theory of criminal organization takedowns, but are still stuck on the bit where the enhanced criminal organization commits more crimes.