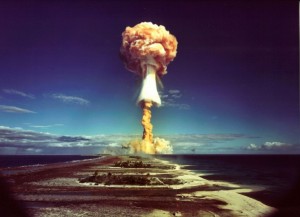 Defense intellectual and former Strategic Defense Initiative planner John Bosma argues in the American Thinker that for Israel the options are closing rapidly, and the least bad option may be to make a nuclear preemptive strike on Iran's nuclear facilities, aiming to disrupt development but also to kill the maximum number of scientists and technicians, and to leave any surviving facilities fatally irradiated.
Far from producing peace, Bosma claims, the deal negotiated between two preferentially antisemitic teams could be extremely destabilizing; it…
…also augurs the possibility of a nuclear war coming far sooner than one could have imagined under conventional wisdom worst-case scenarios. Following the US's betrayal of Israel and its de facto detente with Iran, we cannot expect Israel to copy longstanding US doctrines of no-first-nuclear-use and preferences for conventional-weapons-only war plans. After all, both were premised (especially after the USSR's 1991 collapse) on decades of US nuclear and conventional supremacy. If there ever were an unassailable case for a small, frighteningly vulnerable nation to pre-emptively use nuclear weapons to shock, economically paralyze, and decapitate am enemy sworn to its destruction, Israel has arrived at that circumstance.

Why? Because Israel has no choice, given the radical new alignment against it that now includes the US, given reported Obama threats in 2014 to shoot down Israeli attack planes, his disclosure of Israel's nuclear secrets and its Central Asian strike-force recovery bases, and above all his agreement to help Iran protect its enrichment facilities from terrorists and cyberwarfare – i.e., from the very special-operations and cyber forces that Israel would use in desperate attempts to halt Iran's bomb. Thus Israel is being forced, more rapidly and irreversibly than we appreciate, into a bet-the-nation decision where it has only one forceful, game-changing choice — early nuclear pre-emption – to wrest back control of its survival and to dictate the aftermath of such a survival strike.
via Articles: Thinking About the Unthinkable: An Israel-Iran Nuclear War.
A limited Israeli strike could produce the nuclear disarmament of Iran that Obama and Kerry had claimed, before some of the terms of the deal put the lie to their statements, that they sought. Nuclear weapons are one effective solution to the underground bunkers used by Iran to shelter its systems.
Israel cannot  service this target set with conventional weapons — its stocks are not deep enough, and it's clear that they can't rely on the United States, at least under this Administration, for resupply.
The deliberate American silence over Iran's genocidal intentionality sends an unmistakable signal to Israel that the US no longer recognizes a primordial, civilizational moral obligation to protect it from the most explicit threats imaginable. It is truly on its own, with the US in an all-but-overt alliance with its worst enemy. The shock to Israel's leaders of this abrupt American lurch into tacitly accepting this Iranian intentionality cannot be understated. Iran is violating the core tenets of the 1949 Geneva Conventions, a US initiative after the Tokyo and Nuremberg war-crimes trials to codify genocide as a crime against humanity. Now the US is silent.

But this shift is also recent. Every US government prior to President Obama would have foresworn nuclear talks with such a psychopathic regime or would have walked out in a rage upon such utterances. Yet Iran's genocidal threats have had no discernible effect on Obama's canine eagerness for a deal.
The two main factors Bosma sees making the nuclear option "almost mandatory" for Israel are the Iranian government's continued propaganda and doctrine calling for nuclear weapons explicitly for the extermination of Jews, and, as recounted above, the US's sudden tilt to the Iranian position. But he also lists a number of other reasons, which we'll paraphrase:
Iranian nuclear progress is self-sustaining and can't be stopped with conventional weapons or sanctions. For Israel, it is a matter of nuke, or be nuked.
Iranian progress is concrete hardening has essentially neutralized such weapons as the 30kp Massive Ordnance Penetrator, meaning it's nukes or nothing.
The presence in the agreement of a new US-Iranian limited military alliance targeted against Israel.
The Russian agreement to deliver to Iran S-300 anti-ballistic and anti-aircraft weapons. This dual-purpose weapon is in the improved Patriot class and complicates strike planning (to put it mildly). The weapons are enroute to Iran already. (Russia is also delivering nuclear weapons delivery technology, including ICBMs). Some of these Russian missiles come with Russian mercenary crews. In addition, with Russian and Iranian assistance, the terrorist group Hezbollah has been converting its ineffective rockets into precision guided munitions with defense-evading technology.
While Bosma's grim predictions may never come to pass, his position has a certain logic. (We believe it won't come to pass because the Israeli government will shrink from following that logic to its inevitable end). In any event you should Read The Whole Thing™. It's a brief but very information-dense piece.
If the Israelis did take this approach to survival, how would they do it? Given that the US Government is likely to share any intelligence indicators of a strike with Iran, Israel will have to proceed under an unprecedented cloak of secrecy. But at this point, their very least worst option for the long term survival of Israel and its people may well be to nuke Iran.
This is one consequence of awarding the Nobel Peace Prize for lofty intentions, standing alone.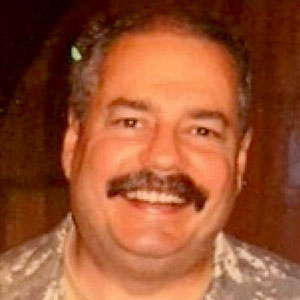 Kevin was a former Special Forces weapons man (MOS 18B, before the 18 series, 11B with Skill Qualification Indicator of S). His focus was on weapons: their history, effects and employment. He started WeaponsMan.com in 2011 and operated it until he passed away in 2017. His work is being preserved here at the request of his family.