Daesh, or ISIL (ISIS if you're one of the media guys egging them on sotto voce), only looks invincible when it's up against the tissue-thin and cracker-brittle (and abandoned by its American mentors) Iraqi army, or when it's shooting, slicing, or beheading women, children and other helpless captives. These inbreds, product of generation after generation of first-cousin marriage, seek not victory but death, and when their opponents, like the Kurdish YPG, are granted arms and reasonable competence, the performance of ISIL as combatants is pathetic in the field.
Being pathetic in the field means: you take a lot of casualties. Yet if anything, the numbers of Daesh troopies seem to be increasing. So where do the replacements come from? This graphic, lifted from the Washington Post's story on the identity of "Jihadi John"1, shows some of the flows.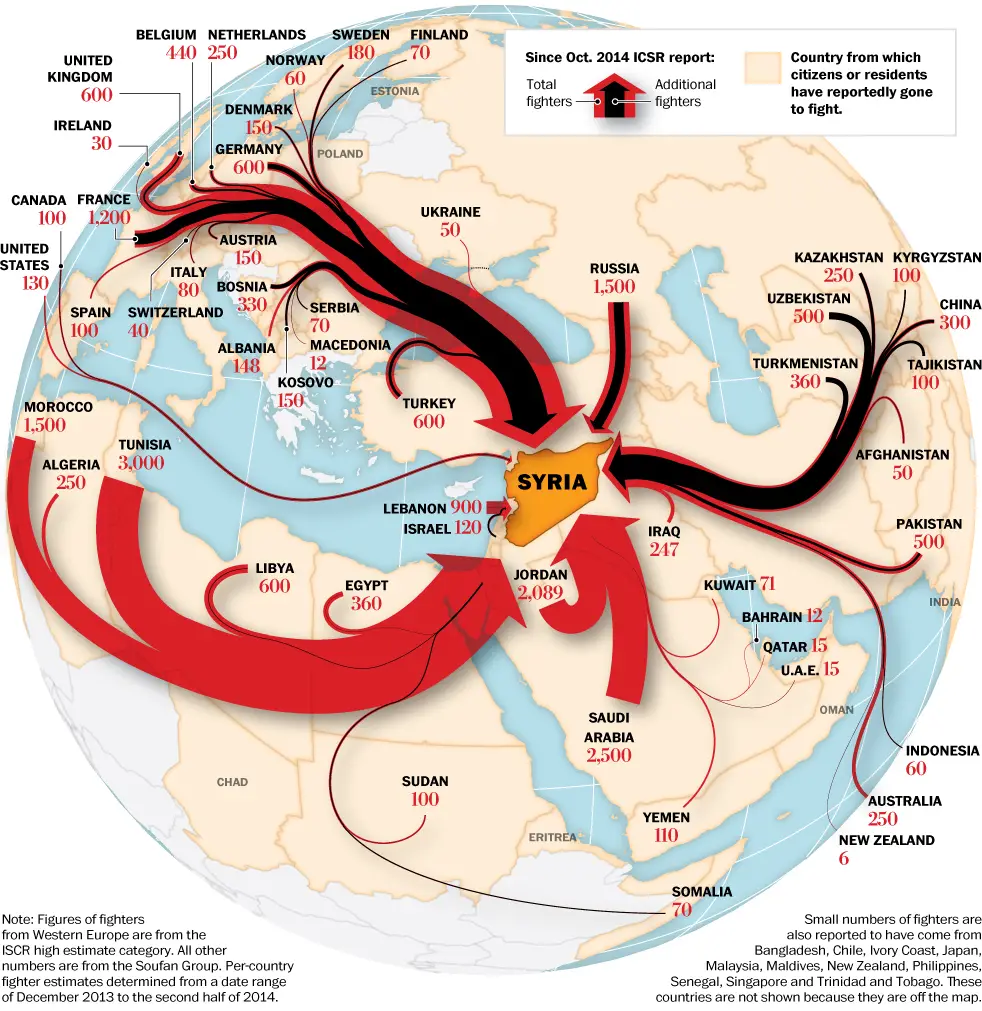 There are some interesting details here: ISIL is drawing, if those numbers be true, more Belgians than Egyptians, as many Germans or Britons as Turks, more Swedes than Yemenis, three times as many Russians than Pakistanis. More than 100 have come from the US and Canada each, 300 from China, and 250 from Australia.
Of course, these clowns pursuing the high status of shaheed tourist are not really Canadians or Russians or Swedes. They're members of the unassimilated, uncivilized Moslem diaspora who have been called to their Holy Land on their own Crusade for their own values, which include the beheading of children, rape of women, and pedophilia.
The European and Western Hemisphere nations try to arrest these movements and keep their own human pathogens from emigrating and joining up. Why? Why not let them go? And then when they're all in Raqqa, the civilized Powers ought to use it as a neutron bomb test site. We think nothing about using WMD on equivalent threats: we spray haldane on mosquitos, and set coumadin baits for mice and rats. Why not a brief dose of non-survivable radiation for jihadis?
Why not nuke ISIL? It's not like anybody would miss them. They want martyrdom, we have the means, the motive, and the opportunity to fulfill that wish.
Just so long as we give our own jihad wannabees every possible opportunity to be under Ground Zero at flash hour.
Notes:
Quelle surprise for our State Department: he's a well-off, well-educated kid, just like bin Laden, Zarqawi, and Zawahiri; in other words, "Poverty, my @$$"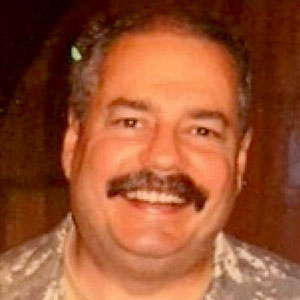 Kevin was a former Special Forces weapons man (MOS 18B, before the 18 series, 11B with Skill Qualification Indicator of S). His focus was on weapons: their history, effects and employment. He started WeaponsMan.com in 2011 and operated it until he passed away in 2017. His work is being preserved here at the request of his family.