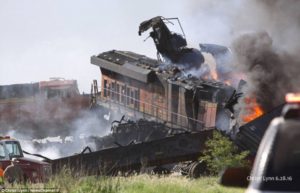 The guy that's still alive leaped from the train at 60 mph or so. The three guys who didn't jump, but who rode the trains allthe way to the head-on impact, are just missing. 
One person was injured and three people left missing after two BNSF Railway trains suffered a head-on train collision near Amarillo, Texas, leading to a massive pile-up of box cars and a huge inferno that has cloaked the sky in black smoke.

The collision, which occurred Tuesday morning near the town of Panhandle, about 25 miles northeast of Amarillo, resulted in at least two dozen box cars being crumpled and derailed, as well as the reported casualties, all of whom were train crew.

BNSF Railway spokesman Joe Faust said the collision happened at about 8:40 am Tuesday. State, railroad and federal authorities have not provided details on the cause of the crash.
via One hurt and three missing after two trains collide head-on in Texas | Daily Mail Online.
By today, two of the "missing" were found in the wreckage — dead, of course — and a little more has been learned about the accident. Here's an update at NBC News (chosen over ABC because ABC's video autoplays). The dead man, the injured man who jumped free, and the man who is missing and presumed dead are all employees of the BNSF railroad. The trains were bound from Chicago to LA and from San Bernardino to Chicago, respectively.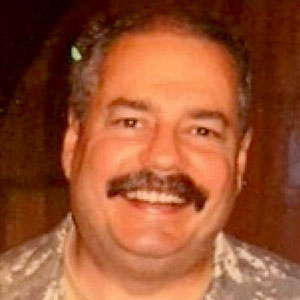 Kevin was a former Special Forces weapons man (MOS 18B, before the 18 series, 11B with Skill Qualification Indicator of S). His focus was on weapons: their history, effects and employment. He started WeaponsMan.com in 2011 and operated it until he passed away in 2017. His work is being preserved here at the request of his family.