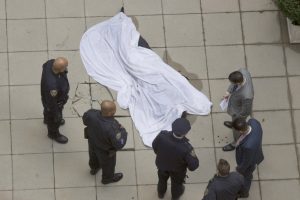 When you're completely lacking in a deadly weapon, there are some things you can always count on — like gravity, the mystery force that accelerates everything corewards at 31 fps/s (9.81 m/sec/sec for those of you experiencing gravity in the rest of the world).
Charles Murphy, 56, whose hedge fund reportedly invested billions of dollars in clients money with Bernie Madoff, leaped from the 24th floor of the 45 W. 44th St. building around 4:42 p.m. and landed on a fourth-floor terrace, according to police sources.
Why are we blaming the terrace this time, and not the leap? Well, it has been brought to our attention that gravity's acceleration does no harm to you at all… it's the deceleration that hurts. To put it in the traditional couplet: the fall doesn't hurt at all… it's the sudden stop at the end.
As always in these cases, you can't ask the guy why he did it. The NY Post takes a wild guess:
The New York Times reported in 2009 that Murphy's hedge fund, Fairfield Greenwich Group, invested more than $7 billion with Bernard Madoff, and lost much of their clients' money in his infamous Ponzi scheme.
Somehow we doubt a massive 2009 loss of other people's money induced a hedge fund guy to kamikaze himself in 2017, but we suppose it's possible.
More likely, untreated depression.
Emergency crews had a hard time getting to his body on the terrace but eventually did, authorities said.

The incident was reported at 4:42 p.m. at 45 W. 44th St., when witnesses said the man leaped from the tower of the hotel, then landed on a roof that is in-set from the street, about four stories up
via Investor burned by Madoff leaps to death off Sofitel hotel | New York Post.
It's nice to see, in a world in which the old folkways are gradually dying out, Wall Street is keeping one of its greatest traditions, the loser's leap, alive. Er, maybe alive is not the right word.
The impact of the landing shattered concrete tiles, and he could be seen lying in a business suit.
Well, if he was a hedge fund guy, didn't he spend most of his working life lying in a business suit?
The tragedy was the third high-profile suicide connected to the Madoff ponzi scheme.
For some loose definitions of the word "connected." Also, they just said "the third" — then they list three more! Well, reporters are usually English or Journalism majors, this is just one more proof that the breed (and its layers and layers of editors) is innumerate, all the way to grade school level.
Madoff's eldest son, Mark, was found hanged in his Soho apartment in December 2010 — the second anniversary of his father's arrest.
One.
Two investors also killed themselves. William Foxton, a 65-year-old former Army major, committed suicide in 2009 due to the shame of going bankrupt.
Two.
Rene Thierry Magon De La Villehuchet, a French aristocrat, whose AIA Group had lost $1.5 billion, was found dead shortly after the scandal broke in 2008.
Three. And the late Mr Murphy makes four.
It's funny how, even in NYFC where guns are outlawed (except for the connected and payers of bribes), would-be suicides still manage to accomplish their baleful mission.
Our condolences to Mr Murphy's friends and family. He shouldn't have done this to them, but he did.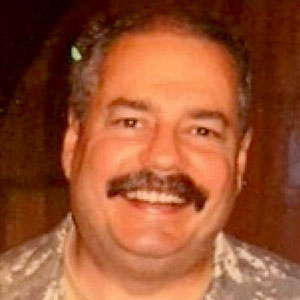 Kevin was a former Special Forces weapons man (MOS 18B, before the 18 series, 11B with Skill Qualification Indicator of S). His focus was on weapons: their history, effects and employment. He started WeaponsMan.com in 2011 and operated it until he passed away in 2017. His work is being preserved here at the request of his family.