Land Navigation Part 3: Compass and Pace
Sergeant First Class Roner was probably of average height, or a little above, but thanks his bearing he seemed tall. He had broad shoulders and the lean build of an all-round athlete, and a mop of curly black hair that was cut by a barber who knew what he was about. He completed the image with gold-framed and mirrored Ray-Bans, a Rolex Submariner, and a set of camouflage fatigues that were tailored just enough to underline the fact that he took pride in his martial appearance, and not too much so we could all see that he was not a garrison soldier who would dress impractically. On the instructional podium, which is where we knew him from, his native Panamanian accent was offset by a natural actor's — or maybe a trained one's, for all we knew — projection and diction. He was altogether the sort of thing we called Hollywood, which in our circles was not a term of endearment.
And we might have been just a wee bit jealous, because SFC Roner already had his, and he was a gatekeeper who stood athwart our path to having ours. Special Forces qualification, that is. In a minute he was going to release us on the Day Land Nav course, aka the Star Course, and in the next three days or so about half of us would be gone.
"Rrrolex time isss," he announced, and gave us the time hack. One of the other instructors had tried to hand him a bullhorn; he didn't take it. He didn't need it; we were so on edge that he could have whispered, but his voice carried across the broken camp. "You have eight hours from release… in five, four, three, two, one go!" 
And at that most of the guys went. Some of us took a moment to confirm an initial azimuth and then we trotted off, counting each step. Over the next two days we'd walk, run or jog almost 50 kilometers by day and 18 in the dead of night, with ruck, rifle and gear, hitting multiple points, each one usually miles from the last. It was hit the points, or hit the truck. You didn't want to hit the truck.
How did we do it? With two essential tools: compass and pace, and an ancient form of navigation called Dead Reckoning. Dead Reckoning depends on the principle that if you begin from a known point, and then make a movement of a given azimuth for a given distance, there is only one point you can be at when you stop.
In a flat, unobstructed world, all you would need is a map, to plot your start and end points;  a compass, on which you could set your azimuth; a pace count, which translates your steps into real distance; and willingness to trust those tools, to go to anywhere you can walk to on land.
In the real world, there are more problems but there are also more tools you can use. The difference between the graduates and the recycles (or NTRs) at SFQC was often those extras, because by this point, you had map, compass, and pace count down. 
The Map and Azimuth
Plotting your course on the map requires you to know where you are. (There are various ways to determine this, if you've become, in Daniel Boone's terms, "a mite bewildered." But let's assume arguendo that you know that, for now). And it requires you to know where you're going.
Now, draw a line between Point X and  Point Y — if you can go straight. (You might need to make your course several shorter legs because of obstacles). If you must make a turn, make every effort to make it on a recognizable terrain feature. "I'll be on the summit of this hill, and when I turn to my new azimuth there will be low ground on three sides and a saddle on my right." Note the distance. "It's 1700 meters." Now do the next leg, and so on to your destination. Time spent plotting is never time wasted; you're impressing the expected terrain in your mind. (Maybe not the first time you do it, but soon enough, with practice).
Now go back over your legs and look for additional checkpoints. "At 700 meters, on the first leg, I cross power lines. From there it's 1000 meters to my turning point on the hill. On the second leg there's a lake on my right; it should be closest to me at about 2100 meters down that leg."
The azimuth? It's simply the angle at which your course diverges from magnetic north. But your map is marked with convenient grid lines that are not aligned with magnetic north, so you have to adjust your grid azimuths to magnetic azimuths. Failing to do that, or forgetting the step because you're too tired, is a traditional ticket out of Special Forces training and down the road to the 82nd Airborne Division. NTTAWWT.
The Army provides two cheats that help you determine your azimuth. One is a clear plastic square with 360 degrees marked on it, called  a "protractor," and the other is the "declination diagram" on the map which tells you how much grid north is offset from magnetic north right here and right now. Many models in the Silva compass line include a clear base with similar markings. The instructions for using the declination diagram are marked right on the map, but most folks will never do it successfully in the field if they haven't done it at a desk at least once before. But if you do it right, you now have a map azimuth for each leg.
Time spent plotting is never wasted, and shortcuts in plotting will not help as much as you think.
The Compass and Azimuth
Compasses usually have some kind of ring that you can set so that the north-seeking arrow is aligned with magnetic north while some indicator on the compass points towards your destination — or at least your next checkpoint. This ring in the service is called the "bezel ring" which is redundant, but there it is. (The compass maker often uses just "bezel.")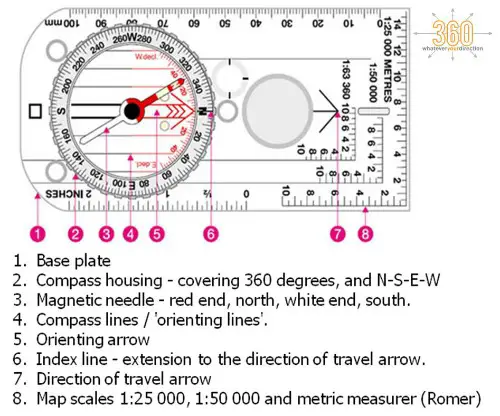 The Silva compass is practical and simple, although it's not as effective for two purposes as a genuine military lensatic: for such things as calling artillery fire or otherwise taking a bearing, one, and for use at night, because the military compass includes tritium ampules in the needle and orienting indicator. (You can get some after-dark use out of the Silva by sticking luminous material to the base to backlight it). The Silva is great at picking up your azimuth from the map for you (remember to correct for declination with military maps and as needed).
It can be difficult walking in a straight line in some environmental conditions. For example, in forest you cannot see very far. So, line up your azimuth, pick a prominent tree in line with your azimuth, walk to the tree, and shoot the azimuth again, pick a tree — repeat as needed. Once you have your tree or other target picked out, you can just walk there and don't need to play with the compass. (When you're new at this, you'll probably do a lot of crosschecks as your confidence builds. That's OK!)
In this manner you can walk straight and avoid being turned around, even when you have to walk for miles and miles.
Pace Count
OK, so we've solved half of the polar-coordinate problem that is navigating by Dead Reckoning, to wit, azimuth, or, for the vocabularily challenged, "the left-right thing." So we know where to go; how do we know then next piece of vital information, when to stop? We do it by counting our steps.
To establish your pace count in a given terrain (and while bearing a given weight, because load-bearing changes your gait), you need to count your steps over a known distance on similar terrain. Walk the same distance course several times in both directions, then average your total steps, then reduce to a rate of steps per 100m.
Then, when you're walking, count your steps by the hundreds of meters, mentally cross-checking the expected terrain. When you make it to 100m, by pace count, note that and start counting again. At first you will constantly cross-check terrain against your pace count ("Should I be crossing a road at 450 meters?"), but in time you will come to use it confidently.
Put it all together, and with map, magnetic compass, and pace count you can go anywhere (well, you'll have problems in the far arctic or antarctic. But in the temperate, tropical and subtropical latitudes most of us dwell in, you'll be pretty mobile cross-country.
There are advantages to this. Most of humanity, and in First World countries almost all of humanity, is road-bound. With a map, a compass, and two good legs, you are not.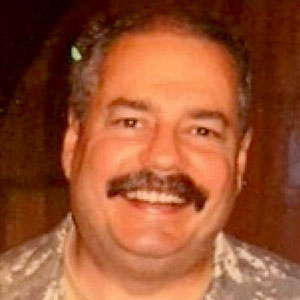 Kevin was a former Special Forces weapons man (MOS 18B, before the 18 series, 11B with Skill Qualification Indicator of S). His focus was on weapons: their history, effects and employment. He started WeaponsMan.com in 2011 and operated it until he passed away in 2017. His work is being preserved here at the request of his family.