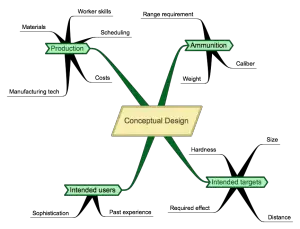 Weapons users and designers are not generally the same people, and the latter succeed to the extent that they can understand, imagine, and (most importantly) anticipate the needs of the former.
The literature on automatic weapons conceptual design is thin indeed. (Don't take our word for it: let us google that for you). So let's adapt the process used by Dan Raymer in his Aircraft Design — a Conceptual Approach to weapons design. Roskam and other references for aeronautical engineers use a broadly similar process, but we have Raymer on the desk here, and Roskam's volumes are in another room. (We're working from the 1992 edition here, published by AIAA).
Raymer envisions three phases of design taking place before metal is cut: conceptual design, preliminary design, and detail design. Here are Raymer's phases adapted to gun design:
Conceptual Design firms up the basics: what's the weapon configured like, what will it shoot, what are its dimensions (including the critical one of weight), can the customer requirements be met, and (key question) can they be met with an affordable and producible product? (Producible was not a Raymer requirement, but he's talking about airplanes, which remain highly customized, bespoke even, products. Small arms need to be produced in mass quantities at high speed, and so the conceptual designer needs to know his way around industrial processes).
Preliminary Design, says Raymer, begins "when the major changes are over." Examples of major changes for a service rifle would be conventional vs. bullpup, or mode of operation (gas-operated, rotating bolt vs. gas-operated, tipping block). Preliminary design ends when the project manager freezes the configuration. At this point, some of the structural and functional facets of the weapon have been modeled.
Detail Design is the place where full-scale development begins to happen. Up to now, the XXI Century Blaster has existed as drawings or 3D software models, but a lot of the details aren't fleshed out. Now they get fleshed out, and production methods for each part are developed.
All phases are critical, but the most critical phase is conceptual design, because a fundamental error here will produce a flawed and unsuccessful weapon — one that can only be fixed with great difficulty, if at all. Most of the time a weapon is ignominiously withdrawn from service, it's because they botched the conceptual design. It can be hard for users to tell if the turkey they've been handed is a swan in need of more development (like, say, the early M16) or a full-blooded turkey (the British SA80), because at the  individual user levels, the symptoms may be the same. The difference is important, though, because the undeveloped swan will respond well to further development (a la M16) and the immature turkey will just grow into a bigger turkey no matter how much development money you feed it in pursuit of improvements. If you do finally get it to work, it doesn't happen at an economical point (SA80 again) and it only occurs because dogged engineering triumphed over bad design.
Conceptual design is fluid and iterative, with a lot of feedback. Perhaps in the near future we'll look at some of the conceptual design drivers, a few of which are depicted in the accompanying graphic. (So what's missing?)
If you look at weapons through history, you can observe certain long-term trends. For example,  individual weapns have gotten lighter, lower-caliber, and fired higher-velocity ammunition ever since the introduction of the matchlock, and they have fired more rounds faster ever since the introduction of the percussion cap in the early nineteenth Century.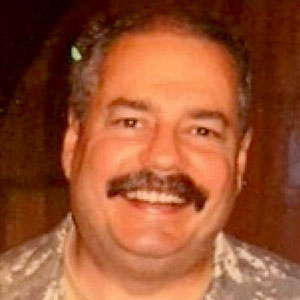 Kevin was a former Special Forces weapons man (MOS 18B, before the 18 series, 11B with Skill Qualification Indicator of S). His focus was on weapons: their history, effects and employment. He started WeaponsMan.com in 2011 and operated it until he passed away in 2017. His work is being preserved here at the request of his family.