This post will be slightly more personal than usual, and it will be written in the first person. You see, my mother was a remarkable and curious person who lived nearly 80 years and spent all of them trying to slake an insatiable curiosity, a fortunate malady that was among the inheritances she passed to her sons. This insatiable curiosity is manifested, among other things, as reading and love for books that falls somewhere along the scale where passion and obsession are found.
Today would have been her 79th birthday.
She was buying books, in hopes of reading them, short days before her death after a long and physically arduous complex of illnesses.
We had a sort of mother-son tradition, when I used to visit the folks in Florida: the Friends of the Martin County Library operate a large used book store on the grounds of a large flea market in Stuart, Florida, and we would go there one day every weekend (the store, which is staffed by volunteers, is only open on weekends when the market is open). We would each buy a stack of books. They would be different books, of course: she read fiction and loved taut, sophisticated mysteries, especially 20th Century British writers; I sought out military non-fiction, although she did urge some novels on me, and I was always a better man for each of them.
Two Sundays ago, I went without her, for the first time. It was, perhaps, a tribute. The image is my stack of books (minus a couple already distributed among the bathrooms down south at Hogney World). You may see some ideas from some of these books emerge in the blog. Most of them await my next visit and return, at the wheel of a car; this trip was in the human mailing tube we call an airliner.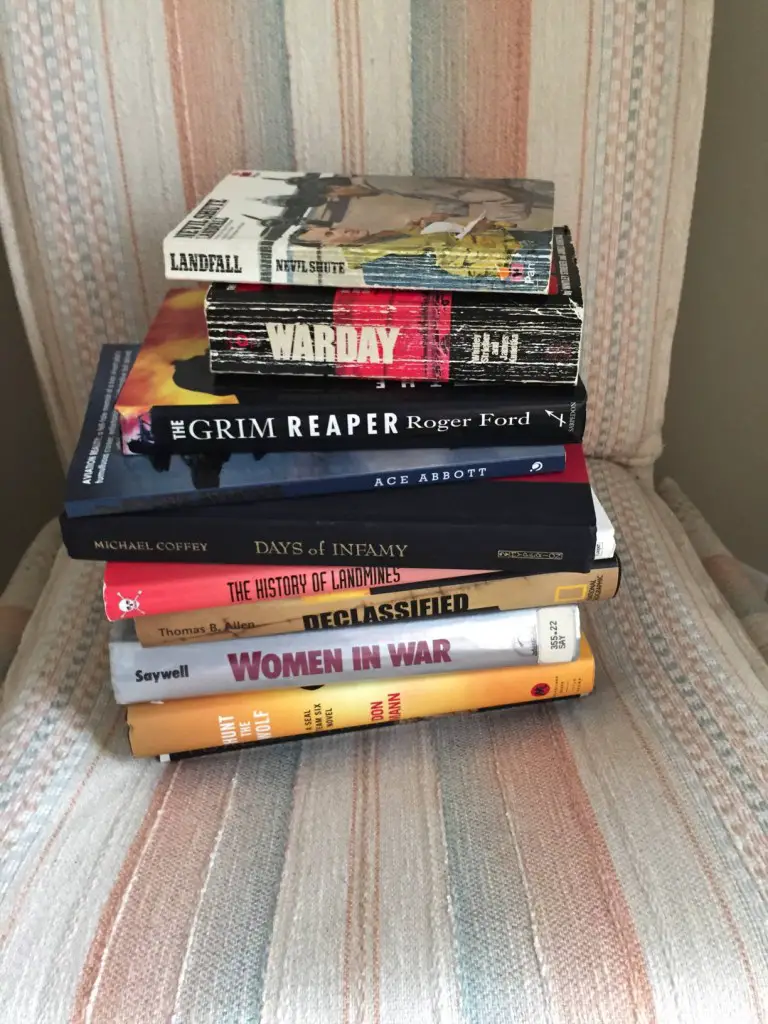 An interesting set:
Landfall by Nevil Shute, a novel of Bomber Command in the early years of the British bomber offensive. Nobody really understands the staggering casualties the bomber boys (British and American alike) took. Shute captures well the "live for today" ethos that resulted, and the fragile, flickering flame of hope that gave them hope for survival, and for life beyond the war. Some of them would even get that. Shute's most-read novel, On the Beach, isn't close to being his strongest.
Warday by Whitley Streiber and James SomebodyIcan'tread [ETA: Kunetka] is one of those 1980s novels of nuclear devastation that served Soviet propaganda aims. Some of them were Soviet-sponsored, some were by independent fellow-travelers, and some were by people who weren't on the Soviet side so much as they, too had been scared by all the nuclear propaganda. If I remember, Warday is not a good novel, and it's a tossup whether it's of the first or of the second set. Streiber was a writer for hire, and it's not like the KGB paid its agents of influence in unconvertible rubles. But I got it as a period piece, kind of like Mein Kampf or an argument for the divine right of kings.
The Grim Reaper by Roger Ford is pretty much straight in WeaponsMan's wheelhouse: a history of the machine gun. It's more of a social history than a technical one, and it's pretty interesting so far. Ever hear of the Ager gun?
The Rogue Aviator by Ace Abbott. Somehow we think "Ace" was not on his birth certificate. A personal memoir of military and airline aviation in the F-4 Phantom and 727 era; a quick read.
Days of Infamy: Military Blunders of the 20th Century by Michael Coffey. As God is my witness, I opened this three times and read some of it, and can't retain what it's about. That's not an especially good sign. Indeed, I only recovered the subtitle by googling the sucker. My impression was that there was nothing new or rare in there and that it had a snide Hollywood tone, and looking online, I see it is a companion book for a TV show. You might wonder how something so shallow gets published — well, the author is the editor of Publishers Weekly.
The History of Landmines. I've already treated you to a detail or two from that. Good, slim, quality book by Mike Croll, a former British soldier and civilian mine removal expert. It turns out that ten years later, Mike rewrote and republished the book, now called Landmines in War and Peace.
Declassified by Thomas B. Allen purports to be full of explosive declassified secrets, but a quick skim revealed nothing that hasn't been covered in more depth elsewhere. This is an exploitation book to go with a TV series, which probably accounts for its superficial nature.
Women in War by Shelley Saywell appears to be a 1980s propaganda tract by a feminist writer. Expect no humor whatsoever. Stories are selected for their Sisterhood Appeal and some are exaggerated; others apocryphal.
Hunt the Wolf is a novel by former SEAL Don Mann; the protagonist is essentially a better Don Mann, but the book is a fun, fast read. One hopes that SEALs don't "wing it" to the extent they do in this book.
Tuxedo Park by Jennet Conant is the story of a wartime scientific lab sponsored by a secretive Wall Street potentate, told by his granddaughter and bearing on the "wizard war" of radars and sonars and passive detection systems.
In addition to those, there's the bathroom books, including a photo history of SAAB and a couple others we can't remember.
I have my receipt around here somewhere, but the total came to $28.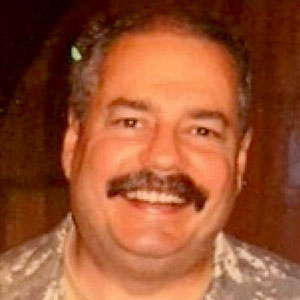 Kevin was a former Special Forces weapons man (MOS 18B, before the 18 series, 11B with Skill Qualification Indicator of S). His focus was on weapons: their history, effects and employment. He started WeaponsMan.com in 2011 and operated it until he passed away in 2017. His work is being preserved here at the request of his family.